MultibankFX Demo Trading Championship
Who's ready to make some cash? If you just yelled "Me" at your screen then you should definitely consider signing up for the MultibankFX demo trading championship as it will be a perfect opportunity to what you just ecstatically agreed to.
The folks over at MultibankFX decided that this competition would be an amazing way to increase their brand recognition, garner better customer loyalty and provide both seasoned and experienced traders with an opportunity to make a quick buck off-of trading on their platform.
But keep an eye on the title of the contest, we're calling it the MultibankFX demo trading contest review, not just trading contest review, which is why it's such an amazing opportunity for traders. No funds are required to be deposited upfront, you'll be given a Demo account with virtual currencies to do the trading for you.
But just like any FX broker with a contest, MultibankFX has its set of rules and prizes that you can base your trades on. Let's take a look at them on a more personal level, shall we?
MultibankFX demo trading contest prizes
There will be a grand total of three winners in this competition, all three awarded with reasonably high amounts of cold hard cash. And by reasonably high amounts we mean:
1st Place – $7,000
2nd Place – $3,000
3rd Place – $2,000
Although it may not seem like too much for traders already making much more from the markets on their regular accounts in Europe, try to consider it as an extra payment from work. You dedicate around 2-3 hours to trading, you make reasonably well-placed trades, and bam, you're $7,000 USD richer. It's actually much much higher than the regular salaries of most countries for most people. In fact, it doesn't even need to be the first place prize, the second and third are also reasonably high.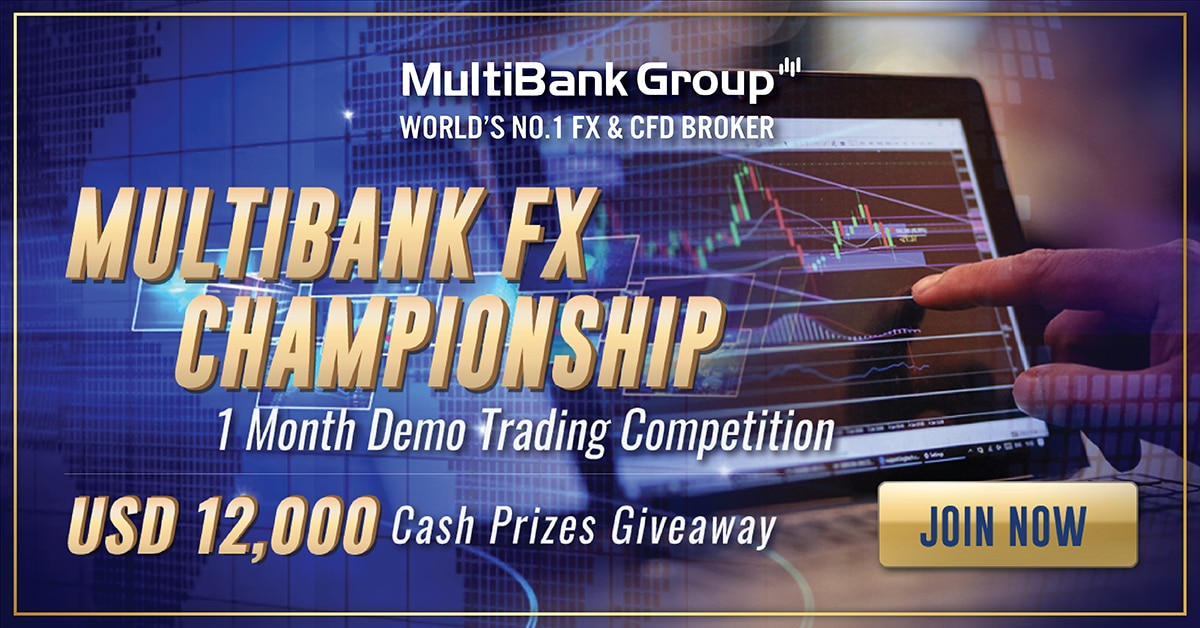 But, just knowing the MultibankFX demo trading contest prizes is not enough to form a strategy or decide if it's worth taking part. Seasoned traders would understand this completely. We need to find out about their limitations on leverage, maximum lots per trade, and the requirements one needs to fill to get their hands on one of the prizes.
Let's talk about that next.
MultibankFX trading contest conditions
In order to join the competition, you need to be a specific type of customer. And by specific type, we mean a completely new one. If the broker finds out that you already have an account on the platform, they will immediately disqualify you. Yes, this may seem unfair to those who stuck with the company, but consider this contest as a promotion to bring in new customers.
In order to get on the list, new customers will have to make a completely new account and indicate that they want to participate in the contest. This is done through the DEMO choice during registration or after.
The broker does require an extensive list of personal information. Things like email address, phone number, place of residence, ID confirmation and various other documents will be required to apply. But there are no worries with Multibank FX as they are a regulated and licensed broker, so your personal info will be in good hands.
Once you register and indicate that you want to participate, the broker will send you a welcome email, inviting you to confirm your participation. But don't think the confirmation ends there. Within 5 or-so working days, a sales representative from the company will contact you and ask for your confirmation verbally. If you fail to provide it, you may be disqualified before the competition begins.
Once everything in terms of confirmation and verification is fine and dandy, it will be time to download the MultibankFX MT4 Demo platform and wait for the competition to start. The trading activities will be closed beforehand, so don't expect you can get a little bit of practice in advance. At least not on the Multibank platform.
The trading conditions themselves
Let's now find out about the trading conditions and the tools you'll be able to use to maximize your results before the competition ends.
Every trader will be given an account with $100,000 as virtual money to trade with. You can add a 1:500 leverage on all of your trades. The currency pairs are not restricted in any way, you can choose whichever you like that is supported on the MultibankFX platform.
The minimum trading requirement is 1,000 lots round trip without the possibility of scalping or scripts. This means that you need to base your trades on cold hard facts, logic, analysis, and whatnot.
The broker will be paying very close attention to how you will trade with your account. You can only register one, and if the broker notices two or more registered through the same IP address, it will block one of them, and probably disqualify the user completely.
I won! What now?
If you trade enough to take any winning position, it will be time to wait a bit before the broker's administration contacts you for additional details. It will most likely happen via mobile phone, but keep an eye on your email as well.
Once you've been contacted, you will be asked to provide your ID documents to verify you even further and a 2-5 minute video of how you did it, why you did it and would you do it again.
The video will be used for promotional purposes of the brokerage, and you will be immediately transacted the amount. That's pretty much all there is to know about the MultibankFX demo trading competition.
The registration period is now open and will last until 29th of September, after which the trading rounds will start lasting until October 25th. You'll find out about the results as early as the first week of November.
Good luck!