Plus500 Deposit Bonus South Africa Review
Every time there is a Deposit Bonus announcement somewhere in the world a kitten is petted and big hearty smiles are seen on random people walking in the street. Well, there's a lot of kitten petting and smiles happening in South Africa right now as Plus500 has announced their no deposit bonus exclusively for their South African customers.
What's so special about plus500 deposit bonus?
The special thing about the Deposit bonus is the fact that Plus500 is doing it. Which means that it's guaranteed to be legit. But with everything good, there are some rules that need to be followed.
In this Plus500 Deposit bonus review, we'll talk about the criteria that you need to fill in order to take part in the promotion. Honestly, they're not so restrictive. If you are an active trader you'll be able to get the bonus in a blink of an eye.
Plus500 Deposit bonus criteria
The criteria are quite simple. All you have to do is acquire some Trader points. These points are assigned to you relative to how often and how much you trade with the platform. The way to acquire these points is pretty easy. The only thing you need to do is trade anything you want on a slightly large scale, which you can do by clicking here.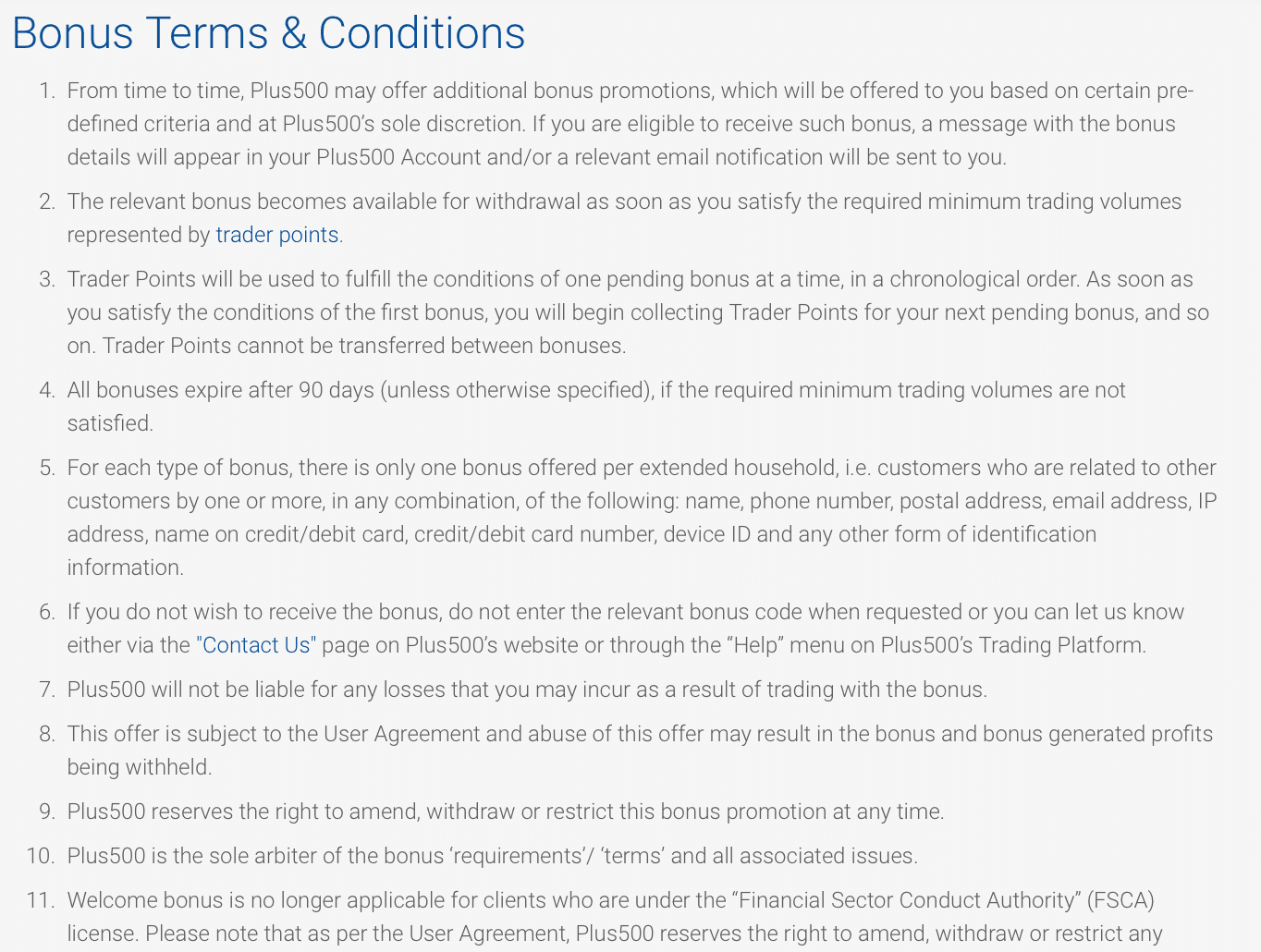 Plus500 Bonus Trader Points explanation
Let me bring an example. If you decide that you want to initiate a $1,000 trade with EUR/USD it will automatically give you 0.05 Trader points. As you can see this is not the best way to gather points as it is quite limited, however trades are more frequent with this pair. The best thing for you to do as a South African trader is to go for USD/ZAR or GBP/ZAR pairs. These pairs should be the most familiar to you. The USD/ZAR pair is 0.71 points per $1,000 and the GBP/ZAR is 0.95 points per $1,000.
As you can see the bonus could be a bit harder to attain, but Plus500 needs to be commended as they're trying to promote profits and better trading from their customers. You can then view the bonus as congratulations for your success. The reason it could be a bit hard to get is that of the minimum points you need to have. Essentially the smallest bonus you can get is 700 Rand, which is only eligible if you have 60 points, meaning that you'll have to have at least $63,000 worth of GPB/ZAR trades under your belt. But the good news is that you can pile up your points and wait before you become eligible for the highest one, which is 70,000 Rand for 10,000 points.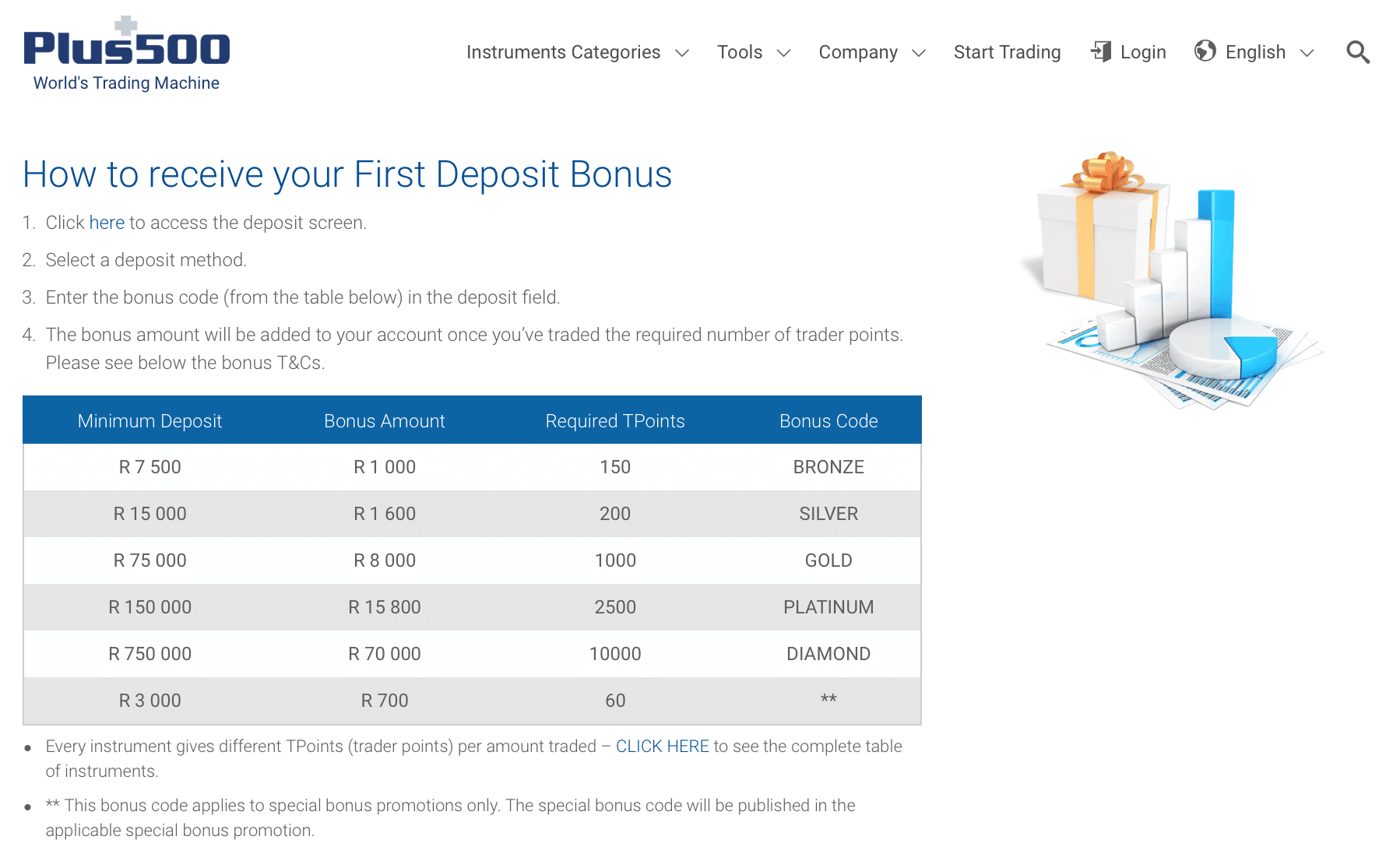 plus500 bonus scalability
After you start gathering points, you will become eligible for bigger bonuses as you go. For example, you start with 60 points and get 700 Rand, next you're eligible for a BRONZE bonus, which requires 150 points and gives 1,000 Rand as a bonus, this continues all the way up to the 70,000 Rand bonus aka the DIAMOND bonus.
All the bonuses except for the smallest one have a code that you need to input in a popup that shows up when you log-in to your Plus500 account. They're BRONZE, SILVER, GOLD, PLATINUM, and DIAMOND.
Bonuses are offered only for traders registered for a trading account with Plus500AU Pty Ltd. For example UK residents registered for a trading account with Plus500UK Ltd will not be entitled of any bonuses, due to regulatory demands. More information about the bonuses offered can be found at http://www.plus500.com.