Best Forex trading strategies can be called a mystery to solve for beginners. If you are looking to perform a trading activity on a real-time basis, do not hesitate to use the Scalping Strategy. Scroll down to learn more about Forex 1 Minute Scalping Strategy.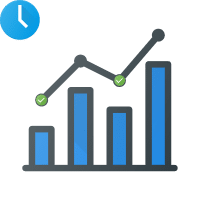 Before we start explaining the strategy, let's look into Scalping itself. It is basically the ultimate version of Day trading. By ultimate version, we mean the extreme. If you know day trading as a way to enter a trade and leave it within the same day, scalping is 1/100th of that. Meaning that after you enter a position you will close it within at least a couple of minutes. The Forex 1 minute scalping strategy is a large part of this as it is the most common one used by experienced traders. When this trading method is used properly, Forex 1 Minute Scalping Strategy becomes a powerful resource to keep track of the entry and exit points, and indicators in the blink of an eye. There are no specific requirements other than dealing with brokers with the smallest spreads and commissions and some available time to spend in front of the screen. If you don't have at least a few hours to spare within the day, then scalping is not your thing. It requires complete concentration and presence at the computer.
Forex 1 Minute Scalping Strategy is considered to be a quite effective and fast tool for beginners, as it does not involve large margins or a huge investment. But, on what matters does this trading strategy hold? On the one hand, you have to spend a lot of time on your computer. On the other, you need to master the use of small spreads and commissions.
Learn how to effectively trade on a daily basis, even if you are a beginner in Forex trading. Incorporate key strategies to your Forex trading plan doing over 100 trades within a day, and learn how to maximize your time and efforts making the biggest impact possible when trading at a microeconomic level. Below you will find some recommendations in order to ensure that you comply with the necessary specifications and parameters.
Using the strategy
You are able to work with the currency pair of your choice, but we recommend you to choose the one with the lowest spreads. We also recommend you to set up your terminal with indicators such as 100 EMA (Exponential Moving Average), 50 EMA and Stochastic (5, 3, 3) while looking for High volatility, London, New York sessions and the like.

The best way to utilize the strategy is to minimize the risk as much as possible. Therefore it is usually recommended by brokers that traders first try it out with a demo account. However, we believe that the demo account takes away the whole point. The desire to make a profit is one of the best motivators when using the FX 1 minute scalping strategy, therefore we think that the ultimate option is to go for a bonus. One of the best places to get a bonus is XM, where you can apply for the XM no deposit bonus of $30. This will enable you to actually incorporate emotions in your trades, getting the most experience out of the strategy while also making a profit. Besides, even if your first attempts fail, there is nothing to lose, the $30 was given to you, they weren't deposited by you. This is probably the best way to minimize the risk while getting the most experience from the trading process.
FX 1 minute scalping strategy (Long) Entry Point
To enter a buy long order it is important to play it safe, so we recommend you to use the Stochastic Oscillator below the 20 levels. With regard to the entry point, it is important to wait until the price comes back to the EMAs, starting with the 50 EMA which should be placed above the 100 EMA. Remember that you are performing a short-term strategy, so you are expected to gain at least 8-12 pips on a trade. The ideal would be to put the take profits around 8-12 pips from the entry price, and the stop-loss around 2-3 pips below the last swing.
FX 1 minute scalping strategy (Short) Entry Point
To enter a sell short order, follow the same procedure, but it in the other way around. That is to say, the Stochastic Oscillator should be above the 80 level. Again, it is important to wait until the price comes back to the EMAs, the 50 EMA is now placed below the 100 EMA, yet the average of the TP remains around 8-12 pips from the entry price, as the SL is 2-3 pips below the last swing.
Forex Scalping Strategy Requirements
Spend at least a couple of hours in front of the computer every day.
Choose a broker offering ultra-low spreads and commissions. STP or an ECN Broker.
The ability to perform a great execution.
An accurate setup of time frames and indicators.
It is also possible to implement Forex 1 minute scalping strategy with Dealing Desk Broker.
Advantages & Disadvantages
Pretty much everything has advantages alongside disadvantages and the Forex 1 minute trading strategy is no exception. Therefore let's now look at what you will receive compared to what you will need to sacrifice in order to be successful at this trading method. We will give it a look from a couple of perspectives. First will be the trader's POV regarding profits, and the next will be of a family person's POV, regarding the time you will have to spend and etc.
The Advantages
More frequency – By this, we mean that smaller moves in the prices occur much more often than long ones, therefore it is common to see a 1 minute scalping strategy user to achieve the same amount of profits in a week, that might take other strategy users to achieve in a month.
Less risk – By less risk, we don't mean that it is safer in terms of something going wrong. What we're trying to say is that the amount of time you will be holding a position is very small. Therefore that gives unpredictable events less time to occur. Meaning that you'll be avoiding 99% of the problems other traders face.
Non-stop trading – Have you ever heard the term "the market is asleep"? If you have you'll know that it is a time where the assets barely even budge in term of long-term investments. The good news is that a profitable 1 minute scalping strategy is called profitable because it can function even during those "Market sleep hours". This is because smaller movements occur even if the market is "frozen".
The disadvantages of scalping:
Time – It is no secret that the amount of time you will be spending on this strategy cannot even compare to other ones. It requires at least 2-3 hours for you to sit at your computer to analyze the charts, set trades, and actually make a profit. FX 1 minute scalping strategy users usually place at least 100 trades during the day. If you have a full-time job or a family to take care of, it may prove impossible.
The Deposit – Needless to say, when you are trading on 8-12 pip profits, you will need a large deposit to at least see some results. By placing multiple $1000 trades a day, even if all of those 100 trades are successful, at the end of the day you're left with around 80-100 dollars. Which could seem a nice deal, but there is no guarantee that all of those 100 trades will be successful.
Lack of info – If you're just a retail trader, you will most likely rely on technical analysis rather than some sort of news or info. This is where you will have some disadvantage compared to bankers, as they have access to most of the situations regarding currencies, even within a small time frame such as an hour or two.
Mental Health – Needless to say, looking at charts for more than 2 hours every-day while also suffering some failed trades, can be quite taxing on the mind. In most cases 1 minute scalping strategy users take breaks to calm their minds, or else it could spiral out into an addiction. The best advice we can give you is to make a schedule. For example, trading is the first thing you do when you wake up, you trade for like 3 hours and for the rest of the day, you don't even touch the computer. Trust us, it can be quite tempting, but it will overwhelm you.
You will have to think long and hard over the choices that you have in terms of pros and cons with 1 minute scalping strategy. Are you ready to dedicate the time and effort for minimum profits that slowly add up, or are you better off going for long-term trades in hopes of large returns? All of this needs pondering over as dedicating yourself to scalping is no small feat. You can use multiple trading technologies to guide you along the way, but that will save you around a minute on every trade at the very most.
1 Minute Forex Scalping Strategy Conclusion
Despite its name, Forex 1 Minute Scalping requires spending long hours in trading. However, that is what it takes to make a champion day trade. By selling and buying around 2-3 pips, and making a profit from small price gaps, you will be able to trade in larger volumes. Forex 1 Minute Scalping makes it so effective and fast to start Forex trading, that most beginners will be hooked to this strategy.
What is next? Pick up suitable Forex Bonus For Pro Traders and start scalping today!
If you feel like you need some practice or are not sure that this strategy will work, you can take one of the no deposit bonuses and test the strategy directly in the field.
Also, remember that in order to be a good trader, you do not have to be a scalper. Luckily, there are different FX trading techniques that can be used. If scalping does not seem to fit your trading style, you can always browse through our Forex Tips category and find something that fits you. Furthermore, this category has tips about the latest bonuses and tell you how to pick the best one for yourself.