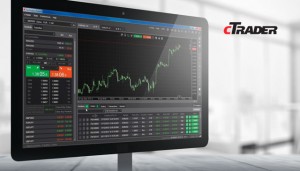 Designed by Spotware to facilitate the work of both traders and brokers, cTrader has often been overshadowed by one of its competitors: MetaTrader from Metaquotes. Yet the reputation of cTrader continues to grow among brokerages.
Considering the support for automated trading, cAlgo help traders to automatically trade the Foreign Exchange Market; an algorithmic innovation that has particularly influenced the trading community. Keep reading cTrader review to learn about the unique features of the cTrader platform and how it compares with one of its closest competitor.
cTrader at Glance
The cTrader trading platform is a cTrader Limited product that serves as the expert resource for the ECN brokers such as FxPro, Liquid Markets, Pepperstone and Admiral Markets. cTrader was conceived to meet the unique requirements of no-dealing desk brokers; as a result, the platform provides plenty of tools that greatly increase the efficiency of transparent and direct executions. If you are interested in real life stock market, keep reading to find out what are the major advantages of cTrader and how to handle this outstanding trading platform.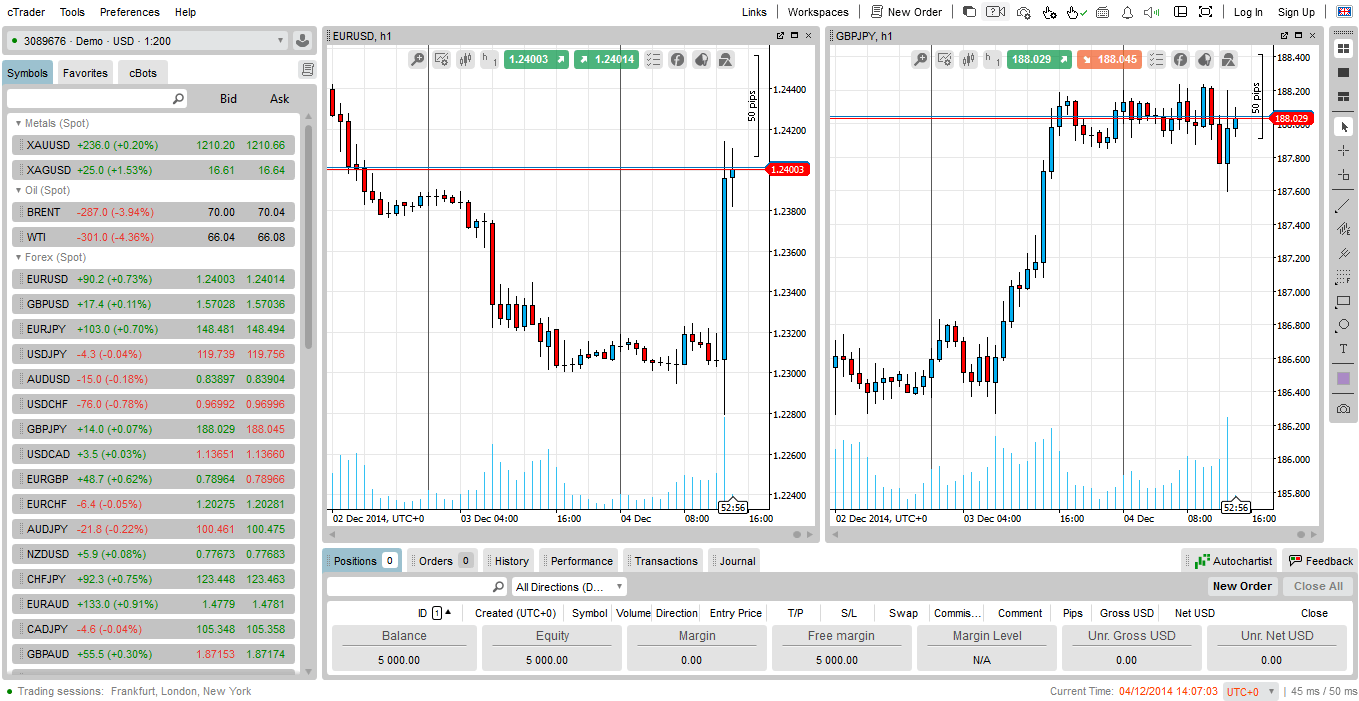 The cTrader platform is neat and convivial at first sight. It offers a pleasant environment and almost self-explanatory workspace. It's so clean and well organized that you wouldn't have any trouble navigating the interface and rapidly being familiarized with the platform. Actually, the design was thought to be simple so that the navigation is almost an intuitive experience for you.
cTrader Interface Efficiency
Users claim that the cTrader interface is more smooth-running, neat and easier to navigate than the MetaTrader platform. The cTrader platform has a larger charting area with a number of indicators and tools which is useful for traders pursuing to enhance their trading strategies but also looking for an easy interpretation of technical indicators and other charting tools. Overall, every customer who has used previous versions of cTrader should be as fit as a fiddle with the platform.
cTrader Market functionality
The cTrader platform displays three alternatives for Depth of Market as follows:
Standard Depth of Market: This feature allows traders to track market dynamics when monitoring aggregated quotes from the brokerages liquidity.
Price Depth of Market: This is an executable ladder that allows better and more precise entries and the use of scalping strategies.
VWAP Depth of Market: This feature helps to monitor the expected VWAP and the expected spread (especially useful for more experienced traders who work with larger and different volumes).
While Metaquotes platforms may only offer one kind of Depth of Market feature, cTrader review recons that this trading software is a pioneer in performing three different types of Depth of Market. For this reason, many users are delighted with the possibilities of the Spotware innovations.
Using cTrader Charts
The interface offers a well-designed charting area that it's actually very easy-to-use; however, the charts can be customized and detached whenever you want. cTrader provides a variety of chart modes, color schemes and timeframes which ultimately translates into a very comfortable trading experience. A few ideas for using the advantages of customization are explained below.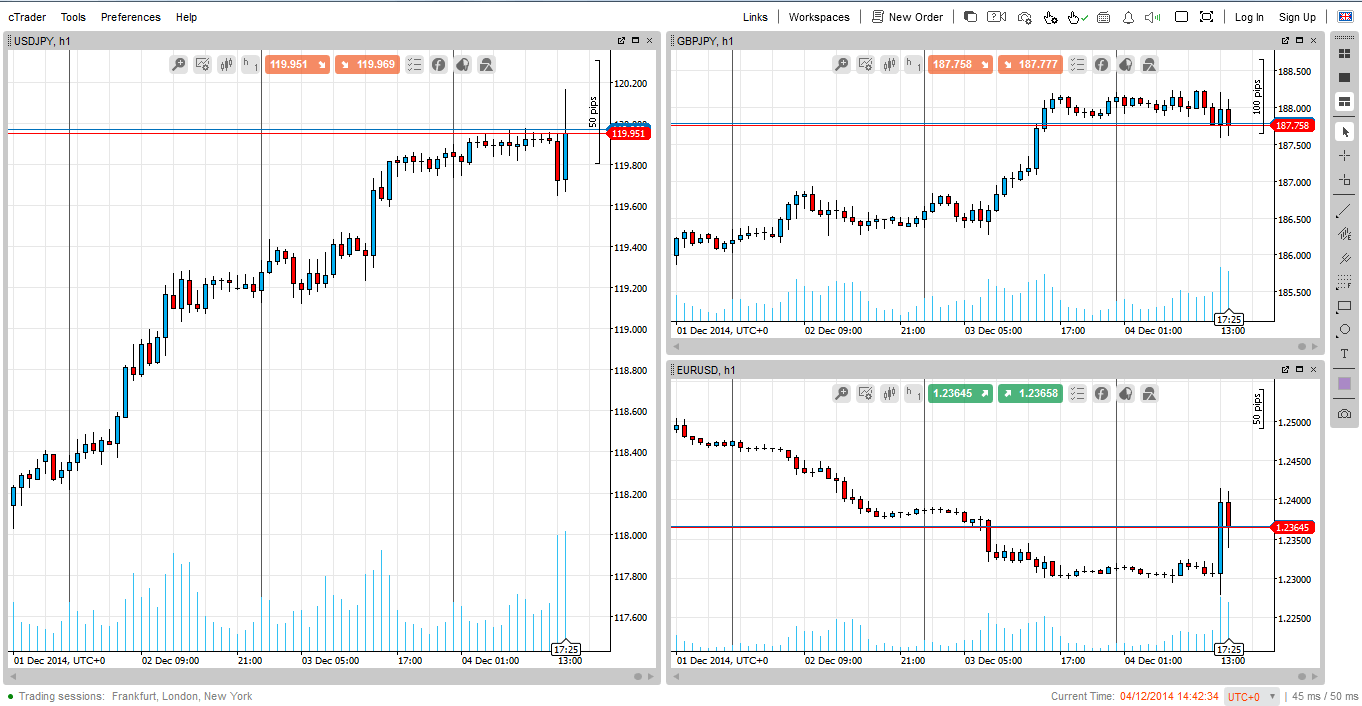 Chart Mode
Three different chart modes let you arrange the charts in your workspace differently. You can choose among multi-chart, single-chart and free-chart. The first one will display all open charts lined one beside each other. The second one will completely expand one chart in the screen, while the third one allows you to arrange all the charts into the sizes and places you want. It's up to you to choose the chart mode that best fits your needs and you can also detach any chart by creating its own tab on the tabs at the bottom.
Color Scheme
You'll see that the default scheme colors consist of a black background with green and red bars, but you can also customize the charts by changing those default colors and keeping it as a different color scheme if you want. To achieve this, every time you open a new chart, you have to choose a different set of colors and set it up as a new color scheme. This set up would remain for that chart until you change the settings again.
Indicators and Timeframes
The platform provides a wide range of indicators and timeframes for your benefaction. You'll access a complete list of indicators (more than fifty including Moving Averages, MACD, Stochastic Oscillator, Bollinger, etc.) which are divided into the four usual categories: Trend, Oscillator, Volatility, and Volume. With regard to timeframes, you can access the usual 1, 5 and 15 minute timeframes under the 1-hour timeframe, but cTrader gives you more options from 45, 20, and 10 through to 1 minute. Overall, cTrader offers more timeframes than other platforms.
Our recommendation: Try out the platform with a demo account. This way you'll be able to decide what type of indicators you need according to your trading activity and, to a lesser extent, what settings and color scheme settings suit you best.
When it comes to performing trading activity at a macro-economic level, everything you need are the fundamental analysis tools. But if you are interested in trading at a micro-economic level, you should opt for technical analysis tools.
As already stated, cTrader was design with no-dealing desk brokers in mind, meaning that you'll be performing your trades directly with a counterparty. On the plus side, the platform makes you feel right at home with an enjoyable interface and well-arranged features. Below are some trading instructions for the cTrader platform and how to take advantage of all of the useful capabilities and features.
EAs vs. cAlgo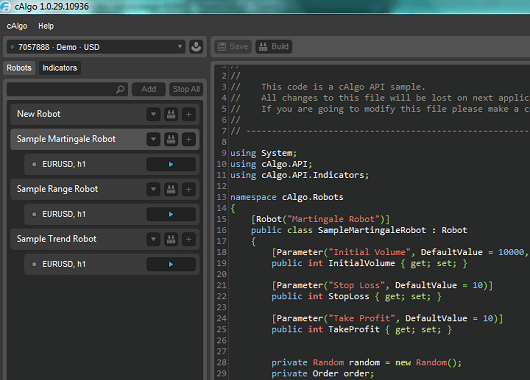 Traders who are interested in automated trading activities prefer using the MT4 and MT5 platforms because it allows them to build Expert Advisors. Not to be left out, the cTrader platform offers the cAlgo functionality allowing traders to generate robots, custom indicators and even perform a wide-ranging of strategies and backtesting. cAlgo works with C# language the C# and .NET framework.
Although the cTrader platform supports its own and precise language, some people remain reluctant to the easiness of its coding language, along with the fact that some traders need a high-quality programming service because they lack the appropriate programming skills. Actually, an important share of traders still believe that MetaTrader platforms offer the best support when it comes to automatically execute at the market.
Fortunately, there are different sources to help users to solve the programming issue, such as the cTDN forum and the cTrader Developer's Network, obviously addressed to cTrader users. They can even hire an external programmer to have the current MQL Expert Advisors converted into the C# and be able to work with cTrader platform whenever they want.
How to Execute Trades with cTrader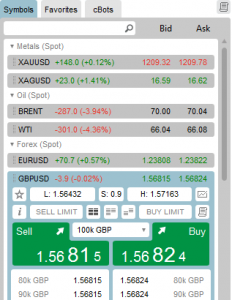 Now, to Execute Trades with cTrader, you just have to access the vertical column that is intuitively located in the left-hand area of the screen. A list with different instruments such as metal, oil and Forex are itemized along with their corresponding bid and ask quotes.
To place an order, click on your preferred instrument or current pair. You'll see an expanded window with all the information you need. Then, click on the desired button for "Cancel Sell Orders", "Close Sell Positions", "Cancel Buy Orders" or "Close Buy Positions" in order to submit the order.
You'll be aware of any action because a pop up window will indicate all the details of the order you just have executed.
Our recommendation: To play safe at any given time, setup for standard orders to pop-up as well.
How to Place a Pending Order with cTrader
A full range of pending orders is displayed on the charts (see Figure 6), so you can easily appreciate the distance, summited time and price of each order.
To enter a Stop Order, right-click on the open chart of the desired instrument or currency pair.
You have to be extremely careful when managing the Stop Loss and Take Profit executions since they are automatically triggered. To achieve this, hover the mouse over the chart and drag and drop the box until the corresponding tab appears.

Our recommendation: Save your preferred current pairs in the column called Favorites for further use (see Figure 7).
But what makes cTrader so special? Most of the attention is on the benefits from some features that not all the platforms offer and not all of the traders are aware of.  These exceptional features allow you to:
Handle an intuitive Depth of Market format.
Add a number of matching Algos (or cBots).
Keep track of your preferred pairs with the "Favorites" column.
Have direct access to the interbank market.
Enjoy trading sessions within regular market hours.
cTrader Availability
To keep up with the popularity of mobiles and tablets, the cTrader platform offers the existing features for the desktop and/or laptop versions. The platform is available on Android and iOS, meaning that those who want to trade from different devices, including smartphones and tablets won't be left behind. When it comes to mobile support, users have indicated that they are very satisfied with its availability and efficacy. Hopefully cTrader would score a few points against its competitors since both the mobile support and the web-based version of the platform are quite effective.
cTrader Review Conclussion
The struggle between these two giants seems almost unavoidable since Spotware offers a powerful platform capable of unseating the MetaTrader supremacy of MetaTrader 4 and MetaTrader 5. The most remarkable innovation of the cTrader platform that certainly would appeal to many traders is the incorporation of different Depth of Market features. On the other hand, the cAlgo functionality lets traders and programmers to work together by building robots and customized indicators. Furthermore, those who are faithful to EA's have founded communities that are entirely devoted to these programs. Although there is no cTrade community as such, there are more and more brokerages offering this powerful to their clients.