While learning about Forex trading, reading a couple of trading-related books might prove useful to you. In most cases, beginners might find it enough just to go through online guides, however, experienced traders mostly prefer learning about complex factors of Forex trading.
For this purpose, one of the best things that you can use is the Forex trading books. They are one of the most important, and at the same time, popular components of the educational process in Forex. Luckily for traders, there are dozens of different books focusing on different aspects of Forex trading.
Since there are so many books available in Forex, many traders are having a hard time deciding which one to use. With this guide, we will help you to find the best Forex learning book.
The best Forex trading books
There are hundreds of books available for Forex traders. Some of them are for beginners, while others focus on advanced traders. Today, we are going to talk about some of the best Forex trading books that you can find.
Among them are good old classics, Currency Trading for Dummies, Trend Following, Day Trading and Swing Trading the Currency Market, and many others. We are going to discuss these books one-by-one in no particular order.
Currency Trading for Dummies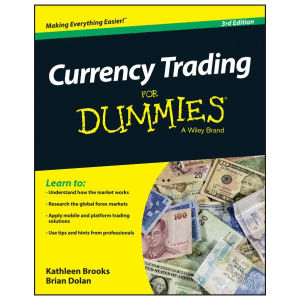 Currency Trading for Dummies was originally published back in 2007, September 17 by  Brian Dolan. This amazing book provides anyone interested in trading on the foreign exchange market with very detailed information and advice about Forex trading.
Most importantly, it gives newcomers a step-by-spet plan of action for getting started in the Forex market. It features different types of simple guidelines and sample trading plans. Currency Trading for Dummies introduces people to the world of Forex trading, and even if you have never heard a thing about Forex, this book can be very helpful for you.
Because of the diversity of the information that can be found in Currency Trading for Dummies, it is a recommended Forex book for beginner and experienced traders alike.
Newer versions
The book was revised several times and the newer versions include updated information. As you might already know, the Forex trading market is constantly developing and changing. Because of this, getting a newer version would be much helpful for traders.
It has been named as the best Forex book by many, and not for the wrong reason. This Forex trading book is full of diverse and very important information that can open up the Forex trading market to you.
Even after so many years of being published, Currency Trading for Dummies still remains to be among the top-charting books on Amazon's list of best sellers. As of today, the third edition of the book, released in 2015, is number three among the Forex best-sellers on Amazon.
There also is a recorded version of this book available, which is among the best Forex trading audio books.
Day Trading and Swing Trading the Currency Market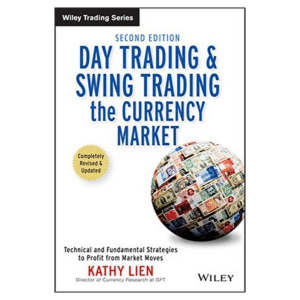 Kathy Lien published Day Trading and Swing Trading the Currency Market 13 years ago, in 2008. Lien helps traders discover a variety of technical and fundamental strategies for trading Forex.
The author has a lot of experience in this market, being a Director of Currency Research for one of the leading Forex providers in the world. The book discovers everything from time-tested technical and fundamental strategies to bank traders, interest rates, option volatility, news events, and intervention of central banks.
Kathy Lien is a world-renowned currency analyst, frequently being a guest on Bloomberg, CNBC, Reuters, and other leading news outlets. With this book, you can learn how currency pairs are affected by different types of factors and use this information in your positions.
This day trading Forex book has been used by traders around the world and has been named as one of the best FX books.
This book will give you the skills that are needed to approach the highly competitive market of Forex trading. The third edition of the book, which was released just a few years ago, features even more information and up-to-date tips for traders.
Kathy Lien is also an author of several other books focusing on different aspects of Forex trading such as The Little Book of Currency Trading and Millionaire Traders: How Everyday People Beat Wall Street at its Own Game.
Forex market book – Japanese Candlestick Charting Techniques
Japanese candlestick charts are a form of technical analysis. They are a very versatile tool that can be used with other technical indicators for the greatest outcome. They can be used for anything from speculation to hedging, and play a huge role in Forex trading.
Written by Steve Nison, Japanese Candlestick Charting Techniques is a great option for beginner and experienced traders alike. Thanks to the easy-to-understand language, the title is capable of delivering unmatchable information for traders. The author has put his decades-long of experience, study, and research into creating this book.
You can get the Forex e book version of Nison's title on Amazon and you can also listen to its Audio version. Nison's title is ideal for those who are looking for ways to up their trading strategy game.
Other books by Nison
The author has written other books as well, that work as some type of sequel to the Japanese Candlestick Charting Techniques. These include The Candlestick Course, Beyond Candlesticks: New Japanese Charting Techniques Revealed, and Strategies for Profiting with Japanese Candlestick Charts.
Steve Nison is a renowned author and speaker who is one of the pioneers who have introduced candlestick charts to the Western world. Although he published the book in 1991, it still remains to be one of the most popular printed and online Forex book globally.
The greatest part of the book is that it not only presents a collection of candle patterns to its readers but also explains in greater detail and showcases underlying factors that might go unnoticed by some traders.
Forex Trading: The Basics Explained in Simple Terms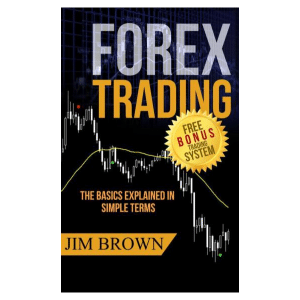 Forex Trading: The Basics Explained in Simple Terms is a famous book written by Jim Brown, originally published in 2015. This Forex for beginners book discovers even the slightest details that might be important for newcomers.
Jim Brown is a self-taught Forex trader who has years of experience in the market. Brown uses clear, concise language that offers traders a new look at the Forex trading market.
Brown also gives newcomers several tips on trading. He even offers beginner traders his own trading strategy and different types of guidelines that can be useful for those who are just getting started.
There also is a bonus system of the book available on Amazon. This includes his personal indicators for MT4/MT5 and TradingView. In addition, you can also get trading strategies and day trading books, which will give you even more information.
On Amazon, this Forex basics book always ranks among the best sellers. It gives traders Brown's personal view on trading, custom indicators, and the ability to directly contact the writer without any additional costs.
Who is Jim Brown?
Jim Brown, the author of the book, is a full-time trader born in Australia. He currently lives in Vietnam. Brown first started Forex trading in 2002, and as of today, he has developed and shared dozens of trading systems and strategies for free, and even assisted beginner traders directly.
This big is a perfect choice for those who are considering to start Forex trading but are having a hard time deciding where to begin. Brown has released a total of three books, exploring different trading markets.
Michael Covel's Trend Following
Trend Following: Learn to Make Millions in Up or Down Markets is an international bestseller, written by Michael Covel. This is one of the best books in Forex, covering investment strategy known as trend following, which uses market trends to determine future movements. More than 100,000 copies of the book were sold since its release in 2009.
It was named as the best Forex market book about trading and commodity markets for the last 15 years. The book talks about various developments in the Forex market, such as panics, crashes, booms, bubbles.
After talking about these periods in Forex trading, the author continues by discussing trading strategies that are used during such hardships and how beneficial they can be in reality.
This Forex analysis book is recommended for both experienced and beginner traders. It offers a very detailed explanation of different concepts in Forex, thus being very helpful for every participant of Forex trading.
What makes this one of the best Forex book?
Trend Following is the first book of Covel, and while writing it, he made sure to include different perspectives. For this, he featured traders like David Harding, John W. Henry, Ed Seykota, Richard Donchian, Jesse Lauriston Livermore, and Larry Hite, among others.
These traders are very well-known around the world and their point of view can be very helpful for other market participants. The book analyzes years of experience and demonstrates how trend following works.
Because of this, Trend Following is one of the best Forex books of all time. It is available in hardcover, e-book, and audiobook formats. You can also use subscription-based audio book providers. Most of them offer a free trial, therefore, you can get Forex audio books free of charge.
Trading: Technical Analysis Masterclass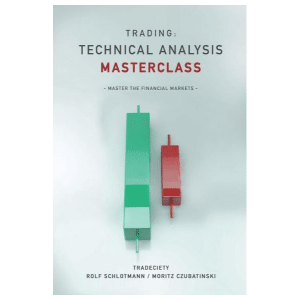 Written by Moritz Czubatinski, this newly-released book tries to prove that trading is not actually as complicated as it might sound. The book is created for beginner traders who have tried trading without any success. Czubatinski tries to offer traders the ability to trade Forex in the right way.
Czubatinski offers more than just trading information, however. This is some type of a Forex psychology book as well because the author takes his time to focus on the impact that psychology might have on trading.
The book mostly focuses on technical analysis, explanation, and interpretation of price movements and the importance of chart patterns. However, the author also notes that it is vital to go beyond the usual technical analysis and understand the behavior of traders based on psychological factors.
This fairly new Forex book managed to become very popular in a very short time. At the time of writing, Trading: Technical Analysis Masterclass is number one on the Amazon Forex bestsellers.
Trading in the Zone
Mark Douglas wrote Trading in the Zone to explain how human psychology can influence the trading market. This book works as a type of Forex risk management book because it gives traders information about how they can control their emotions while trading.
The book was written to teach traders how to work around market probabilities instead of striving to have an exact outcome.
This book can be a very good source for traders to better understand how emotions might influence the outcome of trading. It also features many tips on how to control your emotions while trading and generate higher profits.
Technical Analysis of The Financial Markets
Among the most popular Forex trading books, Technical Analysis of the Financial Markets by John J. Murphy is one of the most reputable and highest-ranking books globally. Many even call it the bible of Forex trading because of its history and importance in this market.
It was originally published in 1998 and many generations of Forex traders have used it ever since. In recent years, the book was revised several times, becoming up-to-date with today's market conditions.
The book is created for those who are interested in the concept of technical analysis. Murphy explores a range of topics starting from the concept of technical analysis, which is considered to be one of the most important parts of Forex trading.
Although the book costs more than any other that we have discussed today, it is very much worth getting because of the amount of information that it can give you.
How to get a Forex guide book?
We have talked about the 8 best Forex trading books that are available in the market, but how exactly can you get them? There are many ways for Forex books download. You can use Amazon and buy the e-book version, or get the paperback version of the books.
You can also get audio book versions of every single title that we have discussed in today's guide. Many of them are also available in libraries and book shops globally.
Final thoughts on Forex trading book
Starting Forex trading is not an easy thing, but there are many resources that you can use to make your job easier. Books can be very good assistance for beginner traders because they represent a good source of information.
When it comes to choosing the best Forex book, we believe that it is very personal. It depends on many factors, including your experience. In this guide, we have discussed some of the best books that are available today.
While some of them are created for beginners, others can be very helpful for newcomers and experienced traders alike.
Frequently Asked Questions on best Forex book