Thanks to Forex trading apps, traders no longer have to stay glued to their computers. Forex trading app is a mobile application, which gives traders access to the trading market. Many of them also provide vital information about the market that can be used while trading.
There are mobile versions of already popular platforms, such as MetaTrader 4 and MetaTrader 5, and also applications that are exclusively created for mobile devices. As of today, almost every broker offers mobile applications. Thanks to them, Forex trading has become easier and more accessible.
But, what are the best Forex trading apps? Follow our comprehensive guide to find the best applications that you can use today on iOS and Android devices.
Forex trading apps – How do they work?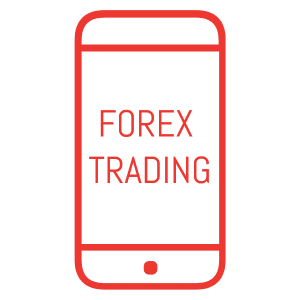 When talking about Forex trading apps, we should note that there are different types of them available. Some of them offer trading abilities, while there are others that focus on charting features.
Some of them are Forex trading beginners apps, whereas others are dedicated to more experienced users. These types of apps are created to help newcomers to learn more about Forex.
There also are regular trading platform apps and independent applications that offer analyzing opportunities to traders.
It is very difficult to talk about Forex trading apps because it is different for every trader. While one trading app might be the best one for you, others might enjoy different apps more. It entirely depends on your wants and needs, and on you as a trader.
Why are Forex apps for mobile so popular?
In 2021, Forex trading apps can make a huge difference in your trading experience. The Forex trading market is constantly changing. Today, trading with mobile phones represents no less of an alternative than desktop trading.
There are many people who are constantly on the go and they do not have the time to sit in front of their computers all day long. For those people, Forex brokers globally are creating special applications that are making Forex trading a lot accessible and easier for traders.
Forex trading mobile apps are designed to take advantage of the features of mobile devices and give traders a unique experience. In recent years, they have become an integral part of modern Forex trading.
How to download the Forex trading app?
Downloading trading apps on your phone is very easy. It takes just a few clicks and that's it, you will have your mobile trading application. It is especially easy when compared to downloading a Forex trading app for PC.
Depending on your application, you will have to follow different types of registration procedures. For example, if you are using a regular Forex trading platform application that belongs to one of the Forex brokers, you should be able to log in using your trading account.
However, if you are using the independent trading app, you might have to register a new account. In some cases, for example, in the case of the Forex trading learning app, there is no registration needed at all.
If you are using the iOS device, to download a Forex trading application you will have to go to the App Store. Here, you can easily search for the application that you are using. The same goes for Android devices, where you will be using the Play Store instead of the App Store.
Although the process is very easy and takes a few minutes, remember that the availability of certain applications might depend on your location. So, if you are not able to find a certain application, it means that it is not available in your region. But, there is no need to give up, because there are thousands of applications that you can use.
Best Forex trading apps for 2021
As we have already said, there are different types of applications available to you. The one that you want to use depends solely on your needs. To help you out, we will discuss some of the best applications for mobile traders.
Forex trading app for beginners
While going through different types of Forex trading apps, we found that there are hundreds of them available online. There are many apps created especially for beginners. One of them that stands out the most is the Forex Game 4 Beginners.
This application is available on both iOS and Android devices, however, it has a different name on Android's Play Store. You can find this Forex trading app for Android as 'Forex Game – Online Stocks Trading For Beginners' on the Play Store.
The Forex Game 4 Beginners is one of the highest-rated Forex applications on the App Store of iOS. The application is available in 23 different languages, including English, Arabic, French, German, Spanish, and others.
It was created solely for fun, with no risks involved. This Forex trading app for iPhone is a very good solution for those who want to learn more about Forex and get used to the way the market works.
But, you should not forget that unlike trading with your real-money, virtual forex trading app does not involve any risks. While it can be a good solution for learning, it does not involve the emotional side of trading.
Why is this app useful?
If you are new to the Forex trading market, you have to use every opportunity that you have to learn more about Forex. This market is very diverse and includes many details that might be a little hard to master.
Thanks to games like this one, Forex trading might become easier to master. For starters, you can do anything with this game that you would be able to do with a regular FX broker, the only difference – you will not lose money.
This way, you can try out different types of strategies and see which ones work better for you. This game works like a Forex trading app demo account, giving you access to real-life Forex trading, without putting your funds under any risks.
This Forex trading simulator app is very popular among beginners, and if you are new to this market, it might be very useful for you too.
Forex Calculator
This one is one of the best-rated Forex trading apps on the App Store. Thi iOS application has a rating of 4.7/5.0. It is available in 14 different languages, including English, Russian, German, French, Spanish, and many others.
It represents very fast and reliable Forex news and an economic calendar. It offers traders the ability to stay up to date with the latest financial events that could potentially have an influence on the Forex trading market.
This Forex calendar helps traders keep track of important financial announcements and information. No matter which trading strategy you are using, this type of information can be very important for you.
This Forex trading beginners guide app offers traders a number of useful services, such as today's widgets, historical data, graphs, news posts, analysis, and country-specific news articles.
What does the Forex calculator offer?
There are different types of Forex calculators available in the App Store and Play Store. Most of them offer very similar services. Thanks to Forex calculators, you can do your fundamental analysis very easily using only one application.
Some of the calculators also offer you a special space where you can create your plan, write down the things that are important to you, and use them while trading. Also, in addition to news analysis, some calculators might also offer you past movements of the currency pairs that you want to trade with the help of Forex trading charts.
Stocks app from Apple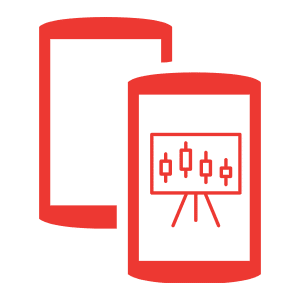 When talking about the best applications, not everyone thinks of Stocks by Apple. Some people think that this application is only for those who are trading Stocks, but that is not true at all. You can search for the major currency pairs and see a lot of information about them.
This application is available only for Apple devices and includes charts and news articles from leading providers. These include news articles from sources like Bloomberg, Yahoo Finance, and many others.
Sadly, there is only a Line Chart available in this application. However, you can see the price movements of the currency pair in different time periods, up to 2 years. The great thing is that this application is totally free.
If you want to enjoy slightly more services, you can also subscribe to Apple News Plus. With the help of this app, you will have access to analysis from leading publications, such as the New York Times, Washington Post, and many others.
Forex trading app guide – CNBC: Stock Market & Business
This is yet another application that is available for both Android and iOS users. This application offers you a deep insight into trading markets such as Forex and Stocks. It has a rating of 4.7/5.0 with more than 465,000 reviews.
It offers real-time market data and watchlists, customizable charts, personalized news alerts, live audio, and live TV. A very great part of this application is that you can view pre-market and after-hours trading data. This includes charts with customizable time frames, indicators, and styles.
The application covers top business news and market events 24 hours a day. For this and many other reasons, CNBC's app deserves a place in our top Forex trading app list.
Although the application is free, it also features a CNBC Pro subscription, which unlocks even more content. This includes monitoring live global coverage in various markets. There also is a 7-day free trial available.
Forex apps for mobile – Bloomberg
Bloomberg might not be the first application that comes to mind when thinking about Forex apps. But, in reality, it is a great solution to find accurate information timely. This financial application allows you to get information about the ongoing events in the market.
Also, you can track specific currency pairs and keep them in check at all times. Thanks to this application, you can receive special alerts about major changes in the prices of currency pairs that you want to trade.
Forex trading apps
We have already talked about the applications that give you charting abilities and access to market news. Another type of applications, as we have already said, are those where you can trade directly.
Most of these types of applications are created by Forex brokers themselves. They work much like a Forex trading platform and you can open and close positions with them. Some of them are created by trading platforms as well, such as MetaTrader, for example.
These types of applications seem to be some of the most popular ones. In recent years, trading with mobile phones has become very popular thanks to these applications. They make trading much easier and accessible to everyone.
Depending on the broker that you are using, you might also have access to numerous trading indicators.
Forex trading app tips – How to find the best one?
While looking for the best Forex trading application for mobile phones, you should focus as much as you can on your needs. Try to find out what you are looking for in an application. Do you want to trade Forex with it, do research, or just learn a little more about trading?
Answering these questions will help you out a lot. But, there are other things that you should consider as well. One is the rating of the application. You should not use an application that has a low rating.
Low ratings mostly mean that people did not find the application helpful, so you might prefer to look for others. Also, another great tip is that before downloading an application, you can also see Forex trading app reviews directly in the App Store and Play store. This will help you find out how useful those applications are and people assess the services.
Pros and Cons of Forex trading with phones
There are many pros and cons of Forex trading with mobile phones. One of the biggest benefits of using Forex apps is the convenience that mobile devices offer to traders. You can trade Forex no matter where you are with the help of mobile phones.
Also, you can react to the opportunities immediately and keep in touch with the market at all times. One disadvantage of mobile trading is the size of the screen. For some, the fact that mobile phones have small screens makes trading harder, but for others, it is not a problem at all.
Also, some people say that it is very hard to use mobile devices for fast, Straight-Through Processing trading, also known as STP trading. That being said, the speed of mobile phones and mobile networks are improving every moment, and this might change in the future.
Final thoughts on trading platform apps
Trading apps are making everything easier for traders. There are hundreds of apps available online, all of them having a different purpose and offering diverse services. Today, you can use these applications to not only trade Forex but to also learn about this market.
You can also find applications that can help you analyze the ongoing events in the market and make decisions about your positions. Forex trading applications have made this market more accessible for everyone, and using them can be very easy and useful for traders.
Frequently Asked Questions on the best trading apps