HotForex Review – Trade 1,000+ of Symbols with this Broker
HotForex is one of the most well-established Forex brokers on the market. It provides service to the citizens of more than 180 countries across the globe and offers both STP and ECN trading platforms.
By signing up at HotForex, you get a platform that supports over 1,000 different instruments from Forex, stocks, commodities, and other financial markets. As an extreme regulatory measure, HotForex features licenses from a bunch of different organizations, including SVGFSA, FCA, FSCA, and more.
In this HotForex review 2021, we're going to show you why this broker is worth taking a look at.
All about HotForex regulations
Regulation is always one of the most essential aspects that any broker review should focus on. It shows whether your funds are safe with the said brokerage.
With HotForex, you can be sure that it is absolutely the case. As noted in the introduction, the broker features a staggering array of licenses from different regulatory organizations, namely:
St. Vincent and the Grenadines Financial Services Authority (SVGFSA)
Financial Conduct Authority (FCA) from the UK
Financial Sector Conduct Authority (FSCA) from South Africa
Dubai Financial Services Authority (DFSA)
Financial Services Authority (FSA) from Seychelles

Each of these licenses individually, as well as collectively, create a safety net that simply doesn't allow HotForex to think about scamming its clients. Besides, the broker itself wants to ensure the safest trading experience on its platform, which is why it features a high-end fund insurance platform up to 5,000,000 euros, negative balance protection, and many other risk management features.
So, is HotForex a scam? Absolutely not! Neither the above-mentioned five licenses nor the extensive fund protection mechanisms leave the chance for your financial disadvantage at HotForex.
Creating an account at HotForex
Moving on, let's take a closer look at which accounts you can get at HotForex. While reviewing the broker's website, we found 6 different live accounts:
Micro Account – 5 USD
Premium Account – 100 USD
Zero Spread Account – 200 USD
Auto Account – 200 USD
PAMM (Premium) Account – 250 USD
HFCOPY Account – 500 USD/100 USD
As you can see, creating any of these accounts will set you back a very affordable entry price. For just a 5 USD deposit, you can start trading all available instruments with 1:1000 leverage, spreads from 1 pip, and no other commissions. And if you want a sturdy investment account, the HotForex PAMM account review shows that this is the most suitable option for your needs.
Besides these live retail accounts, you can also open an Islamic account with no swaps for rollover trades. For a swap-free option, you can get Micro, Premium, Auto, and Zero Spread accounts. On top of that, there's also a demo account with a 100,000 USD virtual balance and no restrictions on demo trades.
How simple is the sign-up process?
In order to create an account at HotForex, you don't have to go through burdensome verification processes that require live calls and unnecessary things like that; with just a few steps, you are pretty much good to go.
More specifically, you need to provide your:
Full name, date of birth, address, email, education;
Employment status, annual income, trading experience;
A photocopy of your ID card or passport and the proof of billing address.
The latter documentation is necessary to adhere to the KYC requirements and verify the identity of the user. In short, HotForex needs the basic documents from you to ensure the safest trading venture for you.
Which markets are available at HotForex?
Yet another crucial piece of information about HotForex is the instruments you can trade on it. More specifically, there are 7 different markets to trade on:
50 Forex Pairs
10+ Commodities
4 Precious Metals
20+ Indices
50+ Stocks and Shares
10+ Cryptocurrencies
3 Bonds

All of these instruments come with quite impressive trading terms and conditions. The maximum leverage you can get is 1:1000 for FX pairs, the spread can go as low as 0 pips, etc. We even did the HotForex bonus review and found that there are three different promotions ranging from 30% all the way to 100% rewards.
HotForex review and comments on its commission rates
Moving on, let's have a close-up look at trading, as well as non-trading fees, that shape the whole trading experience at HotForex. As our in-depth review shows, HotForex features some of the most affordable commission rates you can find in the entire trading industry. We will divide these fees into two categories: trading and non-trading fees.
Trading fees
When it comes to the trade-related commissions, HotForex offers one of the most affordable platforms on the market. First off, the majority of live accounts are totally commission-free and you can get them for a very affordable minimum deposit. And the two accounts that come with a certain amount of fees are also very affordable.
If you sign up for a Zero Spread account, the commission for the major currency pairs per round turn lot will be 6 USD, whereas the trades for other currency pairs will be 8 USD per round turn. For the PAMM Premium Plus account, Forex commissions go up to just 10 USD per round turn, which is not too great considering the sophistication level of this account.
Besides the account-specific fees, there are other, more fundamental commissions that take place within the trades. They are called spreads and they are marked as the difference between bid and ask prices.
The minimum spread that you'll be charged at HotForex is going to be 0 pip, i.e. if you choose the Zero Spread account, the only commission you'll be paying is just 6/8 USD per round turn lot. And as our HotForex Premium account review, as well as other live account reviews, show, spreads start from 1 pip and are variable across all markets.
Swaps
Another trade-related fee occurs when you decide to leave your trades open for longer than a day. In those times, the broker will either charge you or credit a certain amount of interest rate, which depends on the interest rate difference between the currencies in your pair. If the interest rate for the bought currency is higher than the sold one, you'll actually get a swap from HotForex; yet if the sold currency has a higher interest rate, you will have to pay a swap.
Now, if you adhere to the Islamic faith, you can opt for the swap-free account that is pretty much identical to other accounts, it's just it won't charge you a rollover fee for long-term trades.
Non-trading fees
After doing the HotForex spreads review, it's time to move on to non-trading commissions that are also pretty important in any broker review.
One of the biggest advantages of HotForex is that it manages to eliminate unnecessary commissions as much as possible. This is why its clients aren't charged a single penny for either deposits and withdrawals. And this applies to all payment methods that we're going to list in the next section.
On top of that, as if 0 transactions commission wasn't enough, HotForex goes as far as to refund the commission money charged by the clients' banks. Considering that banks usually have specific commissions on wired transfers, they sometimes still charge the clients, even if the broker abstains from it. But worry not, if the transaction was over 100 USD (which would almost always be the case), HotForex, will actually refund that money to you – how would anyone have complaints about HotForex after finding that out?
But there's one particular commission that you're charged if you leave your account inactive. It's called a dormant account fee and it is a mere 5 USD for having an inactive account for over 6 months. And if your account reaches zero account balance amid these charges, the broker will automatically close it to avoid negative account balance where you actually need to pay for it from your wallet.
Comments about HotForex deposit/withdrawal methods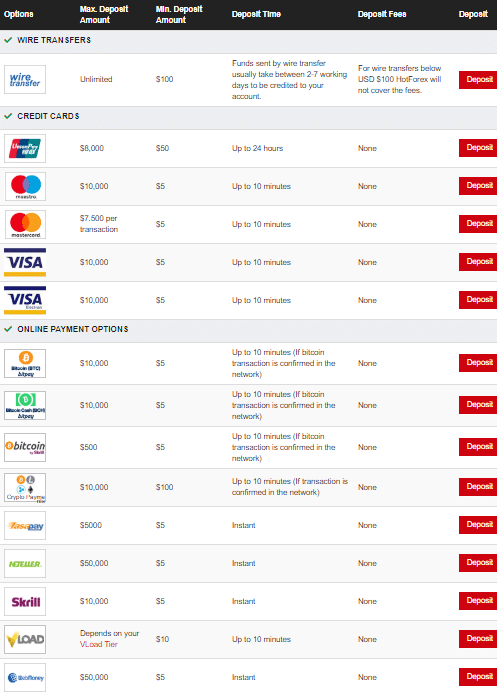 When it comes to the financial platforms that power deposits and withdrawals at HotForex, you're still in for a treat as there are no deposit or withdrawal fees for any of the transaction methods.
In order to make deposits to your live trading account, you can use:
Wire Transfer
Union Pay
Maestro
MasterCard
Visa
Visa Electron
Bitcoin (BTC)
Bitcoin Cash (BCH)
Bitcoin by Skrill
Other Crypto Platforms
FasaPay
Neteller
Skrill
VLoad
WebMoney
As you can see from this HotForex broker review, there are a lot of payment methods that you can choose from. This always speaks highly of the brokerage, proving that the main focus for it is the convenience of its clients. What's more, the majority of these platforms also support withdrawals, the only exceptions being Bitcoin Cash (BCH) and Bitcoin by Skrill – even the regular Bitcoin (BTC) is available for withdrawals.
As for the deposit times, you're usually looking at around 10 minutes of transaction confirmation, while there are also instant executions, as well as some further delays for wire transfer and Union Pay. Withdrawals usually stretch out to 2-10 business days, sometimes less, and sometimes they're even instant.
Which platforms can you use at HotForex?
Next up, let's take a closer look at which platforms you can use when signing up for HotForex. One of the biggest indicators that let us have a strong negative answer to the question of "is HotForex a scammer?" is that the broker supports both MT4 and MT5 on its platform – two of the most popular and well-established platforms in the industry.
When it comes to the exact features that come with these platforms, you can pretty much expect the best possible feature pack with either of these platforms. If you choose MetaTrader 4, you are getting:
All available instruments
4 order types
30 different indicators
Auto trading with EAs
Social trading
The same feature set comes with MetaTrader 5 with some additions, such as:
+2 order types
+8 indicators
Hedging allowed
Economic calendar
In addition to that, HotForex also offers its own proprietary software called HotForex RapidTrader FIX/API. This is actually the highest-end trading software that works wonders for professional retail traders. As our HotForex PAMM review shows, traders with this account and with this software are getting:
Automated trading systems
Automated quote engines
Even more sophisticated order types
Order-routing management schemes
Now, since the HotForex RapidTrader FIX/API is this elite trading platform, not everyone can get their hands on it. In fact, only those traders/corporations that can afford to deposit 200,000 USD can use it in their trading endeavors. Besides, withdrawals that reduce the account balance below 200,000 USD aren't confirmed.
Are these platforms mobile compatible?
Another great advantage of MT4 and MT5 is that they can be downloaded on both iOS and Android devices as universal MetaQuotes apps. What's great about these apps is that you can use them for pretty much everything, be it creating and funding the account, opening/closing trades, or conducting technical analysis.
Can you copy other people's trades?
An additional feature that you're going to get by registering at HotForex is its social trading platform. Our HotForex copy trade review shows that there's a pretty significant HFCOPY Account that gives you the ability to copy other traders' positions and take advantage of their pro-level decision making. As a beginner, you would hardly find anything more beneficial to a Forex trading brokerage.
Getting educated at HotForex – How accessible is it?
Granted, the broker's biggest advantage – or disadvantage – can be determined in its trading terms and conditions, there are additional offerings that you also need to consider when making a choice. And education is definitely among such choices.

At HotForex, you're getting an extensive educational section that helps you improve your trading knowledge and be more effective on the market. On the broker's website, you're going to find:
Educational videos – these are very short and interactive video materials that cover a bunch of different topics, be it basic Forex terms, indicators, or various financial actors on the market;
E-books – yet another impressive section found during one of our HotForex reviews that includes online books and booklets, also designed to improve your knowledge;
Webinars – live events that bring experts from across the field. They share their knowledge and insight into the currency market. And a huge advantage of HotForex' webinars is that they are multilingual, available in English, Spanish, Farsi, Indonesian, Malay, Chinese, and Thai;
Trading academy – online courses that, judging from the whole educational section, is the most in-depth material for you to use and get better at trading. These courses teach you the most important theoretical and practical lessons about Forex
Glossary – lastly, there's a large glossary section to explain every important term that you'll possibly come across on the market.
As you can see, you have lots of opportunities to expand your knowledge at HotForex. Once again do we see that this broker really cares about your success on the market.
Trading research at HotForex
Next up, let's discuss another important section we came across during this HotForex broker review – research tools. If you do decide to sign up at HotForex, you'll get:
Regularly-updated market news from FXStreet;
50+ technical indicators and other tools that are integrated within the MQL5 community and guaranteed to assist you in making the most accurate price predictions;
Insightful trade ideas from professional traders;
HotForex Exclusive Analysis, which is basically all of the experts analyzing various market developments for you;
Autochartist tools that automatically observe and analyze your preferred instruments and notify you when they post profitable movements.
On top of that, HotForex also features an exclusive feature called Advanced Insights. What it does is it uses artificial intelligence to analyze finance-related articles, as well as price movements of individual assets, and provides sentimental and volatility analysis. And with its insightful visualizations, Advanced Insights is available for both MetaTrader 4 and 5.
How can you contact HotForex?
The last segment of our review is going to be the contacting methods that facilitate the exchange between HotForex and its clients. Regardless of whether a broker offers some fancy additional features or not, having a stable customer support section is always a must.
And when it comes to HotForex, you can certainly feel that customer support is one of the strongest suits of the broker. When you need any kind of information about HotForex, be its trading terms and conditions, platform, or anything else, you can use:
Live chat
Email support: support@hotforex.com
Phone call: +44-2033185978
What's really important to note here is that regardless of which contacting method you use, you're always going to get super-friendly and helpful responses. In fact, our team actually contacted HotForex's support team several times and we were never once disappointed with the answers.
Is HotForex compatible with your smartphone?
Granted, online trading is mainly done on desktop devices, be it PCs or laptops, however, the mobile trading community is increasing day by day. This is why any broker review should also focus on whether the broker's platform is compatible with smartphones.
And we are glad to say that HotForex's website is as mobile-friendly as it can get. As our HotForex micro account review shows, you're pretty much free to set up an account at this platform and start trading from your iOS or Android device without any difficulty.
Final comments about HotForex – Can you trust it?
HotForex is a well-established Forex trading broker that sets itself apart among its competitors with a huge array of advantages. First things first, the broker features licenses from five different financial regulators, among which are the UK's Financial Conduct Authority, Dubai Financial Services Authority, and more.
The broker offers tradable instruments from various different markets, including Forex, stocks, commodities, and even cryptocurrencies. For some of these instruments, the leverage ramps up to 1:1000, whereas spreads can go as low as 0 pip.
Besides very lucrative trading terms and conditions, as well as complex trading platforms (MT4, MT5), HotForex also provides some of the most sophisticated educational and research materials. With these offerings, you can further enhance your trading effectiveness and be more profitable on the market.
In short, the following HotForex review and comments about its trading platform show that we're dealing with one of the best trading brokerages you can find in the industry.