An in-depth IQ Option Review of fees, opportunities and more
Out of the many possible Forex brokers in the world, IQ option has been one of the most successful in retaining a huge number of users and a very positive reputation. The reasons for this are many, ranging from the huge number of their users to reliable trading platforms, to great bonus offers and great terms for their users.
This in-depth analysis will take a look at the history of IQ options. We will be looking at them starting from the date of inception in 2013, up to today. The end goal of this IQ option review is to provide users with a detailed summary of what the broker has to offer to them and to the 20 million account holders that they already have today.
Today, IQ option is one of the many elite companies that are licensed to operate by the Cyprus Securities and Exchange Commission. The headquarters of the company are located in Cyprus. This ensures that the company complies with the rules and legislation imposed on them by the regulatory body. The result is that the company is fully licensed to operate in the EU and a number of other jurisdictions across the world. You might get to trade with this reliable broke too, but before you do, you should learn more about what they have to offer to you.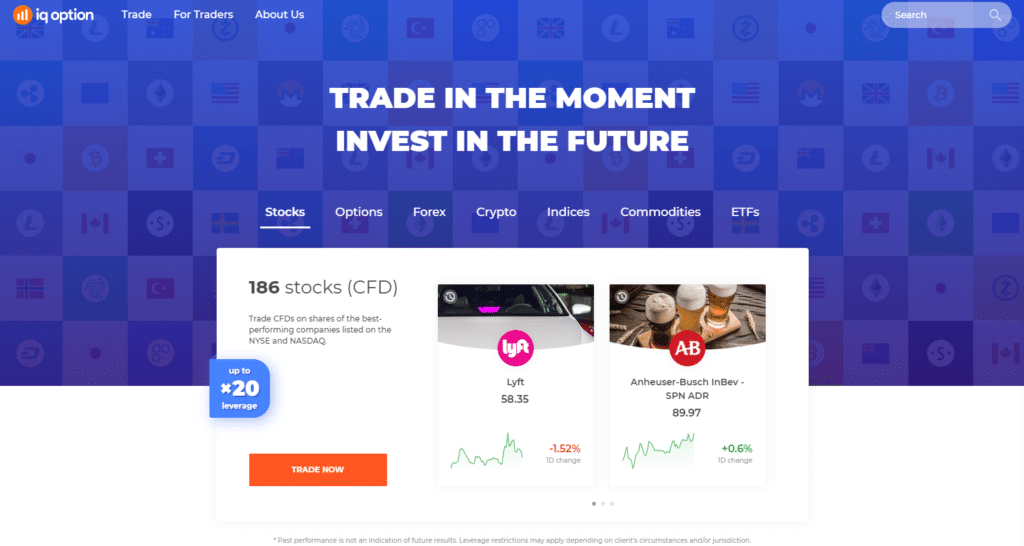 What does IQ Option have to offer
We found, when creating this IQOption review that there is a diverse portfolio of trading assets available to all users who decide to work with IQ option. The number of different assets is impressive and not something you will find offered by many a broker around the world. Users who choose to work with IQ option will have the ability to start working with Contracts of Difference (CFDs), stocks, Cryptocurrencies, Forex, ETFs and more. Here is a more detailed overview of the options provided to the users.
Stocks – Thos who are interested in trading with IQ option, will also be delighted to find out that they have the option to trade stocks and stock CFDs. More than 176 different companies are included, some of them sourced from NASDAQ and NYSE. This makes IQoption an excellent opportunity for those who want to diversify their trading portfolio by trading on the mainstream financial markets.
Options – Those who do not want to trade stocks or CFDs, will also have the chance to speculate on the prices of a huge number of different assets. People will have the chance to trade options on currencies, stocks, indices, and commodities. There are more than ten million options on the platform today.
IQ Option Forex – This is what many users coming to see this review are looking for – a reliable platform for Forex trading. IQ Option offers 188 currency pairs to trade for the users, with a range of mainstream and relatively exotic currencies all being easily accessible. This allows all potential users to find something useful to them.
Cryptocurrencies – If you thought that cryptocurrencies were the rising star of the trading world in the past, you should see what is happening on the markets today. As a result, just like many other brokers around the world, IQ option cryptocurrency trading has become an option to their users. Crypto coins and tokens such as Bitcoin, Ethereum, Litecoin, Monero, Ripple, Zchash, Omisego, Iota, Dash and others. This will keep many users interested.
Commodities – Commodities available for trade with IQ option range from Oil, to Gas to Gold. These are relatively steady over the long term, but the shifts in the short term values of each of these commodities might prove to be a potential jackpot for one trader or another.
ETFs – It is possible to trade ETFs on all kinds of assets in the markets, including commodities, indices, and asst baskets. While a relatively new addition to the tradeable asset roster, the range of all kind of possible ETFs to trade and the kind of money there is to be made of them makes this asset incredibly popular on the markets. Currently, IQ Options platforms allow for around 4288 different ETFs to be traded.
Getting an IQ Option Demo Account
Just as it is to be expected of a large broker, IQ option offers its users the chance to open a demo account. A demo account allows a user to practice how they trade and figure out how the markets work, without having to lose a significant chunk of their assets in the process. And while the fact that the option to open a demo account is offered by IQ option is not special, the kind of demo account the broker offers is unique.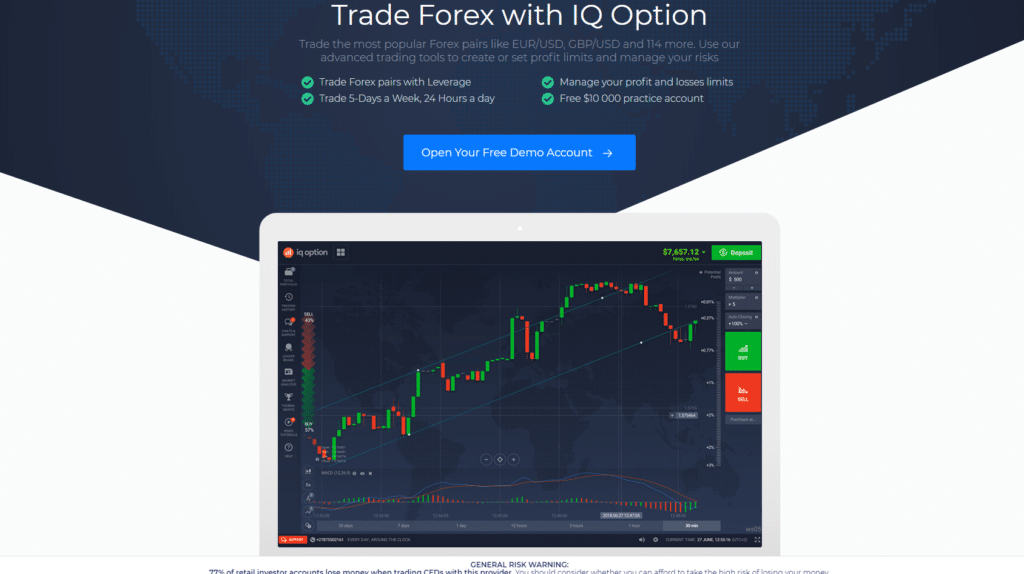 The way it works is pretty simple: when you get an IQ option demo account, you get to have $10000 in virtual funds. These are the funds you have to play around with. If you end up using all of these funds and losing them, then you simply press a button and keep working on your future trades, until you are comfortable with what you can do and what you are doing.
The beautiful thing we found when creating this IQ Options review, is the fact that you do not need to provide your personal information when creating a demo account with the broker. This allows you to start trading, start practicing, without having to worry about having their information in the hands of someone they don't necessarily want it in. What is the highest level of privacy protection you can provide for a client? Just don't ask about their private information, and it will be safe.
Getting an IQ Option Real Account
Getting a real account with IQ option is a very easy task to accomplish. The broker makes it incredibly easy for their users to get an account. All they need is 10 US dollars, Euros or British Pounds, and they can get started. Such a low deposit minimum allows for easy entry into IQ trading. There are currently two types of account available to just starting traders:
Real account – A real account has a 10 US dollar minimum deposit, and there will be no restrictions on how it functions and how much trading a user will be able to do with it. Users who select this type of account will have access to most all asset types, with 70 assets easily available for trading twenty-four hours a day. The owners of such accounts will also be able to participate in different competitions that happen with the broker, as well as be eligible for the many different bonuses that the broker has to offer to their users.
The VIP account – The VIP account is a little more complicated to get, and the requirements are much higher than with a normal account. To be able to get your hands on this account, you will have to have:

$1900 or equivalent in other currencies to deposit onto your account when you first start out. Alternatively, you will have to have proven a trading volume track record of $15000 or equivalent with.
On top of the features that real account holders will have access to, VIP account holders will have additional benefits. Benefits such as a personal account manager, willing and ready to assist with any issues that might arise or questions that a trader might have. OWners of such an account will also receive monthly reports on their trading, which will be done by the analyst provided by the platform. This will allow the user to receive some important feedback on how they are doing in the market. This might not be a quality unique to IQoption, but it is one we appreciate nonetheless.
How complicated is IQ Option Sign up?
Signing up with IQ option is an extremely easy process. The broker even allows users to sign up with them by using Facebook or Google, but we have our qualms against that. We believe that social media is not capable of being secure enough to safeguard your personal information and your passwords. This might lead to a security breach and a loss of all of your funds. So we advise you to avoid the two options and go with a dedicated email address that will be used only for trading with Forex.
All you have to do to get an account is input your personal details, create a password and go to the next step, which is basically selecting between starting to trading with the IQ broker training account, which was discussed above, or starts with the real account. To do so, you will have to make a deposit into your account. Once done, a pop up will notify you of the account's creation (both with a real and a demo account).
The broker has decided to, instead of offering something like an IQ Option MT4 platform to offer their users their very own, unique platform. This proprietary trading platform was developed by IQ Option itself and is regarded as being one of the best platforms available to traders today. The intuitive nature of the platform allows users to enjoy the benefits of the platform without complication. The tools are easy to navigate and the trading is done easily and rather quickly. Whether you have a demo account or a real account, you will be able to trade with most, if not all, assets when you choose to. There are also a number of charting tools offered by the platform, such as Bollinger bands and moving averages, that will assist traders (beginners or otherwise) in making their trades more efficient and generally better.
Start trading with IQ option now
The quick IQ Option Deposit
Depositing with IQ option is a rather simple process, as long as you remember that there is a minimum deposit associated with the broker. All you need to have is 10 USD, GBO or EUR. There are numerous deposit options with the company, and selecting one is up to you. The broker probably offers one that you might find the most useful to you. The best part? IQ option does not charge any deposit fees, ever. This makes our IQ Option rating increase at an astronomical rate because nobody likes deposits, do they?
In order to be able to make your first ever deposit, you will have to verify your IQ option account. This, in the EU, means that you will have to provide information such as your phone number, personal information (birthplace, date, etc.) as well as providing verification of your trading experience and providing the company with a photo of your person, in order for the file to be complete. This process is uniform throughout the EU, but countries elsewhere in the world might find themselves with different requirements. So if you are trying to trade IQ option South Africa, you might want to double check whether you need to be considerate of these requirements.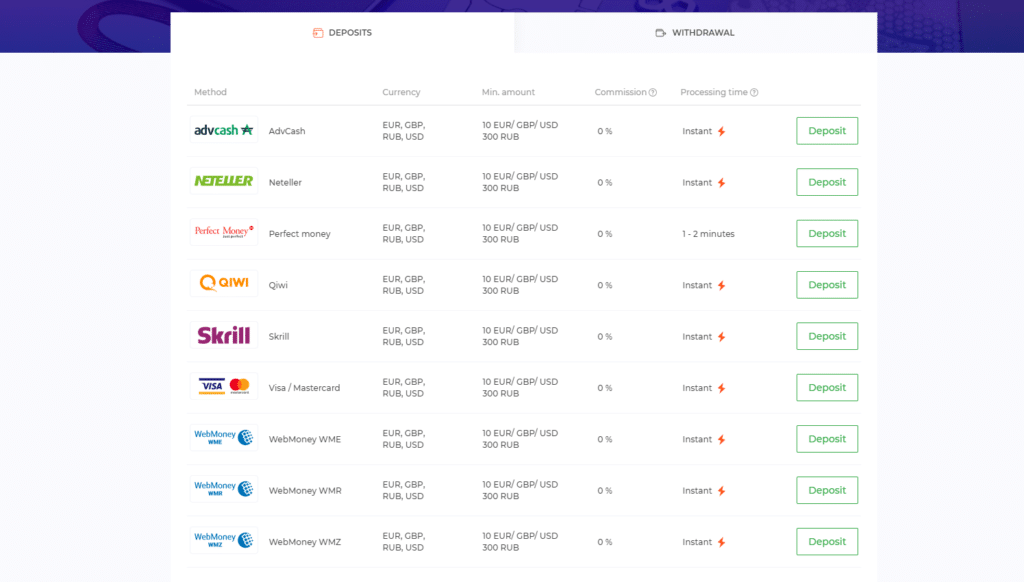 In order to make a deposit, you will have to select one of the many ways offered by the broker. Those who are partial to cards will be able to make their deposits with a Maestro or Visa Electron card, or credit cards, such as a Visa and/or a MasterCard.
Those who prefer to stick to electronic payments systems will have the luxury of dealing with Skrill, WebMoney, Cash U, Neteller, and Moneybookers, which are all excellent payments systems.
Those who do not like any of those deposit options will have the ability to deposit funds into their accounts using a Wire Transfer or some other bank transfer. Though, if this is the case, the users will not have to wait for their deposit to go through for as long as it takes the bank to process the request, which might be a little longer than what most users appreciate.
How do I withdraw money from IQ option?
As nerve-wracking and exciting as a deposit may be, there is nothing more rewarding and exciting than withdrawing funds that have been deposited onto your account as a result of a successful trading day. When it comes to this process, the IQ options process is quite simple, although requesting a couple of more things than you previously had to provide. First of all, comes the process of identity verification, then comes the choice of your preferred method of withdrawal and finally, the waiting game in order to receive funds.
There are many ways to withdraw your funds, but a debit or credit card is probably the most popular in the EU. Users will be able to withdraw the funds onto any of their cards, but there is one thing: you can only withdraw the amount which you initially deposited. This is because of some bank things and made us think that IQ Option scam activity was possible. Although, after verifying with the banks, we can assure you that it is the banks own policy. You will only be able to withdraw up to that amount. Anything that goes above this amount of money will be withdrawn either as an e-wallet deposit or as a bank transfer.
There is a wide range of e-wallet options available. You will be able to conduct IQ option withdrawal with Skrill, WebMoney, and Neteller. If you go this way, remember, you can only withdraw to the e-wallet account that you made a deposit with. If these do not seem that attractive to you, maybe you would like to consider withdrawing with a bank transfer. If you go this route, you will end up incurring a $31 fee.
Is IQ Option legit in the way it handles your money? Yes, and if you need any more proof than what is above, just remember a simple fact. IQ Option will process your request and send you your money within three business days of the request. This set time is never broken, so you know they mean business. And if ever you end up waiting longer than acceptable for your money, it is possible to get in touch with them to speak to them about the issue.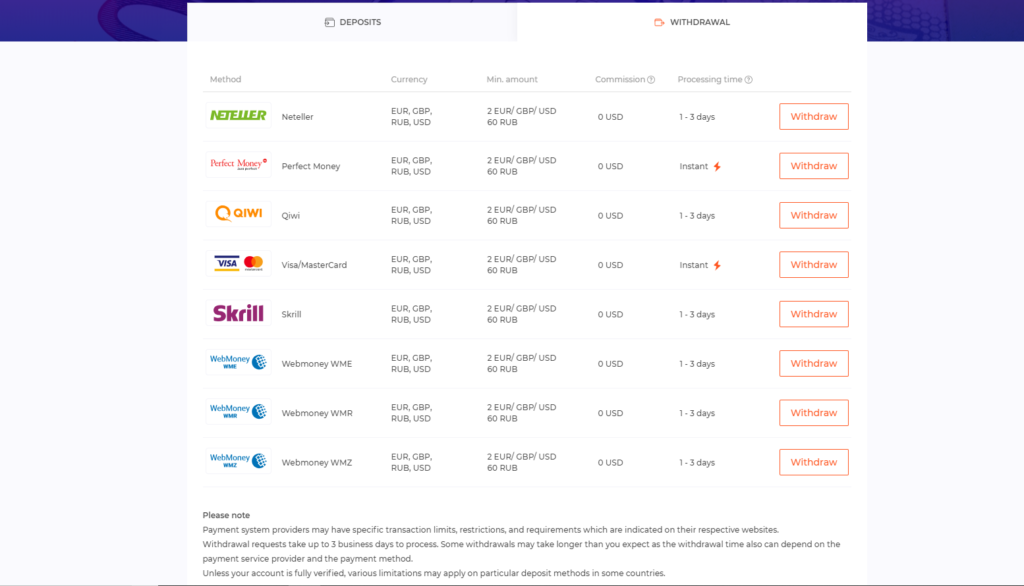 Finally, you will have to remember to confirm your account a final time before withdrawing your funds. This is done by uploading a number of documents to the broker's database.
A photo ID, which can be anything from a driver's license all the way to a passport.
If you make a deposit using a bank card and intend to make the withdrawal so, you must provide the scans of both sides of the bank card you use. Just remember to hide your CVV number and the middle digits of your card (safety from fraud is important even with your trusted broker). All you need is the first six numbers and the last four digits of the card. (This kind of service should further prove to you that IQ option is extremely reliable).
And even though you have to jump through so many hoops, we still feel like the fact that there are not that many or that high IQ Option fees associated with withdrawal, make it a great broker.
What kind of IQ Option Indicators are there
The beauty of IQ option is the fact that the platform was built to ensure the success of the traders using it. In order to facilitate this, the developers of the platform decided to include a slew of indicators for the benefit of their users. By a slew of indicators, we mean 13, all of which will be able to find a use in the arsenal of an IQ Option web trader. The most beautiful thing about these is that all of them, or at least many of them, can be used in conjunction together in order to produce better results in terms of you the insights you will be able to glean from them.
The Moving Averages indicator includes within itself a number of calculations and indicators. These are Weighted Moving Averages, Smooth Simple Moving Averages, Simple Moving Averages as well as the Exponential Moving Averages. These are most useful when trying to understand what the current trends are and how strong these trends are. Usually, they are best used in combination with other averages.
The Moving Average Convergence Divergence indicator (abbreviated as MACD) provides the trade with the information on where the moving averages (you guessed it) converge and diverge from each other. This provides a visual representation of the information provided by the ratio between two Exponential Moving Averages. The presence of this and the rest of these indicators makes a great IQ Option FX Option.
The Parabolic SAR is similar in several ways to the moving averages. The purpose might seem similar, but there is a key difference – the position of the indicator changes based on the price. The indicator also moves together with higher acceleration. The information is visually conveyed through a number of small, grouped dots.
The Awesome Oscillator is just as awesome as it sounds. This indicator is a visualized ratio of two Simple Moving Averages (SMA), where one is slow and one is fast. This indicator assists in determining the development and completion of trends.
Bollinger Bands show a dynamic range for price movement, making them a very useful trend indicator. If you ever asked "is IQ Option good for FX" the fact that this indicator is present within its platform should be a sufficient, positive answer.
Volume Indicators are exactly what they sound like – indicators that show how much of a specific asset was traded in a set amount of time (or over time). This is a great way to gauge interest in an asset and start predicting some of the trends concerning the indicator.
The RSI (Relative Strength Index) allows users to see how strong the trend current trend on the market is, as well as giving indications of potential points of reversal. The indicator takes the absolute asset price growth and compares it with the total price reduction, providing a curve as the visual representation of this comparison and change over time.
The Stochastic Oscillator indicators are a group of indicators that show the current position of a price and the relationship it has to the current extremes from a specific period of time. This information is given in the form of a percentage, which helps you have an idea about a number of potential reversal points in the future.
The ATR or the Average True Range provides the information of the current volatility of the trading asset, in the chosen time frame and explores the change rate of the quotes that are placed on the asset.
The Average Directional Movement index shows how strong a trend is before the price begins to shift. It is also a relatively reliable source of information in the potential changes in market volatility. This is one of the indexes that will be useful to people around the globe, no matter whether they are a trader with IQ Options Africa, US, or anywhere else in the world.
A fractal is a series composed of at least five Japanese candlesticks that show the maxima and minima of the price curves and the market reversal points. A very useful, if well utilized, tool.
The Commodity Channel Index is there to help you measure the speed of the price movements. It assists traders in determining when the upcoming market reversals are happening, can determine the strength of a trend and detect extrema.
Start trading with IQ option now
IQ Option Features
One of the coolest things that this IQ Option review 2019 found about the company is that the broker does not shirk from providing their users with all kinds of useful and cool additional features. It does its best to give the users everything they might need, whether this is mobile integration, educational resources, affiliate programs and more. As long as a user wants to enjoy something that the company can provide, IQ Option will do their damned best to provide it.
IQ Option Mobile solutions
In order to satisfy the needs of its diverse user base, the broker has developed a mobile web trading solution, as well as a mobile application. This means that all kinds of users will be able to access the services provided by the broker, no matter whether they want to download the app or not. And they will be able to do so from any part of the world – as long as they have their phone, these people have the ability to trade. This changes our IQ Option opinion from a good broker to a good broker that cares about their users' needs. The mobile solutions provide the user with a very clean looking and intuitive interface that is simple to navigate. The users will have a number of charting options available to them, just like they would with the standard platform. The uses will also be able to receive push notifications about the trading levels that they set, and receive alarms when these levels are crossed.
The IQ option platform is available to users on both Android and iOS, as well as available both in mobile device form and in tablet form. Overall, a very well developed and incredibly well integrated mobile solution that works just as well as the main trading platform for your desktop. Can IQ Option be trusted to have created a useful and functional app? It is the opinion of most of our staff that yes, they can be trusted to do so and they have proven themselves capable of it, and more.
IQ Option Education and Training Resources
There are many impressive qualities that IQ option has about itself. And we have mentioned most of them: great mobile platforms, great index inclusions, highly efficient deposits, and withdrawals systems. But what seems to be their weak point is education. And while we do like to see a company do their best in providing their users with quality trading education, we are also aware of how much more resource intensive the creation of such an educational platform is. This is why we don't judge them too harshly on this. And what they provide is not too far from being efficient and quality in being useful to their users.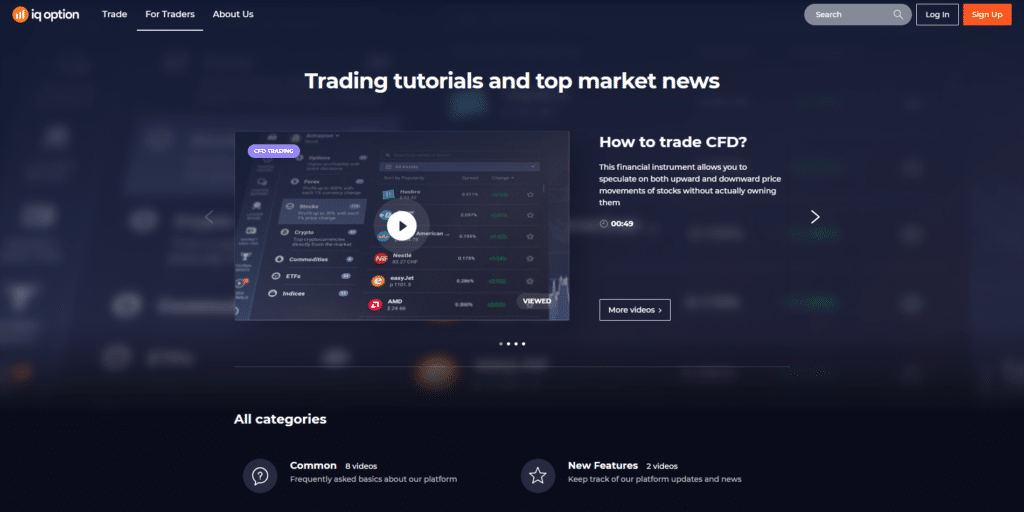 The way the broker goes about educating its users is by giving brief IQ Options reviews of specific topics through their instructional videos. These are very instructional and useful for beginners. Those who are starting with the platform just now will also find them useful, because of how well they inform the user about the functionality of the platform. But they are not limited to just this. IQ Option also provides its users with access to a number of e-books on the subject of trading that will be useful even to the most experienced traders, as well as a FAQ page that will be able to answer most of the basic trading questions a beginner might get.
There are also a number of webinars and tutorials that many a trader will find useful in their quest to make their trading better. These can be found on the platform after signing up so that even if make a demo account, you will be able to make use of them. In our opinion, this is a quality educational platform which can be of use to many a user. It also serves as additional proof of the fact that there is no possible IQOption Scam possible within this platform.
Start trading with IQ option now
IQ Option Affiliate Program
For those who do not find it enough to make their income from simply trading with IQ option, the broker has an offer. The offer consists of the ability to become part of their affiliate program, which encourages users to bring new users to the platform by paying them a part of what the referred users will be making. Once you register as an affiliate, you will be able to share the affiliate link given to you, in order to reap the rewards of your actions. In providing this affiliate program to its users, the IQ Option Forex broker creates an additional stream of revenue for them and a loyal base of customers and a constant stream of new ones for themselves.
The rewards for being a successful affiliate are plenty. In order to receive them, the users you refer have to sign up with the broker. Once they do, you, the affiliate, will be able to earn up to 70% of what the broker makes in profit for itself. This will keep going forever, so once you refer a person and they keep trading, you have a steady stream of revenue. The affiliates receive their earnings twice a month, and the preferred payment method is up to you. By this time IQ Option FX brokerage has upwards of 115 000 affiliates all over the world. The specific figures and the most recent stats on customers, affiliates, countries and the earned amounts for the day can be found on the IQ option affiliates page.
You will be able to access your affiliate profile with the broker from any platform of your choice – mobile, desktop or tablet. Multiple languages are supported and the links are universal. Users are protected from negative balance since there are no deductions from affiliate earnings. There is analytics provided for more science-minded users.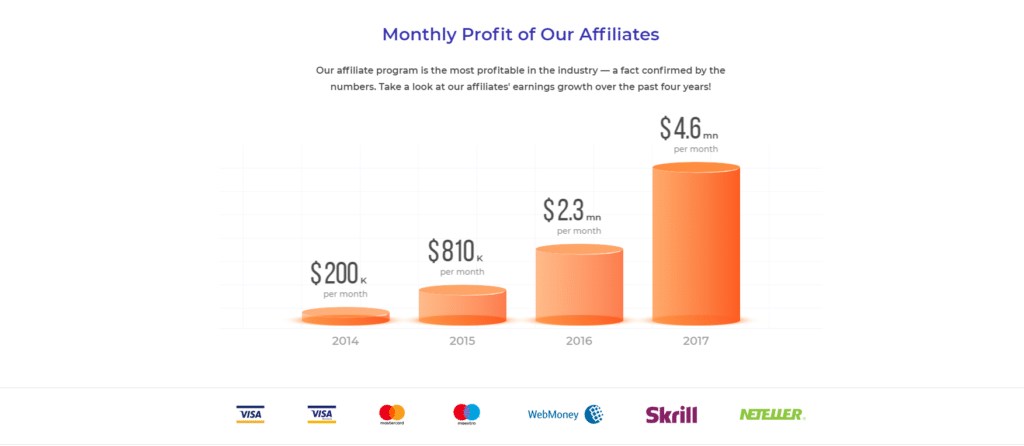 There is also a CPA program that the broker advertises as the most lucrative in the industry. Traders who qualify will be able to receive payments ranging from $35 to $1200. Those who want to see how much income they might have as CPA affiliates will be able to use a calculator embedded into the website. In the end, it is not much of a replacement for an IQ Option bonus, but it is definitely a nice bonus source of income to have.
Is IQ Option legit?
People from 151 countries, meaning all across the globe, are able to work with IQ option. Moreover, these people are already working with IQ option. This is because the broker and the broker's platform, are available in 13 languages. In order to be able to cater to all of these traders from across the globe, IQ option makes trading possible with a number of currencies. These are GBP, EUR, USD, Yuan, MYR, IDR, and RUB. These currencies cover the needs of most, if not all of the countries and the traders coming from them.
We have talked about this many times, but let us repeat one of the main reasons why IQ Option fraud is impossible right now. IQ Option is owned by a company in the European Union, and it is operated by this company. This means that IQ option needs to have an EU license, which it does. CySec has provided the company with the license it needs and closely observes its operations, in order to ensure compliance. This means that IQ option has to meet requirements in marketing restrictions, client funds, and the offered trading products. CySec is one of the most trusted regulators in the EU. The IQ Option license number is 247/14, which ensures that the broker's clients all receive full CySec protections.
All users who have gone through IQ Option registration will thus have all of their funds kept in separate accounts that the broker will not be able to access for its own business. Users will also have access to deposit insurance, which will protect the investments and trades made by the clients, in case something goes amock.
How good is IQ Option Customer Support?
Those who wish to contact the customer support will have the ability to do so through email, their contact form on the IQ Option official website or through the chat function available on the very same website. The support team claims that they are usually able to resolve all customer issues within 24 minutes of receiving the ticket. With 83 customer service professionals working on the support team, the number might seem a little low, especially for 20 million registered users, but if they can handle it, more power to them. Those who require a more direct service will be able to get an account manager by upgrading to a VIP account.
Since IQ option is trying to remain as international as possible, users will be able to communicate with the support team in numerous languages. The funds that are allowed on the platform include USD, GBP, EUR, Yuan, RUB, TRY, IDR and MYR. While the international focus remains, there are certain countries that are not eligible to receive services from the broker. These include the USA, Australia, Canada, Belgium, Israel, Palestine, Japan, Sudan, Syria, Iran, North Korea or the Russian Federation.
In order to be able to provide the full range of their services, iqoption.com review the personal information of all people who work with the platform. This means that they personally verify the identity of each individual. Those users who are unable to provide proof of identity will be barred from trading with any of their platforms. The ability to provide some sort of picture IDs, such as a Passport, a National ID or a driver's license is key to getting verified with the broker. The users will also have to be able to provide a proof of address, such as a Utility Bill, or, for the citizens of the EU, a Bank Statement.
What are the Customer IQ option reviews
It is always exciting to see that the general review consensus online for a broker is positive. And with IQ Option, it is very hard to find any kind of negative review. Users mostly have very positive things to say about the broker, with every other review having a lower score because fo a specific range of issues that IQ Option is currently attempting to solve.
These include KYC procedures that are required to verify your identity, which IQ Option can do little about since they are required to conduct them. Some complaints are on the subject of banned accounts, but these might a result of the KYC issues, or if not that, usually solved by customer support.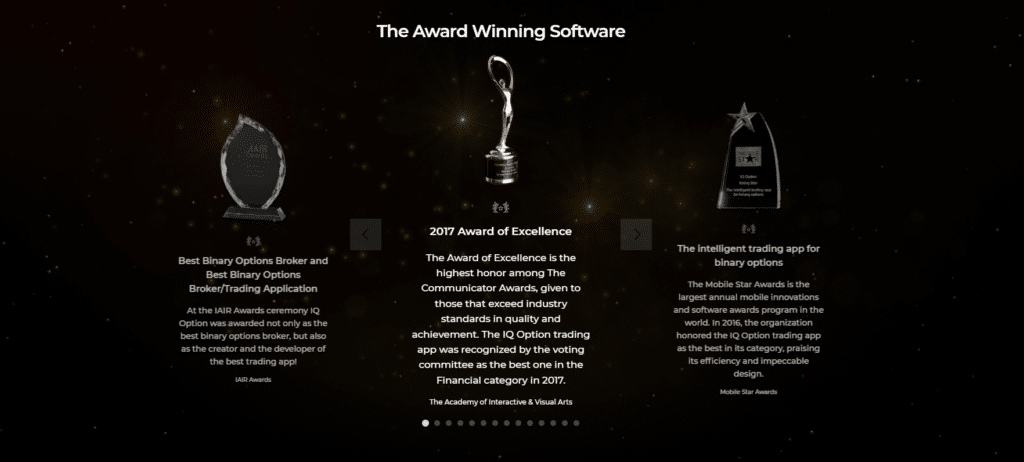 In the end
In the end, after doing an in-depth analysis of the broker's operations, we have come to a final set of IQ Option opinions. We believe the broker to be one of the best possible to work with, as they provide a range of incredible services to their users, as well as a reliable customer support service and an incredibly easy to use and useful platform. Highly recommended for those looking to start trading ASAP.