JAFX broker review

JAFX is a relatively new company in the Forex industry, which is why it deserves to be reviewed closely. For those who are in search of a reliable Forex broker, and have considered joining this broker, you ought to read this JAFX review first before committing any of your money. Besides learning more about JAFX in particular, you are also going to see how a proper Forex broker review is done. By the end, you will know if the JAFX scam is real or not. Using the same criteria, you will be able to tell other trusted brokers apart from the scammers in future.
What is the background of JAFX?
The first thing you have to look at when searching for a Forex broker is their background as this determines whether they are a legitimate company or not. As for JAFX, there isn't much information about the company itself to be found anywhere. On their website's About Us page, JAFX Ltd. is based in Saint Vincent and the Grenadines and their payment services are handled in Bulgaria. There is no mention of regulation by any financial service regulator, which is a huge red flag. Thus far, we know that the company is unregulated and is based in an offshore country, both of which should be discouraging factors for joining them. There is some more information on the website, but the JAFX website review shows that the company hasn't made an effort to make their website look professional.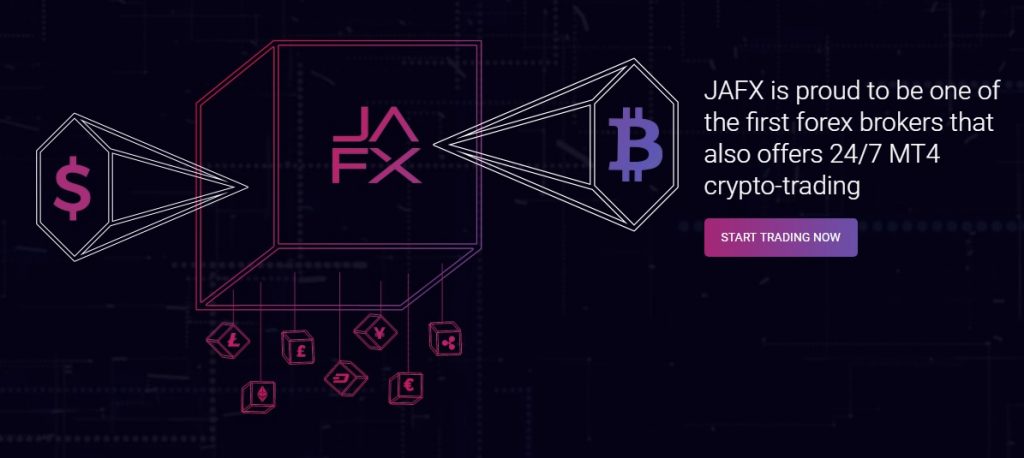 What services do they offer?
As for the services listed on their website, they seem to have a decent range of tradable instruments. 47 currency pairs are available to trade, which is enough to provide variety to their clients. Additionally, they also offer stock trading with 107 stocks available to traders. However, their most popular assets are cryptocurrencies, and they proudly advertise to offer crypto trading 24/7 on 16 different coins. All of these assets are traded through their MetaTrader 4 platform and the WebTrader. MetaTrader 4 is an excellent trading platform, although some traders may be discouraged not to find MetaTrader 5 not being offered. Nevertheless, the trading environment is quite good.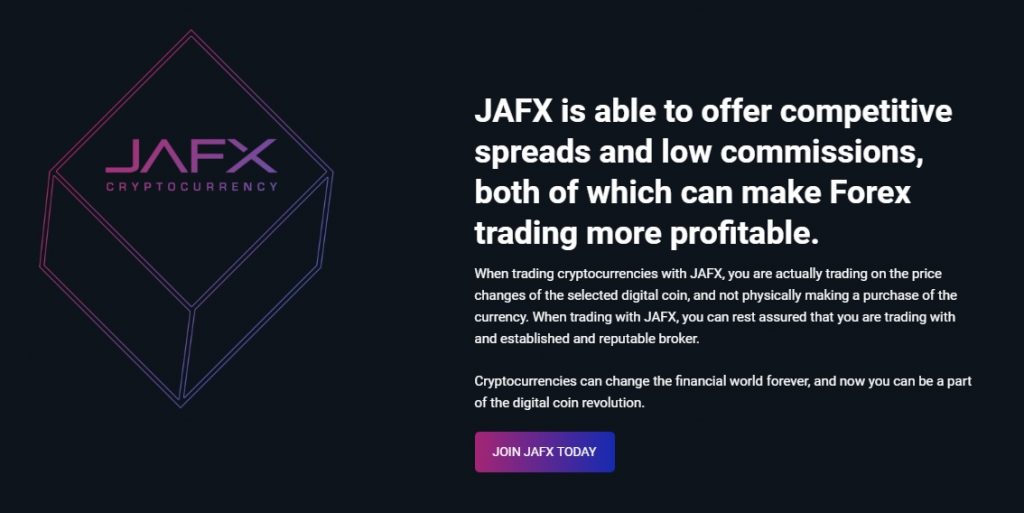 The trading conditions too are commendable, with users being able to open an account with as little as $10. Then, leverage is offered up to 500:1, enabling users to make high value trades even with little capital. The spreads too look reasonable, with the EUR/USD having a 0.8-pip spread at the time of publishing. However, it is important to remember that this is a floating spread, and that could increase significantly when there is high volatility. All in all, our JAFX review shows that the services are good enough, but the story doesn't end there.
Is JAFX a scam?
To determine whether a Forex broker is a scam, there are various aspects one has to consider. Most important, though, are the reviews published by other traders regarding that particular broker. Unfortunately, the broker is fairly new to the industry and there aren't many JAFX reviews. Nevertheless, the few that are available shed a very dark image of the company and its operations.
Upon some digging, it was discovered that the company, JAFX, is run by a man named John Anthony. He already has a negative reputation for running scams in the binary options signals industry and NADEX auto trader, and the JAFX scam may be his latest attempt. What's worse is that he had advertised on Facebook seeking individuals who would write positive reviews of the broker for $20. Furthermore, webmasters would be paid $50 for writing a positive post about the broker on their website or blog.
Such actions show that the person behind it is clearly trying to buy his way into achieving positive reviews. Serious and authentic brokers do not need to do this because they can expect their clients would do so willingly. If you have been asking yourself, is JAFX legit? The answer would be a resounding no! Please stay away from this broker if you want to keep your money.