TradInvestor Broker Review – should you trade with it?

In the ocean of online brokers, the TradInvestor Forex broker is yet another company that needs no less attention than others. The broker also operates on commodities, stocks, and other markets, but for the sake of this review, we're only going to focus on the Forex market.
The reason why these kinds of reviews are important is that more often than not, novice traders (and sometimes, even experienced ones) cannot really distinguish scammers from the real brokers. With TradInvestor, this is certainly the case.
So, in this review, we'll take a look at the broker's offerings and assess them in terms of how convincing they look.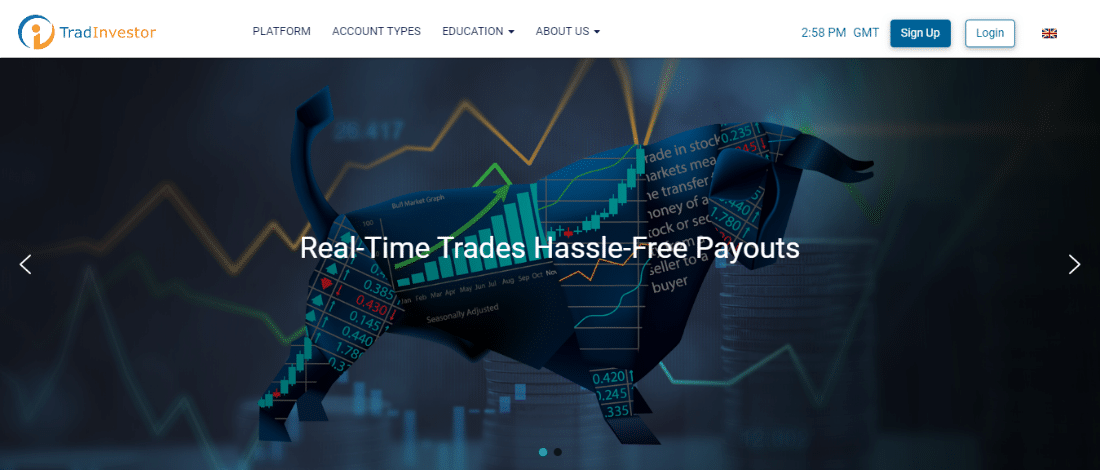 Is TradInvestor legit in regulation?
First things first, let's start with the licensing. In most cases, this is the area where they show their real colors.
We have dedicated a separate chapter to this section, however, we have to admit that there's not much to say. TradInvestor doesn't mention a single word about its licensing measures. No country of registration, no financial body regulating its financial activities, and no fancy license abbreviations – nothing, zip, nada!
Here we are led to believe that the broker is actually free of any regulatory oversight and is allowed to do anything it desires. Added to it the fact that the broker has just been established in 2018, there's nothing much left to say other than this: TradInvestor is a free-roaming broker that can possibly do harm to your finances!
But, just to make sure we're on the right track, let's move to the trading platform with actual numbers.
What's it like to trade with TradInvestor?
Let's start with probably the single most impressive offer from TradInvestor promotions: spreads. The broker promotes its 0.1 pips very eagerly. And we have to say: it's really good. Almost no difference in currency pairs means that you're able to buy, say, the USD the same price at which you sell it.
However, here ends the short-lived positive review of the broker and starts the more negative one, which further uncovers some scam possibilities. The broker demands that its customers deposit no less than 2,500 euros. That's right – 2,500! We don't know who would entrust this much money to a newly established broker with no license but one thing we're certain of: TradInvestor wants your money more than anything!
Even though the broker also focuses heavily on 1:100 leverage, which, to be fair, is more or less good, it still underperforms the market average of around 1:300.
Another thing that fuels our suspicions: transaction commissions are also high as a kite! The fees vary from 10 to 50 USD. Plus, you're not even allowed to withdraw money whenever you want. The minimum amount eligible for withdrawal is $100.
Final verdict
After this TradInvestor review, we've got one thing to say: the broker is clearly focused more on your money and commitments than its responsibilities to you!
It's underwhelming leverages and more or less impressive spreads do not, in any shape or form, cover the fact that the broker demands too high a price for its services. With your 2,500 euros and high commission fees, TradInvestor can easily undermine your financial stability.
So, be vigilant and don't trade with TradInvestor!