OctaFX Supercharged 2 contest

So you think you know the ins and outs of the market. Even better, you consider yourself a master of MetaTrader both 4 and 5. But just trading for a profit is starting to get a bit boring. You want something more exciting, a more tangible result. Well, OctaFX Forex broker has got you covered as they are now featuring numerous amounts of contests on their platform. One of the events that deserves your immediate attention is the Supercharged 2 contest.
OctaFX Supercharged 2 contest description
When you first take a look at the contest it honestly seems to good to be true. First of all, if you're actually seeing the contest it means that you're already a Forex trader, meaning that you can easily participate in it. But what are the prizes and what enticed almost 17,000 traders to register? It's simple, cars, cars and cars. What's better than to have a modern car as a payout for your hard work in trading? What's even better is that when you trade, you get to keep all of your profits. So basically OctaFX is rewarding your hard work and success.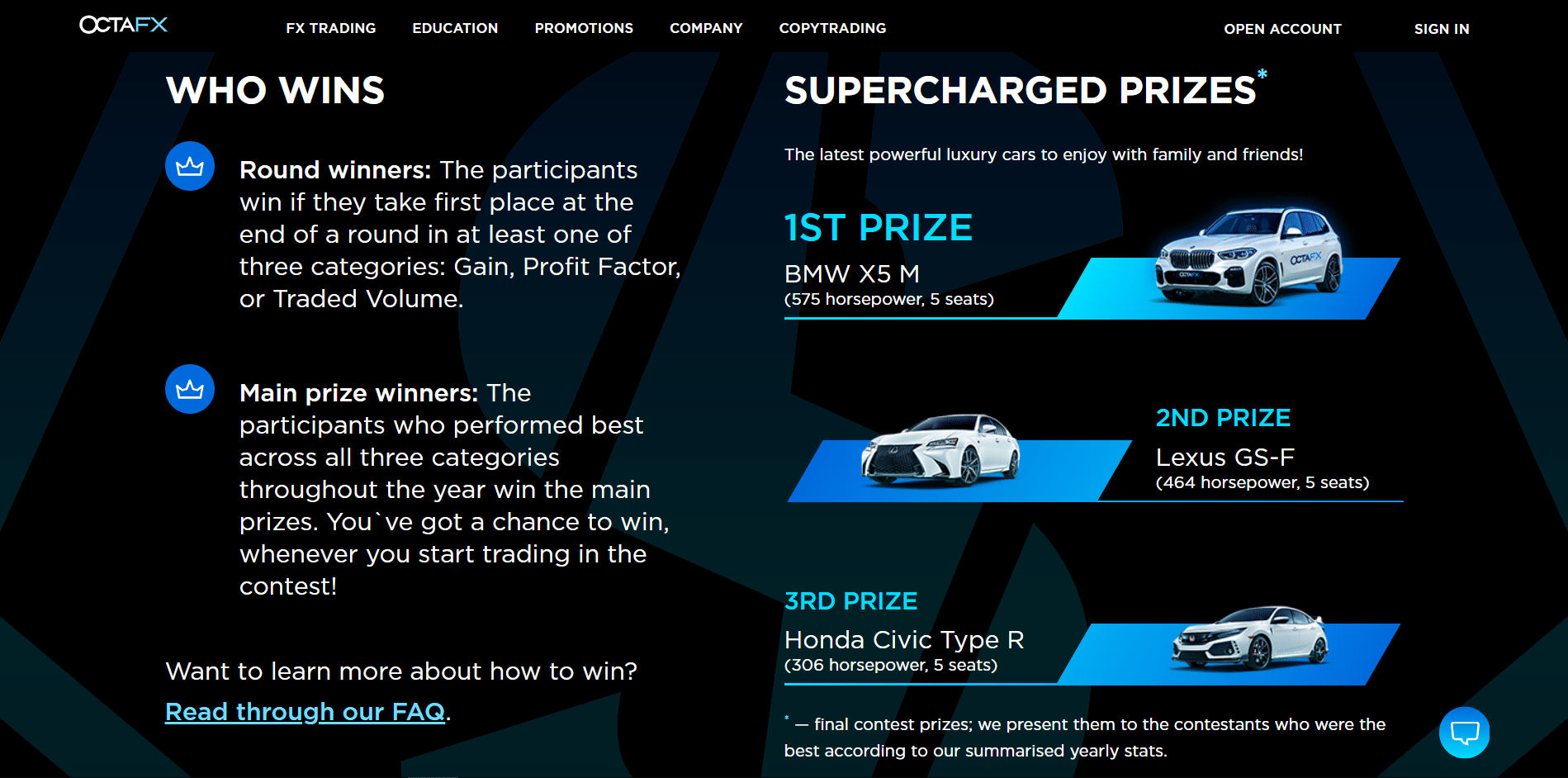 There are 3 winners every month. Which means that you can get in and out of the contest at your pleasure. If you miss out a week, it doesn't mean you are put at a serious disadvantage as your skills define your chances of winning. Now back to the 3 winners. Essentially, there are 3 categories at which you can be successful at, for example, Gain, Profit Factor, and Traded Volume. Profit Factor and Traded Volume are pretty much self-explanatory, what requires attention here is the Gain category.
How to win the OctaFX Supercharged 2 contest
OctaFX's Supercharged 2 contest comes with some amazing explanations. For example, if you have a hard time understanding what the Gain category is, they provide a simple equation. Like Gain = (Personal Funds + Amount Withdrawn – Personal Funds When Deposited) / Personal Funds When Deposited × 100%. So let's put that into perspective. Say you have $1000 as personal funds and you deposited $500 of that and were able to withdraw $300 as winnings. Your Gain factor would go as follows. (1000 + 300 – 500)/500 x 100. This means that your Gain factor is sitting at 2/125, or 1.6%. Now, this adds up of course with the platform doing the math for you. Also, we're not saying that this is an easy contest. For example, last month's winner was able to get a 5849.54% gain factor, which is quite a lot (no wonder he won).
OctaFX Supercharged 2 prizes
The prizes vary with your position in the contest. If you are #1 in any of the categories, you get a brand new BMW X5 M, #2 gets a Lexus GS-F and #3 Honda Civic Type R., In addition, there are additional prizes comprised of modern mobile phones such as the Huawei P20 Pro with its watch, The iPhone 8 with the smartwatch and a Samsung Galaxy S9+ with the watch.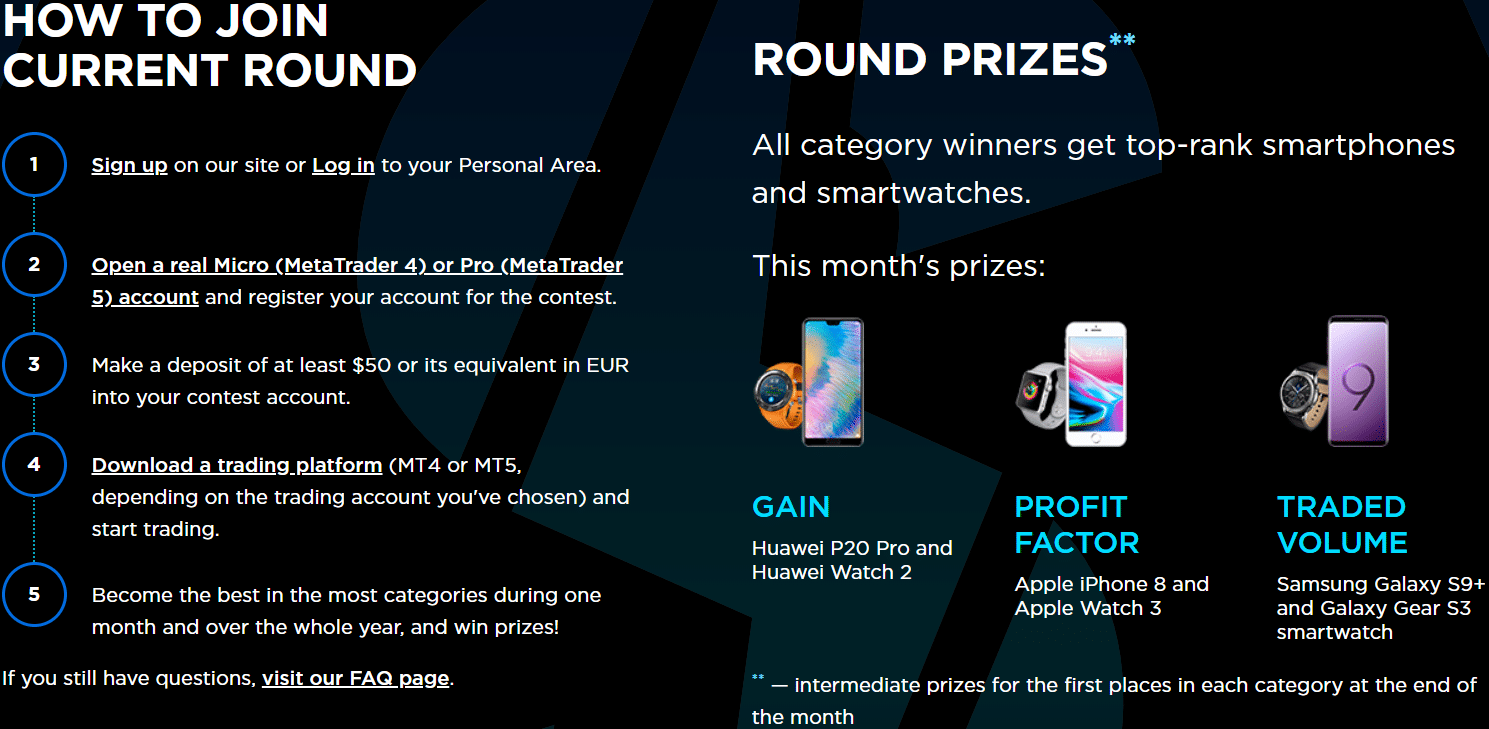 No matter what you win it is still a really nice prize to take home.
How to participate in the OctaFX Supercharged 2 contest
The beauty of the contest is in the simplicity of participation. The only thing you will need to do is make an active account and you'll automatically be included for the contest, Which means that you could be doing your trades without even thinking about the contest and end up winning something. The contest is marketed as free, but it's not. The minimum deposit that you need to make in order to create an account puts the entrance fee at $50, which is quite low, to be honest. And hey, even if you don't win you'll still end up with a pretty nice broker to trade with. Read the OctaFX review to find out more.
Is the Supercharged 2 contest for everyone?
In conclusion, it is safe to say that anyone with an account on OctaFX's platform can easily access the contest. There is no barrier and no restriction for traders. Even if you're just starting off, you'll automatically be included in the list of participants once you start. The admission fee is quite low as well, considering other contests like this. And in the end, as we already mentioned, even if you don't win, you get to keep all of those winnings that you had during the month and still be able to walk away satisfied.