AvaTrade Forex broker is a popular company used for trading purposes. This platform provides three types of accounts – standard, retail, and professional accounts. A standard account is a perfect option for novice traders since it contains all the useful qualities that will help you to get more experienced in the trading field. The retail account carries the same type of attributes as the standard one with one main difference that it is only available for traders residing in Europe. As for the professional account, this one is for expert traders who are involved in this industry for a long time and as a result, they have tremendous experience and knowledge!
Individual Features of AvaTrade accounts
As every account type in Avatrade consists of distinctive characteristics, you need to consider all kinds of things such as the amount of leverage, margin requirements, financial instruments, and fees required for each account type. Also, you have to decide what currencies and software you want to use on this platform, as well as the range of funds you will be depositing here!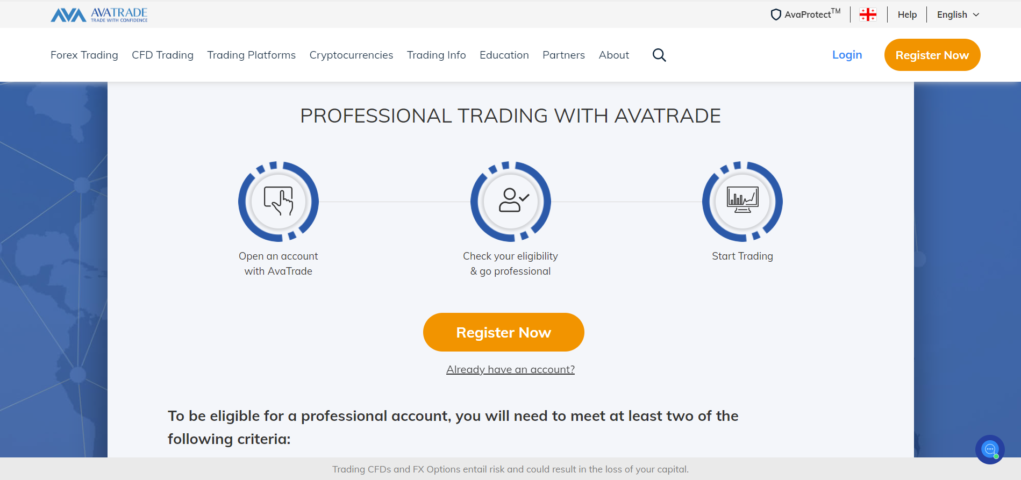 Standard Account
The standard account is the most popular one on this platform since it can be utilized by traders from all over the world. So, if you are an international customer residing somewhere out of Europe, this one will be the most suitable option for you. The minimum possible deposit you can provide for this account is 100$ or its equivalent in other currencies and the maximum leverage goes up to 1:400 on Forex majors.
Despite being a regular account, here you have a chance to take advantage of nearly 1250 financial instruments when working on the different asset classes. Also, you can carry out commission-free trading across every trading platform as the broker fees are contained in the spread. It is worth noting that this account provides fixed USD/EUR spreads that start with as low as 0.9 pips and in case you want to utilize the maximum leverage of 1:400 the margin will begin from 0.25%!
What's more, every user will have the possibility to take advantage of various educational materials and sophisticated trading tools in order to get the most out of this account. If you have any questions, the professional customer service support team is ready to answer them anytime since they are available 24/7 through different communication channels. As you can tell, even the standard account includes so many beneficial attributes on this platform and you have a chance to enjoy comfortable trading with its help!
Retail Account
As for the AvaTrade retail account, it is basically the same as the standard one, but the major difference is that the retail account is mainly for traders living in Europe. We have to say that this one is the most convenient option for people who are taking their first steps in the trading world and also somewhat more experienced traders as well, but it can't deliver the services required for professionals. Here, you will also enjoy an Avatrade minimum deposit of 100$ and the leverage goes up to 1:400 as well.
We are seeing similar characteristics when it comes to spreads and commissions as well. The retail account also includes fixed spreads with various currencies that start from 0.9 pips. Furthermore, you have the possibility to carry out trading with absolutely zero commission here because the spreads include every fee regarding the broker. Most importantly, there are no lot restrictions for this one either and some regulators define the maximum leverage for certain countries.
One of the most appealing features of the AvaTrade retail account is that it provides maximum protection regarding your negative balance by alerting the dangers of risks every time. You are guaranteed that the balance will not become negative when you utilize the leverage. Apart from the attributes mentioned above, this account also provides a dispute settlement service! As you can see, the standard and retail accounts are almost the same but they target a different audience.
Professional Account
AvaTrade professional account includes the most attractive qualities compared to the previous types, but you need to carry out several processes in order to get eligible for this account. First of all, you need to have a sufficient trading activity in the last 12 months on the platform, relevant experience in the sector of the financial services, and a financial instrument portfolio of over 500.000 EUR. As you can tell, this one is intended for professional traders since beginners are not able to meet such kinds of requirements.
In return, you will take advantage of tremendous opportunities, most importantly you will trade your desired assets with minimum margin requirements and maximum possible leverage which is 1:400. This means that you can get the most benefit even when you trade assets with minimal price alterations in the market. Usually, the margin requirements start at 50% for the retail account type, but with this one, there are absolutely no requirements that ensure convenience and flexibility all the time.
Are you an experienced trader looking for the highest quality products? Then Avatrade offers enormous possibilities with the professional account since apart from the perks mentioned above, you will also be able to benefit from PAMM management services. However, being a professional customer, there is no need to receive any risk warnings regarding the negative balance or a dispute resolution service. Hence, all the top-class services are available for this account type if you are already a professional trader!
Other AvaTrade Account Types You Can Choose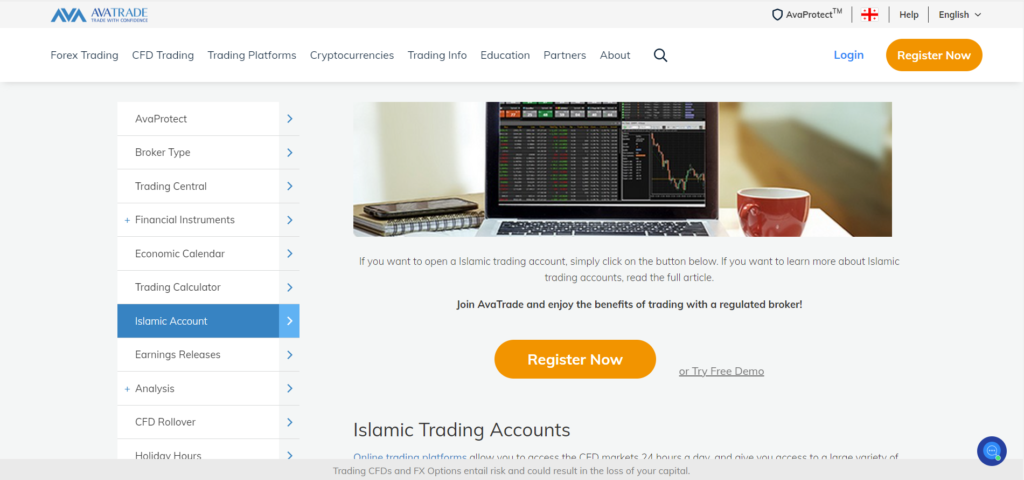 We want to highlight that apart from the account types noted above, you have the possibility to choose AvaTrade demo and Islamic accounts on this platform as well. The demo account gives every user an excellent opportunity to get familiar with every attribute of the broker before providing real funds. As for the Islamic account, it is intended for Islamic clients of Avatrade!
Demo Account
With the help of the demo account, Avatrade allows every novice trader to get familiar with the platform and learn every essential feature without spending real money. This is a perfect resource for every newcomer in the trading world since they are not aware of many things in the beginning. Generally, the demo account here is available for every trading platform and it is valid for 21 days. This period should be sufficient for everyone to acquire all the major information regarding this process and as a result, get ready to start trading with real money in the future.
Creating an Avatrade demo account in Avatrade is a very simple process that only takes a couple of minutes. You only need to enter an email and the password in order to open the demo account. In return, you will be able to take advantage of every offer that you see in the Avatrade account types except for the professional one. Hence, if you wish to get familiar with this broker's attributes, then opening a demo account is an excellent starting point for you and the platform is promising to make you a skillful trader in the end.
Islamic Account
It is also essential for every broker to include an Islamic account type and Avatrade understands this concept very well. They follow the Shariah law principle and provide this opportunity to Islamic clients in order to ensure successful trading all the time. The conditions of the Islamic account bear a strong resemblance to the standard one, but with one major difference – there is no cryptocurrency trading allowed here. The major purpose of this account type is to make the trading platform available for Muslim customers for more than 24 hours without paying a rollover fee. Otherwise, they are not able to engage in the trading process due to the restrictions in their countries.
Opening an AvaTrade Islamic account is very easy as well. The first step you need to carry out includes sending every essential document required for verifying your account. Next, you have to provide funds in your trading account and only then you will be able to apply for an Islamic account. Your request will be delivered to the specific department and if everything is within the rules, then it will be usually approved in one or two business days!
Pros and Cons of AvaTrade Real Account Types
As we have described above, every account type that you meet on the Avatrade platform comes with considerable benefits and drawbacks as well. It is important to consider your requirements carefully in order to take maximum advantage of these proposals and get the most benefit in the end! Down below, we are going to note every advantage and disadvantage of Avatrade account types.
Pros
The advantages of each account type on this platform are tremendous since you have the opportunity to deposit as low as 100$ for each one. The Avatrade leverage can go up to 1:400 without any commission fees since they are already included in the spreads. What's more, there are numerous financial instruments provided for various assets and every customer is able to enjoy fixed spreads that start with very low pips. Also, you will come across a wide range of educational materials that will significantly help you to grow as a trader! The professional account carries the highest quality of services intended for the most experienced Avatrade traders in the world! You have the possibility to carry out trading processes with the maximum possible leverage and minimum margin requirements, and as a result, you will get the most benefit even when you trade low-fluctuate assets. Hence, there are tremendous advantages of every account type in Avatrade!
Cons
Now it is time to review some of the drawbacks that you encounter on this platform in terms of account types. As we have said above, the retail account is intended mainly for the traders located in Europe since abroad currencies are not supported here. While this fact may seem like a downside for foreign traders, they have the opportunity to enjoy a standard account that comes with pretty much similar conditions.
Another drawback for some people might be the fact that every account type in Avatrade does not provide leverage of more than 1:400. It does not allow them to risk a substantial amount of funds and there is a great number of traders willing to trade with enormous leverages. Other than those, there are no considerable disadvantages of Avatrade accounts!
More About AvaTrade Broker
AvaTrade broker was established back in 2006 and it has been an excellent destination for a vast number of traders from all parts of the world ever since. It operates across 6 continents and carries regulations from seven different organizations, making it one of the most protected platforms on the market. You will come across a great selection of assets here and lucrative conditions for trading since the high-quality customer service is the number one priority of this broker.
Due to this fact, Avatrade now serves more than 300.000 customers worldwide and the amount of monthly trading exceeds two million here! With its multilingual platform consisting of every essential attribute, Avatrade ensures to provide top-class quality for both novice and experienced traders. You have a chance to take advantage of Forex trading, commodities, stocks, indices, and cryptocurrencies on this platform!
Considering all these factors, it comes as no surprise that Avatrade has obtained numerous awards since 2009. In fact, this platform has earned more than 30 reputable industry awards over the last 12 years! Hence, you have a perfect opportunity to grow as a trader here and reach the top very quickly!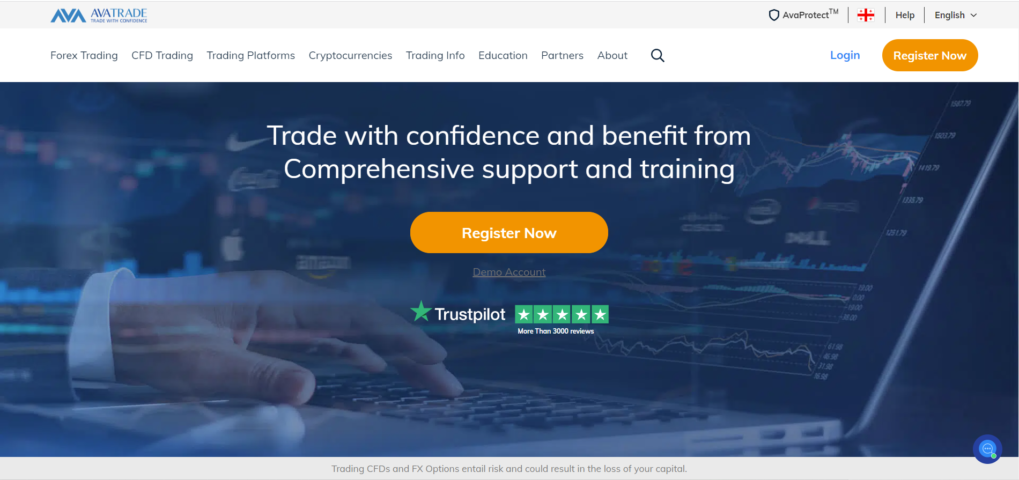 AvaTrade Overview
We want to highlight that Avatrade is an entirely licensed broker regulated by the Central Bank of Ireland and the number of licenses is C53877. As this broker operates in various countries, you will encounter different types of regulators for each one, and what's important, all these companies are highly reliable since they operate in the trading world for a long time with great success. As we have already mentioned, you are able to carry out a lot of tasks on this platform related to Forex trading and utilize the industry's leading trading software such as Meta 4 and Meta 5!
FAQs on AvaTrade Account Types