24 Capital Markets Review

When it comes to picking the best Forex broker that will help you have a successful trading career, you need to do some thorough research. Today we take a look at 24CM Forex broker to help you determine whether it is safe to trust them with your hard earned money. 24CM is a Forex broker that opened its doors in July 2018. According to the official website of the broker, 24CM is owned and operated by F1Markets Limited. The firm is located along Kolonakiou Avenue 43, 4103 Agios Athanasios Limassol, Cyprus. In this 24CM review, we will look into the license and regulatory details of the firm, customer service, types of accounts, bonuses offered among other features.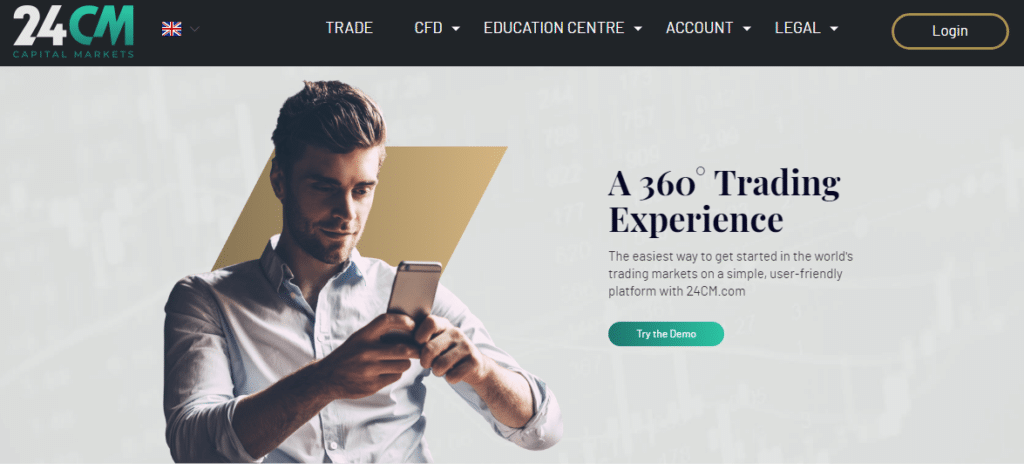 License and regulation of 24CM Forex broker
When you visit the official website of 24CM Forex broker homepage, you will read licensing and regulation details of the firm. Other than the fact that F1Markets Ltd owns and operates the brokerage firm, It is also an investment firm based in Cyprus. F1Markets Ltd is licensed and regulated by the Cyprus Securities and Exchange Commission (CySEC) and its license number is 267/15.

There is another company by the name IOS Investments Limited which shares the 24CM brand. However, IOS Investments is licensed and regulated by the International Financial Services Commission of Belize. For traders in the European Economic Area (EEA), F1markets is the website to serve you but for those outside the area, IOS Investments is the broker that serves them. Belize is a tax haven and a top destination for shell corporations. Besides, Belize is not best known for having strict and efficient financial laws. Signing up with 24CM if you reside outside Europe means your 24CM FX broker is based in Belize.
The trading platforms at 24CM
In this 24CM scam review, we see how the broker has moved away from the crowd and invested in its own trading platform made by Scipio. The broker boasts of how the platform is easy to understand and navigate for all traders. The other trading platform is the all popular MetaTrader 4. The firm has also invested in Mobile Apps which are compatible with both iOS and Android mobile devices.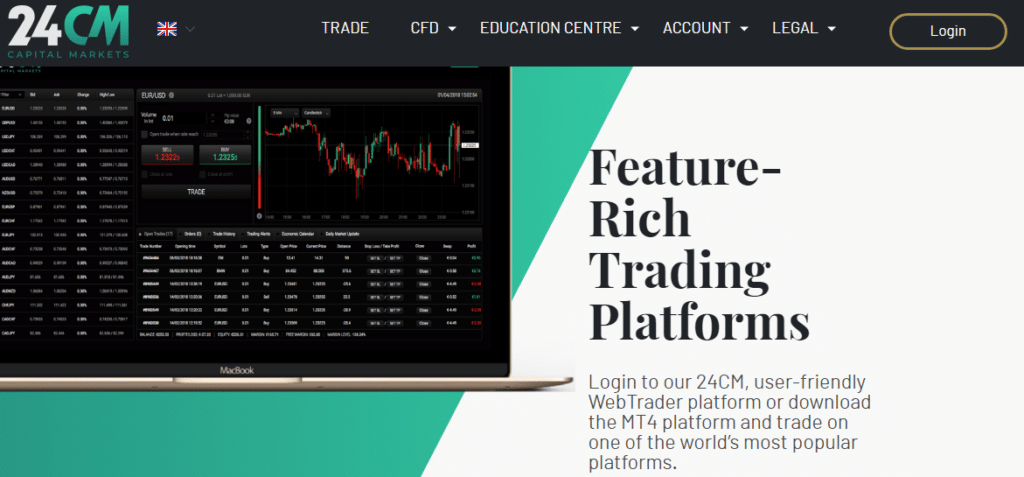 As for the underlying assets to browse at 24CM, you will not be disappointed as there are more than 270 options to go for. Leverage is 30:1 for the popular currency pairs. This is in line with the MiFID II regulations. On top of that, you can trade in cryptocurrency whose leverage is now 2:1.
Types of accounts at 24CM
Many 24CM reviews indicate the minimum initial deposit at 24CM as $250. But when you browse the 24CM website, you will note that there is nowhere the firm indicates what you should deposit as an initial deposit. While there four different types of accounts; Basic, Silver, Gold Platinum. The broker simply lists the benefits you will get once you join any of the accounts available. The fact that the broker does not tell prospective customers all the terms (especially the minimum deposit) beforehand is an indicator that the broker is not forthright.

Is 24CM forex broker legit?
In this 24CM scam review, we have shown several features which might serve to attract a Forex trader. At the same time, there are those things such as regulation details which are vague and which might make a trader have questions on the legitimacy of the broker. The broker seems to have a website for clients in Europe and those from the rest of the world. Both of these websites are regulated by different bodies and yet the broker has not explained this explicitly.
Even though the broker affords clients a demo account which can be loaded with anything from 100K, it fails to tell clients what the minimum initial deposit is on its official website. Many FX brokers tell their potential clients what they are supposed to deposit in order to enjoy certain benefits or features. With the 24CM broker, you will have to sign up even before you know what you should deposit, which is a bad thing if it turns out that the minimum deposit is above what you had budgeted for.
Below you can find our old overview of the 24CM, be aware that it is outdated!
When you browse the 24 Capital Markets website, you might end up confused. For starters, you should know that 24 Capital Markets is now heavily invested in Forex trading having spent years in the binary option segment. After the recent change in the trading environment in binary option, 24CM looked for a way to diversify its portfolio and this is why it is now a player in FX and CFD trading. Secondly, the firm has two similar websites which are operated by two different but sister companies. In our 24 Capital Markets review, we are going to look at the European version of the website.
A quick analysis of 24 Capital Markets.com/eu
The 24CM.com/eu is a Forex trading platform owned and operated by Rodeler Ltd. Rodeler is an investment company which is authorized and regulated by the Cyprus Securities and Exchange Commission (CySec). The CIF license of the broker is 207/13. It is found at 39 Kolonakiou Street, Frema Plaza, Agios Athanasios, 4103 Limassol, Cyprus. The broker was established in 2010 and based in Cyprus because of regulatory reasons. The broker is also regulated under the Indian Financial System Code (IFSC). Currently, it is one of the largest binary options brokers. Just like many brokers out there, 24CM has its own share of complaints directed towards it. Many of the binary options concerns towards the broker seem to be on the difficulties faced when the time comes for clients to withdraw funds from their accounts.

Is 24 Capital Markets legit?
In this 24CM review, we found that the website is quite popular compared to other FX and binary options websites. The platform was getting an average of 10,000 unique visitors every day as of February 2018. The daily unique page views totaled to 22,000 then. The site's rank on Alexa stood at 39,177. While this is way better than what many FX and binary options firms can post, it is not exceptionally good. While rumors about 24CM scam can at times be unfounded, the platform is not without its rough edges as our 24 Capital Markets scam review reveals.
Trading at 24 Capital Markets
Opening an account with 24 Capital Markets broker is quite easy. The trading platform is web-based and clients can also use their smartphones to access the markets. Traders also get to use Metatrader 4 trading tool. When it comes to depositing money into your account, $250 is the minimum initial deposit you can put. The 24CM platform is set to only accept the Euro, GBP, and Japanese Yen currencies when clients are depositing funds. The leverage for currency pairs is set to go up to 1:200. There are at least 43 currency pairs offered for trading on the platform.

Should you consider 24 Capital Markets as your FX broker?
Is 24 Capital Markets scam? That may be the question that many beginner traders keep asking themselves. Well, the firm passes some of the hurdles such as being registered and regulated by CySec, which is a world-renowned regulator. It has been around for some time so it has a history and this plays well in its favor. But like a majority of binary option and FX brokers in the market, there are 24 Capital Markets reviews which point out the firm's unwillingness to allow traders withdraw funds as and when they wish to. The minimum initial deposit of $250 places 24CM in a unique category as a majority of brokers ask for less, some even ask for $50. Given that there is the risk of being unable to withdraw your funds, this broker is definitely not as ideal as they say on their website.