4XC financial broker – What you need to know before registering

Financial market brokers are emerging so fast in the last few years as different financial markets are growing in different shapes and forms. The internet is also full of dozens of brokerage companies that anyone who wants to start trading will be overwhelmed by the number of financial brokers available in different countries and across the world.
Many such brokers are making the scene as they work offshore offering their services for all traders in different countries, utilizing the lack of regulations in some remote locations to carry out their business, as well as avoiding the strict guidelines that are present in countries that heavily regulate the financial brokerage activities.
In the following, we will be reviewing 4XC financial brokers and will evaluate their activities whether they can be trusted or not since it was founded around 3 years back and quickly rode the wave of remotely operating brokers.
4XC overview
founded in 2018, 4xc or 4xCube Forex broker offers financial trading brokerage services for investors around the world, the broker operates in the Cook Islands and is regulated under the Financial Supervisory Commission of the Cook Islands. Offering very generous leverage that can go up to 1:500 on all the tradable assets including Forex, cryptocurrencies, stock, indices, and two commodities such as metal and oil.
The broker offers 3 types of accounts and each of these accounts has its own minimum deposit and spreads, with limited currencies to be used and they are USD, EUR, and GBP. The traders can use MT4  and MT5 trading platforms in addition to the WebTrader that is developed by the broker, and we will be looking more in-depth into the web trader.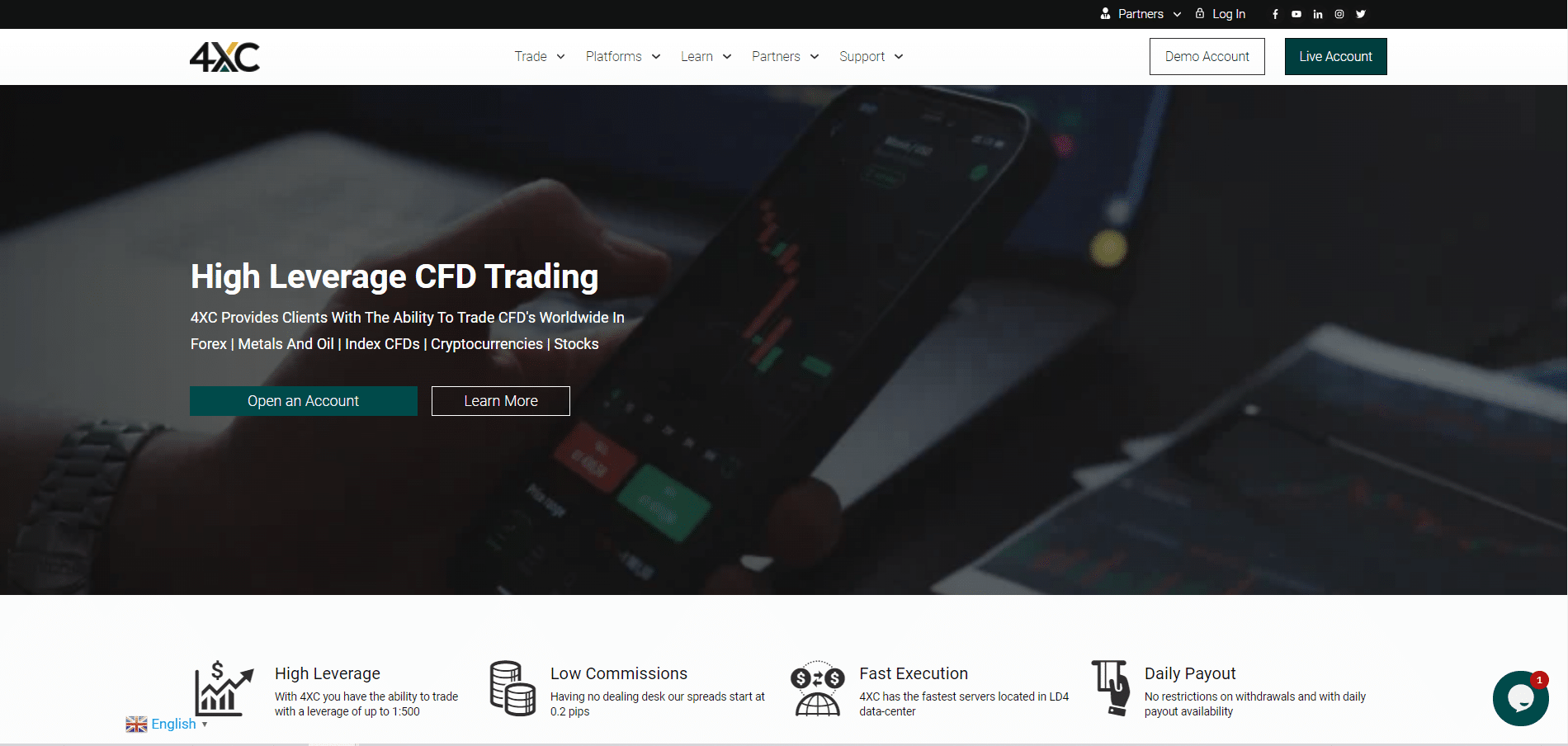 Is 4XC fraud?
Looking at the legal environment around 4XC brokers to check if the 4XC broker is a scam or not. The broker is registered in the regulatory authorities of the Cook Islands performing under the FSC (Financial Supervisory Commission).
Cooks Islands is a small island located in the South Pacific and has emerged lately as a hotspot for companies that are performing illicit activities due to the lack of regulations surrounding the business environment there, it might sound legal that the broker is regulated by the FSC license, but the license itself does not really impose any kind of strict guidelines that protect the rights of the trader by any means.
The lack of stringent rules give room for illegal activities to take place, which can be abused by 4XC fraud broker, as there are low auditing requirements, no performance reports are required to be submitted, and tiny fees for business registration without any clear penalty system for financial crimes.
Companies are moving their sketchy business offshore far from everyone's eyes, and far from any legal consequences, a broker might run into. Many traders around the world have been a victim of the operations carried by such financial corporations, as people can easily be attracted to this "too good to be true" broker.
Opening your first account with 4XC
Brokers like 4XC make it very easy for traders to find their way to register on their website, the registration process is as simple as any other registration that does not take more than your name, email address, date of birth. Then the type of account needs to be selected whether it is an individual account or for business purposes, and choosing the country.
What is interesting here is that the website offers its services for countries that are usually banned by all the legal brokers, most brokers put a list of countries that cannot be registered due to European and US ban policies which are logical if the broker is following legal standard. However, 4XC broker is not legit as it offers its services to countries that are not even allowed to trade on international platforms.
There are 3 types of accounts that can be found on 4XC financial broker, are the Standard, Pro, and VIP accounts and they differ so much in features, minimum deposit required, and spread which makes it difficult for the trader to find the best medium to start trading profitably and successfully.
The standard type of account is the first step of the 3 types where the minimum deposit can be as low as $10, however, it could be suspicious that using different trading platforms, there are different minimum deposits required, so in this type of account, $10 is the minimum for using MT4, while to use MT5 the minimum becomes $500, which could indicate an indirect desire by the broker to motivate the usage of MT4 for no clear reasons.
The floating spread for this type starts from  0.8 pips and the leverage can go up to 1:500
The next type of account is the Pro account, where the 4XC scam broker makes it complicated for the trader, as there are different minimum deposits and different spread and commission fees. The minimum deposit required here is $100 for MT4 and $500 for MT5. The spread in the Pro account is floating and starts from 0.2 pips with the addition of commission fees worth $2/lot commission per side.
The third type offered by the 4XC broker is the VIP account and it requires $25,000 for trading on MT4 and $25,000 for traders to use MT5. On this type of accounts also, the spread is floating and starts from 0.6 pips.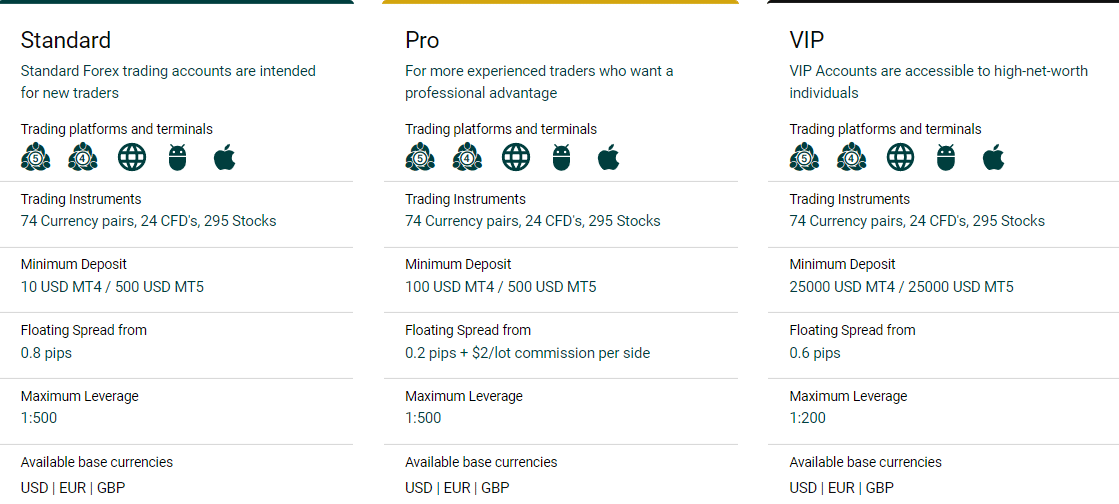 To analyze these offered accounts, the first two types of accounts that are offered for beginner and average traders are using maximum leverage of 1:500 which can easily trick traders into using such high leverage, to enter high-value market positions, however, this high multiplier is risky at the same time if the trade does not go in the favorable direction because it can amplify the losses a trader incurs.
It is a matter of question if 4XCbroker can be trusted since it does not offer negative balance protection, and any loss with the use of leverage can get the trader indebted to the broker, so a trader will not only lose his/her money but will also have to pay a huge amount of money as debt to the broker.
The spread offered in these types of accounts is also confusing, usually, brokers offer the smallest spread to the highest type of accounts, which is here the VIP account. However, Strangely 4XC offers the VIP type of account a starting spread that does not differ so much from the standard type of account (0.8 for standard and 0.6 for VIP)
In addition to that, a VIP trader who uses $25k to open the account can only use up to 1:200 leverage, while in fact these traders are the most qualified to assess their risks and therefore they can handle leverage of 1:500.
All these three types of accounts can use only use the following as base currencies, USD – EUR – GBP, which is another limitation because traders from Australia or South Africa will have to exchange their local currencies to one of these currencies dealing with commissions of the exchange rates.
Tradable assets
There is a fine amount of instruments that a trader can use to open positions in different markets such as Forex, commodities, cryptocurrencies, stock, and indices, however, it seems there are a limited amount of assets in each market, especially in commodities and cryptocurrencies, and traders of 4XC scam broker can be missing a lot since the cryptocurrency is one of the most thriving markets lately, and traders with this broker would be missing a lot.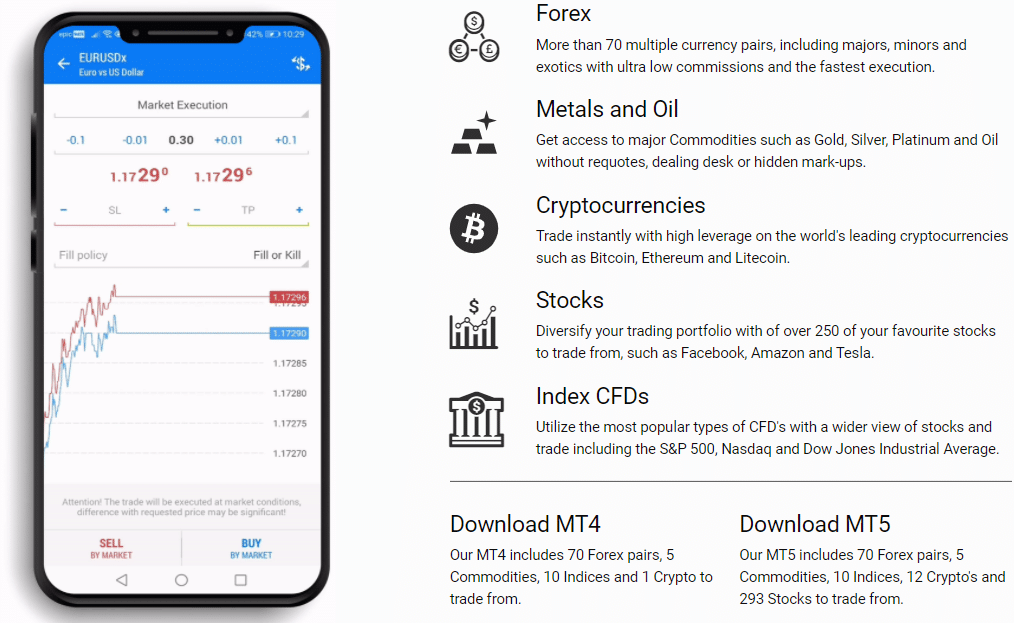 Forex
There are more than 70 currency pairs offered with 4XC Forex brokers, with leverage up to 1:500. However, that might sound unrealistic since the EU limits the leverage usage on Forex to 1:30, which might mean that 4XC brokers cannot be trusted while trading Forex because it is offering its European traders leverage that is now allowed under the EU regulations.
Stocks
More than 290 stocks are tradable with 4XC broker, however, the use of leverage is also questionable here because stocks traders are offered 1:500 maximum leverage while the European regulations limit the use of leverage on stocks to 1:30.
Indices
Global markets indices are offered to be traded with 4XC financial brokers. More than 10 indices CFDs are offered with the broker alongside the possibility to use maximum leverage of 1:500.
Commodities
One of the oldest types of traders, that is using raw materials and commodities for trading. However, 4XC financial broker limits the trade on commodities to only two commodities are metal and oil, using maximum leverage of 1:500. There are other commodities that might be more important such as gas, coffee beans, and uncommon commodities that some traders might prefer.
Cryptocurrencies
One of the most growing markets where virtual currencies are witnessing tremendous growth in value, however, traders are limited to three options only are Bitcoin, Litecoin, and Ethereum, with leverage that can go up to 1:500. Hence, traders miss out on trendy currencies that are adding and changing very frequently.
Trading platforms
4XC financial broker is offering different trading platforms for its clients, such as MT4 and MT5 are available for traders. It can look reliable since the MetaTrader platform cooperates only with trusted brokers, but the fact that 4XC MetaTrader4 has a different minimum deposit than the 4XC MT5 minimum deposit makes it quite suspicious.
The most reliable brokers do not require different deposits on different platforms, but somehow this financial broker requires different minimum deposits on MT4 and MT5 which can make it unreliable.
In addition to the MetaTrader, 4XC financial broker also offers the chance to use the incorporate web trader that is developed by the broker, and it seems easy to use, however, it seems to be the same as MT4 just an online version of it so the traders can directly login in their trading account and trading from the web version of the platform rather than installing the MT4 separately.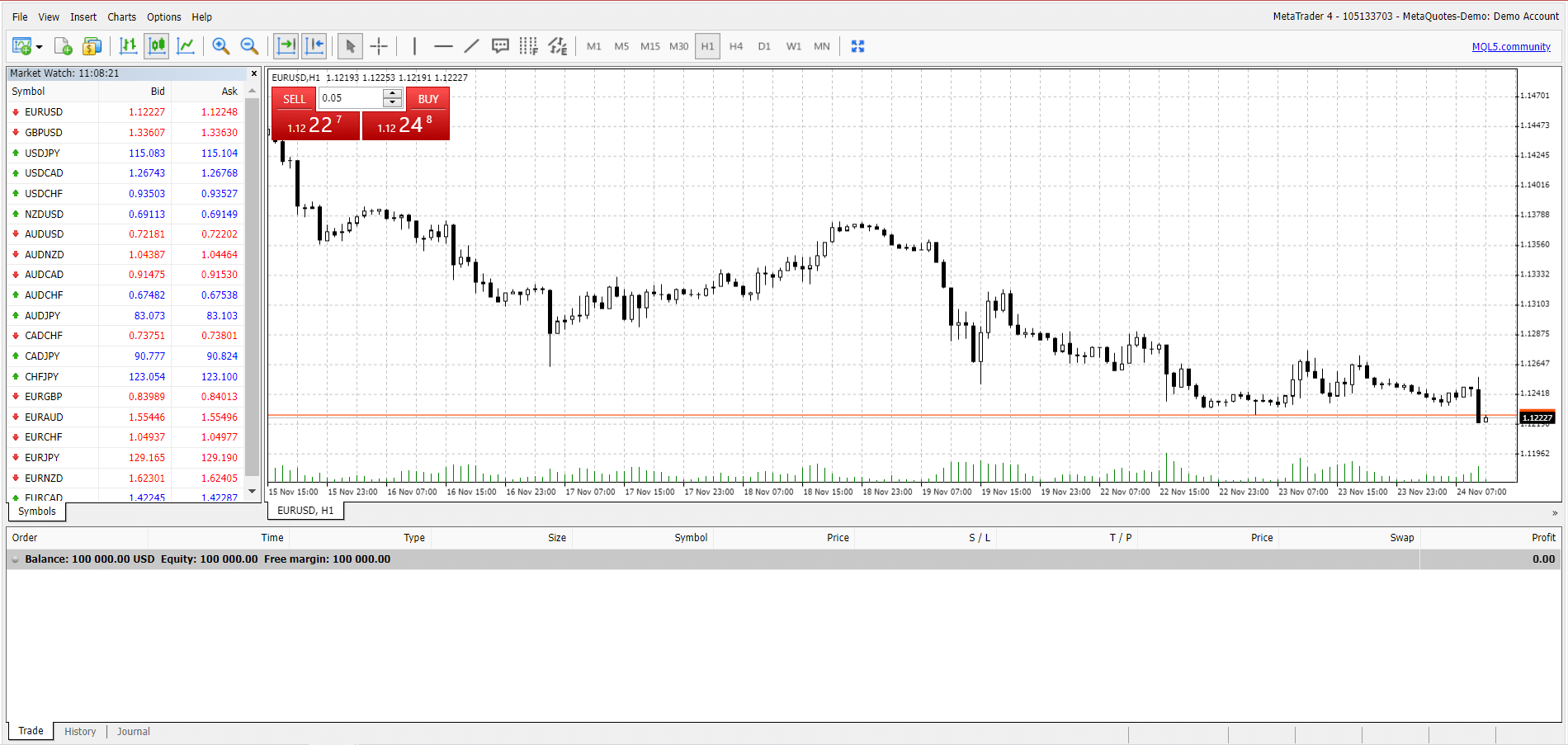 Payment methods
4XC broker holds multiple bank accounts in different countries, prominent bank accounts in Barclays bank, TransferWise virtual bank account, and a few other banks. In addition to that, there are different ways for a trader to fund their accounts, and to withdraw money from their accounts.
Deposits
There are different ways for traders to transfer capital to their trading account, using credit/debit cards, cryptocurrencies, e-wallets, and online banking. However, it seems that all these methods are subject to some commission fees, with the exception of Neteller and Skrill, which are limited to non-EU clients.
All funding processing time is almost instant, with some exception in the case of Genial Bank which can take 3-5 business days.
Withdrawals
4XC broker withdrawals are limited to a few ways, such as credit/debit card and other 5 options where most of them are subject to commission fees charged by the broker, regardless of any fees charged by the provider itself.
The processing time for withdrawals can take more than 2 business days for most of the withdrawing methods, and it can take up to 10 days using the most common method credit/debit card.
Customer service
Traders might be able to reach the support team via the telephone number indicated under the contact us section, however, it is a UK-based telephone number, which is different than the operating location for the broker that is in the Cook Islands.
In addition to that, there is the live chat function that is popping up once a visitor opens the website, and the notification there can get annoying since it is popping all the time, and once you try to reach them there you are faced with an automated reply system waiting for a human support agent to appear, which can take forever, and there is nothing more annoying for a trader that is facing some issues in trading and waiting desperately for help from the support team.
Final verdict
After diving into the detailed 4XC broker review, we conclude that 4XC is not a safe broker, it presents a picture of being so good and too perfect, but with digging behind these meanings we see some illicit picture in the background, included in the license, the leverage offered, the spread offering, the assets, and the payment methods.
Moreover, there are some features that are offered by most financial brokers that attract many traders, seems to be missing here, making 4XC financial broker not really interesting for many traders, talking about the very limited cryptocurrencies available for trading, the lack of negative balance protection besides the high leverage option, putting every trader capital at a huge risk.
The nature of the license acquired by the broker has created 4XC broker opinion of being an unregulated broker, since the license itself is not really strong in terms of regulating the activities of financial brokers in the Cook Islands, and the broker can enjoy the relaxed regulations to carry out any illicit activities by the broker.