Absolute Markets Review – Is It Legit?

Absolute Markets was launched nearly 10 years ago by three partners who shared the same experiences and interests. So, they have decided to create a platform that would help customers to trade different assets comfortably and take advantage of various top-class services. They operate in different segments such as Forex, Stock, and Crypto markets, metal, indices, and so on. This broker is available in more than 170 countries across all time zones and as they say, the results of their work are highly successful. However, we are quite skeptical about their abilities since we have found a lot of downsides and flaws which we will mention down below. So, you will have a clear idea of whether you should trust this broker or not!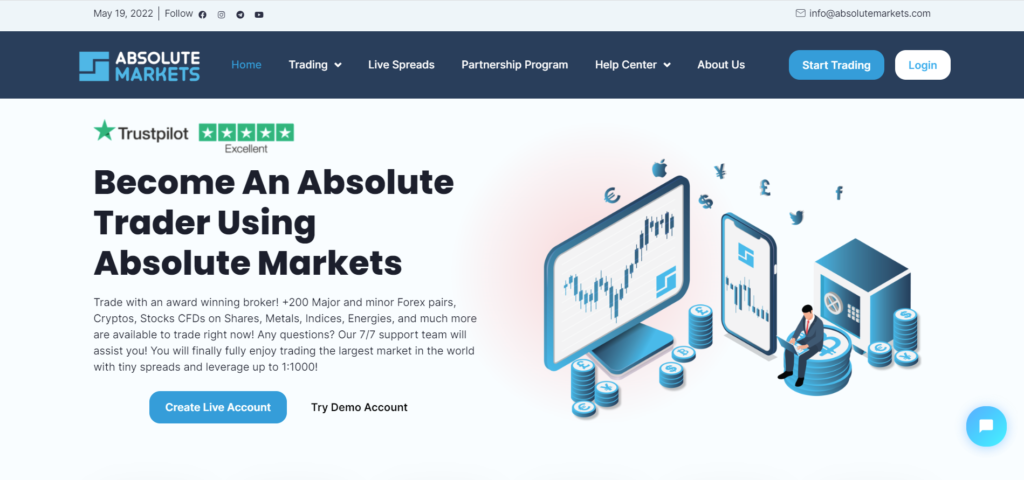 The License
We want to start by talking about the most essential aspect of every broker which is a license. This is the first attribute that you need to pay attention to when entering the platform since a reliable broker should include a license from a top regulator. By doing so, they will earn the trust of customers and make their time enjoyable here without any worries. 
However, after searching for a long time on the Absolute Markets website we have found no information regarding this matter. This platform is not regulated by any kind of governmental institution which is a major drawback and that's why we think that it might be a scam. Hence, our recommendation would be not to risk your funds on this platform since we are not aware of its legitimacy and reliability. The danger of losing all your money is enormous here and there is actually no prospect of getting it back due to the lack of regulators. 
Account Types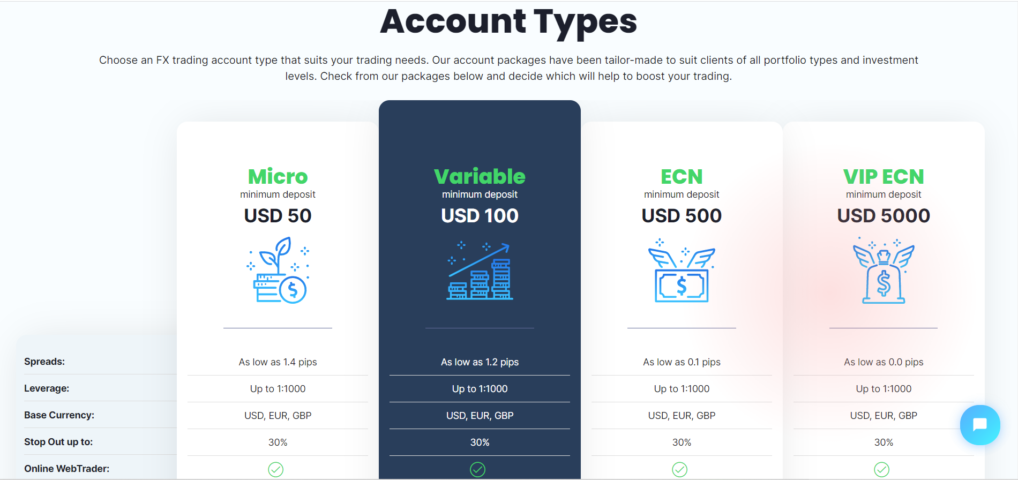 You will come across four types of accounts on this platform which is a very good way to entice customers. It is a well-known fact that brokerage companies will be more successful if they implement different types of accounts, so Absolute Market is following this trend. These accounts are – Micro, Variable, ECN, and VIP ECN. We have to say that spreads start with as low as 1.4 pips for the Micro account and it goes even lower for the rest accounts. 
One more concerning fact about its trustworthiness is that the Micro account includes 50$ as the minimum deposit. This seems pretty low at first glance since the majority of legit brokers include far more amount as a minimum deposit, so that's why we are so doubtful about Absolute Markets. This could be another trick intended for deceiving users and making them deposit money so that they can steal it. 
Moreover, the maximum leverage for every account type is 1:1000 which seems way too high and beginner traders might easily get deceived by this kind of proposal. So, considering all the flaws written above, it will be a good idea if you refrain from creating any type of account on this platform. 
Trading Platform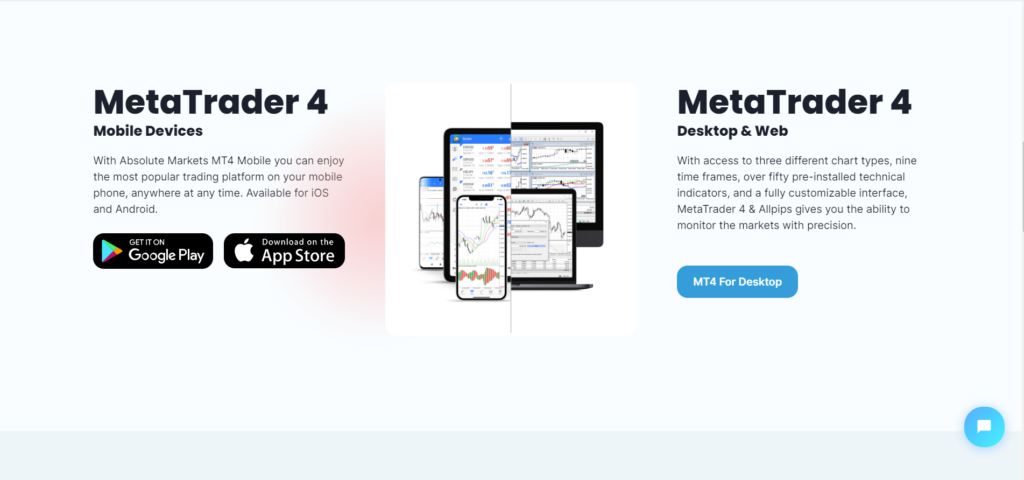 Absolute Markets include the most popular and frequently-used trading software called Metatrader 4. This program is considered the most convenient one that makes life easier for both beginner and experienced traders. It includes all the necessary information and buttons required for successful trading and with the help of its simplified design, this process becomes effortless for everyone! The platform provides Meta 4 for various devices including laptops and smartphones, so you have a chance to trade comfortably wherever you wish. 
Meta 4 is able to provide a wide range of beneficial characteristics such as indices, shares, spot metals, numerous indicators for technical analysis, various tools for graphic analysis, and a powerful security system that makes it pretty much impossible to steal your funds. So, it is clear why this program has gained such tremendous popularity and Absolute Markets has decided to implement it in order to engage more and more users.
Promotions and Bonuses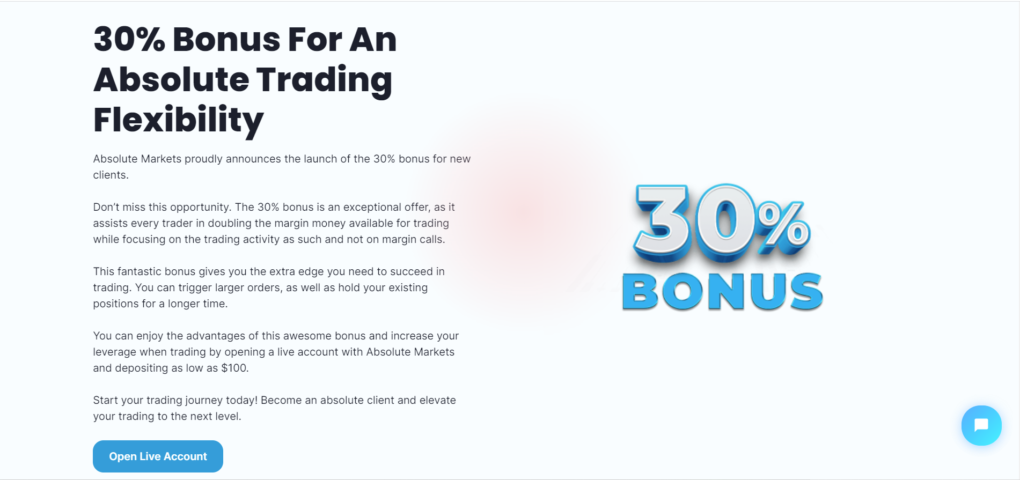 You can find a pretty appealing proposal in terms of promotions on this platform. Absolute Markets is offering a 30% bonus for absolute trading flexibility. They claim that this is an exceptional offer that will help every customer to double the margin money available for trading while focusing on the trading activity as such and not on margin calls. This is an additional opportunity to succeed in trading and earn tremendous benefit in the end, they say, but we want to highlight that there is a requirement of depositing at least 100$ in order to get eligible for this proposal. 
So, do you think that a platform with so many question marks is worth it to spend this much money and hope you will get more in return? Well, we certainly don't recommend doing so as the danger of losing your funds far outweighs all the possible outcomes. So, once again, you need to think very carefully before making any decision here. 
Partnership Program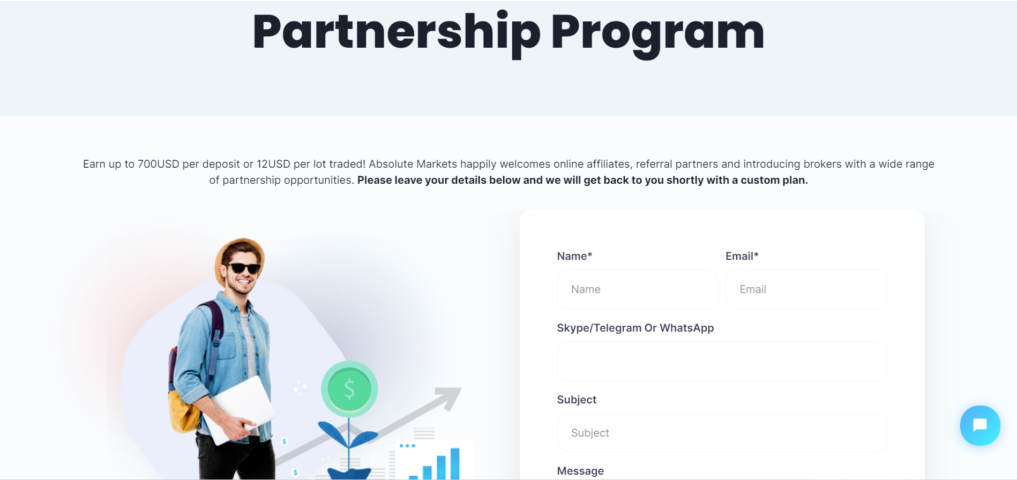 You will come across one more attractive offering in terms of the partnership program on the Absolute Markets website. Here, you have the opportunity to obtain up to 700USD per deposit or 12USD per lot traded! This and more benefits will be provided to you as soon as you become a partner of this platform
Moreover, there is an exclusive affiliate manager here who is ready to assist you regarding various tasks connected with affiliation. Also, the platform claims to provide more tools in order to further enhance your abilities to trade successfully. However, we find it very hard to believe that this section says due to the fact that we have already found a lot of flaws here. The offer of 700$ also seems pretty vague since this is a very high amount considering the required deposit. So, you should not be impressed by all these lucrative possibilities and remind yourself that everything that shined is not gold.
Deposits and Withdrawals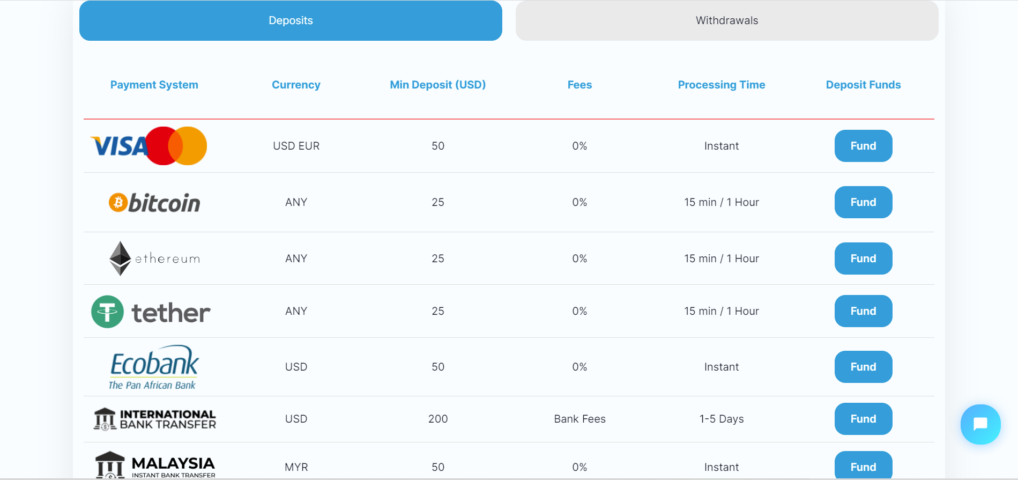 We have to say that a similar situation is in the department of deposits and withdrawals. The platform is saying that it will ensure lightning-fast transactions made with various currencies including cryptos. This is not anything special since nearly every platform provides high speed when it comes to payments. However, what makes us concerned is that the minimum deposit required for every method starts from 25$. 
This number is very low considering the fact that most top brokers don't allow customers to deposit any less than 200$. So, there is a solid argument to say that Absolute Markets is trying to deceive users by offering so low amounts for deposits, and moreover, as we read here, there are no commissions when depositing. As you can see, every factor indicates that this platform is not reliable, so you will be risking your money if you start trading here! 
The Bottom Line 
In conclusion, we want to state that Absolute Markets is not a trustworthy broker and you can't possibly trust it. The major reason is that there is no information regarding licenses and regulators on their website, so you will not be able to open a dispute against them if something happens. Moreover, we have found highly dubious offerings nearly in every segment of the platform, so as a final recommendation we want to say that you should look for another broker if you want to enjoy successful trading.