Ainvesting Review

Reviewing forex brokers can be really hard. Especially if you are a newcomer to the industry and don't really know what you are doing. In that case, you can stumble upon brokers that you believe are trustworthy but in the end, you can still get scammed by them, leaving you dumbfounded as to what you missed and what was the thing that would have exposed them immediately. On our website we dedicate time to reviewing Forex brokers, we try to dive in as deep as possible and find all the details that are needed for us to deduce the quality of the broker. In this case, we have Ainvesting review ready for you. Not only will you be looking at this company's details through our review, but you will also be learning about ways to identify such scams.
Can Ainvesting be trusted?
When you try to review a broker, always remember to have a skeptical mind before you enter their website. By using this method you will be able to easily identify all the details hiding in plain sight. It has been scientifically proven that your intentions most of the time give you your desired results. Our intentions were to find a scam and that is exactly what we did. First impressions are always important to guide you through the rest of the information, always rely on them but never let them influence the final decision.
Ainvesting scam was quite easily tucked away under a lovely homepage from the Forex broker, but ultimately they were not able to hide it from us long enough. When we entered their website, we were quite well met, by a lovely website design which looked quite fluid and responsive. The information tab let us to one of the most transparent ways to display information to a customer, we were quite happy to see it.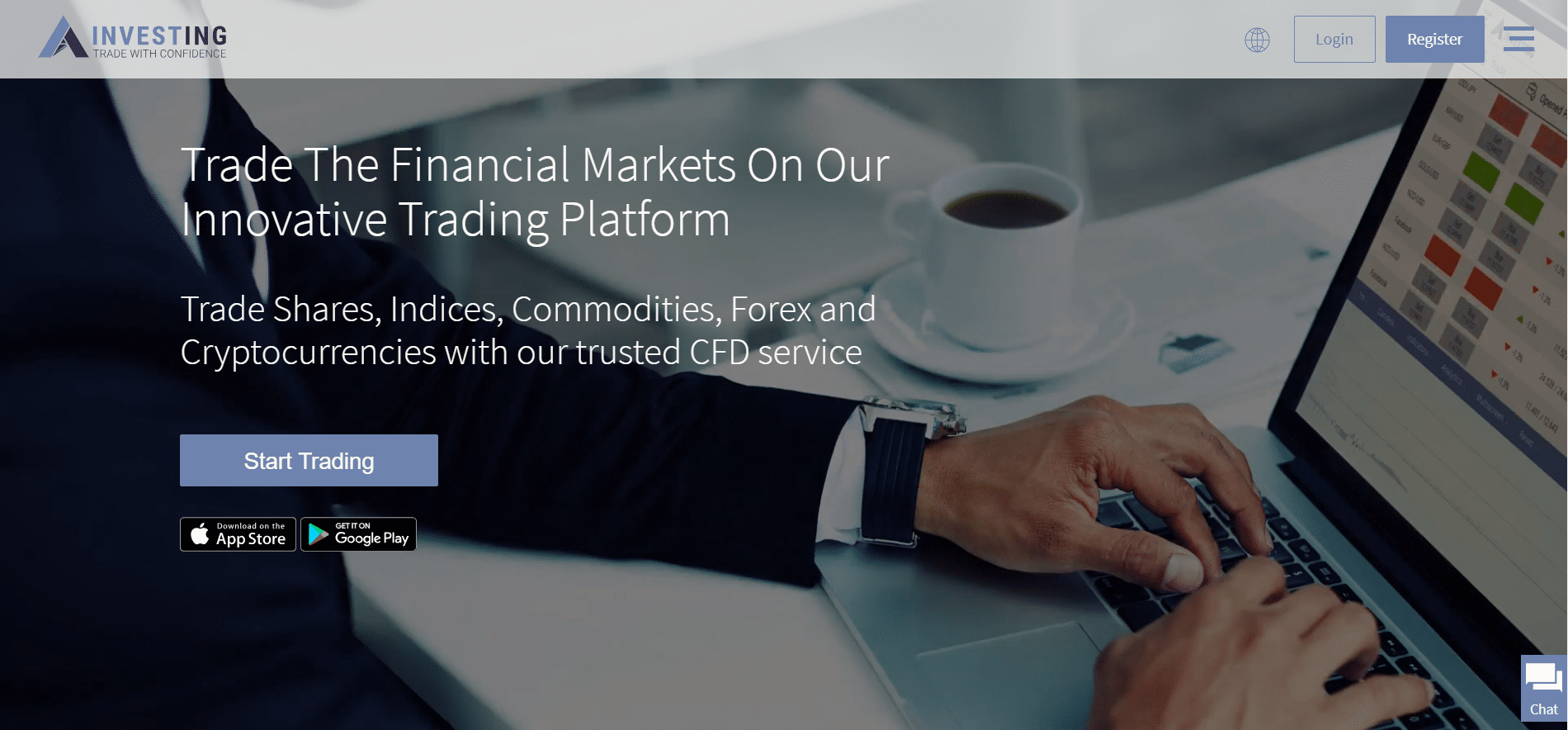 The moment we started sensing something fishy, was then we could not find any information regarding the broker's regulator. Ainvesting fraud was not something on our minds when looking through their website, but we quickly got suspicious as they didn't feature any personal information in their "About Us" tab. it didn't take us long to find the regulators, of course, we just had to scroll all the way down in order to find them. It turned out that they are regulated by the BFSC (Bulgarian Financial Supervision Commission), which is admittedly not one of the most trustworthy regulatory bodies out there. We would say that even CySEC who has multiple scam brokers under its belt has a lot more reliability than BFSC.
Now you may think that them not disclosing their information directly isn't too bad of a move, but remember that it is absolutely essential for every single broker to tell you that they are regulated. In fact, it should be the most important thing for you, the consumer to know whether or not, the company you are about to commit your hard earned money to actually has a legal license from a financial regulatory body. Ainvesting Forex broker should have made this information a lot easier to access and find, rather than tuck it away on the bottom of the webpage so that you could get swayed by the features they offer to new traders.
Why Ainvesting is a scam
First things first, the moment we tried to open an account on the webpage is displayed to us that the country was not supported. This immediately raised alarms as you may think, because an unsupported country means, no regulatory system to operate in the region, giving us doubts about them even being regulated by the BFSC.
Second. We were able to find out that another Forex broker with a very similar name Ainvestments, is using the exact same website template and pretty much exact same features as Ainvesting. However, they are saying completely different things about their regulators and licenses.


The broker is from Bulgaria, therefore it is aware of the Bulgarian and EU laws. With that knowledge, they can manipulate any loopholes or cracks within the justice system in their favor. We have never seen a broker deny services to a customer from another country. We haven't even seen an online scammer broker deny such services.
Ainvesting Account Types
When we mentioned that we were initially very impressed by the broker's services and transparency. We were not lying. After looking through some of their features, they truly seemed to be more oriented on customer care than profits. Their Account Types were no different, as we saw quite a nice balance in the whole ordeal. Nearly every service was tied to every account type. All of them were getting everything equally, besides the beginner account.
This is one of our suspicions as well. Because imagine, what would a scam broker want to do in order to quickly make money and then run away with it as fast as possible? They would want to make people deposit as much money as possible from the get-go. Therefore they have stripped some features from the beginner's account and beefed up the expensive ones.
The most important feature missing from the beginner account is the personalized educational system. For a beginner, it is vitally important to be aware of what they are doing. If you are allowed to trade without having at least a basic knowledge of the market, then you will most likely lose everything within a heartbeat.
Ainvesting trading assets

Ainvesting markets itself as a CFD trading expert broker. We have no doubt that they do indeed focus on CFDs, but we also saw how they featured quite a lot of assets as well. We couldn't just ignore it an have to give you a full list.
Indices
Shares
ETFs
Commodities
Bonds
Forex
Although you may think that this is a large number of trading assets, one of the most important assets is missing here. Cryptocurrency is probably the most important and popular asset of this day and age. Not featuring it on the platform is becoming unacceptable. It sort of shows a level of unprofessionalism actually. Or a lack of good intentions for the customer's best interest.
Ainvesting Withdrawal
Withdrawing from the broker is quite revolutionary actually. Too bad that it is too good to be true. The broker was happy to disclose information about the no-fee deposit and withdrawal system. The amount of time that it takes for the request to actually process is unknown, unfortunately. Even though we already were sure about the Ainvesting scam we still tried to find out more about the system. What we did find out was that as soon as you request your withdrawal, you will meet with a demand for extra information regarding your ID or passport number. Now we should not be telling you that the only one that you should disclose that information is either the Police or a government body.
Ainvesting Review summary
We would like to wrap it up in a few words so that you can get a bigger picture of why we are deeming this broker as a scammer. Ainvesting was able to mask their scam pretty well. If we were a beginner trader we would have fallen for the trick quite easily and not noticed any type of indications that they were a scam. The scheme included them playing the role of a very trustworthy broker, and to be honest it worked on us in the beginning. Finding information about the company was not very hard, all of it was pretty much laid in front of us. This was a masterful plan by the company to lay all of the clues in plain sight, but still cover them with terms beginners wouldn't understand. We hope that our review taught you at least some mechanisms to avoid scammers in the future and hopefully gave you insight about this broker. We wish you the best of luck in your future trades.