ALB review

ALB.com is a CFD brokerage operating from Malta and holding a relatively close relationship with the Italian market as well as trying to access the EU market for millions of daily traders on its platforms.
Our ALB review showed that the broker does indeed posess a legitimate license from a legitimate financial regulation of the EU region, more specifically the Malta Financial Services Authority or MFSA for short.
As already mentioned ALB is a CFD broker that forces it to comply with ESMA regulations, which include the reduction of leverage on some of their products, namely the financial assets. For example, Forex pairs are a maximum of 1:30, cryptocurrencies a maximum of 1:2 and company share a maximum of 1:10.
Considering that the company is focusing more on its Forex offering, ALB opinions are very mixed simply due to their restricted environment. Everybody knows that FX trading is best with an FX broker and not a CFD broker.
Regardless though, this review is here to determine whether or not ALB.com is a relevant company for the EU market and if it manages to surpass at least some kind of competition.
Is ALB legit? Does it have safety for customers?
The first point we need to focus on is whether or not ALB.com is a safe company to trade with. Multiple of our reviews derive their conclusions from the license, and this ALB rating is not going to be any different.
Thankfully, as already mentioned the broker is regulated by a legitimate and trustworthy financial entity of Malta, which gives it some kind of safety points in our book. Furthermore, it classifies it as an ESMA regulated CFD broker, thus giving even more trustworthiness.
Furthermore, the MFSA license forces the broker to have segregated customer accounts from their business bank account. What this means is that if the ALB scam does turn out to be true, the customers will have at least some kind of safety of their funds as they simply won't allow the broker any access on them.

But this is purely derived from the license they hold, and not necessarily on their will.
Next comes the disclosure of information, which ALB manages to handle quite well. Everything starting from ALM policies and ending with KYC rules is covered on the website with separate PDF files. Anyone who has some understanding of EU financial law can quickly glance through them and see that they are indeed legitimate.
Since we've already decided that ALB can be trusted as a legitimate brokerage, that doesn't necessarily mean that we are endorsing the company for daily use. In order to truly determine their value, we need to take a look at what they offer to their traders.
What does ALB offer? Is ALB MT4 a good platform?
In order to truly determine whether or not ALB is a good match for the typical beginner or veteran Forex trader we need to take a look at what they offer in terms of leverage, spreads, withdrawal policies, minimum deposits, and even trading software.

Luckily, or unluckily the ALB reviews on their trading conditions are quite mixed, showcasing at least some kind of genuine interest in the company's performance.
Unfortunately, though, we don't think we'll be adding to that positivity today.
Spreads – one of the worst we've seen
We always like to start the discussion with the maximum leverage available with the brokerage, but the spreads were much more important in this case.
If you're a veteran trader, then you most likely expect that the broker you are signing up for has spread on pairs such as EUR/USD of a minimum of 0.1 pips. Unfortunately, ALB has a minimum spread rate of 0.7 pips on EUR/USD with a Pro account that most likely has a large deposit, and a 1.5 pip rate on a basic account which does not have a deposit.
Considering that the industry average is anywhere between 0.1 and 0.3 pips on major currency pairs, we can't necessarily classify this option as the best one of the bunch.
What about leverage? Does it make the spread worth it?
Ad already mentioned in the beginning of our ALB review, the company is a CFD broker in the European Union, and thus has to conform to the regulations imposed on it by the European Securities and Markets Authority. One particular regulation is of leverage, which is a maximum of 1:30 on Forex pairs.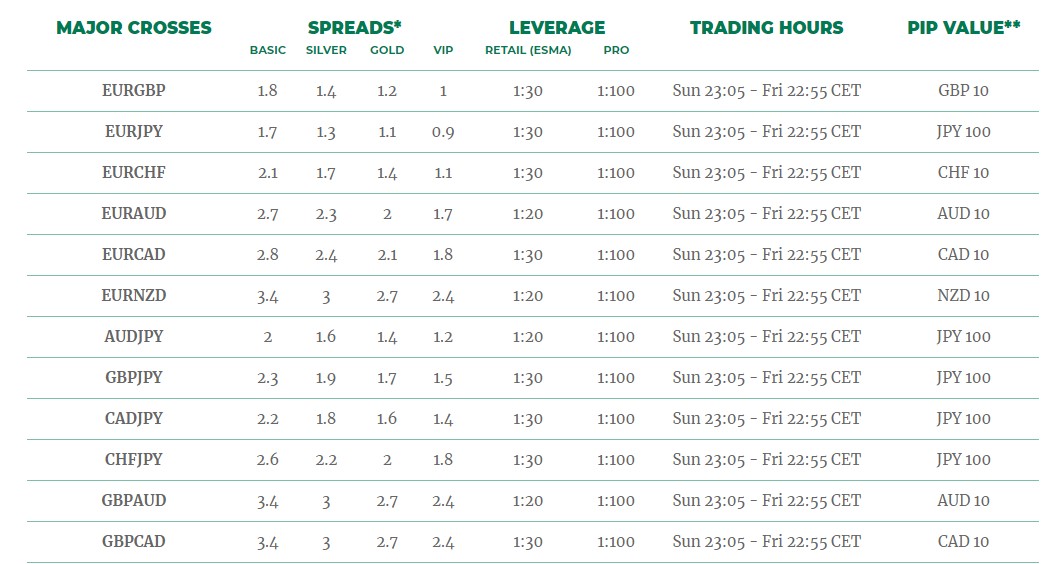 Fortunately, though, the company has a 1:100 leverage on the Pro account, which is yet to be determined if it's a violation of the regulation.
Overall though, if you're looking for a Forex trading platform, this does not seem to be the right choice.
Can I at least withdraw easily from ALB?
The ALB withdrawal policies are quite nice but very static. The company supports only two ways for withdrawals, the Bank Transfer and a Credit/Debit card transfer. These take up to a week to be transferred to the customer's account, but at least it does not have any fees attached.
The deposits are nice though, as the basic account does not require a deposit to activate, while the Pro account most likely has a minimum.
Are the software options diverse?
The current market standard for software types is at least two, due to the policies of MetaQuotes and cTrader. In ALB's case, they went with MetaQuotes and now feature the ALB MT4 and ALB MT5 options.
Considering that these two are arguably the most popular options, most of the customers trading with this broker should easily find comfort.
ALB profitability – Yes or No?
That may have been quite a lot to take in at the same time, so let's try to compile all of the information in this "conclusion" type paragraph at the end.
Is ALB legit? Can it be trusted? –  Yes, most certainly so. They have a license from the MFSA which is a recognized financial entity in the EU.
Is it profitable to trade with ALB? – No, the broker has very limited options for leverage and quite a large spread on major currency pairs. If you're looking for a good FX option, then a CFD broker is not for you. Even when it comes to CFDs, ALB is quite lackluster.
Should you trade with ALB? – We can't recommend this broker to you, simply because the ALB scam is just a myth and that they won't run away with your money. No, we can't recommend this broker to you because it will be very hard to strike a profit with them.