A comprehensive AM Broker review

One of the new brokerages that got the attention of traders is AM Broker that appeared on the Forex trading market in 2018. The brokerage is offering currency pairs and CFD trading products to the traders around the world excluding some of the countries like The United States or Japan. Since the broker is relatively new, there is not many AM Broker review, we decided to examine the broker's features to give insight to the traders that are searching for the new brokers or are considering to open an account with the AM Broker. If you are one of them make sure to read the full review to make an informed decision.  Here's a little summary of the broker's features.
AM Broker offers trading instruments from 6 asset classes, it includes currency pairs, CFDs on stocks, indices, commodities, ETFs and some of the top cryptocurrencies. Traders can use the leverage from 1:2 to 1:500. The broker offers its service to retail traders, professionals and also to the institutional traders. Let's see what does the broker has to offer and if there is any chance of AM Broker scam.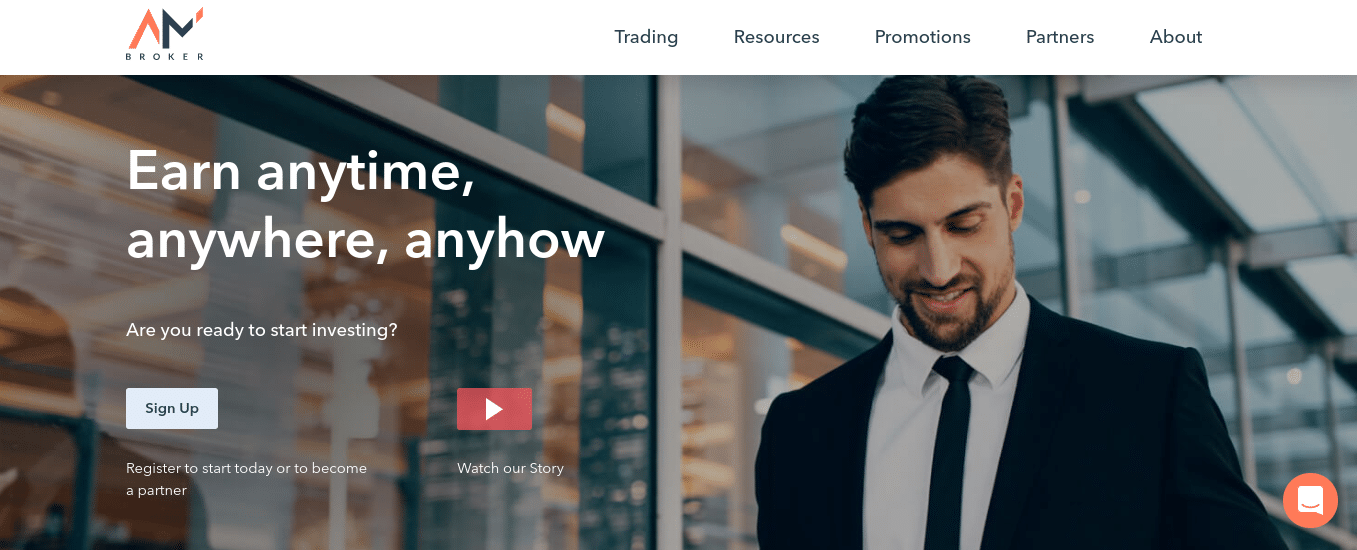 Trading with AM Broker
One of the advantages that AM Broker has is its trading conditions. Many opinions suggest that the broker offers conditions that makes trading with it interesting for every kind of trader, beginner or otherwise. First and foremost, the broker has a big variety of trading instruments.  Traders have access to the six most popular trading classes:
Forex: There are 100 currency pairs available with AM Broker, the list includes all of the major currency pairs, some of the minor and exotic ones. The spreads start at 0.6 and are floating. You can see some of the examples on the broker's website. The maximum leverage offered is 1:500.
CFDs on commodities: Traders can use leverage up to 1:5o0 for CFDs on commodities as well. There are not many of the commodities available, but the broker does offer the most popular ones such as gold, silver, gas, oil, and brent.
CFDs on indices: There are 20 indices available with AM broker at this moment. Indices can be traded with 1:500 leverage as well.
CFDs on stocks: Traders who are willing to trade with CFDs on stocks have the possibility to choose from 3000 stocks available with AM Broker FX brokerage. The maximum leverage offered for this instrument is 1:20
CFDs on ETFs: There are up to 300 ETFs offered on AM Broker's trading platform from 25 stock exchanges. The leverage is up to 1:20 for ETFs as well.
CFDs on cryptocurrencies: The broker offers top cryptocurrencies that are on the crypto market today  – Bitcoin, Bitcoin Cash, Ripple, Ethereum, and litecoin with the leverage up to 1:5.
Such a variety of trading instruments positively affect AM Broker rating as it is always good to have a choice when it comes to the trading assets.
Apart from the trading instruments, the broker offers several trading platforms.  One can use the most popular platform MetaTrader 5, as well as the web trader and mobile trading app both for Android and iOS. The variety of trading platforms is a big plus as well since it is important to have access to your trading account at any given moment especially when trading with CFDs. It makes it easy for traders to always have control over their positions and hence helps to increase profitability.
AMBroker account types
Since AM Broker targets every type of traders the accounts are designed for retail, professional and institutional traders. The retail account has a standard package that includes basic features such as integrated online support and personal relationship manager. The minimum deposit requirement for this account is 1000 USD. For those who feel like they are not ready yet to commit and deposit that much money with the broker that they have tried out yet, they can use a demo account. The demo account does not have any time limitations, traders are given 10.000 USD virtual money which can be refilled any time. This is very comfortable for traders and formes a very good AM Broker opinion.
The professional account that the broker offers has the minimum deposit requirement of 10 000 USD and has some additional features that are handy for professional traders. Traders can have one to one consultation, they can use the proprietary research and in addition get the annual AM Broker bonus.  For Institutional clients, the broker offers dedicated quantitative analyst service as well as a sales analyst. This account can be opened with 100 000 USD.
Should you trade with AM Broker?
As you can see AM Broker has some of the significant advantages that can be well used by all kinds of traders, beginners or otherwise. One of the biggest advantages is the variety of trading instruments. It is always good to have access to different types of trading instruments with the same brokerage. This way you can easily diversify your portfolio or simply find whatever instrument you want to trade without changing the broker. The same goes for trading platforms. The broker does not limit traders to one platform only, that is often the case, but several of them that can be used with the different devices. While making Ambroker.com review we also saw that the broker showcases all kinds of information that are important for the traders and does not try to lure customers into investing with them with empty promises. Another advantage is the high leverage that can be used well by the experienced traders.  The only disadvantage that might be important for the traders is the high minimum deposit. While many brokers have low deposit requirements 1000 USD might seem a lot for many traders. Our final opinion about the broker is that there is no possibility of AM Broker scam and the broker can be trusted. It is up to you to decide if the minimum deposit requirement is acceptable for you and make the final decision accordingly.
★★☆☆☆

based on

3

reviews
Overall rating:
MT5 Lags
★☆☆☆☆
I was trying to add a robot to MT5, but with AM Markets it doesn't work.
"
No good
★☆☆☆☆
Do not believe in positive reviews, try it for yourself! I do not like their services and do not recommend this broker!
"
AMBroker reviews are true
★★★★★
I was reading a bit about this broker and the reviews were quite positive. So far I traded a few days and I am very happy with the broker.
"