Binarium broker review that tells you if it is a scam or not

Nowadays the development of digital media has brought about an abundance of information available online to people in any location. Is the broad availability of resources beneficial to us? Not always! On the one hand, it provides us with the opportunity to easily find what we need. On the other hand, it's hard to decide which resources we can trust.
In this review, we will take a look at one of the popular broker websites Binarium. We will analyze whether or not they are trustworthy. In order to draw conclusions, we will check what the company is offering on its own website. Afterward, we will compare it with other brokers and see what its existing users say about their experience with Binarium.
Information provided on Binarium trading website
At a glance, the website of Binarium looks very user-friendly. Overall the design and tone leave a positive impression. For instance, it briefly gives the major information on the main page, such as the number of commodities you can trade on their platform, the minimal deposit necessary for an account and the amount needed for one trade. It is not overloaded with unnecessary messages or irritating advertisements. However, when we take a closer look, we will notice that the main page lacks some substantial information. The user cannot see information such as the commission fee for a trade (how much it costs the trader to use this platform) or the legal information about the company.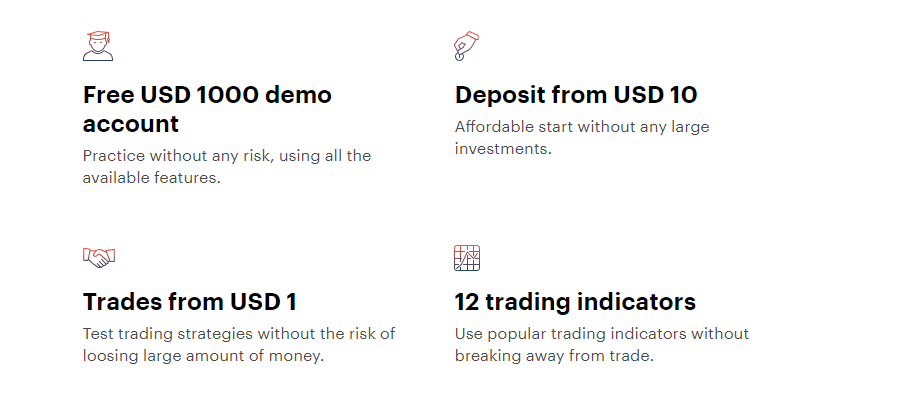 Some of the information that the main page lacks can be found after a thorough search on other pages of the website. For instance, a further page provides the info that the company is registered in two countries – Cyprus and St. Vincent and the Grenadines (this fact per se is confusing and causes some doubts). However, even if you spend hours on the website looking at all the sections, you will not be able to find certain information about whether the company is regulated by a legal body. After all, this is one of the best ways to evaluate a broker – how legitimate they are. While the company offers services in Euro, it does not mention anything about having a license in the EU, so there's a big possibility it is a scam. For this Binarium scam review, we checked both addresses that are provided on their website and it turns out there are tens of other companies registered in the same office, so clearly the address is just a fiction.

After checking the Facebook and Vkontakte pages of the Binarium broker, it became clear that the company is actually primarily addressing clients in Russia. Only very recently did they start trying to appeal to clients in foreign countries, perhaps ones with a higher income per capita than Russia. However, they never gained a license in any additional country, so their actions trying to involve EU citizens are illegal and mean Binarium is a fake company.
Comparison of Binarium scam with other brokers
On a positive note, Binarium does have its Client Agreement published on its website. However, those few people who would actually read it would not be very happy about the potential service they would get with the broker. While the main page of the company boasts the list of methods of money withdrawal (such as Visa/Mastercard, Neteller, WebMoney, etc.), its rules and regulations section does not specify any of the information that an experienced trader would like to obtain.
For instance, the Client Agreement does not specify full disclosure of the withdrawal process, nor does it tell you what minimal amount is necessary for withdrawal. This way, a trader might already have a couple of hundreds of dollars in his account, but due to a very high requirement will not be able to ever use this money. All the other brokers that we do recommend to trade with have such significant information put openly on their website, even before a user starts their relationship with the company. You will probably agree with us that it's vital to know the terms of an agreement before committing to it.
What are the users saying?
At some point in our lives, all of us have found ourselves in undesirable situations and wanted to warn everyone else not to make the same mistakes. It is important to take advantage of the recommendations from other people so that we can learn based on other people's mistakes instead of our own. In this case, we have found some valuable information about the Binarium withdrawal process from other people's reviews.
First and foremost, the biggest problem that past users have had with Binarium has been the withdrawal issue. One would think withdrawing the money that you won fairly with a broker is the most important aspect, huh? However, Binarium has had a bad record of canceling its users' accounts with no clear explanation after the user has accumulated certain funds with the company. In such cases, the support team at the company becomes extremely unresponsive. The user is left with a lost sum of money and a bad aftertaste. While the website boasts a number of withdrawal methods, they are of no use if the company does not let the trader get any funds from their account.

Another issue that has been stressed by the lucky users whose account did not get closed down is the unexpected withdrawal commission. According to these users, the withdrawal fee was not specified in the Client Agreement, so they only found out about it in the process of withdrawing, which is totally unfair.
Should I start using the Binarium platform?
While the website of the company might look attractive because of its minimalistic design and straight-to-the-point tone, after a closer look it lacks substantial information that other high-quality traders always provide. While the website is trying to attract users with an unrealistic bonus, in reality, Binarium has no deposit bonus and hundreds of users have already shared information about their own upsetting experience. No matter how high the bonus on the first deposit is, it does not have any value if the company is not regulated properly. After all, what good is a 500 USD in your account if you are not able to withdraw it to your actual bank account and use it?