Binomo Review

Started in 2014, Binomo is an online binary options broker which is started by Tiburon Corporation Limited. Binomo provides its clients with binary options trading and investment. If you are thinking about signing up with Binomo then read our Binomo trading review before you register.
Binomo Regulation
Whenever you are considering registering with a broker, it is important to look into their regulation. This is because regulation will keep the broker in line and provide protection for you. In the case of Binomo, there is no real, dependable regulation nor protection for you. Binomo is located in Cyprus which is overseen by CySEC, however, even after being in business since 2014, Binomo is not regulated.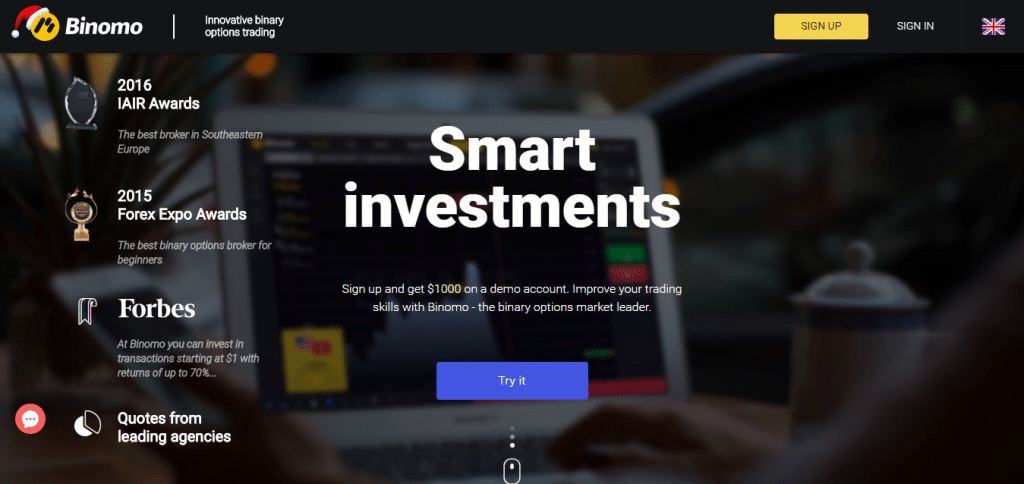 Instead of being registered with CySEC. Binomo has a CROFR certificate that was issued by the Financial Market Regulations Center (FMRC). But this organization does not have the legal power to fine or punish Binomo if its terms are violated. FMRC could only revoke Binomo's registration and nothing else which will not protect your interests in any way. We recommend you register with regulated brokers only. It is better to be safe than sorry.
Binomo Customer Support
You can contact Binomo via:
Email
Live chat
Online form
Skype
What we found interesting is there is no telephone number listed on the page. The telephone number being absent from the page can be considered suspicious because most brokers always have a telephone number listed before anything else.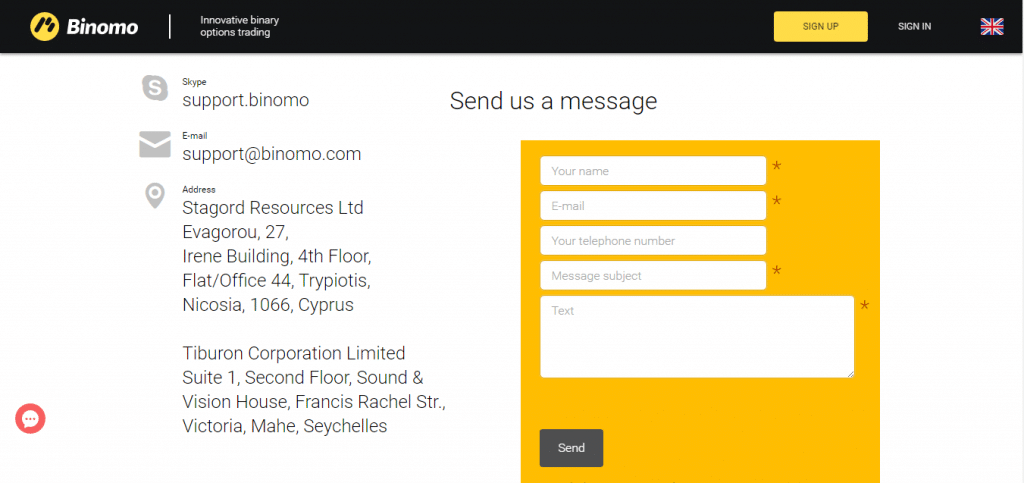 The most frustrating thing was the blatant disrespect Binomo's customer service agents had for current and potential clients. During our research, we found a number of Binomo reviews by traders where they spoke of the same thing. It appears Binomo's customer support is not very supportive at all.
Another common complaint was the fact that the agents could not communicate in clear English. This coupled with their disrespectful behaviour, left a lot of traders feeling frustrated.
Binomo Accounts
There are three account types offered by Binomo:
Standard Account
Gold Account
VIP Account ($1000 minimum deposit)
Standard Account
The account with the lowest minimum deposit is the Standard Account, it is $10. The account features available are a promised fixed profit of 85%. Traders are also promised to be able to make trades investing a $1. The top-ups have no limits, Standard Account holders can also participate in tournaments and have a 3 day wait for withdrawals.
Gold Account
The Gold Account requires a much higher minimum deposit than the Standard Account, $500. However, there are claims of added features. These include: promise of an extended list of assets, a yield of 86% on trades and 24 hour withdrawal wait time. Other features include: analytical support, a personal manager, 5% weekly cashback and investment insurance bonus instruments.
VIP Account
In order to become a VIP Account holder, you would need to deposit at least $1000. Binomo promises to double this with a 100% bonus. There are also claims of an 87% maximum fixed trade profit. Other features are a 4 hour wait time for withdrawals, supposedly an increased asset list plus what Binomo defines as analytical support via Skype. There is also a 10% weekly cashback and a vague promise of additional exclusive features.
Binomo Platform
There is only one platform offered by the Binomo binary broker and that is its own platform. While there are other great, well known platforms such as SpotOption, Binomo decided to go with its own options trading platform. And it seems that was the wrong way to go.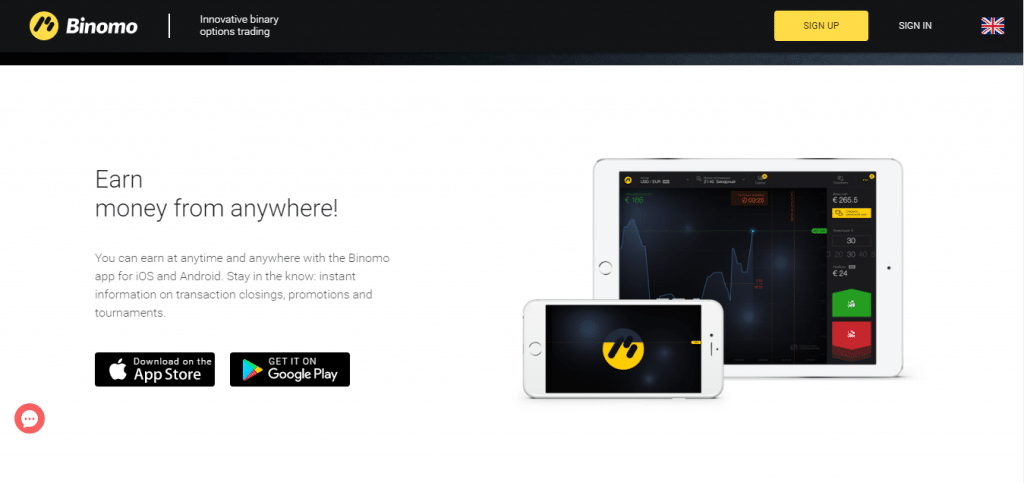 While researching Binomo, we came acrosse a number of reviews by traders who spoke of the Binomo platforms faults. The largest one being the delay between the time you place an order and when Binomo actually takes it. One trader spoke of multiple instances where he placed an order and it was delayed and when Binomo finally took the order, it was the wrong one which cost him money. The reality is Binomo's platform is not ready to serve traders and neither is Binomo.
Binomo Review Conclusion
If the question you had before reading this review was "is Binomo legit?" We hope it answered your question. It is sad to say that Binomo is a binary broker that has a long way to go before it can even be considered an okay broker. From the disrespectful customer service agents to the pointless "regulation" and faulty platform, it is quite clear that Binomo is not a broker you should consider registering with. You would lose far more than you would gain.