Bitfreezy Review – Should you trade with it or avoid it at all costs?

Forex brokers come in different shapes and sizes; there are companies with huge global coverage and overwhelming renown that radiate trust without trying. And there are smaller companies that work on a regional scale that fight for clients every single day.
In that struggle, some brokers remain trustworthy and some brokers don't. The latter incorporate lots of shady ways to trick new clients and steal their money.
You, as a Forex trader, need to know some ways in which you can detect such brokers and protect your financial stability. We, on our part, want to help you select the best broker for your needs, which is why we're offering our review of the Bitfreezy Forex broker.
What do the numbers say?
Before we jump into an in-depth review of the broker, let's take a quick history lesson about its background. Now, even though Bitfreezy claims to be operating for the last 25 years, we found that it has just been established in 2019 as a trading platform. Even without any comprehensive overview of its platform, we can already see that Bitfreezy is lying to its clients.
Having said that, we're going to take all of the Bitfreezy promotions with a huge grain of salt, knowing that the broker may very well be lying. Now, if you do decide to sign up at Bitfreezy, the main trading instrument will be cryptocurrencies, as the name suggests. However, there will also be currency pairs, metals, indices, and commodities.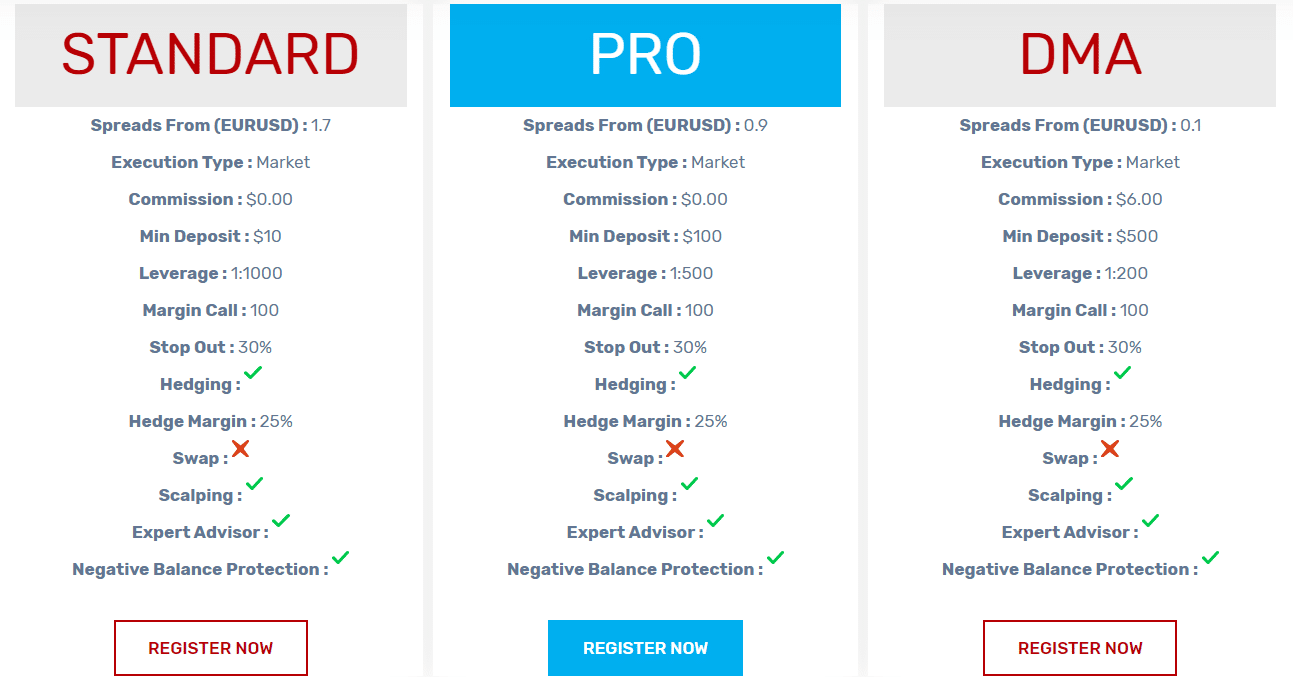 Even though there's such a diversity of assets at Bitfreezy, we're inclined to notice that the trading conditions don't look overly safe to us. For example, the maximum leverage you can get with this broker is 1:1000, which is beyond normal and increases your exposure to high risks. For instance, if you were to lose 10 USD in your trade, a 1:1000 leverage would bring a loss of 10,000 USD, which could easily lead you to bankruptcy.
Besides, only the Standard account allows you to get such high leverage. We would think only the beginner traders would go for the basic account to reduce risks, yet Bitfreezy doesn't really let them do that.
When it comes to spreads, the minimum shift in the EUR/USD prices starts at 0.1 pip, which, considering that the broker has very low or non-existent commissions, is super-suspicious. The reason why we have a very low Bitfreezy opinion in terms of its spreads is that we don't really know what a stable source of income is for the broker. And in such cases, that source often turns out to be illegitimate.
Next up, we have to talk about the minimum deposit requirement. In order to create a Standard account at Bitfreezy, you just need to make a 10 USD deposit, which is suspiciously low. The majority of trustworthy Forex brokers require at least 100 USD from their clients, which implies that they take their platforms very seriously – something that isn't too obvious with Bitfreezy.
Finally, let's check out how you can actually make a deposit, as well as withdrawal at Bitfreezy. As we have found out, you can deposit and withdraw funds using a bank transfer from four different countries (Indonesia, Vietnam, Thailand, and Malaysia), Bitcoin, and Perfect Money. Unfortunately, Bitfreezy doesn't support credit/debit cards or other e-wallet transactions, which automatically renders it unusable for lots of traders.
Reviewing the website
Moving on, we should take a closer look at what the website looks like and whether it conveys all the necessary information about trading at Bitfreezy. When it comes to the interface, we weren't entirely impressed by the design Bitfreezy has chosen for its website. Granted, it wasn't bad either, but there's nothing impressive about it, be it an effortless simplicity or ingenious complexity.
As for the information, we were able to find most of the details about trading terms and conditions. However, there were some significant lapses in the informative side of the website. For example, we couldn't find out the exact conditions for Bitfreezy withdrawals and deposits, which is just the tip of the iceberg.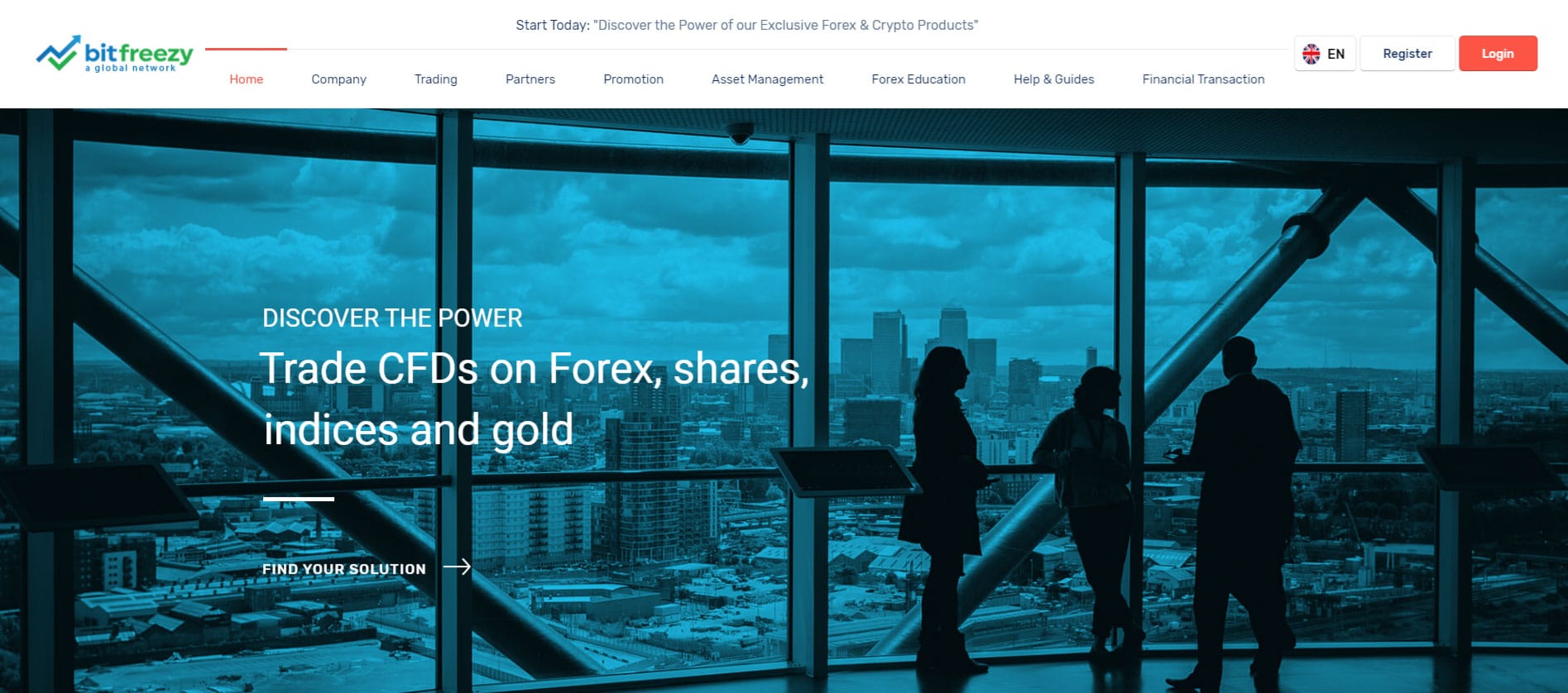 Next, we ventured into the Account Type section to find out which packages you can get as a Bitfreezy user. As it turns out, there are three accounts with significant differences:
Standard – 10 USD min. deposit
Pro – 100 USD min. deposit
DMA – 500 USD min. deposit
The biggest differences between these accounts can be seen in their leverage, spread, and other commission charges. Yet they also have pretty substantial similarities, including the universal market execution, no swaps (a very suspicious offer), and negative balance protection.
Finally, let's have a look at which trading platform you can use at Bitfreezy. Our review of the broker's website shows that you can get the Bitfreezy MT5 to trade currencies, cryptos, and other instruments. And to be honest, there's nothing bad to say about MetaTrader 5: it is a solid platform with complex trading features. However, what's important to note is that it's not very beginner-friendly. In that sense, its predecessor, MT4, would've been a better option.
Can Bitfreezy be trusted?
Last, but certainly not least, let's review Bitfreezy's license and find out, whether its actions are closely monitored by a regulatory body. This is yet another section where the broker chooses to be implicit and make us ponder about its regulation.
At the very bottom of the website, Bitfreezy shortly notes that it was registered in St. Vincent and the Grenadines with the registration number 195 LLC 2019. Being registered in SVG, Bitfreezy is likely using the commonly-known SVGFSA license, which is yet another shady aspect of the broker. The reason for that is that SVG doesn't actually regulate Forex brokers.

This means that the Bitfreezy FX brokerage is pretty much an unregulated broker. And as with every unregulated broker, it can easily steal your money without consecutive implications.
Besides the avoidance of responsibility for illicit actions, registering in an offshore area allows Bitfreezy to evade taxes and reap even larger profits.
So, it is safe to say that Bitfreezy's SVGFSA license is a lie.
Are your funds safe with Bitfreezy Forex broker?
As you can see, we have found many shady areas while reviewing Bitfreezy's trading platform. In order to do a final verdict, let's recap some of the most important details:
First off, we reviewed Bitfreezy's trading terms and conditions and determined that with such high numbers, the broker is probably trying to trick people with fancy conditions without actually backing them with real offerings.
Then we went to the website. While its design was somewhat uninspiring, the website managed to provide information about pretty much everything, except for some fundamental details like deposit/withdrawal conditions and more.
Finally, we reviewed the broker's license and found that it has a suspicious SVGFSA license, which, as the experience shows, isn't the most reliable regulatory material to count on.
Ultimately, we believe that the Bitfreezy fraud may actually be real and you shouldn't risk your financial security for hazy conditions.