Bitky FX brokerage honest review

It's one thing to perfect your trading strategy using various indicators, scripts, and auto trading features, and it's completely another to find a decent service provider that doesn't mess everything up. Scammers have their way of appealing to the untrained eye; they even make their platform attractive to some experienced traders, which is why being careful is essential in this industry.
Unfortunately, the internet is full of fraudulent brokers and other entities. That's because it is incredibly easy to set up a believable website and put anything of your liking in there. And this directly translates to real problems: we have seen countless broker reviews online from the actual customers that talk about how they got scammed and robbed.
So, what this goes to show is that traders should be more careful when they choose a Forex broker. We, in our part, want to make the broker selection process a bit easier by offering our honest reviews on them.
In this review, we'll be taking a look at the Bitky Forex broker. Together, we'll find out everything about the broker's offerings, starting from its website, the license, and finally, the actual numbers and requirements.
Initial impressions
Bitky is a newly-established crypto CFD (Contracts for Difference) broker that also offers stocks, commodities, and Forex pairs to its elite customers. The exact date of its establishment wasn't explicitly mentioned on the website, therefore, we had to find the first appearance of the broker on Wayback Machine, which told us that the approximate creation date of Bitky FX brokerage is 2019.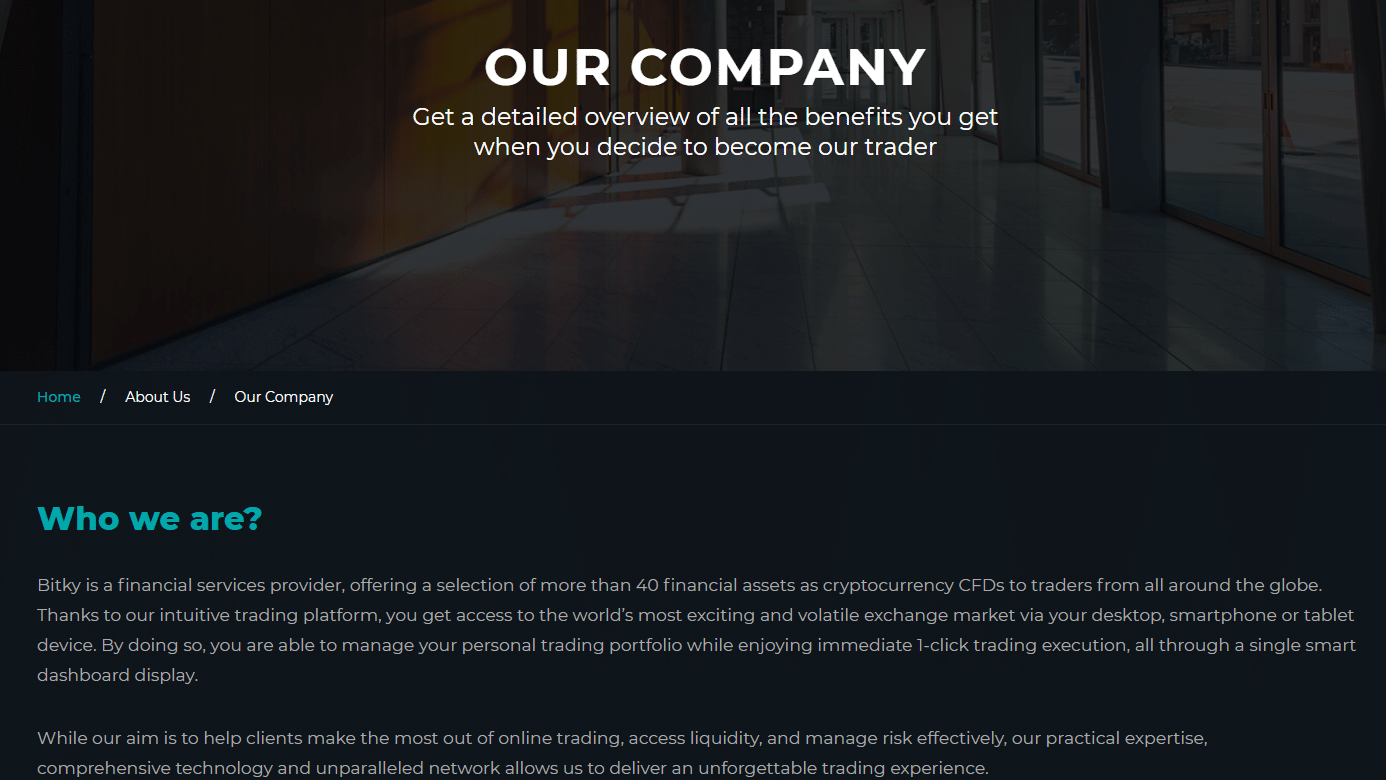 The reason why we decided to review this broker is that it has generated quite a lot of heat on the internet. We found many negative reviews and opinions coming from the actual users, that's why we couldn't abstain from taking a closer look at Bitky.
A quick website overview
We will start our initial review from the broker's website. The two crucial aspects we always look at is how simplistic the interface looks and how easy it is to find information about the broker and its offerings. We were somewhat disappointed when we saw that Bitky's website doesn't exactly look like it was designed by a professional. Its overcomplicated design makes the platform difficult to navigate.
When it comes to how informative it is, we have to give the broker some credit for creating a glossary for trading terms and an educational section. However, the thing that made us suspicious the most is that there's almost nothing on the website about various trading terms and conditions: no spreads, no payment methods, just one tiny place where the leverage ratio is mentioned.
As for the account packages, the broker still deserves the praise as it offers five different account packages that have their own perks and advantages. However, in light of offering no specific details about the size of spreads or bonus promotions, we still don't think that just the diversity of trading accounts can really cut it.
Finally, there's the trading software. Unfortunately, there's no Bitky MT4 or MT5, which would make the broker a bit more believable. Instead, we have a proprietary WebTrader and to be honest, there are some aspects of it that are advantageous, yet in other aspects, the software just doesn't work as well as its mainstream competitors.
What about the license?
Coming up, let's see how the regulatory aspect of the broker looks. But there's actually not much to talk about because, as we had expected, the broker still doesn't say anything about where it was established, which government institution registered it, where it operates from, or whether it has any kind of licensing material that guarantees its credibility. This leads us to believe that the Bitky scam is a real possibility.
Even as Bitky brags about its security features like negative account protection, "state-of-the-art" protection mechanisms of every account, and many other fancy features, the most important thing is omitted from the website – the license. For that reason, no user ever has a guarantee that the broker doesn't drag them into a financial Ponzi scheme and steal their funds. And that's why we wouldn't recommend the broker to anyone.
Trading terms and conditions
Lastly, let's discuss the trading terms and conditions offered on the platform. We have already mentioned this that Bitky doesn't really disclose much about its spreads or bonuses. The only place we found these words ever mentioned was in the Accounts section and Glossary, where Bitky only says that it has higher offerings for more premium customers.
We only saw in the Trading Platforms section that the maximum leverage Bitky offers is 1:400, which, for a crypto trading broker, is way too high – much higher than what even the highest market average for Forex goes up to. We'll discuss how this offering is detrimental in the upcoming chapter.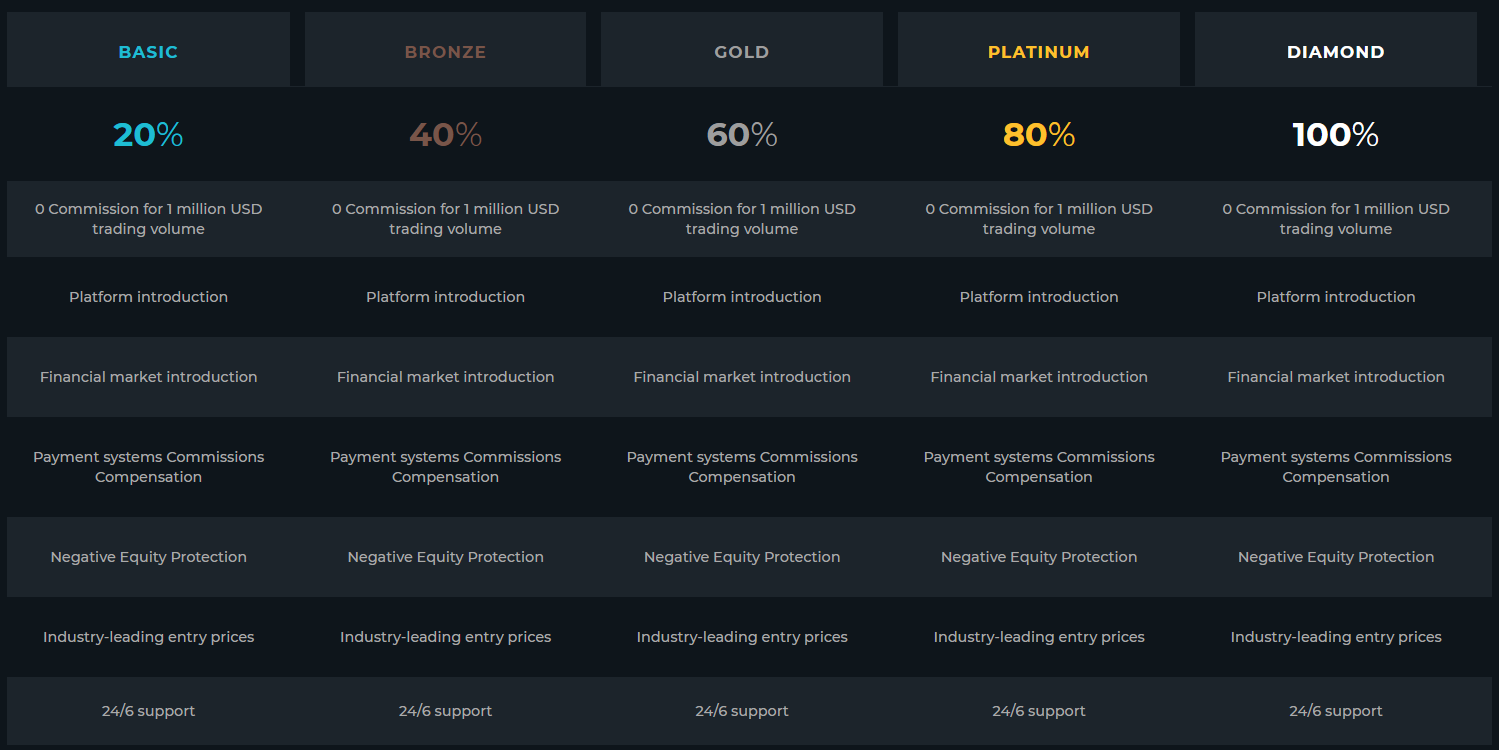 As far as payment methods are concerned, there's almost the same level of opaqueness on Bitky. To give the broker some credit, though, Bitky does specify the minimum deposit requirements for each account type. Besides, being a crypto trading broker, Bitky withdrawals and deposits also support cryptocurrencies. However, it's not like the actual terms of deposits or withdrawals are specified by the broker: we don't know the amount of commission (or if there's any of it), the transaction delays, etc.
And that's it: this will be what we'll discuss more thoroughly in the next part of this review, which is not enough – but that's what we've got. In our experience, the Bitky Forex broker is one of the more concealed brokers that we've seen. And while it is definitely suspicious when someone is hiding something, it's extra dangerous if the same thing happens with a financial broker.
A more thorough bitky.io review
Now, the time has come to dive deeper into the platform and check out every detail that we've mentioned earlier in this review. As we noted before, the website and its interface don't really look that professional. The design is stuffed with contrasty wallpapers and light-green fonts, which would be a great decoration for a photography website. But for financial exchange, it doesn't nearly as professional as it should.
Thematic division of the website is a bit more straightforward: the platform is divided into five sections: Platforms, Getting Started, Trading Info, About Us, and Legal. It's not so much about the layout that is the problem as the contents of those sections. The above-mentioned sections didn't contain much information about trading terms and conditions, licensing, or any kind of bonus promotion. And this level of secrecy deteriorated our Bitky opinion even further.
Next up, let's talk about the accounts. In our opinion, Bitky has definitely done a good job in this section. We found five different account packages in the Account Types section: Basic, Bronze, Gold, Platinum, and Diamond. These accounts are similar in some ways, for example: they all offer platform introduction, negative equity protection, 24/6 support, etc. But they also have lots of different offerings such as webinars and seminars, technical and fundamental analysis offerings, tradable symbols, etc.
Not only that, these accounts have quite different minimum deposit requirements: Basic account requires a $250 deposit, Bronze – $5,000, Gold – $50,000, Platinum – $100,000, and Diamond – $500,000.
Is the WebTrader platform trustworthy?
On Bitky, the trading software you can use is the proprietary WebTrader, created by the broker itself. To give the devil its due, there are some major advantages with this piece of software: it's simplistic, doesn't take much to operate, and offers various features like economic calendar, risk management, etc.
But there are some suspicions about the Bitky fraud that could pretty easily utilize the drawbacks of WebTrader: while other pieces of software like MetaTrader or cTrader are public and are in constant check from the user base, proprietary WebTrader is a lot less accessible in that way. On the one hand, there's not a huge user base that monitors ins and outs of the platform. Besides, the broker doesn't even allow such transparency within the software.
In short, the online and software experience on Bitky doesn't make much impression on us; there are some benefits to it, but overall, the platform is mediocre.
Is Bitky legit for its license?
Moving on, let's discuss the legal matters. It has become a universal piece of wisdom that if the broker doesn't have a sturdy license, the chances of being scammed by it become exponential. That's because the official licensing material is almost always a guarantee that the broker will have more restrictions in its financial activities.
To say that we were surprised to find no mention of the regulatory material on bitky.io would be an overstatement: we already had the expectation of such a thing. Bitky doesn't say in any part of its website that it is licensed by a governmental institution. And there are two possible scenarios here: one, that the broker has a license and doesn't disclose it and two, that it doesn't have any. Either way, our suspicions are reaching their climax, completely shattering our Bitky opinions and making us think the broker is actually a scam.
Therefore, again, we wouldn't recommend Bitky to any crypto trader out there.
How is it like to trade with Bitky?
Last, but not least, let's talk about trading terms and conditions. As we noted earlier, we were unable to find anything specific about spreads, bonuses, or other offerings, therefore, there's actually not much to talk about. However, we were able to salvage the leverage ratio on the website: the maximum of 1:400.

Now, if it were offered to Forex traders, we would have nothing against it as many FX brokers are known for high leverage ratios. However, all of the other markets have much lower leverage offerings, and the same is true for cryptocurrencies.
The maximum for this market seldom goes above 1:50, and even that is too much. And when it goes to 1:400, we are hard-pressed by the question: why does Bitky need such extravagance in this section? Doesn't it know that the leverage acts as a double-edged sword that increases both profits and losses?
Well, try to answer that question on your own because it requires a more subjective outlook. On our part, we believe that this is yet another precursor to the Bitky scam.
The next condition is the minimum deposit requirement. As we've already mentioned above, Bitky's Basic account has a requirement of $250 for the new clients. In our opinion, this amount of money is still a lot for the newcomers, even if we're talking about crypto trading which, famously, is one of the most expensive trading markets.
But to actually make a deposit or withdraw money to your account, there's no mention of how you can do that. Clearly, a crypto trading brokerage should support cryptocurrencies for deposits/withdrawals, yet there is no mention of other platforms such as credit/debit cards, bank wire, etc.
Even in this section, which should be most transparent to the clients and forthcoming, the broker manages to maintain its prior course and hide things. Therefore, for the third time, we're bound to renounce the credibility of this crypto CFD broker.
Should you trade with Bitky?
So, we talked about several aspects of the Bitky FX brokerage and determined their credibility. And what do we think of those aspects individually, as well as the broker generally? Let's see.
First, we started off with its website and concluded that it looks and feels as amateurish as it can possibly get. The informative side is also underwhelming and we were unable to find some of the most crucial information about the broker. We also gave a credit to the broker for its diversified account packages, yet the trading software seemed quite sketchy and suspicious to us.
Then we moved to the license and found that there's actually nothing to be found there. There's no license or any government directive that restricts the broker's financial activities, which, for us, is a clear sign for avoiding Bitky and all of its offerings.
Finally, we reviewed trading terms and conditions – at least what we were able to salvage from the website. The broker only mentions that it offers a 1:400 leverage to its clients and that the more premium accounts get to have even higher leverage ratios. The financial platforms are not specified, we only know that the users can make payments via cryptocurrencies.
All in all, we are pretty dissatisfied with the offerings of Bitky and its trading conditions. Therefore, our Bitky rating is definitely 1 out of 5 and we don't recommend doing business with it.