Blueberry Markets – What is wrong with this broker?

Blueberry Markets is a financial broker operating in Australia and the Bahamas. It is claiming to be one of the best brokers in Australia but a lot of reports and red flags are coming out from this broker so we have decided to give it a check.
The broker tends to lure traders with a neat and well-designed website, hoping to give it a bit of reliability and trust. However, while we prepared this Blueberry Markets broker review, we have checked the license that the broker is claiming to have, and also checked all the options and offers available on the broker's website.
Blueberry Markets indicates that it holds an ASIC license while offering services to Australian traders, but we have found that they do not hold the real license as they claim, and they are probably taking advantage of the flaws that used to be in the financial institutions' system in Australia.
Anyway, this is not the only flaw we have uncovered here, there is a bit of confusion in the broker's offered services and options and we are going to discuss that in detail down below.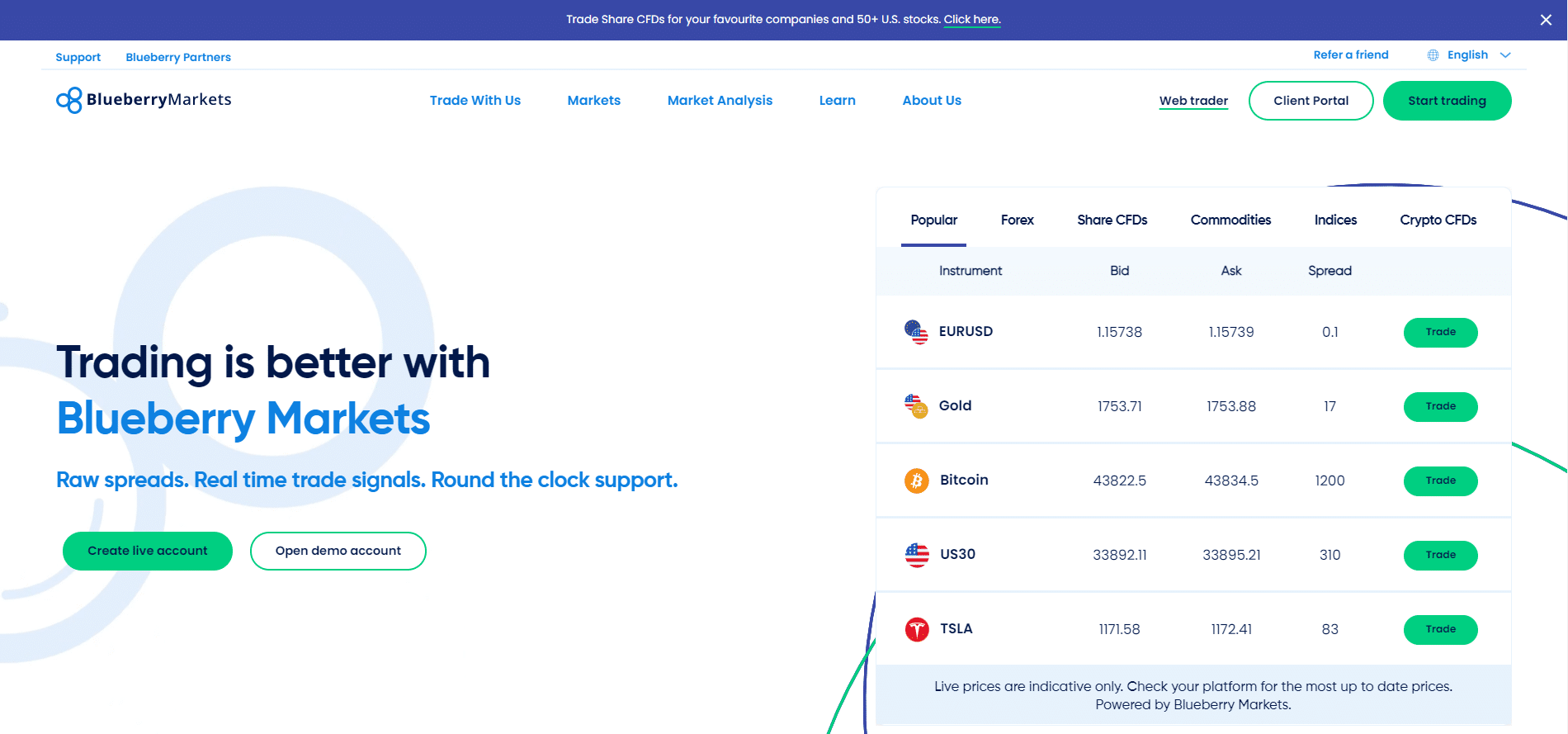 Overview
Founded in 2016, Blueberry Markets financial broker considers itself one of the top trading brokers, holding ASIC and SCB as a source of legitimacy and reaching out to a global base of traders.
At first, it might seem like a legit trader with a very neat website, but not everything that glitters is gold – we have debunked flaws on the broker's website, and it is something that every trader needs to be aware of because it might get easy to be deceived by this good-looking website.
The broker is claiming to have won "Finder"s award for the best customer service, which turned out to be one of the many lies that are told over this broker's website.
Is Blueberry Markets legit?
Blueberry Markets is not regulated by any high-profile authority, it is rather registered by the Securities Commission of The Bahamas (SCB) which is a low-tier type of license, that does not really put boundaries on the way a broker can act, leaving the door open for companies to take advantage of the rules and to practice their illicit financial activities under the cover of the license.
In addition, the broker claims to have an ASIC license, which we have inspected and found out that Blueberry Markets broker is not licensed by ASIC, rather it holds a sub-category of the license. We discovered that after searching in the registry of the Australian Securities & Investments Commission.
This means that the broker is allowed to carry out financial activities and transactions, but is not subject to the stringent regulations that are adopted by the reforms on the ASIC regulations. Blueberry Markets is using this type of loophole that exists in the Australian financial services system, which has gone under some reforms.
Account registration
If you have decided to go ahead and start registering your account at Blueberry Markets, you might know that the process is quite easy. It starts by finding the green box on the top-right corner and following the instruction.
You will be asked to insert your personal information such as your full name, email address, and telephone number. Later, you will also be required to submit further documents to verify your identity and your address. However, do not let Blueberry Markets brokers get hold of your credit card or banking information because you are risking your funds.
Once you have delivered your personal information including your phone number and your email address, you can expect to receive tons of notifications and messages, and if you have decided not to submit the verification documents or gave up midway, you will receive many calls to convince you to complete registration.
Likewise, if you are going to submit a copy of your credit card, make sure that you cover the 16-digits number and only uncover the last 4 digits, the same way for the backside whereas the CVV number because once you submit full details to the broker it will totally be at their disposal and your funds will never be safe.
There are two types of accounts a trader may use with this broker, and they differ in the way the commission fees are structured. Everything else remains the same including the minimum deposit, the maximum leverage, the trading platforms, the minimum lot size, and the number of available assets.
Blueberry standard account
Blueberry Markets financial broker minimum deposit in this account is $100, and the spread starts from 1.0 pips. There are zero commission fees associated with any trading activities.
The maximum leverage a trader may use under this account is 1:500, which can change according to the asset a client is trading.
A trader with the standard account may use any of the MT4, MT5, and the Webtrader to open trading positions in different markets.
Blueberry direction account
Opposite to the standard account, the commission fees here are based on a fixed rate of $7 per trade with a raw spread range that starts from 0 pips.
Other than that, the minimum deposit remains the same $100 and the maximum leverage is 1:500.
Traders on both accounts can trade on more than 300 assets while using 0.01 lot size at least.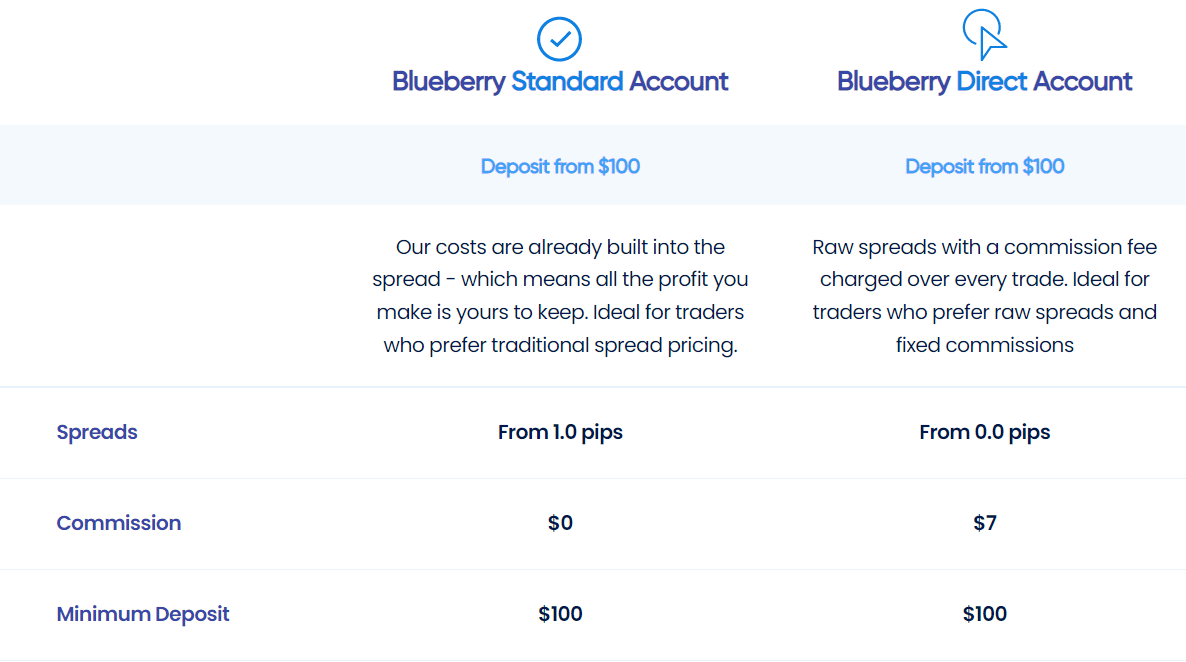 Demo account
Blueberry Markets financial broker allows users to test themselves and their strategies in the demo trading account. This option is very useful for new traders to get familiar with the trading software and the chart views.
The registration process for the demo account looks similar to that of the live account, however, here you choose the trading platform you want for the demo.
Once signed up for the demo account a user will receive $100,000 as virtual money that can be used to open trading positions in different financial markets.
Payment methods
There are different methods for a trader to add funds to their money and to cash out from their account, this way www.blueberrymarkets.com seems appealing for more traders to join and register this sketchy broker.

Deposits
Blueberry Markets Forex broker enables traders to use Visa/Mastercard to add funds to their accounts, noting that it is the fastest way to fund the account, and it charges zero commission fees.
Other options are also available such as wire transfers, e-wallets, crypto wallets, and online banking. These methods differ in the processing time and the commission fees a trade has to pay.
However, it seems that crypto wallets are not available for Australian traders. Some traders prefer crypto wallets because they provide a faster way and zero commissions, which could frustrate the local traders who prefer using crypto-wallets.
Withdrawals
In fact, Blueberry Markets withdrawals have always been an issue, and many users have reported their inability to cash out their gains from their accounts. Such a thing raises a red flag when we deal with a broker that calls itself a regulated and legal broker.
There are many withdrawal methods offered on the broker's website, including Visa/Mastercard, e-wallets, crypto wallets, and wire transfers.
The processing times for withdrawals are usually more than depositing. When many depositing methods are instant, withdrawals usually take up to 3 business days to be processed, which could be more depending on the payment method provider.
Tradable assets
It is promoted that Blueberry Markets broker offers more than 300 products in different markets. However, the website does not state how many assets are there per market, nor what are the top products available.
The tradable products are regarding every financial market such as the Forex market, shares, indices, commodities, and the cryptocurrencies market.
Forex
The website does not state how many assets are available in the Forex market, but what we can find is that the majors, crosses, and exotic currencies are available.
The top currencies pairs available are including EUR/USD, GBP/USD, USD/JPY as well as some crosses such as EUR/CHF and GBP/JPY.
The maximum leverage is uncapped and gets to 1:500 as maximum, and using the tightest spread ranges starting from 0 pips on the EUR/USD pair.
However, when we looked at the currencies charts on Blueberry Markets website, the spreads are changing rapidly without any view on the chart, which means that the spread of 0 pips is not guaranteed.
Shares
CFDs of top corporations are available with Blueberry Markets broker – these include the shares of big US corporations such as Amazon, Facebook, Apple, Tesla and etc.
The use of maximum leverage is capped here with 1:5, this is probably the only leverage that goes in line with the EU regulations for European traders.
Indices
Blueberry Markes offers more than 10 indices for trading, and these include different markets' indices around the world, such as the US market, as well as the European, German, French, Japanese, and UK indices.
The spreads are changing among these indices, and they can get low to 0.7 pips.
However, this part gets confusing because the pips are represented wrongly, instead of 0.7 pips the website writes 70 pips, and this is something common between fraud websites not to look after the content of the information being provided.
Commodities
CFDs of commodities are also available on this website, but the same as with other assets, there is a lack of information on how many assets are available and these pages are full of meaningless and repetitive textual information.
Cryptocurrencies
The website indicates only 5 cryptocurrencies available for trading, those are Bitcoin, Ethereum, Bitcoin Cash, Litecoin, and Ripple.
The maximum leverage that can be used here is 1:10, with misrepresentation of the spread ranges as well.
Trading platforms
Blueberry Markets MT4 and MT5 trading platforms are available for traders. Metatrader is the most commonly used trading software due to its simplicity and clear charting options.
Both the MetaTrader4 and the MetaTrader5 can be downloaded and installed on the desktop PC, or on mobile devices.
In addition to that, the Webtrader is another option that is available for traders, and some traders prefer this way because it could get faster. The Webtrader can be accessed directly from the broker's website without the need to download or install any software.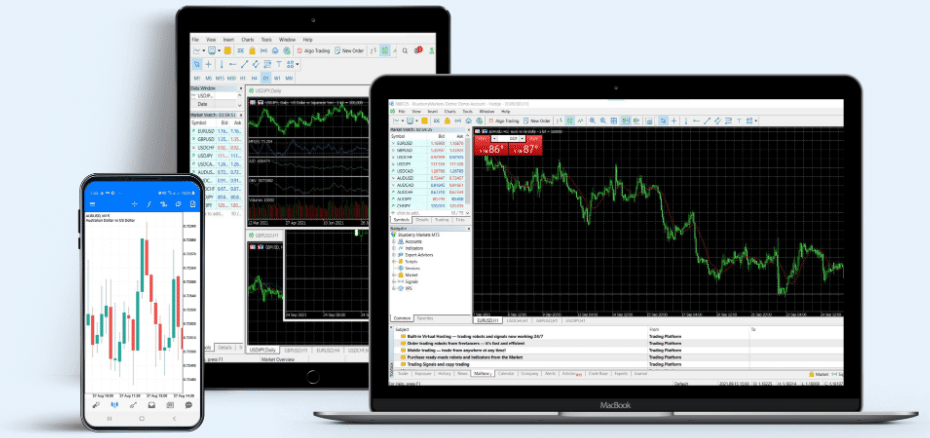 Education
The educational section on the website includes reading and video materials. Both are designed to address traders with different levels of experience.
Reading material
Blueberry Markets incorporates educational courses classified into 3 different levels, beginner, intermediate, and advanced.
Based on our experience, this material can become overwhelming and boring for beginners who seek something that is engaging and interesting, and not long pages of texts and written information that is not interesting at all.

Video material
The videos seem to be a better idea since that usually entices beginners to learn more. However, as we have checked these videos, their quality and content are very poorly prepared.
They are classified into 3 levels of experience, in the beginner level there are 10 videos, 8 videos in the intermediate level, and 5 for the advanced level, and each video does not exceed 5 minutes.
The duration of each video is considered very low compared to the amount of information in financial trading in different markets, that is why we consider that Blueberry Markets broker is not reliable in terms of education and information.
Customer support
The live chat function is usually the most useful tool for traders to use when they face any issue, which is not the case here. The live chat here is managed by bots and a trader cannot receive a valid response to resolve any problem they may encounter. Add to that the overwhelming notification and pop-ups that are not helpful at all.
There is two telephone number provided on the website, an Australian and a Bahamas-based number, which is not useful for global traders who needs some help.
Other than that, there is the support email address and the complaint form, and these two ways are usually the slowest methods to receive any answer from any broker.
Verdict
To conclude this review and consider the different Blueberry Markets broker opinions, we do not recommend getting involved with this broker, and not getting deceived by the well-designed website.
The website is well designed but the content lacks sufficient information and consistency, most of the information makes no sense and some numbers are misrepresented.
Fraud brokers usually do not mention any license, but this broker claims to have an ASIC license, while in fact Blueberry Markets is not regulated by the ASIC license, it rather holds a lower category of the ASIC, which does not make it fully eligible and risky to trade with.
Finally, the confusion associated with the options and the offers available is the last thing a trader would be looking for, any trader gets registered anywhere, clear information is expected which is not found on this broker's website.