Brokereo Review – Should You Trust this Broker?
Getting started in a Forex trading market isn't as easy and straightforward as it seems in a glance. There are lots of intricate details and complicated variables that you need to keep track of if you want to attain success in this form of financial exchange.
One of the most crucial variables in this sense is a service provider. There are two possibilities with regards to your brokerage choice: either you find a lucrative and trustworthy broker who'll benefit your trading endeavor every step of the way, or a scammer whose only goal is to rob you.
In this review of Brokereo Forex broker, our expert reviewers will help you find out, exactly which outcome the broker promises you. You'll discover what the CySEC license and a number of fund protection mechanisms mean, how hundreds of financial instruments with low commissions come in handy, and how the existing trading platforms help you boost your profitability in the market.
So, let's not waste any more time and get straight to the review.
Trading instruments and features at Brokereo
When it comes to financial trading, one of the most important aspects to look in the broker is its trading instruments, as well as the features that accompany them. Your profitable trading endeavor depends quite heavily on the instruments you trade, as well as leverage rates, execution speeds, and whatnot.
With Brokereo, our team has found that you're getting a pretty impressive set of trading terms and conditions.  First and foremost, the available instruments: the following Brokereo review reveals more than 350 financial assets you can choose from. What's more, they come in a wide array of asset classes, namely:
Currency pairs
Cryptocurrencies
Commodities
Shares
Indices
Metals
The reason why a wide range of instruments is important for you is that you can improve your financial safety by investing in many different instruments. This risk management strategy is called portfolio diversification, and it implies that trading non-correlated instruments will safeguard your portfolio from total destruction during market crises: while some assets do take the hit, you'll still have others in the portfolio that retain the value.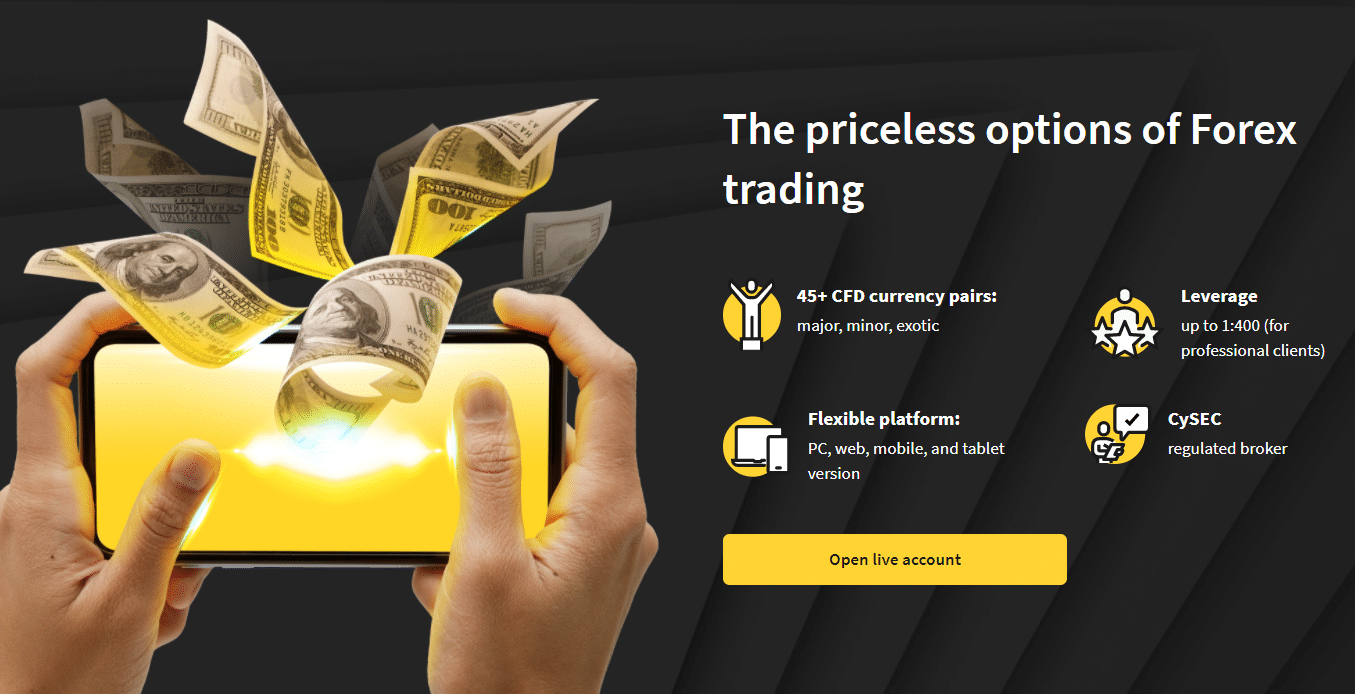 As for the terms and conditions for these assets, Brokereo doesn't fail to impress us. The maximum leverage you can get with this broker goes all the way up to 1:500, which means you can open a position that's 500 times larger than what you've originally deposited from your own wallet.
However, our Brokereo Forex broker review shows that 1:500 leverage is only available for professional customers. Meanwhile, the retail Brokereo clients can use a still-lucrative 1:30 leverage, which, as you may or may not know, is the highest leverage cap imposed by the EU-based regulators.
On top of that, Brokereo also features a number of different execution types, as well as ultra-fast execution speeds. This way, you can keep up with the market and get the most realistic prices on your assets.
How high are the commission levels at Brokereo?
After talking about instruments and their features, it's high time to take a look at what the commission levels are at Brokereo. You need to know what portion of your profits you're leaving with the broker, as well as whether there are other commissions that target even the deposits you make.
After our in-depth review, our Brokereo opinion remained intact inasmuch as the commission rates with this broker are incredibly low across the board, be it trading or non-trading fees. Let's talk about both of them here.
Trading fees
When it comes to trading fees, the brokers usually charge their clients in 4 different aspects:
Instrument fees
Account fees
Bid/ask spreads
Swaps
As it turns out, Brokereo manages to avoid the first two commission types – instrument and account fees. Not being forced to pay fixed charges means that you can retain most of your funds intact. And the spreads and swaps that remain are also pretty low.
For instance, the minimum bid/ask spread goes as low as 0.03 pips. This ensures that a huge chunk of the profit you generate stays with you. As for overnight swaps, while the nominal rates might be moderately high, the Gold and Platinum accounts offer you a 25% or 50% discount, which is definitely a great opportunity for any carry trader.
Non-trading fees
As for non-trading fees, the following review of Brokereo Forex broker shows the same convenience across the board. For instance, the broker doesn't charge you anything for deposits and withdrawals; you're getting the exact amount of money you've originally deposited/withdrawn. And while there's the inactivity fee, you can still evade it by deactivating your account when you stop trading.
All in all, the general commission rates are very low and affordable for any Brokereo customer.
What's Brokereo's history and legal measures?
When searching for a suitable brokerage, one of the first things you need to look at is its background and regulation. And that's exactly what we did with Brokereo.
As it turns out, the company was established in Cyprus. The headquarters is located at Pavlou Nirvana No 4, ALPHA TOWER, Office N 13, 3021 Limassol, Cyprus. Currently, Brokereo presents a set of lucrative trading deals that appeals to a larger European trader base, but is it safe to actually trade with?
Well, according to our Brokereo review, the Cyprus Securities and Exchange Commission (CySEC) is in full control of the broker's actions. It monitors everything from deposit processing to trading execution and ensures the best trading experience for you.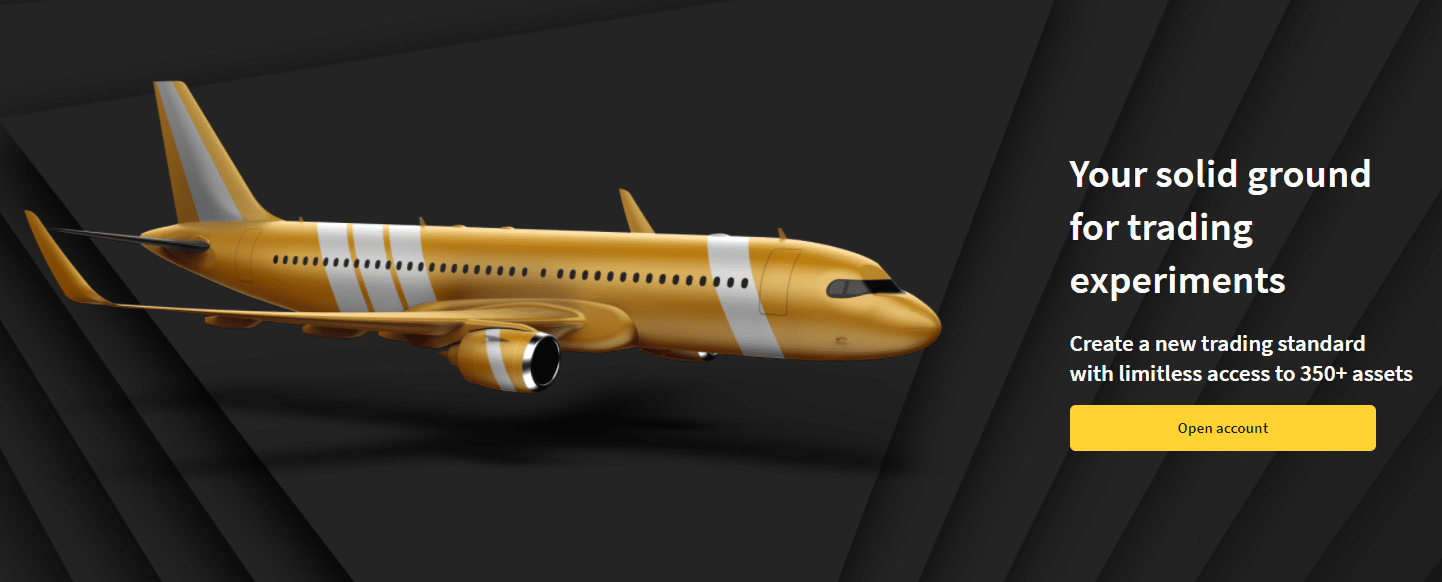 But that's not all: not only is the CySEC monitoring Brokereo's actions but it's also obligating the broker to provide various fund protection measures. These measures include negative balance protection, account segregation, and fund insurance. All three combined, they offer increased stability and security to your funds, which is always important in this field.
So, the conclusion from the safety research at Brokereo is that this is a trustworthy broker with an added benefit of lucrative trading terms and conditions.
Does Brokereo offer any bonuses?
One of the most popular broker offerings in this market, along with lucrative trading terms and conditions, is a trading bonus. Such promotions further increase the appeal of a platform and entice more traders to choose the given broker.
But our Brokereo Forex broker review shows no trace of promotional bonuses on the website. And there's a good reason for that: you see, the EU regulators are strictly opposing the idea of promotional bonuses as a form of an additional appeal of the broker. That's why they're preventing their subjects from featuring such offerings on their platforms.
And that's what happens at Brokereo. The fact that there are no bonuses or other types of promotions with this broker ensures that Brokereo focuses entirely on its trading terms and conditions. This, in turn, increases your chances of getting the best offerings for your trading endeavors.
Which accounts can you get with Brokereo?
Now that you know everything about trading instruments, as well as commission levels and regulatory measures, it's time to talk about how you can sign up with Brokereo and which accounts you can set up.
As shown in this Brokereo review, the registration process is as simple and fast as you can get from a broker. In just three easy steps, you can get a fully functional retail account at Brokereo:
Fill in the personal information blanks (full name, email address, date of birth, and employment details)
Verify that information by uploading national ID/Passport/driver's license
Fund the account via the variety of different financial platforms
And there you have it: you got yourself a full-fledged account with top-notch trading features. As for which accounts you can get with Brokereo, here they are:
Silver – 250 USD min. deposit; 0.07 pips for spreads; up to 1:30 leverage
Gold – 250 USD min. deposit; 0.05 pips for spreads; up to 1:400/500 leverage
Platinum – 250 USD min. deposit; 0.03 pips for spreads; up to 1:400/500 leverage
So, is Brokereo legit with its account offerings? As far as the above-mentioned information goes, yes, it is legit. Plus, you can convert each of these accounts into Islamic accounts, which elminates swaps on overnight trades. And, to top it all off, Brokereo also features a demo account for virtual trading pusposes. This way, you can improve trading knowledge and hone your skills without spending a dime on it.
Available deposit and withdrawal methods
After creating a retail account, one of the first things you need to do is make a deposit on it and start trading. And for deposit and withdrawal methods, your broker has to feature a number of different financial platforms with beneficial conditions.
That's exactly what can be found at Brokereo. It features multiple different methods for your transactions, although all of them are similar in a number of ways: they don't feature commissions, they're very fast, and they're protected by the SSL encryption.

Here are the deposit and withdrawal methods found during our review of Brokereo Forex broker: credit cards (Visa, Mastercard, Maestro, V Pay), wire transfer, Skrill, and Neteller. The diversity in payment methods ensures that everyone can find their own platform without making any burdensome cross-transactions.
Software of choice at Brokereo
Trading software is yet another important element of a Forex broker. It facilitates the entire trading process and ensures that you have the smoothest and most convenient trading experience in the market.
With Brokereo, you can be sure that it's exactly what you're getting. There are two primary platforms that derive from a legendary Forex trading platform that was created exactly 15 years ago. Here are the platforms, as well as their main features:
WebTrader – As we have found in this Brokereo Forex broker review, WebTrader is a web browser version of MetaTrader 4, arguably the most popular and widely-used platforms in Forex. What this means is that you're getting all of the perks and benefits of this platform right to your fingertips, whether it's the abundance of third-party indicators and other analysis tools, lots of execution and order types, and whatnot.
Mobile Trader – Mobile Trader is also an MT4 platform turned into a smartphone app. It comes in both iOS and Android versions and provides you with the same trading features, be it technical indicators or charting features. If you're trading on the go, Brokereo's Mobile Trader is your best platform of choice.
How to contact customer support?
Getting closer to the culmination of our review of Broekereo, let's talk about the customer support and available methods of communicating with the broker. Generally, it's important for the broker to not only offer you lucrative and safe trading features but also provide assistance at any step of the way.
With Brokereo, you can rest assured that you're getting exactly that. The following Brokereo review shows that there are three different customer support methods that you can use:
Email support: [email protected]
Phone call: +448000318430
Live chat support on the website
It's important to note that no matter which method you choose, Brokereo's support team will always get back to you with prompt and helpful responses. Our team personally tested this and fully support this assessment.
With that being said, however, there are certain support methods that are characteristically beneficial in some terms than others. For example, the email support is significantly better for more in-depth interactions with the team, although it's not going to be as fast as other methods. Phone call and live chat, on the other hand, are extremely fast, although the interaction is usually somewhat rudimental.
Is it worth trading with Brokereo?
After everything we've just said about the broker's and its trading terms and conditions, can Brokere be trusted as your service provider? Should you entrust your hard-earned money with it?
Let's step back a little: Brokereo is a Cyprus-based broker that operates across a number of different markets. Its actions are regulated by the Cyprus Securities and Exchange Commission, which ensures that the broker doesn't engage in fraudulent activities.
Trading with Brokereo isn't only safe but pretty lucrative as well. It offers over 350 instruments with high leverage and low spread markups. And with ultra-fast executions, you can maximize your profit potential in the market.
In conclusion, Brokereo is a trustworthy Forex broker that is dedicated to taking your trading game to the next level.