Capital.com Forex Broker – Detailed Review
*Trading is risky.
In this Capital.com Forex broker review, you will be able to find out everything about its most important features including account types, customer support, payment options, and many more.
Capital.com Forex Broker History
Capital.com is one of the most innovative trading platforms that offer customers a seamless trading experience along with competitive fees. Capital.com Uk Limited is registered in Wales and England and the registration number is 10506220, whereas Financial Conduct Authority is responsible for authorizing and regulating it with the register number 793714. As for Capital.com SV Investments Limited, it is registered in Cyprus with the company registration number HE 354252 and the Cyprus Securities and Exchange Commission authorizes and regulates it under license number 319/17. Capital Com Australia Limited company is registered in Australia and authorized by the Australian Securities and Investments Commission with license number 513393. Capital.com is able to reach more than 6.100 markets and allows customers to trade in CFDs on the world's leading shares, commodities, indices, and currency pairs.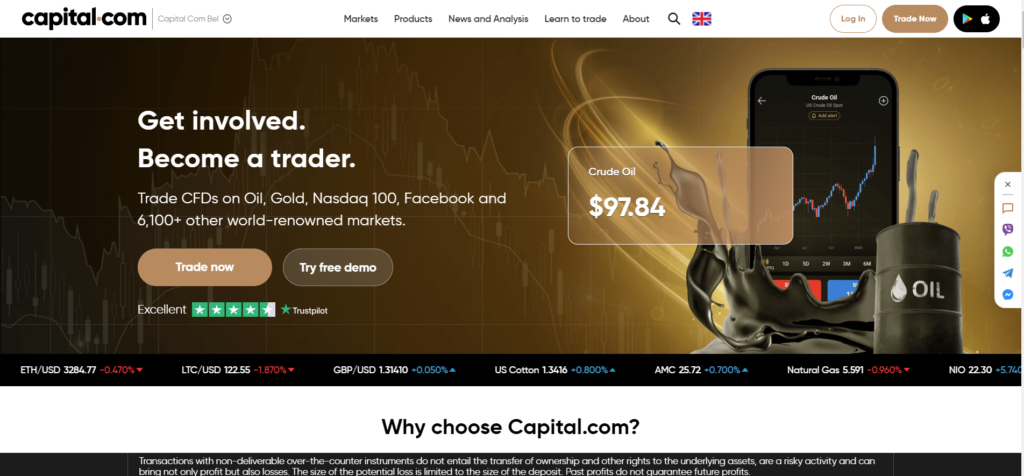 Capital.com Broker Review of Accounts
You are able to choose from three different account types on Capital.com – Standard, Plus, and Premier accounts. The platform also allows users to create a trial account in order to test the trading process and be assured of high-quality services. The standard account features a minimum deposit of 3.000 USD and the following options – range of markets, advanced charts, and negative balance protection. The plus account gives you the opportunity to operate with extra attributes such as a dedicated platform walkthrough, custom analytics, and a dedicated account manager, whereas the minimum available deposit remains the same – 3.000 USD. As for the premier account, it requires 10.000 USD for the minimum deposit and you will encounter all the possible perks of the Capital.com platform including premier events and exclusive webinars.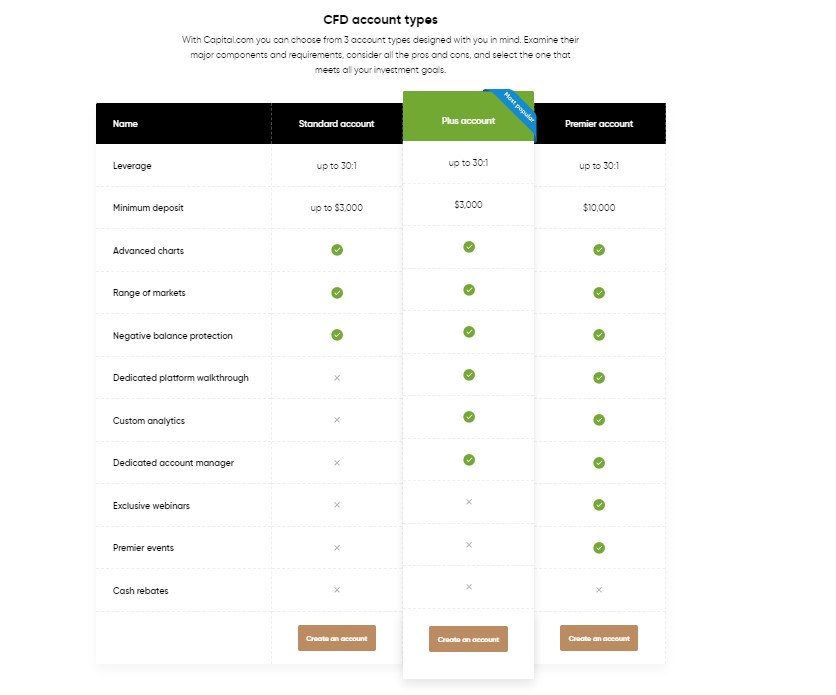 We have to note that all the account types mentioned above do not include any commissions and the spreads start from as low as 0.6 pips for each one. Standard, Plus, and Premier accounts feature leverage up to 30:1, and even though, they all consist of similar attributes, the benefits still greatly vary since premium users have tremendous possibilities along with the increased minimum deposit. Hence, you will have a chance to operate with some of the best prices that very few brokers can compare. Moreover, the platform includes a demo account that can be used in various ways in order to get familiar with the trading mechanism before creating a real profile.
Capital.com Reviews of Trading Platforms
Capital.com features four types of trading platforms for every customer – Mobile Apps, Web Platform, MetaTrader 4, and TradingView. The developers have established a high-quality and easy-to-use interface for mobile users to trade comfortably. The unique and award-winning CFD trading platform is offered for traders who prefer to operate with web platforms. So, both devices are suitable to trade effortlessly with Capital.com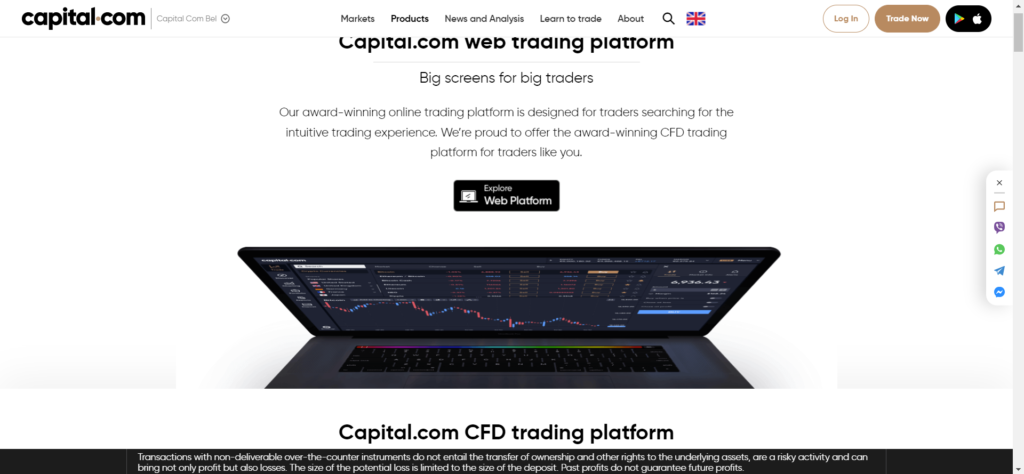 TradingView is a well-known software that provides enormous advantages, and therefore, Capital.com gives its users the opportunity to integrate their accounts with this tool. As for the MetaTrader 4, it is probably the most popular software established for trading since it provides a wide range of services such as – expert advisors for algorithmic trading, accessibility from any device, trading signals from top providers, market-leading spreads, and low commissions, leverage up to 1:200, and lightning-fast order execution.
Capital.com Forex Review of Extra Features
Capital.com includes several unique features that you will not encounter on the majority of trading platforms. Every customer will have the possibility to acquire all the essential information here regarding the basics of trading. Besides, the platform includes various online courses, news, and analysis of the market and the overall economy. What's more, these seminars are provided in a lot of different languages making the platform available for multiple nations. Hence, Capital.com will educate you thoroughly regarding every aspect of trading!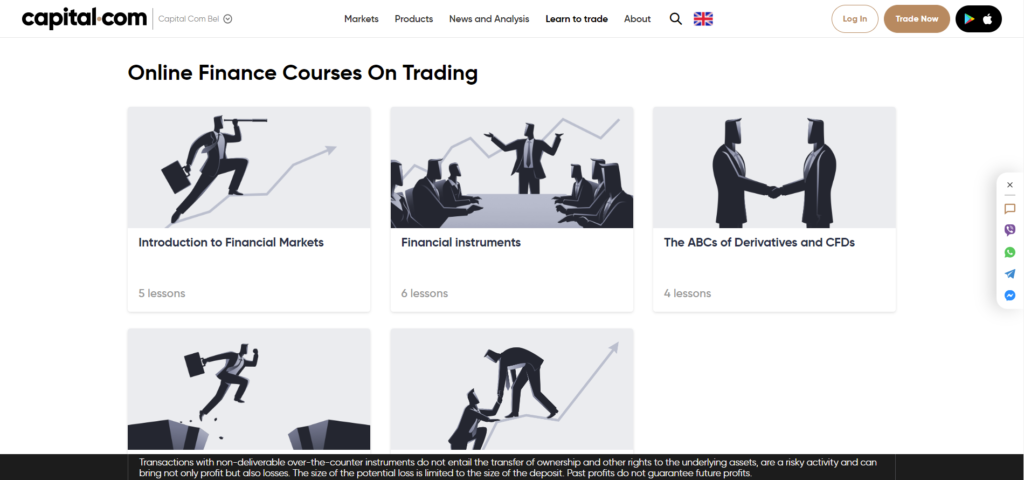 Capital.com Reviews of Customer Support
Capital.com contains an excellent customer service support team with professional employees that are available 24/7 to assist you and answer every question you ask. You have a chance to contain them in various ways – use a phone number indicated at the bottom of the website, email them through support@capital.com, or text operators via live chat located on the right side in a small panel. They will help you with every topic and regardless of whether your account is real or demo, they will provide the most in-depth solutions. Also, as we have mentioned above, Capital.com is a multilingual platform, so feel free to ask questions in different languages.
Capital.com Deposit and Withdrawal
When it comes to deposits and withdrawals, you have several options on the Capital.com website. This platform contains the following options for every transaction – ApplePay, Visa, Mastercard, Wire Transfer, PCI Security Standards Council, Worldpay, RBS, and Trustly. So, as you can see no third-party deposits are allowed here and you should utilize only your own bank accounts or credit cards. In case you have some problems withdrawing from this platform please contact a service center to resolve the issue immediately.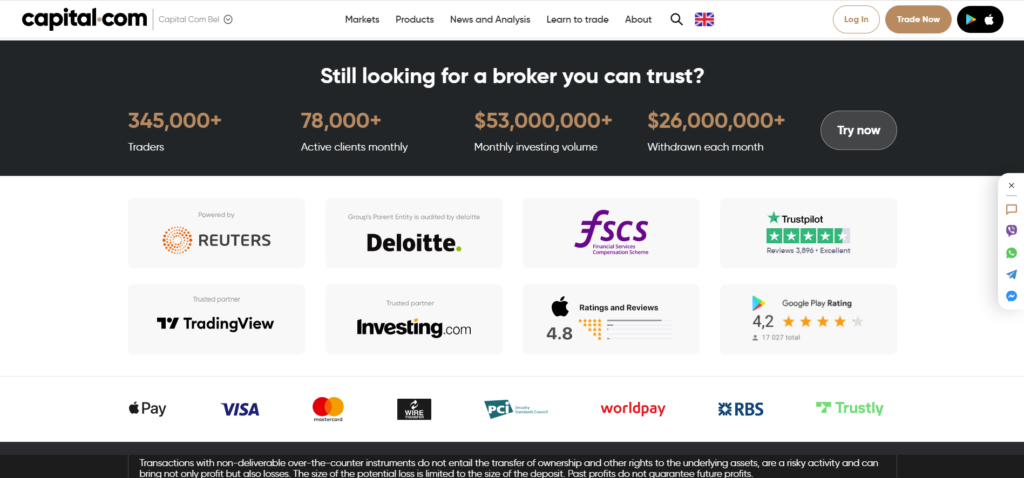 Capital.com Review Conclusion
Capital.com is a fascinating trading platform that offers high-quality services and an amazing experience to every customer. First of all, we want to point out that there are various kinds of accounts including different attributes and the benefits will be tremendous if you go for the premier account.
Also, you will come across a wide range of leading trading platforms that will be convenient for any device including web and mobile platforms, so you have a chance to trade comfortably with the best software even on your smartphone. Moreover, the platform features a vast number of articles and courses along with news and analysis regarding trading in general, hence, you are able to learn a lot of things in this field. As you can see, Capital.com furnishes every user with enormous advantages and this is the reason why it was called the most innovative tech in 2021 by TradingView.
*Trading is risky.