CFD.FM Review

Having to review a broker could be hard. Especially it could be hard when brokers don't fully disclose information without you having to sign up for their services. One of the works things about signing up for a broker is when you have to indicate your phone-number, now we understand that it is important for a broker to identify their client, but still having a mandatory phone number during registration just screams sketchy.
Now the reason you clicked this is that you have the same question as we do "can CFD.FM be trusted?". Well, lucky for you we were able to dig deep into the broker's website, find some unnerving facts which we're about to share with you right now.
But before we start we would like to commend you for being responsible and looking at reviews before you commit to a broker. No matter how good the broker may look it's always important to look at a second opinion. And that is our first topic.
First impressions matter – CFD.FM Review
At first glance, we would give their website an A+. The moment you enter you see a very well designed pattern. It immediately creates a feeling that these people mean business. Well, not everything is fine and dandy in this world. Remember our previous reviews when we mentioned first impressions. They do indeed matter, but ultimately don't decide for the broker.
Unfortunately after such a good impression there were numerous other features that convinced about the CFD.FM scam. You see a good website is nothing to boast about, it can be done with a relatively small budget, which helps to appear more professional, it's the features that differentiate the good from the bad.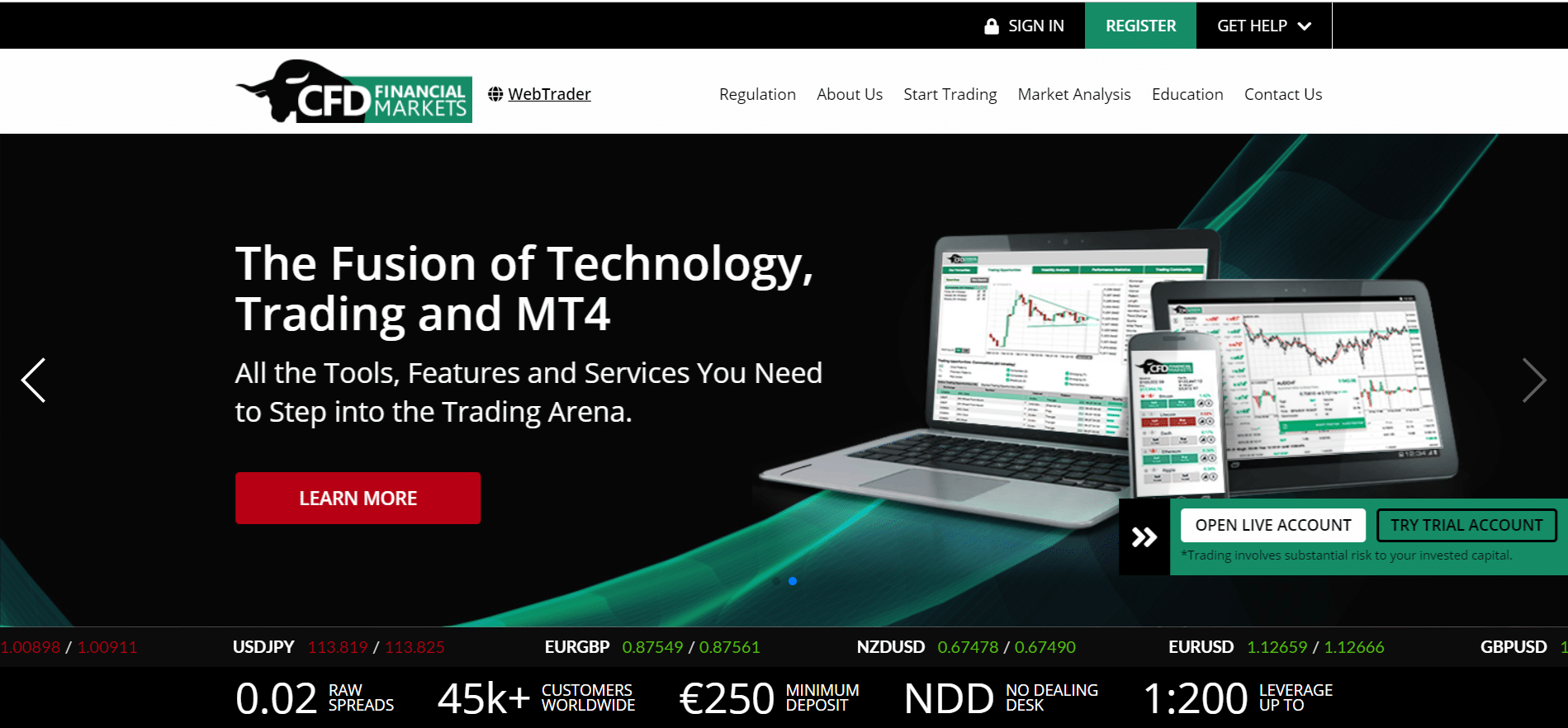 Is CFD.FM Legit?
The transparency about their regulator and base of operations is commendable, we wish more people would disclose the information. However, the location itself leaves a lot to be desired. You see CFD.FM is stationed in Vanuatu and therefore regulated by the local financial watchdog Vanuatu Financial Services Commission (VFSC).
You see this regulator was exceptionally popular for Binary Options brokers back in 2016. Now we all know how the Binary Options industry met their fate right? The industry was surrounded by scams, there were numerous so-called "brokers" always calling your number trying to make you invest and if you did you never saw the investment again.
When we found out about the VFSC license this CFD.FM review went into a completely different direction.
CFD.FM Trading Assets
The broker features a reasonable variety of trading assets. One of the most surprising ones was cryptocurrencies. Also, the biggest players include Index trading, stocks, and Indices. Now you may be saying, "hey there's one big industry missing", and you're right. Unfortunately, CFD.FM Forex Broker doesn't exist as the platform doesn't feature a direct Forex trading option.
This is a terrible hit to the reputation. Not featuring direct Forex when calling itself a CFD broker is a terrible mistake. One of the biggest markets not being featured on their platform just indicate incompetence to handle such large amounts. Unfortunately, this is a large hit for the broker's ultimate score.
CFD.FM Account Types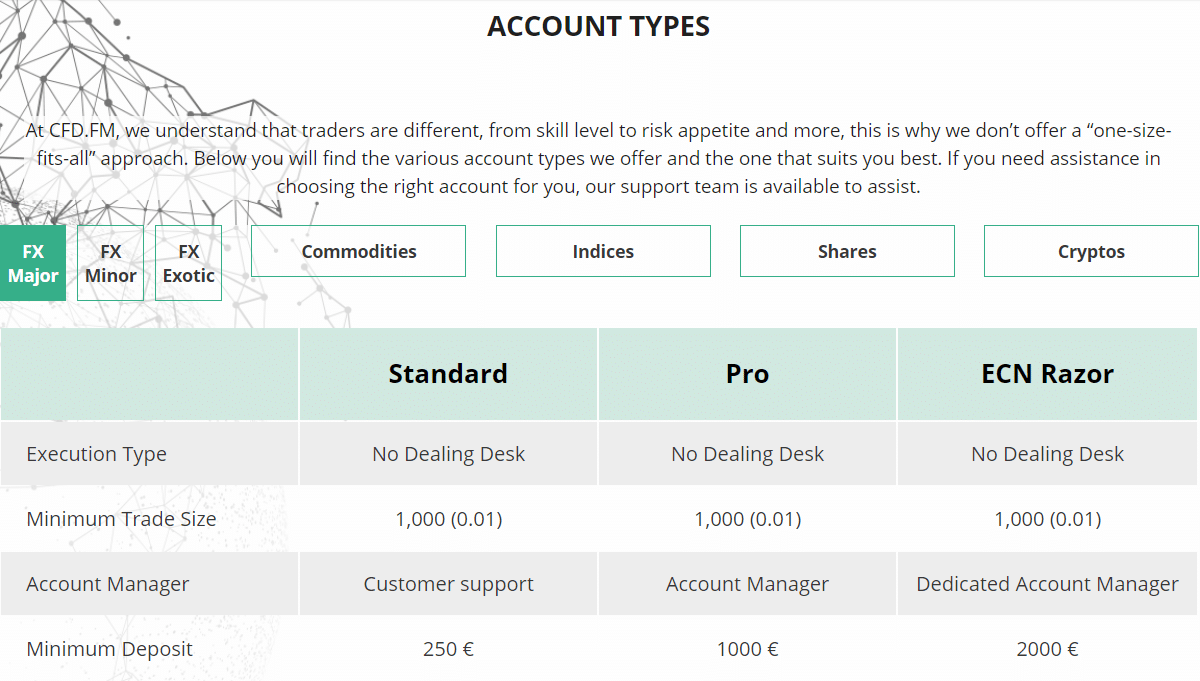 As you can see the information about their Account types is very limited. The only thing we can see is that there are 3 different types. A Standard, Pro and ECN Razor. Now the Minimum deposit for the Standard account is pretty relevant. It's not too big and not too small to raise eyebrows.
However, we don't like the lack of transparency in this department. For example, the fact that customer support is the best feature of the Standard account is laughable at best. It shouldn't be an asset that needs showcasing, it needs to be a primary feature. Plus it's not disclosed, what exactly is Customer Support about, do they offer webinars? Yes, but why is it not included as information? Will they help you with your trades? Why are there so many questions generated from a disclosure of information? CFD.FM scam is something to consider here. Most scam brokers try to appear as vague as possible, just to be able to tick the boxes with their regulators. For example, anytime the VFSC asks them about transparency they can just show them their account types list.
Conclusion
We wanted to talk about their withdrawal systems but unfortunately couldn't access it no matter how much we tried. There is just no information about it anywhere to be found. All of the lack of transparency and badly delegated information just screams scam. Therefore after much research and evaluation, we deem this broker to be a scam. Stay away from CFD.FM.