CFDGlobal Review

Choosing a good broker can be so hard in this day and age. Even though technology has developed so much in order to help you make your searches quick and easy, it has also enabled a lot of websites and individuals to make scams quite easily. Therefore it is important that you base your broker decision on research and not hopefulness for technology. This review of CFD Global FX brokerage is exactly that kind of research that you need in order to make a good decision when choosing your broker. We try to dig deep into companies and find information that nobody has tried to find about them and later just report it for you, to help you save time and money of course!
The essentials of CFD Global Review
When you're looking for a broker never be afraid to ask the bold question like if they're a scam or not. Always have in mind the fact that everybody is a scam and try to find those features in the brokers you see. That is how we review and distinguish brokers on our webpage. Today in this CFD Global review we will be telling you how this broker passed pretty much everything on our checklist of reliable brokers.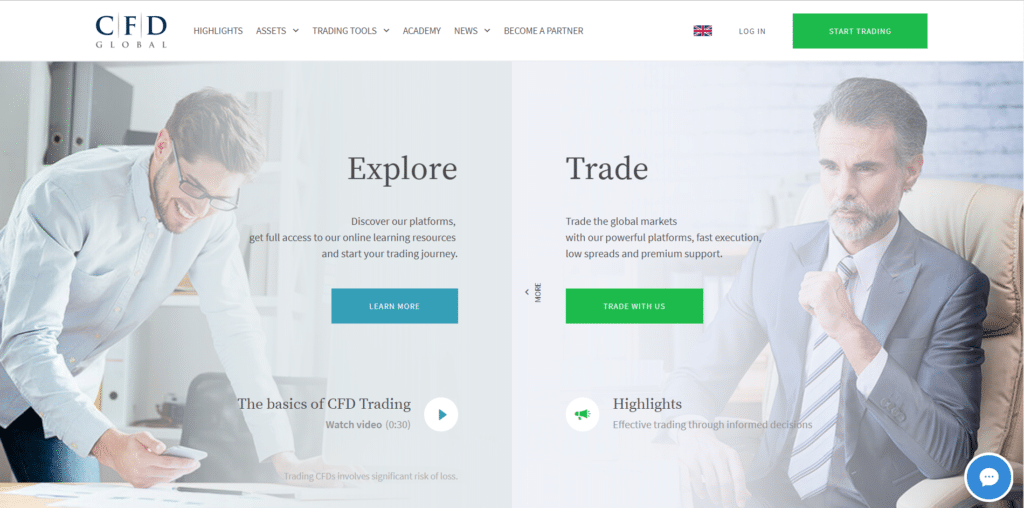 First impressions always come with the website of the broker and how well the information is disclosed to the visitors. The broker needs to be treating you already like a potential customer and not just a gawker. It needs to offer you pretty much every single piece of information it has already offered to it's existing customers. We are most certainly getting that here. Every piece of information is literally one click away from you. You can check their news page, their trading tools, personal information etc, the CFD Global scam statement is looking to be disappearing already.
The biggest positives about CFD Global
We wanted to highlight everything that is good about this broker, as we already mentioned we conducted our research based on the strategy of expecting this broker to be a scam, however, we are happy to say that no such conclusion was made after looking deeper into their services and figuring them out. As you'll see in the following photo, they state that their platform has just gotten better, let's find out how:

CFD Global reviews of Account Panels
A new account panel has been implemented on their website that features a "free of charge" deposit and withdrawal system, we believe that this is a godsend for day traders.
Renovated Menus
Menus have become a lot easier to navigate. Imagine how frustrating it would be for traders when the menu is like a maze and you're just trying to change a commodity or a crypto that you'd like to purchase. Basically, the renovation is that the menu is now a "1 click heaven". Which means that everything that CFD Global Forex Broker's menu contains can be accessed through 1 click and 1 click only.
Asset Monitoring & Supporting Tools
Every platform or instrument you choose to trade with or on has access to insightful data that you can use in order to get out of bad trades and enter profitable ones. They also provide you with support from Trading Central, which is the best source of information for you as a trader, unfortunately, it can get a little spammy, therefore they filter it before delegating the information onto you.
CFD Global Regulations
Now we have reached the big-boy indications of brokers being legit. There is no way in the world a broker should convince you about their trustworthiness if they have no regulator. Even more, the broker won't even try to mention regulations if it is a scammer. in this CFDGlobal review, we will show you how a broker should disclose information about their regulators and partners.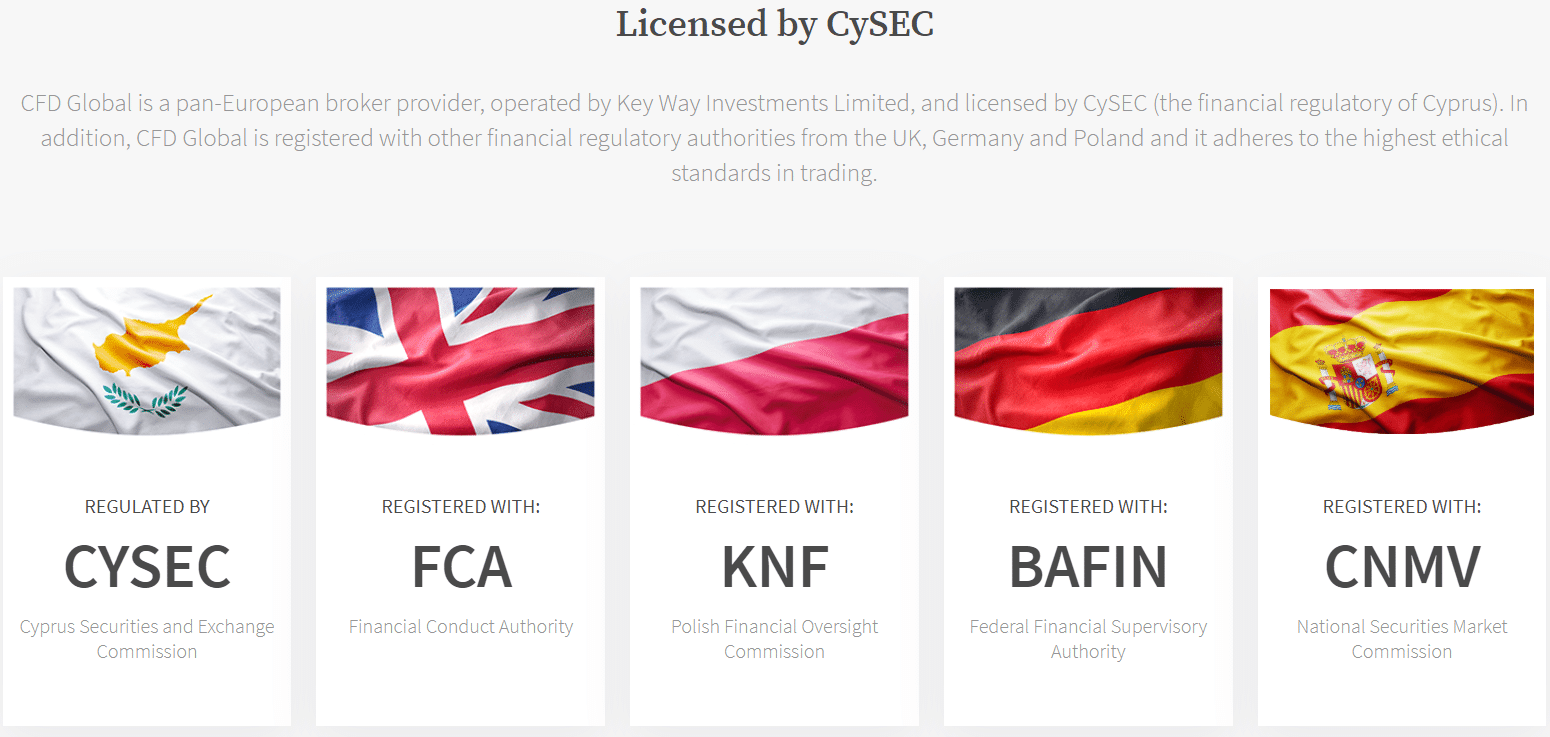 Check out the picture displayed above this text. This is how every single broker should tell you who is licensing and regulating them. The information is disclosed very cleanly and comprehensible for the reader. CySEC is one of the most popular regulators for brokers and the best ones we know have CySEC licenses.
CFDGlobal has also not shied away from disclosing information about the regulators it is currently registered with, you can see that across major European countries the broker has the ability to operate legally and deliver the best experience. No traces of CFD Global scam can be seen here.
Summing up the CFD Global review
By now you should have noticed how excited we are with this broker. We wholeheartedly recommend you give them a try and see for yourself. Note that they are ready to help you trade with Bonds, commodities, Cryptos, Forex and all sorts of goods that are subject to trade. This CFD Global fraud denial is what we hope to be your guide towards choosing the best broker of your preference. Good luck with your trading!