CJC Markets Review – How Good is The Broker?

CJC Markets is a Foreign exchange broker company that is based in Auckland, New Zealand. This brokerage firm provides traders an opportunity to trade with a lot of financial assets such as commodities, Metals, Equity indices, shares, and Cryptocurrency. CJC Markets offers its clients, one of the best trading platforms MT4 with its accessible desktop as well as mobile versions of the application.
CJC Markets claim to have several authorizations including a License issued by FINTRAC Money Services Canada, by Australia Security and Investment Commission (ASIC), and by Saint Vincent and the grenadines (SVG). However, it is very hard to tell that these authorizations are truly legitimate and that they are fully reliable brokerage. We will talk about this issue later in this article.
The minimum deposit for this broker company is 1 USD and the maximum amount of leverage ratio is 1:100. Besides, they offer the variable spread to their customers.
In this CJC Markets Review, we are going to further talk about the legitimacy of this broker company, their regulation, as well as their trading tools and features. We are also going to discuss what type of withdrawal system they have and how high are their fees. So let's get started in order to find out more about this brokerage firm.
CJC Markets License and Regulation
Carrick Just Capital Markets Limited is a New Zealand company with the NZBN number 9429046269300 and a Financial Markets Authority Derivatives Issuer License (FMA). Their FSPR registration number is 569807, which enables them to offer derivatives to New Zealand citizens. These regulations are very reliable because the Australian and Canadian regulatory bodies are very reputable around the world so there is no chance they give them a fake authorization. This fact alone already means that CJC Markets is not a scam. However, the important thing is that they are not operated in Europe and America because these regulations do not cover these regions.
On the other hand, another noticeable thing is that even though CJC Markets is not a scam, this does not imply that they are a perfect company worth trading with. This is because there are several trading features as well as some other types of characteristics that are very vague and flawed. So let us further talk about what trading features and instruments CJC markets offer to their clients in order to find out why are not they as perfect as they might seem from the first glance.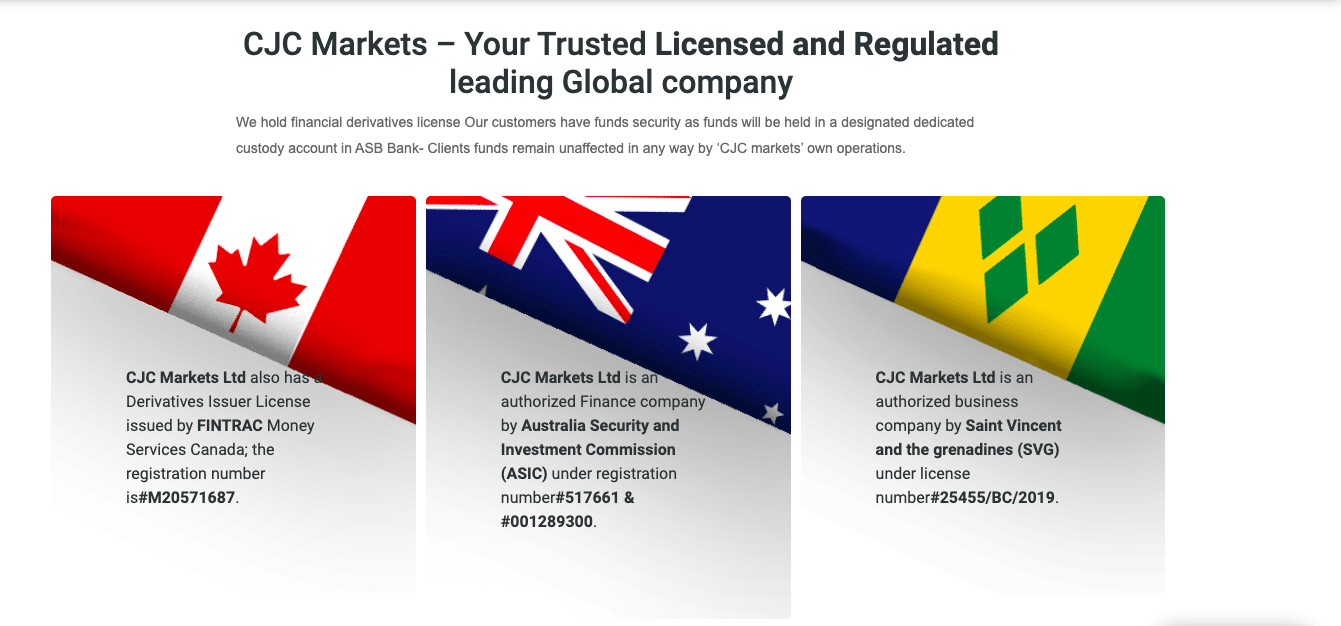 Trading features Available on CJC Markets
Trading features are an integral part of every brokerage firm. Leverage and trading software are two of the most important tools in a broker's arsenal of services. We will go over many of the functions and even provide our viewers a behind-the-scenes peek at the company and why these features are featured on the site.
CJC Markets Trading Platform
CJC Markets is a forex broker that deals in currencies, indices, stocks, and commodities. The MetaTrader 4 platform is the major trading platform that they offer to its clients. It is famous for its charting features, which include multiple charts, time periods, colors, as well as the option to create customized templates. The number of charts displayed may vary based on the trader's needs. The MT4 App provides robust forex trading tools, one-tap execution, dealing from many screens, and customizable displays of real exchange rate information.
Trading Account types
There are different types of trading accounts available on CJC Markets Forex broker including Standard account, VIP account, and ECN Account. Fixed 1.5 pips spread and a $1000 minimum deposit are available on the Standard account. They say that this trading account is for new traders, yet the minimum deposit is $1000, which is absurd. They plainly want newbies to be duped by this offer and lose a large sum of money so that they may profit from it.
It is critical that you read all of the broker's terms, conditions, and policies before filling out a broker application. Proceed only if you completely agree fully with them. There is a great chance you will find something that will turn out to be a very big disadvantage.

Leverage
If you look through the trading choices on the company's website, you are going to see that the leverage offered by this brokerage is rather considerable. For the foreign exchange market, for example, the maximum leverage ratio is 1:400. High leverage may imply one of two things: a great gain or a massive loss. However, the latter is a more frequent case, especially if the trader is a beginner and is just starting to take his first steps into the financial markets. This is why trading with this firm is risky and may result in a significant loss in the long run. Unlimited leverage, in general, raises worries about the safety of clients' funds since it multiplies the financial harm in the case of a failure.
CJC Markets Withdrawal and Fees
CJC Markets appears to employ just bank wire for withdrawals and deposits, which is inconvenient for any and all traders. Some people choose to pay with POLi, BPay, Skrill, or other e-payment methods. As a result, a lot of brokers typically accept a wider range of payment methods.
On top of that, it should be noted that the information on their webpage is not very transparent. This company's website is deficient in terms of minimum starting deposits, payment choices for deposits and withdrawals, and costs. This is extremely annoying since, in most situations, authorized brokers usually make such information publicly available and freely obtainable on their website, enabling investors to research it before choosing to open a trading account with the broker. As a consequence of such bad conditions in terms of transparency, we are suspicious of this broker's trustworthiness.
Besides, in terms of fees and commissions, it should be highlighted that they charge their clients a high amount of fees that start from 25 USD. So it is not surprising why they hide this type of information, we can clearly see that there is not a low commission offered by CJC Markets brokerage.
Because broker fees fluctuate and alter, there may be extra fees that is not mentioned anywhere on their website. This means that before you create a CJC Markets broker account for online trading, you must verify that you have reviewed and comprehended all of the most recent facts. Otherwise, there is a huge chance that they will charge you with enormously high amount of money and you will lose a significant amount eventually.
Other Important Features
Another thing that should also be mentioned in this CJC Markets Review, is the fact that they have a limited amount of educational resources places on their website. This fact might be very bad for beginner traders who want to find out everything about the financial market before they open a live account and start trading with them. Even though they have an FAQ section, sometimes it is not enough. So lack of educational materials is a very big drawback of this Foreign exchange broker firm.
The other noticeable thing about CJC Markets Broker is the fact that they provide a very poor customer support service. If you read comments of their customers on different web pages, you will probably find a lot of them who claim that there is no effective customer service available on the broker's website and no connection between customers/investors and the company. If you send an email to their customer service, you will not receive an answer.
This is one of the most important reasons why you should avoid this FX broker firm. They clearly do not care about any of the consumers' worries or difficulties. So trading with the CJC Markets brokerage is not worth your time or money.
On top of that, CJC markets have a Lack of standalone trading tools which makes the broker even more ineffective. Besides, they have Limited deposit and withdrawal methods provided to their customers. So overall, there are a lot of important features on CJC markets that are not working properly that you should definitely think twice before you choose to finally trade with them. This broker company is a great example of how regulation does not imply a high quality of service and how authorization does not mean that it will guarantee effectiveness in every step of your trading.
CJC Markets – Final Opinions
As we have already noted, CJC markets is a Broker company that was established in 2012 and is now based in Auckland, New Zealand. CJC Markets claim to have three types of authorizations including a License issued by FINTRAC Money Services Canada, by the Australia Security and Investment Commission (ASIC), and by Saint Vincent and the grenadines (SVG). These companies are quite reputable and their license really means that they are truly not FX scams. However, CJC Markets is a great example of how a company can be trustworthy and reliable, but on the other hand, can not provide their clients with a very effective and high quality of trading features and services that would satisfy industry standards as well as customers' needs.
There are a lot of reasons why CJC Markets is considered to have poor services. First of all, as we have already mentioned above, they have a very high amount of minimum deposit which means that they clearly want newcomers to be taken advantage of by this offer and lose a significant quantity of money so that they may profit from it.
Another important fact is that there is no transparent information indicated on their webpage, especially in terms of withdrawals and commissions. They charge their consumers exorbitant fees that begin at $25 USD level. So it is not strange that they keep this sort of information hidden from a clear eye. On top of that, they provide a very poor customer support service to their clients. This is why, in most cases, their customers write very bad reviews about this broker company claiming that they do not receive a proper answer from the support service.
Overall, we can freely say that, even though this foreign exchange broker company is highly regulated by reputable regulatory bodies around the world, they still are not able to provide their clients with a perfect and SVGSo we do not recommend you to invest your money with them.