CMS Prime Review – What Should You Expect from It?

Trading Forex, be it online or offline, is one of the riskiest, yet fruitful financial endeavors you can engage in. Millions of people across the globe kickstart their trading careers with one goal and one goal only: to generate profits and become rich.
Unfortunately, though, the majority of them are doomed to lose. In fact, more than 9/10 of the trading community is going to engage in a losing trade, which is the indicator that you should be extremely careful when considering embarking on this bath.
Among the sea of reasons why people would lose in Forex, one of the main contributors to your failure is a fraudulent Forex broker. They promise lucrative terms and conditions, paint bright colorful futures, yet they're filled with lies and the desire to steal your money.
In today's CMS Prime review, we will evaluate all of the broker's offerings and determine whether we're dealing with a trustworthy entity or a scam.
Initial impressions of the broker
Before we delve any deeper into the review of each trading offering, we'd like to do a quick rundown of all the things that we'll cover in this article.
First off, CMS Prime is a Forex trading brokerage was founded in 2002 in Dubai, UAE. According to their Linkedin page, the company employs around 50 people and only has one headquarters in Dubai.
Is it regulated?
The very first thing that caught our attention was the broker's licensing measures. We're not going to go too deep with this but it suffices to say that the SVGFSA license from St. Vincent and the Grenadines and the VFSC license from Vanuatu don't really convince us in CMS Prime's reliability.
Given the suspicious nature of these licenses, the process of CMS Prime trading gets far less stable and secure, even though the broker claims to store its clients' funds on segregated accounts.
The website
Next up, we'll move to the CMS Prime website, as well as software that powers the whole thing. In all honesty, we can say that CMS Prime's website looks quite modern and simplistic with its clear background and not too many complications. Yet we came across some visual effects that are harder to render for low-performing desktop devices.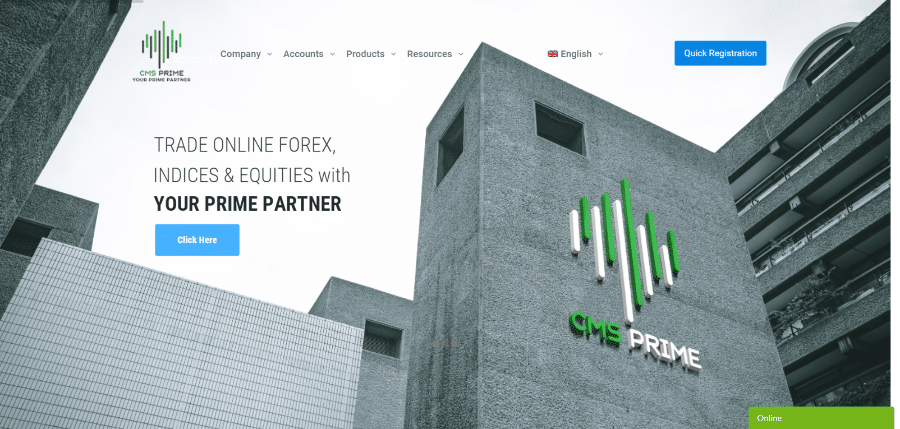 As for the informative aspect of the website, we were able to find most of the important details about how trading is done at CMS Prime – or, at least that's what the broker is putting on its website; we still need to find out whether these conditions are true or a masterful cover. In addition, there were some areas that were misleading or outright undisclosed by the broker, be it commission rates or specific account packages.
When it comes to CMS Prime account types, we were sort of mislead by the broker's claims that there are multiple trading accounts available on the website. In reality, we only found one retail account that is supposed to work for all CMS Prime clients. And as it finally turned out, with the multitude of accounts, the broker meant demo and Islamic accounts, as well as the ECN platform that is somehow considered a separate account.
The final part of this section will cover all available trading platforms at CMS Prime. To give the broker yet another credit, it supports some of the most complex pieces of software in the industry – both MetaTrader 4 and 5. These platforms have been well-tested by Forex traders, as well as those on other markets. However, when it comes to preventing the broker to scam is clients, MT platforms cannot really do anything.
Trading terms and conditions
Last, but not least, we'll take a look at what the actual trading process looks like with various trading offerings.
First, we'll look into the commissions' department. Now, we were very enthusiastic to find out whether any CMS Prime account had low or high commission rates, yet we only found out that there's the option to get a commission-free account while the one with commissions doesn't really specify the charged amount.
As for spreads, we have exactly the same thing to say: CMS Prime offers an ECN platform, which is known for its super-shallow spread quotes, which leads us to believe that the account responsible for this platform will charge lower spreads. Yet exactly how much is beyond our knowledge.
When it comes to the leverage, CMS Prime goes a little bit overboard by offering a 1:500 multiplication rate. We'll explain why this is dangerous in the final chapter of our review.
Finally, we'll take a look at which deposit and withdrawal methods you can use at CMS Prime. As we have discovered during our CMS Prime broker review, there are four main ways to make deposits and withdrawals, including credit cards and e-wallets.
To make but a short synopsis of what we've just said, we're dealing with a Forex broker that clearly has some issues with transparency, as well as its legal measures.
Start trading with Forex.com, the largest US Forex broker
Can CMS Prime be trusted with its licensing claims?
So, as we've just said in the previous chapter, CMS Prime claims to be a regulated Forex brokerage who ensures that its clients' money is in safe hands. On its website, in the About Us section, we found a pretty extensive set of text boxes talking about why CMS Prime is the safest choice you can make in the trading industry.
However, the licenses that the CMS Prime Forex broker lists here are, softly speaking, suspicious. Here are the regulatory institutions:
St. Vincent and the Grenadines Financial Services Authority (SVGFSA)
Vanuatu Financial Services Commission (VFSC)
Now, for an untrained eye, the two licensing materials from these institutions would seem pretty okay. And that's the main focus point the scam brokers have: inexperienced traders who don't know the distinction between legit and mockup licenses.

But for us, neither the SVGFSA nor the VFSC license from St. Vincent and the Grenadines and Vanuatu are legit, and here's why: these are the two tiniest islands that don't have enough sovereign power to regulate the financial processes within their own countries. And when we're told that the international CMS Prime trading platforms are secured by these licenses, we get a pretty clear image of the lie that's brewing underneath CMS Prime's website.
Besides, the SVG government has officially announced that it doesn't regulate Forex brokers, it never has and never will be. This is the testament to the fact that scam brokers use such non-legit licenses to conceal their fraudulent activities and attract as many new customers as possible.
In light of this, we're not really impressed by the so-called "robust trading environment" so actively promoted by CMS Prime. The broker may say that it stores its clients' funds on segregated accounts but in real life, that doesn't' really matter as long as CMS Prime doesn't have any legit license to have some sense of accountability.
What's the software experience like at CMS Prime?
Moving on, it's time to do a closer review of the website, as well as the CMS Prime Forex trading platforms. This will give us a better idea of how polished the online experience looks and feels with this broker.
First off, the website and its interface. As we have already noted above, CMS Prime has a decent-looking website that looks simplistic enough, yet has a certain level of sophistication to it. The main elements of the website, such as clear-white backgrounds and nicely-matching grey text, form a nice interface with easy navigation. However, there were some areas that still felt a little bit too much, such as the parallax and rolling effects for various informative sections.
But probably the most important point we want to make is that even if the website was ideal, it still wouldn't foreshadow the fact that CMS Prime suspiciously looks like a scam. Today, it doesn't take an extensive web development knowledge to build a very good-looking website on your own; there are tons of pre-existing templates that do the job for you. So, a good-looking website isn't something that makes a lot of difference for us or for CMS Prime's customers.
When it comes to CMS Prime account types, we were initially quite enthusiastic about the diversity of different retail accounts offered by the broker. However, despite the claims and announcements, we only found one retail account and one unorthodox account that focuses on the ECN platform (which could've been included in the standard account).
CMS Prime also offers an Islamic account to its clients from Muslim countries. The main difference between the regular retail and an Islamic account is that the former doesn't charge swaps on overnight trades, in accordance with the Sharia law that opposes any kind of interest rate.
On top of all that, CMS Prime also features a demo trading account on its platform. As the broker claims, the CMS Prime demo account mimics the exact same market conditions and developments, and uses the same features that a live trading account has, including tighter spreads and high leverage ratios. Plus, there is an unlimited trading balance, which means you can trade virtually as much as you want.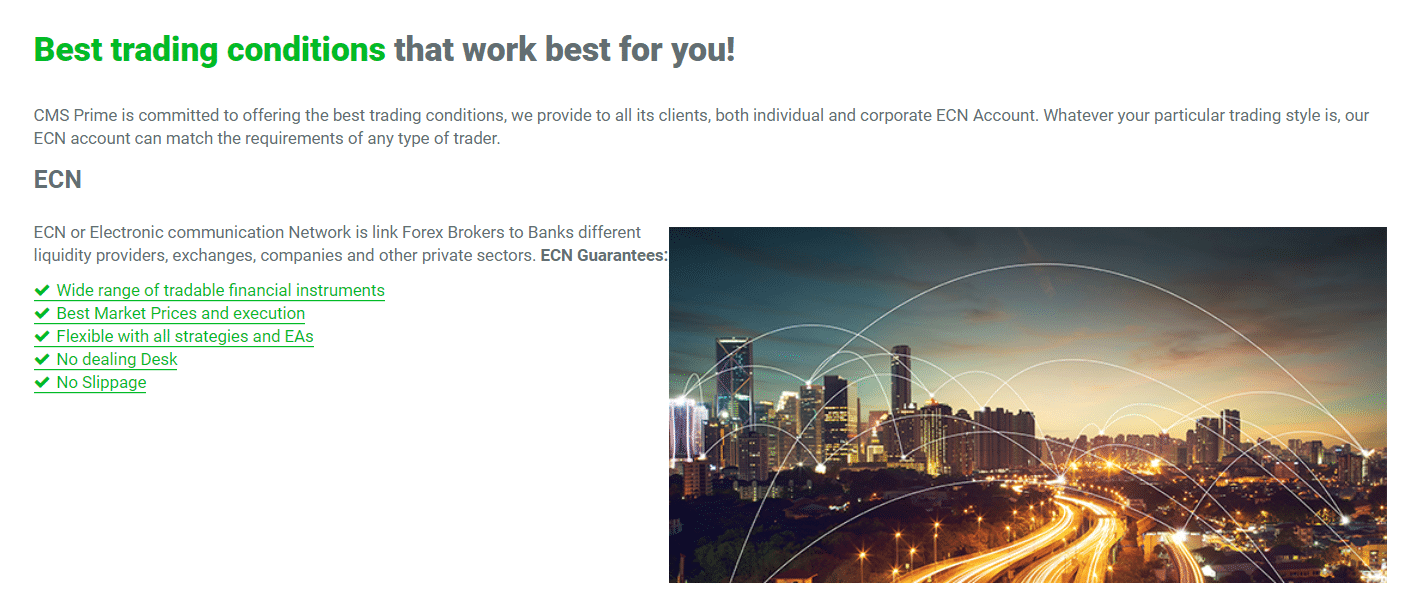 Start trading with Forex.com today
Finally, let's take a look at which platforms drive the entire trading experience at CMS Prime. This, in our entire reviewing experience, is one of the least flawed sections found with CMS Prime.
The broker offers two very popular trading platforms: MetaTrader 4 and MetaTrader 5. As we have noted, the majority of financial traders on virtually all markets use these platforms for seamless trading experience.
And there are some specific features that we found in both of these platforms, namely:
Expert Advisors for automated trading
Market Depth
etc.
As for the differences, MT5 is much more complex with its features, including:
Times & Sales (Exchange Data)
Economic Calendar
Netting
Hedging
etc.
But as we have already pointed out in our CMS Prime trading review, even the most sophisticated trading platform cannot prevent the broker to scam its clients. The only thing MT4 and MT5 will ever do is have a huge trading community that constantly goes in and out of the platform and creates various scripts for it. Yet even that isn't helpful here.
Are trading terms and conditions at CMS Prime legit?
The last section of our review will be the discussion about various terms and conditions available at CMS Prime. It will mainly focus on the instruments that you can trade with this broker, as well as various numbers that accompany them.
So, when it comes to the financial instruments, you can trade:
Currency pairs
Metals
Stocks
Indices
Bonds
Futures
Options
Given such diversity in financial assets, we could've been impressed with CMS Prime's platform, however, there are too many concealed details that prevent us from blindly trusting this broker.
For instance, when we tried to search available commission rates for CMS Prime platforms, we only found vague claims and notices. For instance, the broker claims to have very shallow spread quotes for currency pairs, and this seems to be true when considering the fact that there is an ECN platform on the broker's website. However, beyond this vagueness, there's not much to know about spreads.
The same can be said about other commission rates. And when it comes to the minimum deposit requirement, we found a very demanding 1,000 USD entrance fee on the website. This is a very big requirement for any Forex broker that wants to make its platform more accessible for entry-level traders. And even many experienced traders will find this requirement rather expensive.
Next up, let's talk about leverage. This is a tool that helps people increase their capital reach by taking a loan from the broker. As we've found out, CMS Prime offers 1:500 leverage to its users, which is quite high and risky because not only does this feature increase profits but it also boosts losses, making them ever more destructive to the traders' accounts.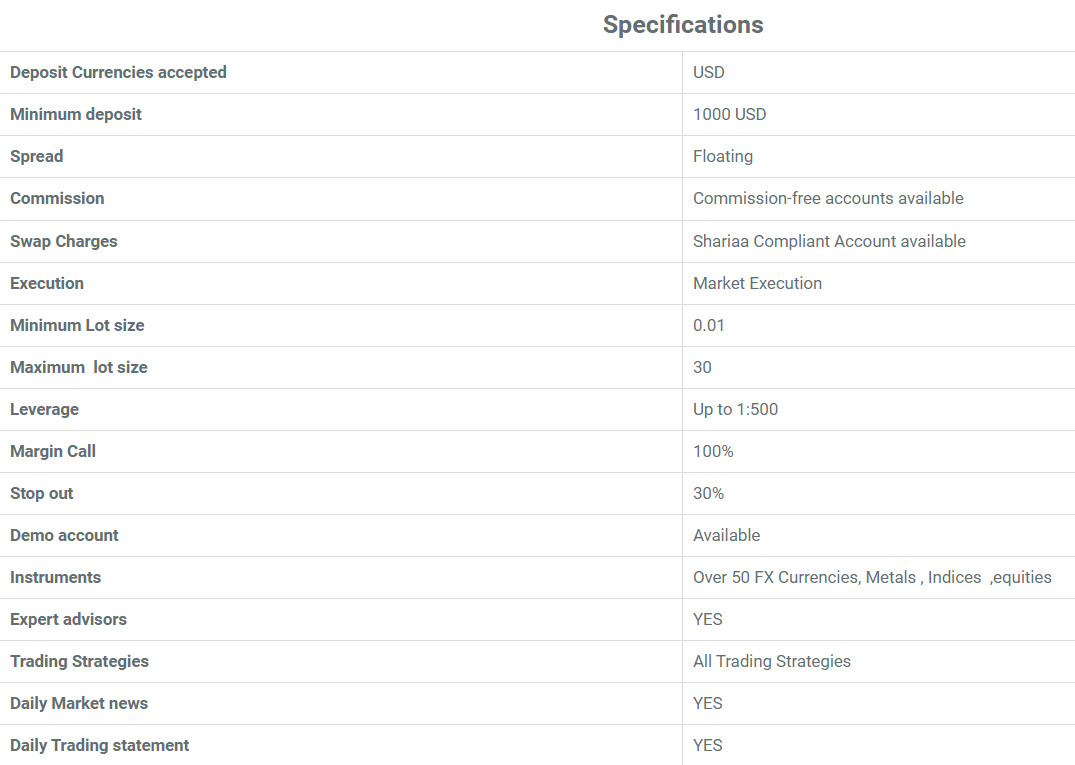 After that, we went on to find out whether there were any CMS Prime bonus promotions on the website. Judging from the scale of the broker's website and the entire trading platform, it is quite understandable to note that there are absolutely no bonuses to be found here. But in all fairness, it's neither bad nor good – it's just a fact that we're stating.
Finally, we looked through various deposit and withdrawal methods that power transactions at CMS Prime. As a result, we dug up four separate ways that you can fund your account, as well as withdraw money from it:
Credit cards (Visa, MasterCard)
Wire Transfer
Skrill
Neteller
The main selling point of these platforms is that there are no payment commissions for deposits and withdrawals. And many of them are instantly executed. However, it's not entirely clear how much is the maximum deposit or withdrawal limit for them. Plus, it would've been so much better if there were additional payment methods like PayPal, Perfect Money, and Bitcoin.
Trading with CMS Prime – Is it a good idea?
So, with all things considered, should you use CMS Prime trading platforms for your financial endeavors? Will it be a reasonably safe decision to make?
For a more generalized look, let's do a quick round-up of the most important details about the broker:
CMS Prime is a Forex trading broker that offers instruments from other markets as well. The broker claims to have a proper and legit financial license from St. Vincent and the Grenadines Financial Services Authority, as well as the Vanuatu Financial Services Commission, yet we have clearly pointed out that these are mockup licenses that don't really have any regulatory power.
Then we examined the website and admitted that it looks quite decent. Yet some of the basic details like commissions and spreads were very vague, not allowing us to get a better view of the broker's trading terms and conditions. The same can be said about retail accounts.
As for trading terms and conditions, the maximum leverage is way too high and dangerous, whereas the minimum deposit requirement does something completely opposite of what the broker wanted to achieve: it repels entry-level traders.
So, it's pretty easy to say that you should stay away from CMS Prime and look for a more trustworthy Forex broker.