ContinueFX review

ContinueFX is one of the thousands of Forex brokers in the market today. Even though the broker promises amazing benefits to anyone who opens an account with them, it is advisable to check out whether they are talking the truth or not. As it happens, in this ContinueFX scam review we point out several features of the broker which should serve as a warning to any trader shopping around for a credible FX broker. In this ContinieFX review, we look into several features of this broker which will then help you make an informed decision.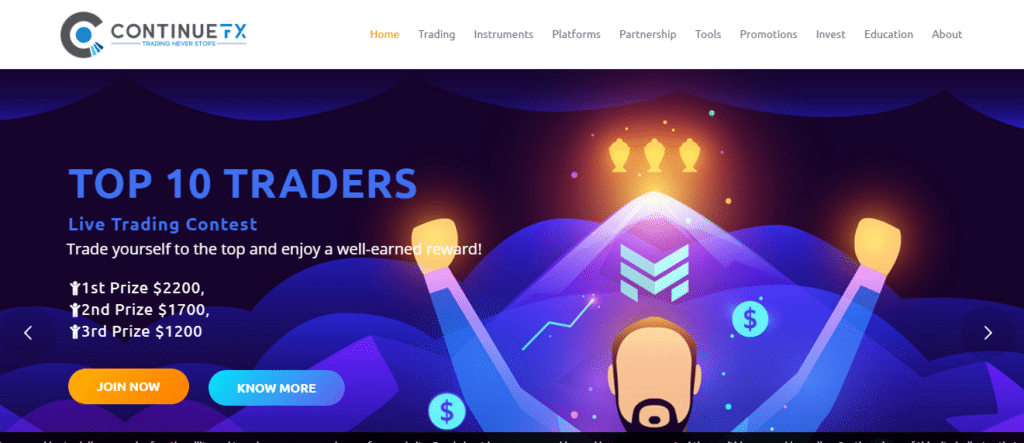 ContinueFX broker overview
According to the official website, ContinueFX is a broker that offers unrivaled FX, CFD, Indices, and crypto trading services. The website further says that traders here enjoy professional services and they are guaranteed to succeed. The broker's address is Suite 305, Griffith Corporate Centre, Beachmont Kingston, St Vincent and Grenades. However, the customer service phone number provided is one based in Dubai.
Licenses and Regulations
On the official website of ContinueFX broker, it is indicated that the firm is registered in St Vincent and Grenades and its registration number is 24452 International Business Company (IBC) 2018. The firm has even gone a step further to display its Certificate of Incorporation on the official website. Even though the firm is global, it does not offer services to persons in Sudan, USA, North Korea, Cuba, Iraq, and Myanmar.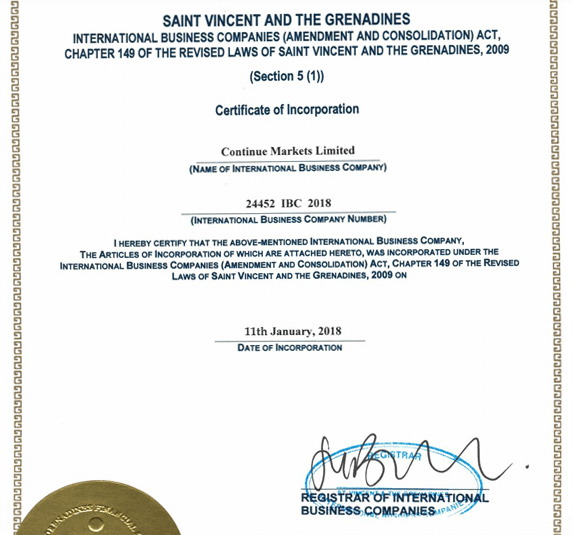 In our ContinueFX scam review, we discover that ContinueFX is owned by Awadh International Services which is based in UAE. It is not clear whether this parent company is regulated in Dubai or not. It is worth noting that St Vincent is not among the most respected jurisdictions when it comes to financial regulation. In fact, St Vincent is a favorite destination for shell companies and tax evading businesses. Among the recognized financial regulator that a trader should watch out for include FCA and CySEC.
Trading at ContinueFX
With as little as $100, you can open a Classic account and start trading in FX, crypto, CFDs or indices. The fixed spread that the broker offers for all types of accounts is 3.0 pips which means that a standard account holder might have a hard time making reasonable profits. However, the broker offers a floating spread of 2.2 for all types of accounts.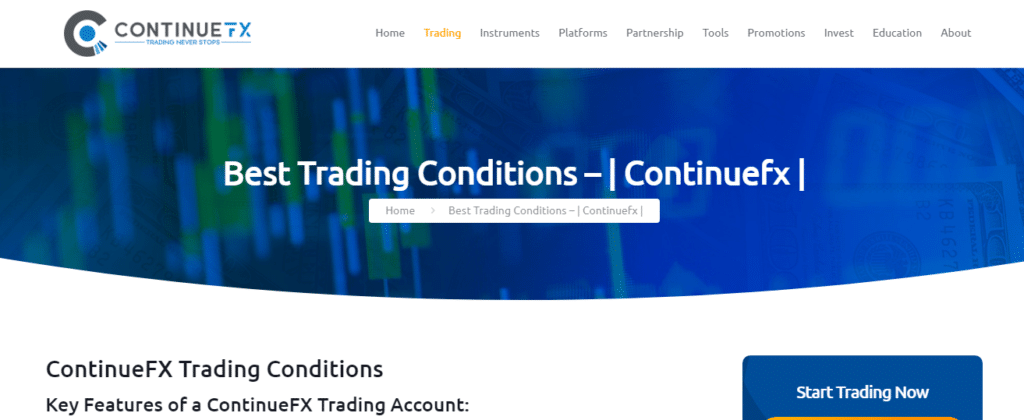 The ContinueFX rating takes a dip because of the leverage conditions the broker offers its customers. Even though high leverage is good and means good profits, this is no longer the popular stand especially with authorities around the world. In Europe for example, the highest maximum leverage a broker can offer is 1:30 and 1:2 for FX and crypto respectively. ContinueFX offers 1:200 leverage to all accounts. This should be a clear indicator to any newbie trader that the broker is not regulated by a well established and respected financial regulator.
The different types of accounts at ContinueFX
ContinueFX reviews show that there are three types of accounts that a trader can open here. You can open an Elite, VIP or a Prime Account. All types of accounts allow traders to trade in crypto, Forex, Indices and commodities. The features you will enjoy in an Elite account include a leverage of 1:300 and an execution speed of transactions of 0.91 seconds. The minimum initial deposit for this account is $100. There is no commission charged on trades.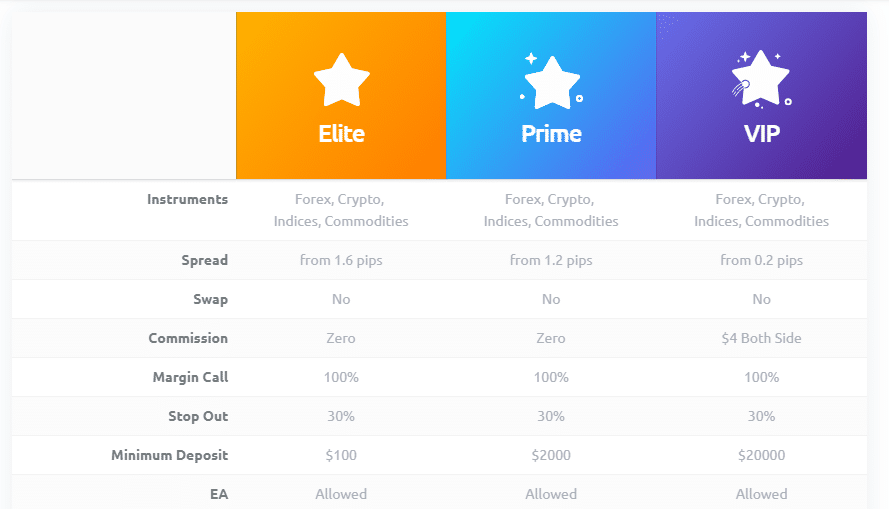 The Premier Account attracts a minimum deposit of $2,000. Execution speed of transactions is 0.91 seconds and the broker allows scalping. When it comes to the VIP account, a trader w2ill be required to make an initial deposit of $20,000. The broker charges a commission of $4 on both sides. Like with other types of accounts, there is no maximum order limit. The maximum leverage that a trader gets to enjoy is 1:100.
Is ContinueFX legit?
After browsing many online ContinueFX opinions and reading the official website of the broker, it is clear that there are several questions the broker needs to answer. The details about the firm's license are vague and a trader is left wondering whether the firm is regulated in St Vincent or Dubai. Based on this aspect alone, ContinueFX broker remains one of the many firms that traders should avoid.
As noted earlier in this ContinueFX review, the firm asks for an initial deposit of $100. There are credible FX brokers out there that ask for much less. It is also worth to note that there are numerous negative ContinueFX reviews from customers, especially as regards withdrawal services of the broker. Many complain that they are unable to withdraw their profits.
A diligent trader will certainly stay away from ContinueFX after reading the different reviews about the broker. You will also be convinced to stay away from this broker once you compare its features with what other brokers have to offer.