CPT Markets Review – Would you want to trade with this broker?

Being a good Forex broker means being a company that primarily focuses on the well-being of its clients, whereas personal gains are the by-products of high-quality services. And to be fair, you can find many brokers that fit this description.
However, you can also come across scam brokers pretty easily, especially in this era of the internet and mass-communication. It comes to the point when telling apart the fraudsters and legit brokers becomes pretty difficult.
Yet we're not about to give up on our readers. Here at Forex Trading Bonus, our team will regularly offer you broker reviews and assess them for you. Today, we'll take a look at the CPT Markets Forex broker and determine its credibility.
First impressions do matter
Established in and operating from Belize, CPT Markets is a Forex trading broker that claims to have a pretty large user base and the operations scattered across three continents. Whether these claims are true or not, and whether the broker really has such a big daily turnover, we cannot really prove or disprove, but what we can do is leave no stone unturned and check all of the broker's offerings.
Licensing
The first segment that should give us a pretty good idea about the broker's credibility is its regulation. As CPT Markets' website notes, the company was established in Belize and was licensed by the country's International Financial Services Commission (IFSC).
Below that notice, the broker also claims to have an FCA license from the UK's sturdiest financial regulators, which should potentially be the guarantor that the CPT Markets scam is just a rumor and nothing more. But we'll shed some light on this segment in the upcoming chapter.

Website
Next up, we're going to talk about the website and software support. When it comes to the interface, it's pretty safe to say that CPT Markets hasn't put much thought or effort to create a top-notch website with a simplistic interface. As for providing information, we found pretty much everything we searched for, yet the majority of details lacked further descriptions.
Then we'll move on to discussing live accounts that you can get at CPT Markets. But there's not going to be much to discuss here: the broker only offers one account that is supposed to work for all clients of the broker. But in reality, it only works for mid-range traders that have experience and don't need low-end conditions, yet aren't too professional for high-end features.
Finally, we'll take a look at the trading platforms of the CPT Markets Forex broker. If you sign up for this broker, you'll get MT4 and cTrader, which, needless to say, is a pretty decent offering.
Trading terms and conditions
The final part of our review will be trading terms and conditions. CPT Markets offers a number of trading instruments, including Forex pairs, indices, and precious metals.
The conditions that apply to these instruments include very high leverage, also very high deposit requirements, and spreads. In this section, we'll explain why we're suspicious about these conditions and why they undermine CPT Markets' credibility.
We'll conclude this review by listing all available payment methods and their specific conditions. So, it's going to be a pretty comprehensive review of everything that CPT Markets offers.
Is CPT Markets legit?
No matter which broker review you read or which reviewing agency has made it, there's always one section that remains in all of the articles – the license. By carefully examining the broker's license, you can have a pretty good idea about the nature and the code of conduct of the given broker.
Naturally, that's exactly what we have in mind today. As CPT Markets points out, the company is regulated by the Belize International Financial Services Commission (IFSC). Plus, it also claims to have a license from the UK's Financial Conduct Authority (FCA).
Now, we wouldn't have any issue with the CPT Markets FX brokerage if these claims were actually true. FCA is one of the sturdiest regulatory materials that ensure the highest standards on the Forex market, which means a broker with this license will have a hard time getting away by scamming people.
Unfortunately, though, we're pretty sure that CPT Markets doesn't actually hold the FCA license and its only regulator is Belize's IFSC. The reason for our suspicion is that the trading terms and conditions are way too high for a European license. Take a look at leverage, for example: Europe-based brokers go only as high as 1:30 with their leverage offerings due to the riskiness of this tool, yet CPT markets ramps this feature up by 1:1000.
And when it comes to the IFSC license, we're not convinced that it can really guarantee safe financial conduct, even though it seems to be a legit license for this broker. Belize is not a country one would entrust the regulation of an international Forex broker.
The website and software support
Next up, let's move on to the next section of our review, which is going to be CPT Markets' website and software support. As we have already noted above, the website we saw doesn't really attract the viewer's eye; it has a bland interface that has some bright spots, such as blank backgrounds and easily-discernable fonts.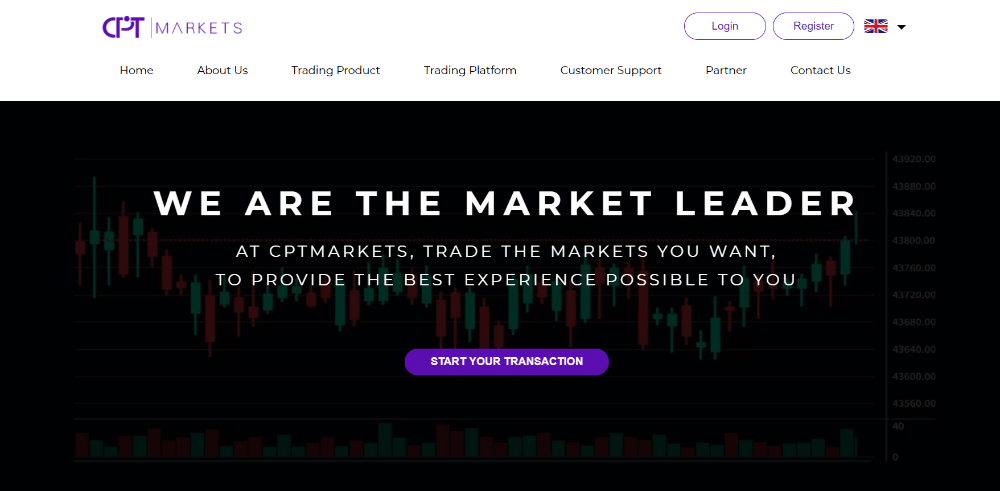 As for obtaining the information, we can say this: CPT Markets does provide details about pretty much all trading aspects. Yet our CPT Markets opinion is still low even in this section because the broker doesn't really explain these features or how they should be safely used within trades.
Next up, let's have a closer look at which trading accounts you can get with CPT Markets. The majority of Forex brokers, even the ones that are blatantly fraudsters, offer at least three different live accounts for different trader types. Yet CPT Markets doesn't even offer two; the only Standard account that it features must work for anyone that wants to associate with this broker.
Granted, this account stands out with some of the most mind-blowing features like a 1:1000 leverage, it's important to note that it's not going to be the most accessible account for beginner traders. On top of that, even the veteran traders will find it disadvantageous to use the CPT Markets Standard account.
When it comes to the trading platform, the CPT Markets MT4 and cTrader are the two main pieces of software that you're getting with this broker. And to be fair, these platforms are the two of the most popular and widely-used applications that almost every broker would like to use. However, they do not guarantee that a broker stays away from scamming its clients if it so chooses.
Should you trust impressive CPT Markets promotions?
The last segment, and the one that will probably attract most people's attention, is going to be the actual numbers and trading conditions at CPT Markets. First off, we have to note that CPT Markets offers a decent range of tradable instruments, including:
Currency pairs
Crude oil
Precious metals
Indices
CFDs
Cryptocurrencies
It is certainly beneficial to have multiple assets to choose from, which is why we have to give the broker some credit. However, it still doesn't go as far as to dissipate our CPT Markets fraud suspicions, and here's why:
The maximum leverage the broker offers to its clients goes as high as 1:1000. As we already pointed out above, a broker that operates in Europe, and especially if it is licensed by the FCA, cannot possibly go above 1:30 with its leverage offering. The reason for that is pretty simple: high leverage increases your exposure to the market, which brings much larger profits and losses and is exceptionally risky to use.
That's why both governments and legit brokers continuously warn traders not to use high leverage ratios. And that's why we don't appreciate having a 1:1000 leverage without any safety net on the platform.
Next up, let's talk about spreads. As CPT Markets points it out, your trades will be charged with floating spreads that start from 1.8 pips. When compared to other terms and conditions, this might be the most decent condition we've found during this CPT Markets review.
Then there's the minimum deposit requirement for the Standard account. CPT Markets charges you a whopping $500 to let you trade on its platform. This, in our experience, is a very high threshold that not many people will be able to cross. It's definitely going to be a huge financial strain on beginner traders who want lower fees and basic trading conditions – none of which is available at CPT Markets.
Finally, let's review the financial platforms that power deposits and withdrawals. For each of the transactions, we're going to make a list of available platforms with transaction times on the side. So, in order to make a deposit at CPT Markets, you can use:
Visa/MasterCard credit cards – immediate transactions
Wire transfer – 2-3 business days
UnionPay – immediate transactions
USDT – depends on the bank
QR code – 1-3 business days
Online banking – 1-3 business days
SSAC – depends on the bank
As for withdrawals, there are:
Wire transfer – 1-3 working days
UnionPay – 1-3 working days
Online banking – 1-3 working days
Granted, it is nice to see a multitude of financial platforms power deposits at CPT Markets, however, withdrawals are much too limited and plus, there are no famous e-wallet platforms like PayPal or Neteller.
Should you trade with this broker?
So, what is our final CPT Markets opinion? Will you make a good decision by trading with this broker?
Well, let's re-list all the things we've said earlier: the broker has a very low-quality website that barely conveys information about its trading terms and conditions. It also has only one account that cannot possibly work for all traders.
As for licensing, CPT Markets only has an IFSC license, even though it also claims to have an FCA regulation. This worsens the broker's reputation even further.
Finally, CPT Markets offers some of the more suspicious trading conditions that should be a red flag for any trader. Ultimately, we think that you shouldn't commit to this broker financially.