CWG Review – Find out if your funds are safe with this broker

A good Forex trading platform is a place where you maximize your profit potential. It is a place where you log in, gladly make a deposit, and trade with the knowledge that your funds are safe.
In today's financial world, a trustworthy trading counterparty is somewhat difficult to find. You have to conduct thorough research, examining the broker's website, license, and trading offerings. With a mindset that no broker is worthy of the leap of faith, you can get closer to choosing a legit and regulated brokerage.
And what's important to know is that you're not alone. Our team at Forex Trading Bonus is there with you to help in the selection process. Today, we'll talk about the CWG Forex broker and determine, whether it's a worthwhile broker or not.
What to make of the website and software support?
We start our review by examining the broker's website. When it comes to its design, we had two completely different feelings about it. At first, we really liked the color scheme and layout of the interface, which maximized its informative aspect. However, we had a tinge of suspicion that something wasn't right.
And fairly enough, we soon realized that what bothered us was the feeling that this design was very similar to the one we saw with a very successful and trustworthy broker. We can go as far as saying that the red-black color scheme and highlights section is an outright copy of the original website. This indicates that CWG wants to take shortcuts, even if it requires dishonorable means, in order to appeal to its client base.

As for the actual information, we can admit that CWG does a good job of disclosing every important detail about trading, whether it's the leverage, spreads, or minimum deposit requirements. It is actually one of the rarest things we thought was orderly and not related to a scam. Yet all the other things indicate otherwise, and we'll get to know them one after the other.
The next important aspect of our CWG review is the available account packages. The broker has four different accounts that are supposed to be diverse enough to address the needs of traders with different experience levels. These accounts are:
Instant account
Classic account
Advanced account
Institutional account
Having said that, it's a bit surprising to find out that these accounts don't have very significant differences. Now, the differences in spread and leverage are obviously significant, yet we don't think they're too great to justify price differences between these accounts.
Last, but certainly not least, let's take a look at trading platforms that facilitate Forex trading at CWG. As we found out, the broker offers MetaTrader 4 and MetaTrader 5, two of the most popular and well-established platforms in the industry. Now, even though even these cannot stand in the way of scam brokers, they sure make the trading experience more seamless and lucrative.
Do CWG promotions ensure a safe trading experience?
After the website, we decided to dive deeper into various trading offerings and determine their credibility. First things first, we have to note that CWG is a trans-market broker. What this means is that besides the CWG FX brokerage, we also have the platform for:
Precious Metals
Indices
Commodity Features
CFD Spot Energy
CFD Stock
This actually makes it easy for traders to diversify their trading portfolios and reduce the risks of the loss. However, this effort is quick squashed by bloated and overzealous trading offerings like leverage and spreads.
Let's start with spreads. As the broker claims, the minimum bid-ask spread quoted on Forex pairs can go as low as 0 pips. Now, this would've seemed a very lucrative offering to an untrained eye because shallow or non-existent spreads lead to more profits. However, what's important to note is that no broker does their job for free.

There are two main ways Forex brokers fund their platforms: commissions and spreads. Since CWG doesn't really charge commissions (except for very low fees for Advanced and Institutional accounts), the only stable source of income should be spreads. Yet the broker claims that sometimes it doesn't charge spreads either. And with the realization that no broker does their job for free, we're bound to be suspicious about the sources of income and the reality of the CWG scam.
As for the leverage, CWG still "shatters" the established rules and norms and offers a 1:500 multiplication rate on Forex pairs. Usually, more credible brokers tend to go as high as 1:200 because the leverage can increase both profits and losses, and therefore, it should be used with extra caution. At CWG, though, that caution is nowhere to be seen, which exposes the broker's clients to much higher loss risks than usual.
The minimum deposit requirement is also a very suspicious trading condition at CWG. The broker only asks 10 bucks to open an Instant account for its clients, whereas more well-established brokers tend to charge anywhere between $50 to $200 for the same offering. We're convinced that CWG wants to attract as many people as possible with these unrealistic conditions, which will eventually turn into overwhelming costs and fees.
Next up, CWG bonus promotions. This is yet another section where the broker's greed is openly visible. Granted, a $100 Instant bonus and a 10% Welcome bonus represent gifts from CWG, they're still very small and insignificant when compared to other brokers' bonuses.
The final segment of this chapter is financial methods that facilitate deposits and withdrawals. As CWG claims, traders can use Visa/MasterCard credit cards, Skrill, Neteller, Paysafe Card, and UnionPay. Even though we have nothing against these platforms, they are still disadvantageous when compared to PayPal and Bitcoin: they're slow and vulnerable to various cyber-attacks, whereas PayPal or Bitcoin would ensure much more stable transactions.
Can you freely entrust your funds to CWG?
Now that we've discovered all the important details about CWG promotions and software supports, let's top it all off with the discussion about the broker's license. This will help us get a more informed impression of the broker's credibility.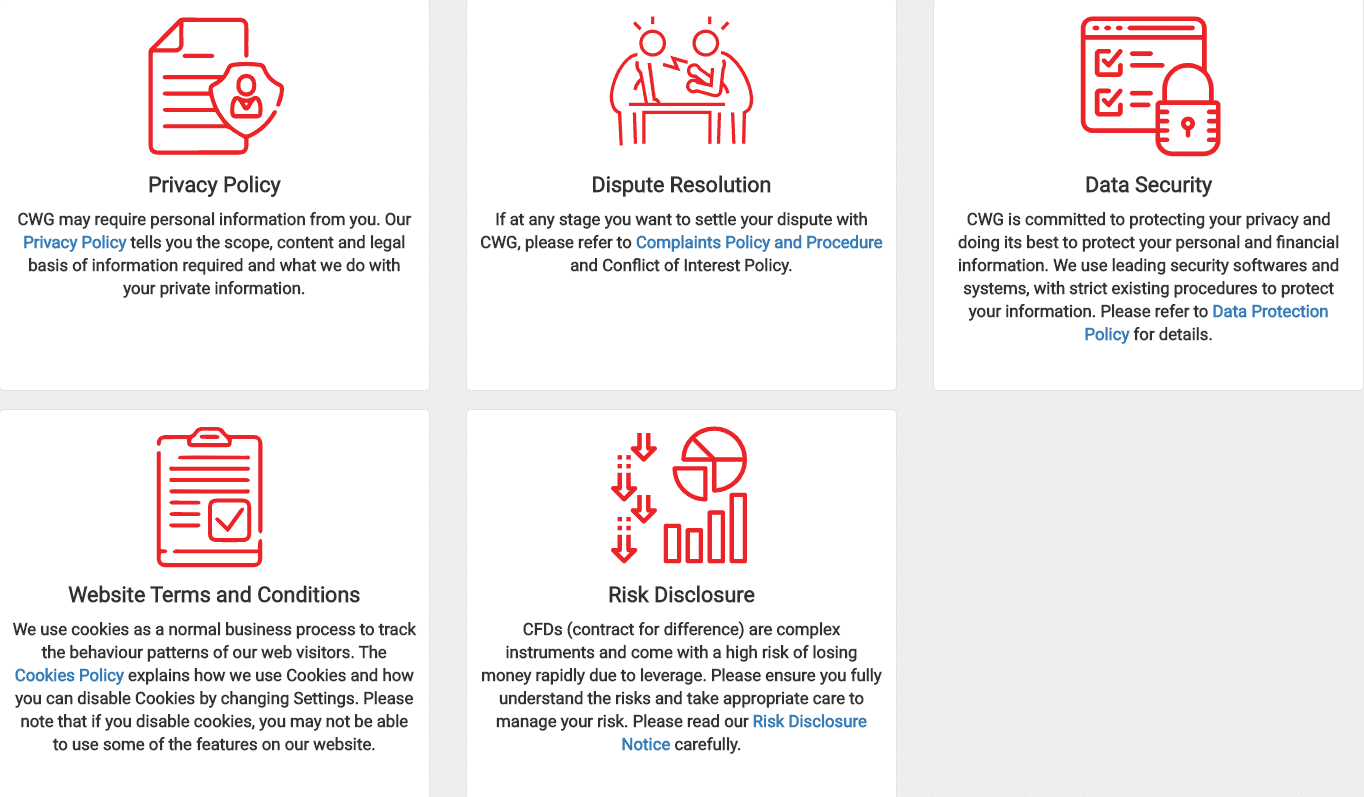 At the very bottom of the website, you can see that CWG is operated by CWG Markets, which, in turn, is registered in St. Vincent and the Grenadines. For that reason, CWG claims to have a license from the country's Financial Services Authority (SVGFA).
For many inexperienced traders, this claim would've been enough to convince them that CWG is a regulated Forex broker. However, since we've been reviewing brokers for a long time, we know that when a company claims they have an SVGFSA license, they're outright lying, and here's why:
The SVG government has announced quite a while ago that it doesn't regulate Forex trading companies within the borders of the country. That means that anyone who supposedly has an SVGFSA license is a liar and shouldn't be trusted. And that's how you should treat the CWG Forex broker.
Is CWG legit?
Drawing near to our review, we should take one more look at what CWG is all about:
The broker has a website that is a complete copycat of another website, although the informative aspect is pretty decent. Trading accounts are a little bit dull and offer little value for their costs.
Trading terms and conditions are super suspicious. The leverage and spreads are too good to be true, while the minimum deposit requirement is very unrealistic.
As for regulation, the SVGFSA license is nothing more than a farce and no one should take it seriously.
And there you have it: CWG doesn't seem to be a trustworthy broker and you shouldn't entrust your funds to it.