Deriv Review – A Trustworthy Broker or a Scam?

In order to increase your chances of success in the Forex market, it's not enough to improve your knowledge and hone your skills. You also need to find a decent service provider that takes your financial safety seriously.
In Forex, the supply of brokerage firms is all over the place. You can find tons of brokers with flashy terms and conditions, yet it's not always the case that you actually find a trustworthy broker.
To help you make the most informed decision about your service provider, we've created this review of Deriv Forex broker. It'll help you find out whether you can trust this broker or it's just another scam.
Deriv's background and regulation
The first aspect of the broker you should pay attention to is the background and regulatory measures. A trustworthy broker will be all open and honest about its past, whereas a fraudulent broker will boast about how great it is and try to hide as many details as possible.
With Deriv, we got the impression that the latter might be the case. While it has a brief timeline that explains how Deriv came to be in 1999, we're still bombarded with all sorts of bold claims about reimagining Forex trading and making it accessible to the masses. Such phrases always evoke suspicion in a reader and should be avoided as much as possible.

As for regulations, Deriv manages to worsen our suspicions even more. It claims to have four licenses from four separate regulators, which would've easily proven the legitimacy of the broker, yet the moment we dove deeper, we got the opposite impression.
But before we assess the credibility of these licenses, let's just list all of them we found during our Deriv review:
Malta Financial Services Authority (MFSA)
Vanuatu Financial Services Commission (VFSC)
British Virgin Islands Financial Services Commission (BFSC)
Labuan Financial Services Authority (LFSA)
Now, as you can see, 3/4 of these licenses come from third-world countries, and even Malta isn't the best country to get a Forex license from. What this means is that when it comes to monitoring the broker's activities and ensuring quality financial service, these regulators won't be able to properly manage this task. Particularly when we're talking about a global scale.
Therefore, even though Deriv claims to be a strictly-regulated brokerage, we just aren't convinced in that claim.
Website and software support at Deriv
Moving on, let's talk about what Deriv's website looks like and how the broker manages its software.
As we checked out Deriv.com, we realized that the broker prefers to perfect the visual aspect of its website while neglecting its informative aspect. What this means is that Deriv's website looks pretty decent with visual decorations and effects, yet when it comes to finding information about accounts, commission rates, and whatnot, it's going to be a bit of a struggle.
But even after that struggle, we managed to find out that Deriv Forex broker offers three live accounts to its clients:
Financial (Standard)
Financial STP
Synthetic
But even with that, we were unable to find the actual details about these accounts, be it specific minimum deposit requirements, leverage rates, or spread charges. The only thing we know is that the overall minimum deposit you need to make to start trading with Deriv is 5 USD.
In addition to the above-mentioned live accounts, Deriv also features a demo trading account on the website. But while it's definitely a useful addition to the platform, a demo account isn't a worthy accomplishment for today's Forex broker; almost every broker comes with a demo trading account and they don't make too much fuss about it.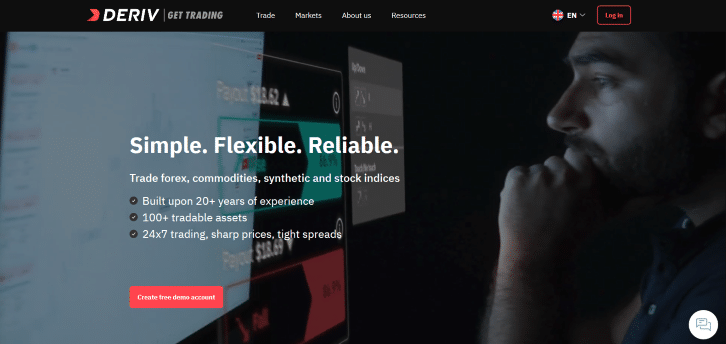 When it comes to trading platforms, we have to give the devil its due: Deriv has pretty sophisticated software support on its website. You can choose from four different platforms:
DMT5 (MetaTrader 5)
DTrader
DBot
SmartTrader
While we cannot fully know what the proprietary platforms represent, we're sure that MetaTrader 5 can nail just about any order you give to it.
What about Deriv's trading terms and conditions?
Last, but certainly not least, let's talk about how you can actually trade with Deriv and what terms and conditions apply to you.
As we have found during our Deriv broker review, you can get over 100 different symbols to trade, which are divided into the following categories:
Forex
Synthetic indices
Stock indices
Commodities
Binary options
Straight off the bat, here's what we can say about these instruments: while it's great that you get to choose from a diverse product base, we're concerned about synthetic indices and binary options, and here's why:
Both of these instrument types are extremely dangerous for different reasons. Synthetic indices, on the one hand, solely depend on the algorithm that generates 'random' price movements in a simulated market. And more often than not, brokers meddle in this algorithm and tweak them so that the outcomes are more in their favor.
As for binary options, the outcomes are either all-win or all-lose. And while this definitely means you can generate higher profits with options trading, it also means that the losses are ever-more disastrous. And once again, it's more frequent that your broker comes out beneficial from this arrangement.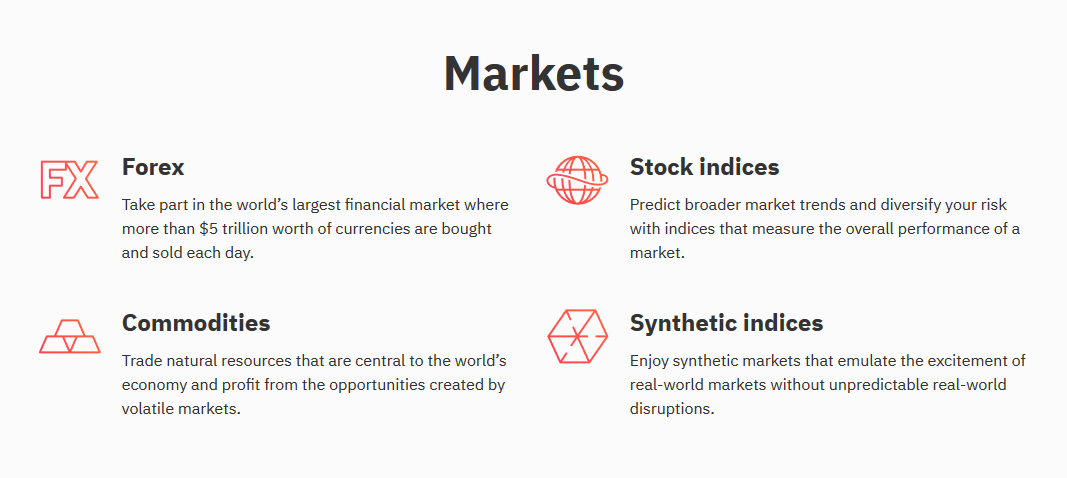 Yet another detail that intensifies our Deriv scam suspicions is leverage. Lots of Tier-1 regulators like the FCA, CySEC, and BaFin restrict their subjects from offering too high leverage rates and lock them at 1:30. This way, traders aren't subjected to disproportionally-damaging outcomes.
Yet with Deriv, this concern is totally neglected. The maximum leverage you can get with this broker goes as high as 1:1000, which means your prospective losses can be 1,000 times higher than normal.
With that said, Deriv fails to convince us that it's a trustworthy Forex broker.
The final Deriv verdict
In conclusion, are these details enough to set up your mind about Deriv? Should you trade all of the above-mentioned instruments with this broker?
As experienced traders and financial analysts, we cannot possibly recommend you to entrust your funds with Deriv. And here are the reasons why:
Deriv doesn't have a proper regulatory framework. While it claims to be regulated by four separate institutions, in reality, none of them are powerful enough to actually control the broker's actions.
In addition to that, we can clearly see that Deriv omits many important details about its trading terms and conditions from the website. And instead of that, it compensates for this informative deficiency with looks and visuals.
And finally, Deriv offers a couple of instruments that are dangerous on default. Plus, even the trading terms and conditions are suspicious in their overzealousness.
With that in mind, we believe that the Deriv fraud may actually be the case here, which is why you should stay away from it.