Dripcoin Review – Is It An Adequate Dedicated Crypto Trading Brand?
An Overview of Dripcoin
Dripcoin is a cryptocurrency trading platform that aims to build an ecosystem where all clients can benefit from the advantages of cryptocurrency trading. It incorporates cutting-edge powerful tools, prestigious services, effective security solutions, and helpful customer care.
Dripcoin enables customers to execute speculative trades based on price fluctuations, taking into account the market's persistent high volatility, to give and maintain the highest level of security.
Trading Platform
Dripcoin offers its own trading platform, combining cutting-edge features. The user interface and toolkit built into it allow you to be just a few clicks away from your favorite trading solution.
Customers can monitor numerous assets using the Dripcoin platform's many charts.  Execution must be quick and transparent when trading cryptocurrency because of the market's extreme volatility.
Source: https://dripcoin.io/
Dripcoin's platform is web-based, allowing traders to access it from any device, at any time, and without having to install anything. The platform is adaptable to any size of screen and does not require lots of hardware resources to run smoothly. It is a tool that any trader can use to make open market trades without any special expertise or abilities.
Security
Dripcoin uses some of the most powerful security mechanisms available on the market, to ensure that customers are protected to the fullest extent. This enables the firm to easily avoid data theft and loss.
A Dripcoin account must also be safeguarded by strong login credentials. The user bears some of the responsibility for ensuring robust security. It is critical to create a strong password from the beginning, as well as to utilize up-to-date operating systems and other security tools to prevent internet hacking.
Deposits and Withdrawals
Dripcoin now accepts fiat deposits through credit/debit cards or wire transfers. Customers can select one of three account currencies based on their convenience and geographic region.
The same methods for making deposits can be used to withdraw assets from a trading account, according to Dripcoin's withdrawal policy. It can handle cryptocurrency transactions and distribute tokens to a customer's wallet, all at the same time. Withdrawal requests are processed and finalized within 14 business days. Hence, it is well-known for its smooth and quick withdrawal process, which is a critical part of effective trading.
Customer Support
Dripcoin's customer care service is available from Monday to Friday with the timetable posted on their website. Email support is a convenient and quick way to get in touch with customer service agents and receive a timely response.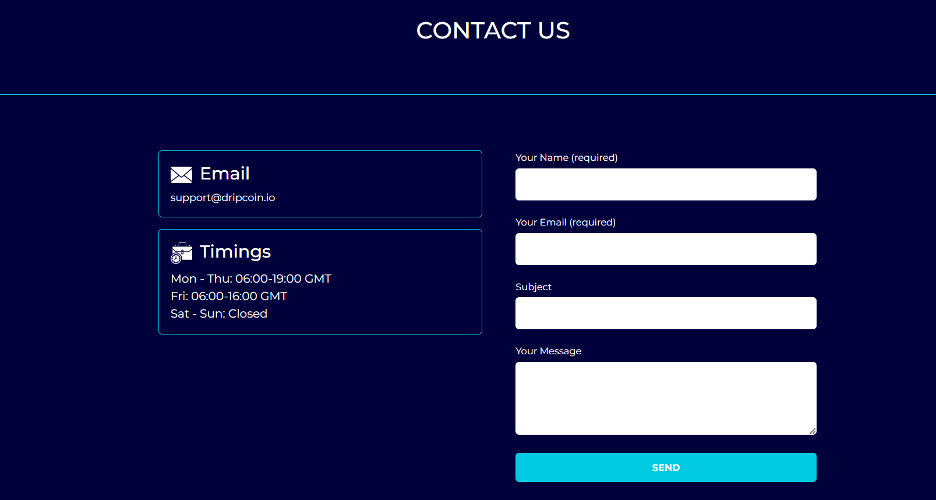 Source: https://dripcoin.io/
Besides that, Dripcoin account holders get access to a personal assistant who provides professional trading help and advice. In the Blog, FAQ, and Glossary sections, the brand gives clients whatever type of information they require. When dealing with volatile assets like crypto trading, it's critical to be well informed with instructional tools like these.
The Bottom Line
After analyzing Dripcoin's service more in-depth, we can say that it is a good trading broker that can meet the needs of any crypto trader, whether novice or expert. In comparison to other online trading platforms, it offers a variety of unique features that make it stand out in the competitive market.