Can You Trust easyMarkets? There Are Things You Need To Know
Selecting the right Forex broker is definitely not an easy process, especially in these times that many financial brokerage companies are emerging offshore, offering different services and promotions, making it harder for traders to find the right broker that can ensure security of the traders' money.
In the following guide, we will be looking at easyMarkets broker review, to check the legitimacy of the broker, if it regulated by any sort of authority, and what are the options and offers provided.
Established in 2001, easyMarkets Forex broker incorporates creative financial markets options and features, such as Freeze rate, VIP accounts, and deal cancellations which we will be looking into details later in this review.
Besides that, the broker offers 3 types of accounts, and each of them is associated with different spread ranges, leverage, and minimum deposit, while all of them take no deposit/withdrawal commissions, besides the use of the most used trading platforms such as Metatrader and TradingView.
easyMarkets is legit and licensed by all of BVI, FSA, ASIC, and most importantly, the CySEC license whereas the latter is considered a regulator for the financial services across Europe, setting the rules and observing the of reliable broker in the EU.
It could grab the attention of the website view the partnership with the famous football club Real Madrid FC, which definitely adds to easyMarkets opinion being a reliable broker since it is a partner of one of the most successful football teams in the world.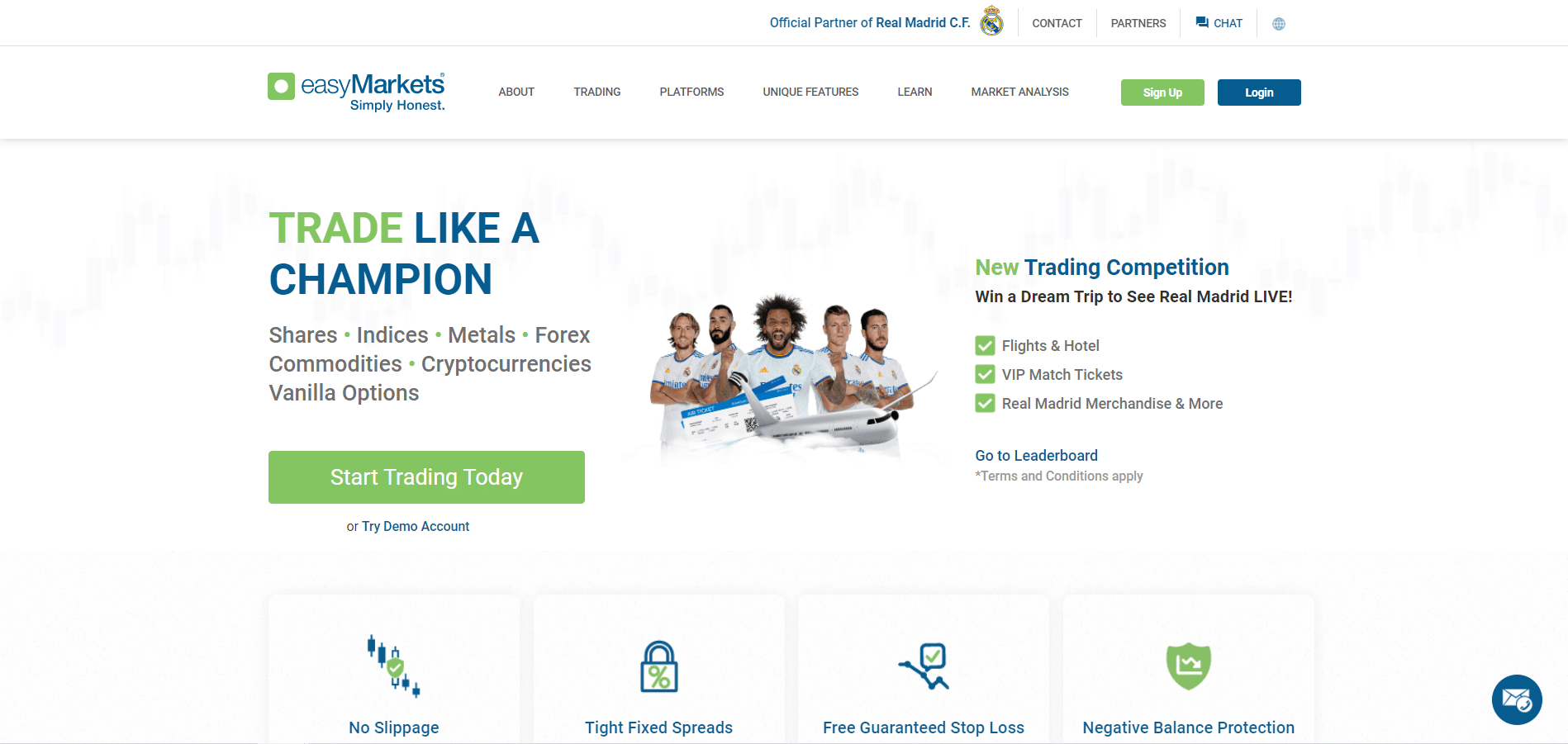 Registering Your Trading Account
It is quite simple to register your first account, very similar to registering your account with any other broker website. Once you find the "Sign Up" green box, you insert your email and create a password, followed by leaving your phone number, once this is done, you will receive a confirmation code as a first step of verification. Alternatively, you can register by connecting your google or Facebook account.
You shall not worry about leaving your phone number, easyMarkets can be trusted since the broker is regulated by high-profile licenses and regulatory authorities in Europe.
Once you verify that it is you registering the account, you could be requested to submit additional documents that verify your identity, this is a very important step for the broker to ensure that a legal and a physical person is registering the account, and not a bot, or a fraud account, these documents can include a personal identity card, driving license, a recent utility bill.
Furthermore, you might encounter a couple of questions regarding your expectations and your goal from trading, this is another important piece of information to provide because it helps the broker understand your expectations, your level of experience, and what are you looking to achieve from trading.
Once all that is done, you are ready to fund your account and start trading
Types Of Accounts
EasyMarkets Forex broker offers three types of accounts of the traders, which vary in features and minimum deposits.
The Standard account is the ground level account with a minimum deposit of $25 and variable maximum leverage between 1:200 and 1:400, beginner traders usually go for this type of account since it does not require depositing a lot of money, however, a $25 deposit should not promise considerable returns from trading.
The next type of account is the Premium, which requires a higher minimum deposit valued at $2,000 at least, however, it offers a tighter spread range than the Standard account, which means the broker is getting a smaller commission on the trading activities.
The highest type of accounts offered by easyMarkets is the VIP account, which requires a considerable amount of minimum deposit that is $10,000, but the catch here is that it offers the smallest range on the spread offered on the different currency pairs in Forex trading.
Add to that, a VIP trader is offered the services of the personal analyst that provides unique financial services over the telephone, informing the latest market news and the expected movements as a result of the market news, and even suggesting a market option given the experience of the analyst.
Worth mentioning that easyMarkets withdrawal and deposit are totally free and there are no charges or commission fees associated with that. Moreover, all the accounts offer maximum leverage between 1:200 and 1:400, and clients can open market positon using MT4 and WebTrader that are found on the website.
easyMarkes accepts almost 18 currencies and 1 cryptocurrency as a payment method, and all of these currencies can be used regardless of the account types the client is trading with.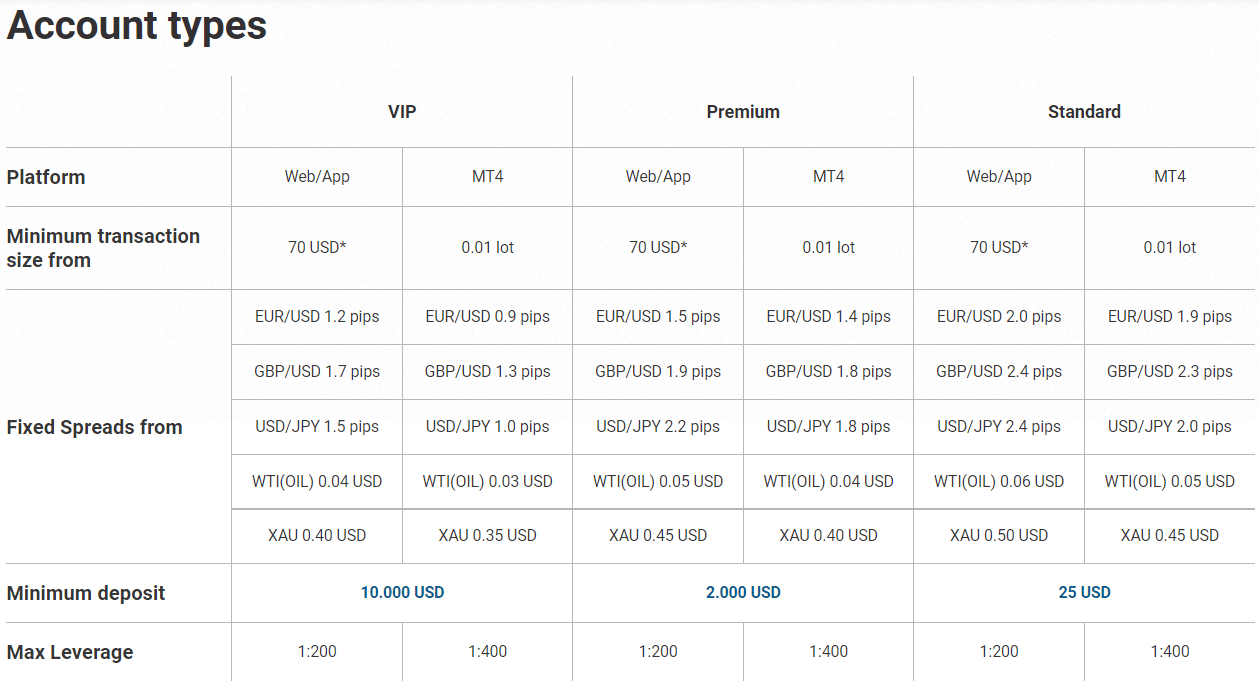 Is easyMarkets a Reliable Broker?
Quickly after it was established, easyMarkets got its first high-profile license. the ASIC license which issued by the regulatory body of Australia, and it regulates the trading activities between financial brokers and Australian traders. By now, easyMarkets rating has grown considerably since the broker is licensed by the CySEC, FSA, and BVI licenses, promoting the level of services provided by easyMarkets FX brokers.
Being regulated by these bodies plays a huge role in attracting a considerable amount of traders, given that CySEC license is the regulator body that regulates the financial services and activities across Europe, and entails that any misbehavior by the broker will cause the suspension of the business activities of the broker.
Besides that, ASIC license authority is very strict about the events of money laundering and illicit activities, and any suspect of misbehavior will cause the license to be revoked from the broker, making the broker unable to serve in the Australian market which is considered one of the important markets in today's trading.
Therefore, it is fair to say that easyMarkets FX broker is not fraud, and does not impose any threat to the capital of the traders, given the strict guidelines it follows under the light of many regulators observing the activities of easyMarkets brokerage services.
Tradable Assets
There is definitely no lack of financial markets provided by easyMarkets brokers, any registered trader can trade assets and CFDs on the Forex market, commodities, indices, stocks, cryptocurrencies, giving the trader a huge variety and tools to gain on their trades.
easyMarkets.com makes it easy for the traders to follow the markets since it provides a calendar that informs the trader what time does each market opens, and what days the market operates, and if there are break times or events that could stop the market.
Forex
Probably one of the most important traded assets, and something that every trader looks after, and with easyMarkets Forex broker, there are more than 50 currency pairs that can be traded, with fixed spreads that are depending on the type of account the trader has, with maximum leverage of 1:400.
Stocks
More than 100 corporations' stocks can be used for share trading using easyMarkets brokerage, and these belong to different markets whether it is from the NASDAQ stock exchange market, London stock exchange, or even Japan and Australian stock exchange. The broker offers variable spreads that change between different stocks and leverage of 1:20.
Indices
An index is the collection of corporations' stocks that usually operate in the same industry, for example, the NASDAQ index compiles tech-related companies, and the price of an index is determined by the activities of those companies listed in the index. and easyMarkets broker offers more CFDs of more than 10 corporations around the world for trading using fixed spreads and maximum leverage of 1:100.
Commodities
This type of trading looks like the traditional barter of goods such as coffee, oil, and etc. But today this has taken a developed form where many more commodities are being traded such as crude oil, natural gas, minerals, and natural resources. easyMarkets offers more than 10 commodities to be traded using fixed spread ranges and maximum leverage of 1:100 which can be different among different commodities.
Cryptocurrencies
The most trendy and exciting market nowadays is characterized by high volatility and rapid changes that can bring huge returns for traders. easyMarkets offer the main cryptos for its traders, these are Bitcoin, Ripple, Ethereum, Litecoin, Bitcoin Cash, and Stellar. The maximum leverage using the MT4 is either 1:10 or 1:20 depending on the cryptocurrency traded, while it can go to 1:50 for buying/selling bitcoin using the WebTrader.
How To Trade With easyMarkets?
The trader has the choice to select from three trading options offered by the website, these are the MetaTrader, and WebTrader, and Trading View.
Traders believe that easyMarkets can be trusted since it is offering market positions using one of the most popular and used trading platforms, as well as developing their own trader software, and using the WebTrader of the broker could be beneficial since it incorporates all the features and the offers that are provided by easyMarkets, such as deal cancellation and other options that are not available in MetaTrader or Trading View.
The WebTrader is available on any device, on the laptop/PC, tablet, or mobile phone application, which makes it easier for the trader to keep track of their investments in a timely manner, and have everything they would need from trading software.
Besides that, some traders prefer using easyMarkets MetaTrader4 since MetaTrader is the most commonly used trading software, and almost every trader knows how to navigate this software, it is easy to use and does not require any third-party interference, it can be directly installed prepared, and start trading.

TradingView is also one of the famous trading software used by market traders, and it could quite uncommon for a broker to offer to trade using TradingView, which adds a lot to our easyMarkets opinion since this broker is partnering with all the famous providers, and these trading platforms do not partner with an illicit or not reliable broker.
Deposits & Withdrawals
easyMarkets broker gives the trader the option to choose from a wide variety of depositing and withdrawing methods, and to process any deposit or withdrawal, it is possible to do so using credit/debit cards, e-wallets, online banking, wire transfers, and custom methods for different markets for example in China.
All the deposits methods have no commission or service fee for the broker, so it is free to deposit with a minimum amount depending on the type of account the trader has. The processing time is different among different methods, so for credit/debit cards, it is almost instant, for e-wallets it can take up to 1 working day, while online banking can take from 2 hours to 5 working days depending on the country.
While to withdraw, the same methods can be used, and the minimum amount of withdrawal be given only for bank wire transfers, while every other easyMarkets withdrawal method such as credit and debits card, as well as e-wallet, has no minimum limit. To withdraw any money using the wire transfer option, the amount shall be $50 at least.
easyMarkets Promotions
In an attempt to attract as many traders as possible easyMarkets Forex broker offers several promotions and offers, these programs include bonuses, referral, and partnership programs.
Bonuses
easyMarkets bonus programs aim to give every new trader the financial assets to start trading and to be able to trade on higher bids expected higher returns from the market positions, with considering that these bonuses are for trading purposes only, a trader cannot transfer or withdraw them.
Welcome bonus
A generous program that intends to reward new arrivals with an additional amount of money that assists them elevating their challenge and become projected for higher gains, this bonus ranges from 30% to 50% depending on the minimum deposit that is done by the trader, and the maximum bonus amount can be given is $20,000.
Sign up bonus
This bonus is given only after the instruction of the broker, it is offered occasional rather than structured way, this bonus amount is determined on the moment the new trader registered and verifies the account, once verified and ready, the trader may receive an SMS depicting that they are receiving a sign-up bonus which can be used for trading, and any money gained from trading this bonus can be withdrawn only if 5 lots are traded at least, and profits are at least $50.
Referral program
Another attractive program for existing traders is the referral program where existing traders can invite others and introduce new traders to the platform, and once the newly introduced trader starts depositing and trading, the trader making the referral will gain sum based on the amount of money being deposited and traded by the invitee.
Affiliate program
Anyone can register to this partnership program with easyMarkets, where the partner will be provided a whole package of systems and tools to keep track of their leads, and will earn a generous fraction from the sales, as well as exclusive access to a different aspect of the trading platform.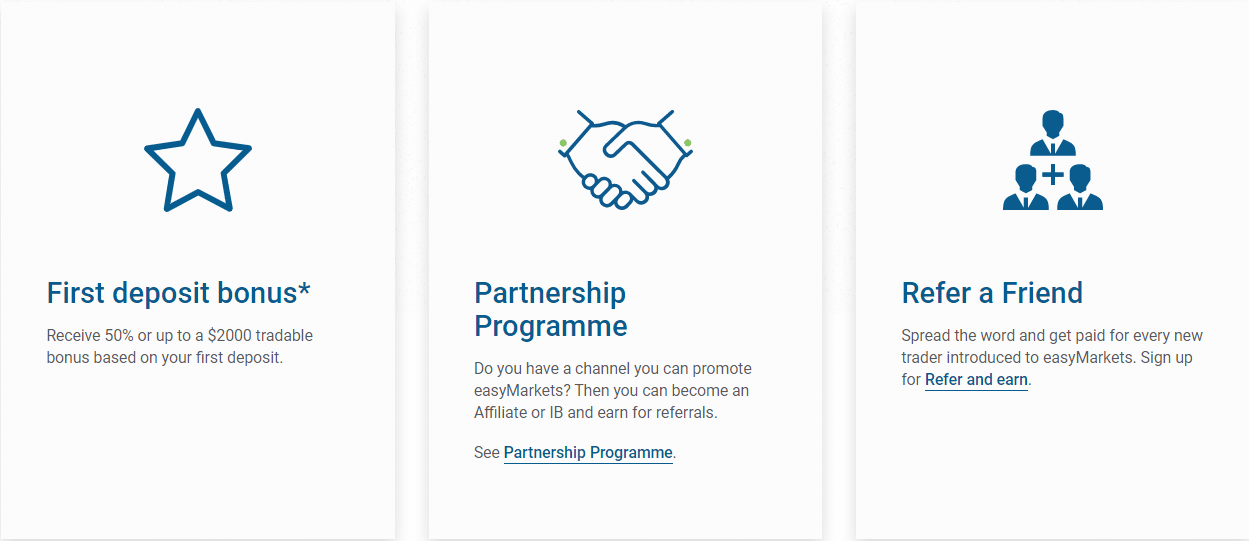 Customer Support
Probably the most frustrating thing a trader could face is the lack of support from the website admins, especially when it comes to the money that the trader is investing in the website, or when the trader wants to inquire about something very urgent.
There are several points of contact with easyMarkets which ensures the traders that they got their backs covered, either via the live chat function on the website where the live team is rapidly responding to any query.
In addition to that, other ways live chat can be done Facebook, Viber, and WhatsApp with a provided number for each application. The support email and other departments' emails are also provided with a disclosed address for the location of the office.
Finally, easyMarkets broker caters to different markets and different languages, as the website is available in 5 other languages other than the English language.
Final Thoughts
It is fair to say that after these different easyMarkets broker opinions, the broker is highly reputable and reliable, operating under several licenses in different continents and working closely in different markets, attracting traders from countries and cultures.
Probably being a partner with reputable organizations such as Trading View, MetaTrader, and most important Real Madrid Football Club are the most indicators of trust a trader is looking for. In addition to that, the innovative features provided such as deal cancellations, freeze rate, and negative balance protection are the options that attract any trader.
easyMarkets FX broker uses all the tools and evidence to prove that easyMarkets is not a scam and not a fraud since it is regulated with guidelines that are strict to any illicit activities, against any money laundering or financial scams.
0

out of

5

based on

0

reviews.
Overall rating: