Excotrader broker review

In this review, you will find out important information like bonuses, commissions, spreads, licenses, and trading platforms Excotrader offers to their clients. Let's find out how reliable Excotrader Forex broker is together.
Excotrader Forex Broker History
Excotrader Forex broker was founded in 2018 and the website is owned and operated by RSG Finance Ltd. Registration number 25143 IBC 2018 by the Registrar of International Business Companies. The broker is registered in Saint Vincent and the Grenadines. Despite being a relatively young broker, the company already managed to get multiple awards in 2021 and 2022 as Best ECN Forex Broker Africa 2021, Best Forex Educator 2021, Wealth Management Education 2022, and Top Mentoring Program 2022. Broker's office is located in Suite 305, Griffith Corporate Center, Kingstown, Saint Vincent and the Grenadines. Additionally, they have offices throughout Europe and Africa, we will provide details about these offices and their phone numbers below. Excotrader offers trading various trading instruments including Forex, cryptocurrencies, commodities, and indices. Cryptocurrencies are also accepted for deposits and withdrawals.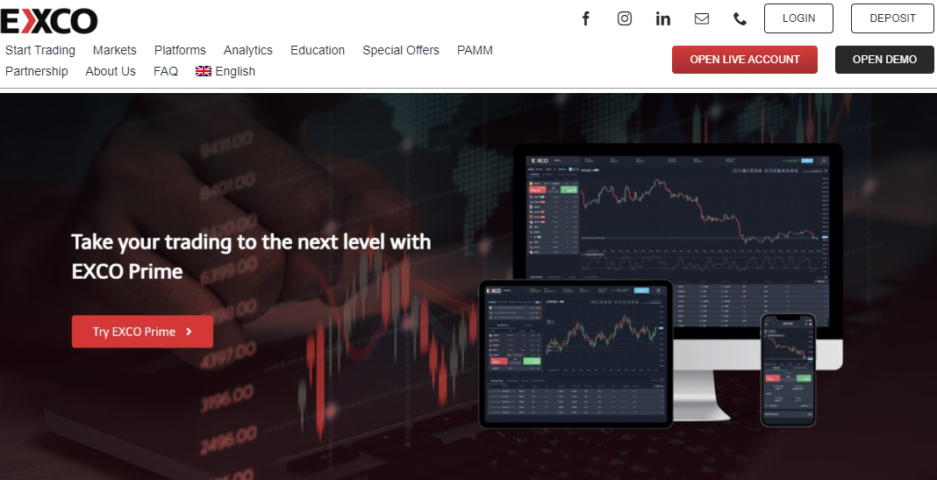 The main focus of an Excotrader broker seems to mentor successful traders to make long-term clients who are consistently making money and enable Excotrader to make steady revenue from commissions. This is a very important and good approach by the broker and enables long-term mutually beneficial relationships between the trader and the Excotrader broker. They offer accounts focused on maximum flexibility and with low commissions.
Excotrader Broker Review of Accounts
There are two main account types offered by Excotrader EXCO ECN and EXCO STP. Both accounts offer decent trading terms but, there are slight differences between the two. The leverage is 500:! For both ECN and STP accounts. Spread starts from 0.5 pips on ECN, with a commission of $2 per side. The minimum deposit is $100 with a stop-out level of 30%. It offers MT4 and mobile trading platforms. Spreads from 0.5 pips are low enough for scalping. Scalpers are traders who prefer to make many trades throughout the day with small profits, and commissions and spreads can eat up most of these profits. With low spreads and commissions, scalping is possible for ECN account holders. For STP accounts, commissions are zero, but the spread starts from 1 pip. The minimum deposit is $50, with the stop-out level and trading platforms being the same as the ECN account. This account is more suitable for swing traders and day traders as it has zero commissions and low spreads. Both account types allow traders to use hedging and automated trading software. Both accounts have a negative balance option feature. Negative balance protection is a very important aspect of trading, as usually leveraged trading is risky and traders can lose more than their deposits. With negative balance protection in place, traders will never lose more than their account size. One-click trading and market execution are other useful features offered by Excotrader. The 1:500 leverage offers the ability to amplify buying power 500 times, with negative balance protection in place the leverage can be used without any fear of something going wrong. Just make sure to invest no more than you can afford to lose.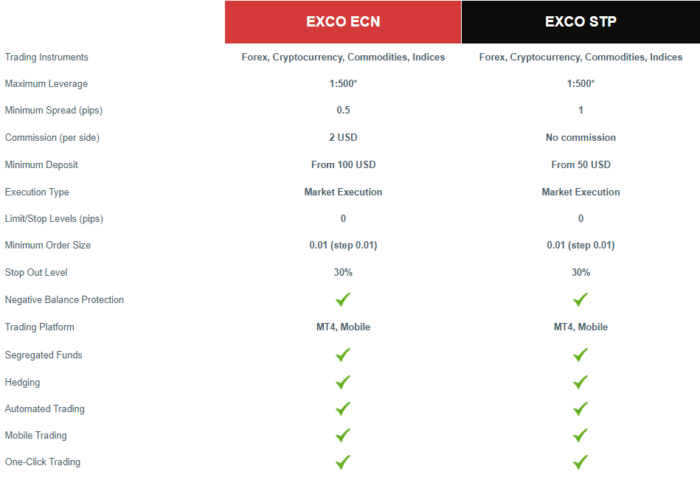 Excotrader Reviews of Trading Platforms
Excotrader offers advanced trading platform MetaTrader 4 or MT4 for both desktop and mobile trading. The good side is that the same credentials could be used on desktop and mobile platforms, and it makes it easy to track trades and manage them. But this is not all, they offer EXCO Prime trader, which also can be used on all platforms. It is an extensive trading platform with advanced features and offers a full trading experience. It can be downloaded on smartphones as well. On EXCO Prime traders can use the social trading option where traders can follow other successful traders making the learning and trading process easier. It is important in trading to learn from experienced traders, and this social trading feature definitely is of great value. Copy trading is also available on the dedicated Excotrader Prime platform. Both MT4 and EXCO Prime are available for Windows, iOS, and Android systems. Web trader can be accessed via browser from anywhere.
Excotrader Forex Review of Extra Features
There are various educational and research methods available on the Excotrader broker web page. There is a dedicated section on the website for education. For educational purposes, they offer live trading videos, webinars, mentoring, articles, and trading courses.
Live sessions are every: Monday at 15:00 and Thursday at 14:00 (GMT+1). Important to note that, the Excotrader mentoring program was awarded as Top Mentoring Program 2022. Because of this, their mentoring program could be a temptation to try out. Generally, in trading, it is essential to learn from practical professional traders who are successful because trading is not simple, and it requires extensive knowledge and discipline. Articles will provide some useful information about trading.
In addition, Excotrader offers excellent research tools, including market news and Forex calendar. The broker posts articles on market analysis daily for popular Forex pairs. Forex calendar is very important for two reasons: first, news traders can use economic news and indicators to make decisions, and second, all traders despite their trading style need to check the economic calendar for important macroeconomic news and events before opening any trade.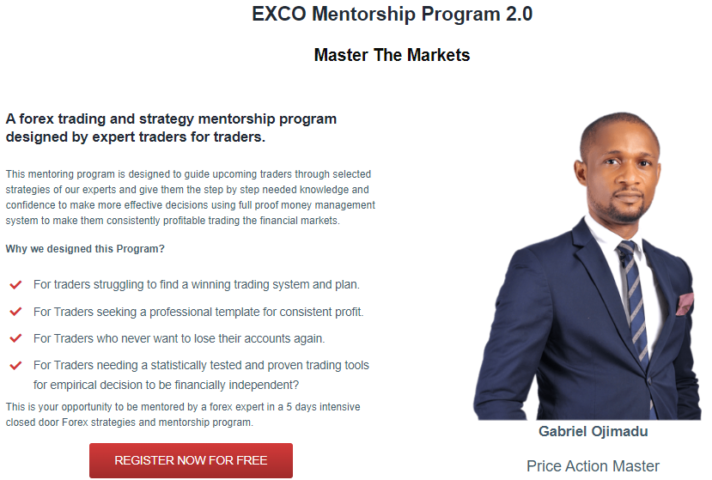 Excotrader Review of Customer Support
When trading online, responsive and timely replies to your questions are crucial. Excotrader offers excellent support, with live chat available for messenger and as a guest. It is super comfortable to use the live chat. Support is available 24/5 so make sure to contact them during working days.
Excotrader has offices in the United Kingdom, Nigeria, the Philippines, and South Africa. Phone numbers for respective offices are provided on their website for direct contact. This is comfortable for residents of countries Excotrader has offices, but for international traders live chat and emails are more convenient and fast. The website itself is available in eight different languages and offers most of the necessary information for trading.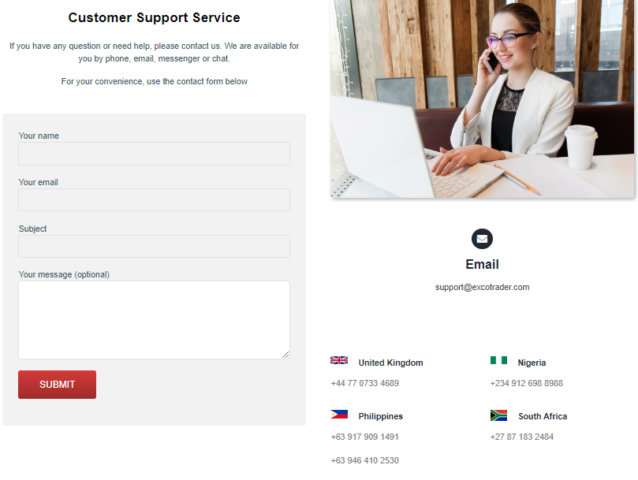 They are available via messenger, and chat and can be also contacted via email and phone. It is possible to leave a message and they will answer it.
Excotrader Deposit and Withdrawal
Deposits and especially withdrawals are the most critical parts of trading. It is important for traders to have the ability to withdraw money as easily as they can deposit. Excotrader offers many methods for maximum convenience. There are many deposit methods available including wire transfer, Visa/Mastercard, Dusu Pay, Bitcoin, Ethereum, Litecoin, Tether, Payment Asia, and Local Payment System. Deposits are instant and trades can be made right away without interruptions. Withdrawal methods in addition to depositing methods include Verve, DragonPay, and DirectDebit. This shows how the broker is focused to process withdrawals fast and with more methods available for withdrawals than deposits. In order to withdraw money on the same day, the request has to be done between Monday through Friday, 8 am to 7 pm. Cryptocurrencies will provide the fastest deposit and withdrawal experience because of their underlying blockchain technology being faster than many traditional payment methods like wire transfers.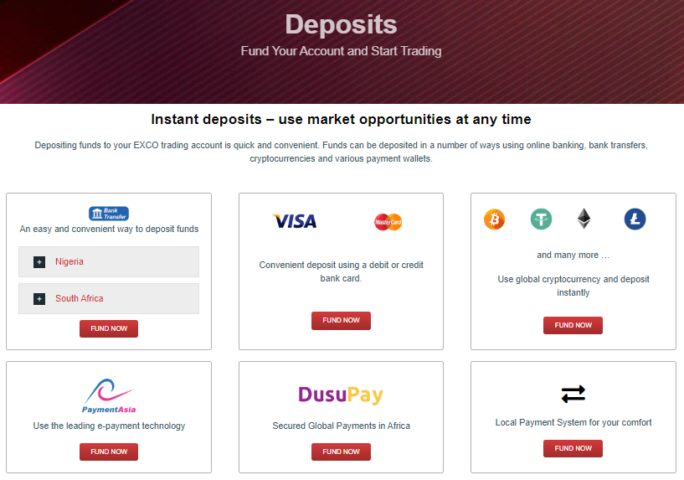 Excotrader Review Conclusion
Registered in Saint Vincent and Grenadines, Excotrader offers trading services with multiple asset classes including Forex, cryptocurrencies, commodities, and indices, with efficient fees and spreads. There are two main account types that offer flexibility between scalping and day trading. Their support is excellent and very responsive, and the broker offers extensive educational materials. There are daily analytics and other research tools available too. Focused on mentoring new traders to accumulate a base of successful traders, Excotrader seems the broker not to miss. While being a young broker on the scene, they already managed to get multiple awards in 2021 and 2022. They offer multiple methods for deposits and even more methods for withdrawals. Deposits are instant and withdrawals happen on the same day when requested during working hours. Cryptocurrencies are also accepted for deposits, which is a very progressive and modern approach in contrast to many other Forex brokers. Together with the MT4 trading platform, Excotrader offers its own Exco Prime trading platform available for desktop and mobile users. All trading platforms are available for all devices and operating systems. Trading can be started from as low as $50 with zero commissions and spreads from 0.5 pips. From all the information described above, Excotrader seems a reliable young broker that is focused on building traders' community and providing traders with fast services and extensive educational and mentoring materials.