Is FPMarkets reliable broker? Is it licensed to trade?

The financial market is becoming more and more appealing for people around the world, and we are seeing more and more traders around the world due to the ease of starting your first trading account and the facilitators in almost every trading website.
In today's guide for FPMarkets review, we will be looking at one of Australia's famous brokers, FPMarkets Forex broker, whether you shall trust it or not, you can make your decision after this in-depth analysis of the broker.
A glance at FPMarkets financial broker
Found in 2005, FPMarkets is one of the growing brokers in the Pacific Ocean continent of Australia, ever since, it has focused its attention on the local traders mainly since it was granted the ASIC license issued by the regulator body of Australia.
The Australian Securities & Investments Commission governs all the financial services in Australia, making sure that every broker including FPMarkets a legit broker as it abides by the established rules that have been in the country.
FPMarkets Forex broker offers its traders the opportunity to open positions in the market using Metatrader and IRESS trading software, whereas two accounts types are offered in the Metatrader software, and 3 types are offered to use in the IRESS trading software.
However, the leverage seems to be offered only in the Metatrader and it goes up to 30:1, and the spread is variable per assets, but it starts from zero pips in the Raw account offered via using MT4 or MT5.
The withdrawal and funding methods are very straight to the point, as FPMarkets Forex broker accept most payment methods, from credit/debit card to e-wallets, with defined commissions fees and processing times.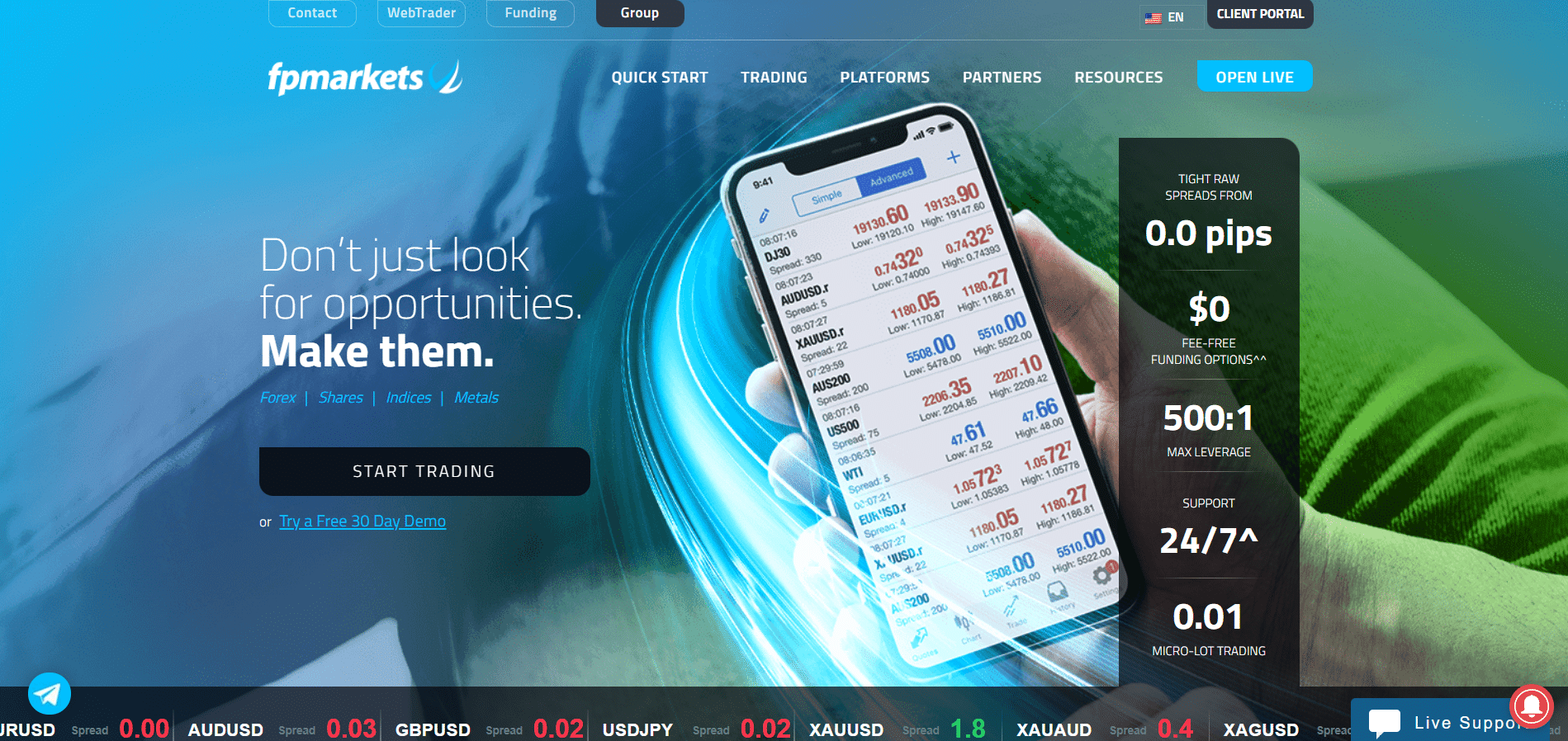 Is FPMarkets broker safe?
Unlike many offshore brokers that get their license from remote locations, FPMarkets gets its license from a regulatory body that has been through some serious reforms, and that is considered of a high rank, not to the level of FCA and CySEC though, but it is a big winning factor for this broker.
ASIC license of Australia imposes a strict framework on the way financial institutions offering services to the Australian market shall behave, and FPMarkets is not a fraud since it abides by the guidelines of the regulatory body in Australia, which makes it very reliable and trustworthy.
The regulations imposed in Australia regarding financial services have been through major developments, and ASIC has elevated the country's trading reputation from being dubbed as scam and fraudulent, to a highly reliable trading location, that fights against money laundering and financial crimes.
Getting your trading account in FPMarkets
It is quite easy to get yourself registered and to start trading using FPMarket brokerage, once you find the blue box saying "open live" you go to insert your personal information, similar to what you would do with any other registrations process, you can however choose if your account is for individual use, joint or corporate use, as the brokers cater for the different possible usage of their services.
A new trader can also register using a google account or Facebook account, which is not very common among brokers' websites. Further, you will be asked some questions that determine your goals and your expectations, these questions help you broker understand your level of experience and what is expected from both parties.
You might be asked to submit further documentation that verifies your identity and your credibility, in order to minimize the registration of unknown identities as ASIC carefully checks the criminal background of every trader registered with a regulated broker, as it fights against money laundering and financial scams.
Accounts types
FPMarkets trading platform offers the trader a variety of options to trade, one of these options is using the IRESS trading software, which has its own trading accounts, different from the Forex and Metatrader accounts. These different accounts have different minimum deposits and offer different features.
Forex accounts types
These accounts are applicable for any other tradable asset as well, as long as it is using the Metatrader or the Webtrader of the broker.
There are two accounts types that are offered by the FPMarkets FX brokerage, are the Standard and the Raw accounts, both require $100 AUD or equivalent as a minimum deposit, with different spread ranges, with the Standard account starting with 1.0 pips, while the Raw account starts with 0.0 pips.
Both accounts have a maximum leverage of 30:1. However, The Raw account is considered to be the expert's choice since it offers tighter spreads, with low commissions on the trading activities. Once a trader promotes their Raw account to pro-type, they can use extended leverage of 500:1
The other type of accounts, the Standard account, which takes zero commissions on transactions and trading activities, on the other hand, the spread starts higher than the Raw accounts, and it starts from 1.0 pips.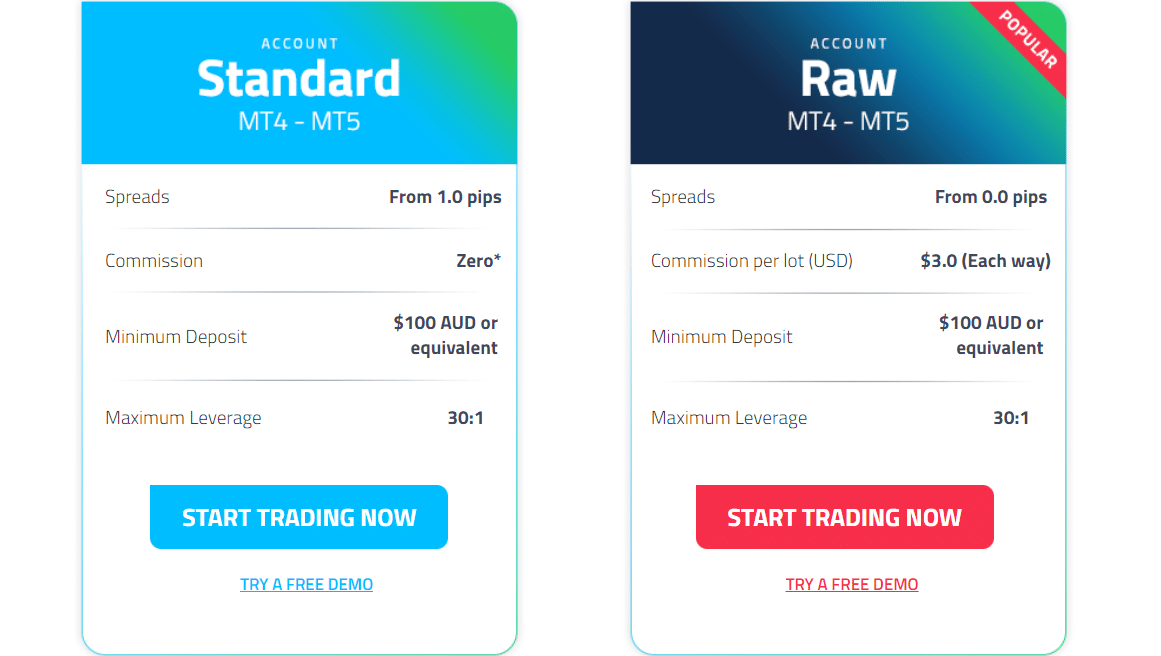 IRESS accounts types
There are three types of accounts offered using the IRESS trading platform, these are Standard, Platinum, and Premium account. What makes these types of accounts on IRESS different is that they require a higher minimum deposit, starting from $1,000 on the standard account, then $25,000 and $50,000 for the platinum and the premium accounts respectively.
The FPMarkets broker promotions in trading with IRESS are different from trading with MT4, MT5, or the WebTrader, as they usually come in the form of a fixed minimum commission in addition to a commission fee in the form of a percentage, all are given in detail on the broker's website.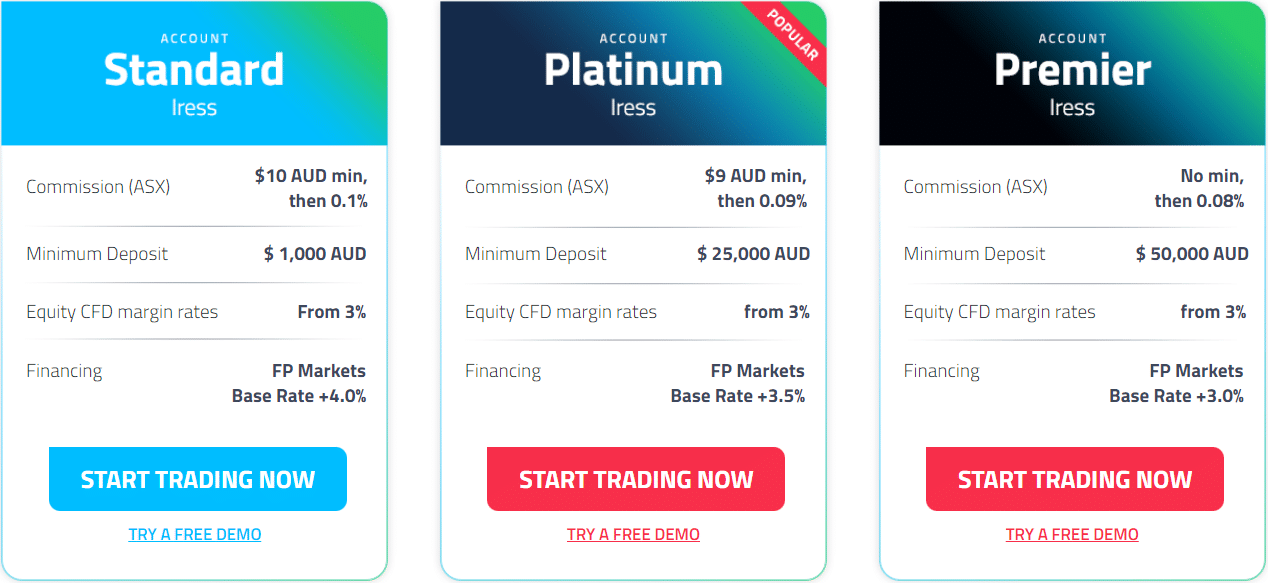 Islamic accounts
In an attempt to attract more traders to their platform, FPMarkets offers Islamic accounts to their traders who take into consideration the religious and cultural factors into account.
Since the Sharia Law prevents the accumulation of gains coming from interest rates and any other non-trading activities. FPMarkets broker can be trusted because it caters to the regulations proposed by the Islamic rules, and traders can open two types of Islamic accounts.
The Islamic Standard account and the Islamic Raw account are offered with different spread ranges, while both require a minimum deposit of $100 AUD or equivalent in other currency, almost the same accounts feature with the Forex accounts types (Standard and Raw accounts)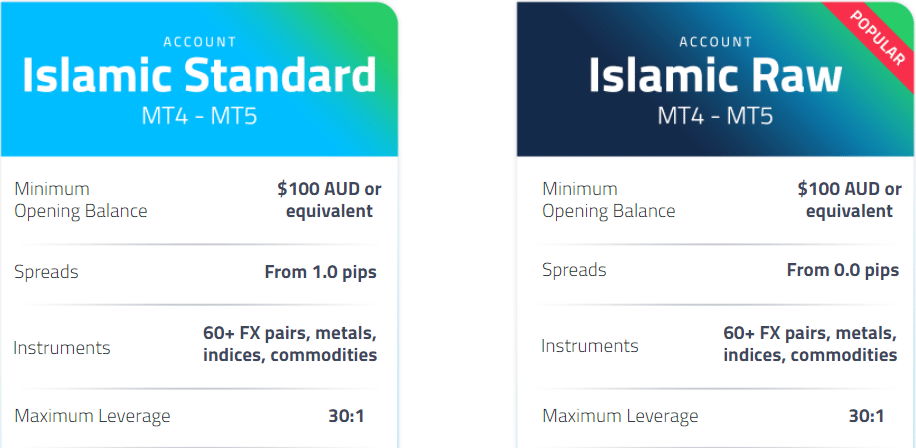 Payment methods
The ASIC license that governs the activity of FPMarkets does not limit the movement of funds between the broker and traders, as long as they are not breaching any anti-money laundering regulations. Therefore, FPMarkets Forex withdrawal and deposits accept most of the payment methods the trader could use, while the commission fees and the processing times are clearly stated on the website.
Adding funds
It is very easy and quick to add funds to your trading account as the broker accepts a wide range of payment methods, such as credit/debit cards, E-wallets, Crypto wallets, as well as bank wire transfers.
E-wallets and crypto wallets are usually faster and take zero or low commission fees, while the bank transfers can take longer depending on the bank requirements, and it has its fees that are charged by the trader's bank as well in form of one of these currencies: AUD, USD, GBP, EUR, CAD, CHF, HKD, SGD, NZD, JPY.
Broker to a Broker payment method is also accepted with FPMarkets since many traders work with different brokers and prefer to move their funds along different websites, this method applies its own commission fees and processing time that are clearly stated on the website under this section.
Withdrawing your funds
Similar to adding funds to your account, FPMarkets withdrawal options also vary, and consider the different options preferred by different traders from e-wallets, crypto-wallets, debit/credit card, and wire transfers.
Most of these methods take 1 business day to be fulfilled, however using the wire transfer option can be different since the banks have their own requirements. Traders can enjoy no fees options on withdrawals using PayPal, domestic bank wire transfers, and credit/debit cards.
Tradable assets
There is absolutely no lack of assets that can be traded with FPMarkets broker, as traders have the chance to open positions on almost every financial market such as Forex, stocks, indices, cryptocurrencies, commodities, metals and etc.

Forex trading
FPMarkets forex trading broker offers more than 60 currency pairs to trade on the largest financial market, making it the largest trading option on this platform, where spreads are variable starting from zero pips, and leverage that can go up to 30:1
All the tradable currencies are shown on the website with the minimum and the maximum spread range offered per each trading account.
Share trading
Top corporations' stocks CFDs can be traded also with FPMarkets, whether from the Australian stock exchange market or from the US stock exchange markets, a trader can pick up from the most trending corporations to buy and sell their stocks CFDs.
There are +100 stocks CFDs offered by FPMarkets, which are available either via Metatrader or IRESS trading platform, while the margin range is also indicated in the list of stocks offered by the broker.
Indices trading
Top stocks indices such as NASDAQ 100 and S&P 500, as well as local indices such as the ASX index, are available to be traded using FPMarktes broker.
There are more than 15 indices to be traded on with a variable spread range that starts from 1%
Commodities trading
Probably one of the most classic ways of trading is the selling and buying of commodities such as crude oil, coffee, natural resources, and different precious metals.
More than 10 commodities can be traded with a maximum leverage of 30:1 and low variable spreads that are clearly stated on the website in this section.
Trading Platforms
FPMarkets offer their traders different ways to trade and make money, by using the WebTrader, MetaTrader, and the IRESS trading software, and each of them offers different options and features catering to the traders' preferences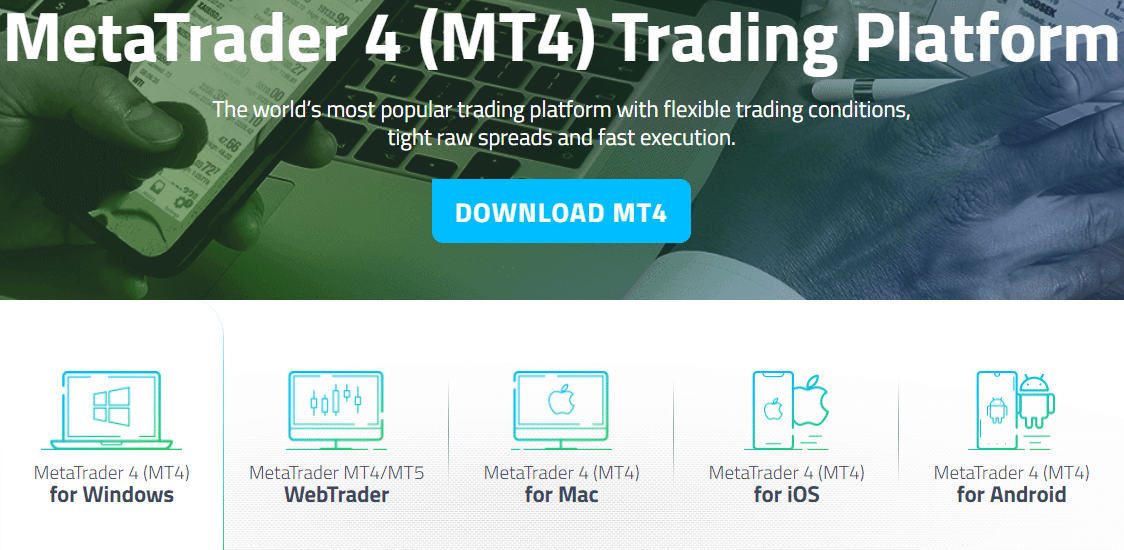 WebTrader
This could be the easiest way to trade, as the FPMarkets trading platform can be accessed directly on the website using any browser, and directly logging in to the trader's portal.
The web trader developed by the broker is a very sophisticated tool and can look very similar to the same view and features offered by famous trading software such as MetaTrader.
MetaTrader
The most common trading software in its latest versions MetaTrader 4 and MetaTrader 5 can be used either directly from the website, or by installing FPMarkets MT4 and FPMarkets MT5 from the link shown in this section. The installation process is clearly shown on the website, besides the technical requirement for the device to install the trader.
The adaptation of MetaTrader makes FPMarkets a legit broker, because this trading software only partners with reliable and trustworthy brokers, since it is a very popular software, working with other reliable financial brokers.
MetaTrader is also easy to use and is compatible with mobile phones and tablets powered by any operating system, iOS or Android.
Demo Trading
Besides using the real trading software, FPMarkets broker incorporates the demo account where the trader can basically open positions in the market without using their capital, on the demo account a trader is given virtual money to use for market positions, and the platform works exactly the same other trading software does, in a simulation of the real-life trading situation.
Some traders prefer going for brokers that have demo trading accounts available. Especially new traders who shall get themselves familiar with the trading software first before starting any real trading activity, add to that, the demo trading account can be used by both new and experienced traders to develop their own trading strategies where they can test it before taking it to real trading.
Customer Service
The contact points are clearly defined between both the broker and the traders, which makes FPMarkets broker not a scam since there are clearly set contact numbers and emails.
There are local and international telephone numbers, besides a toll-free telephone number that are responsive and are at the help of the clients, linking the trader to their broker directly.
In addition to that, the office working hours, days are clearly shown on the website, as well as a map for the geo-location of the broker's office, which adds nothing but transparency to the broker's image.
Final thoughts about FPMarkets
Given the last updates about the financial service environment in Australia, FPMarkets opinions emerged as one of the popular financial brokers on the continent, offering a huge range of services that are ensured by the fact that FPMarkets is a secure broker and regulated under the authority of Australia.
The variety of tools and tradable assets offered by FPMarkets are fairly what is every trader is looking for, different instruments on different markets using different trading software.
Since the authority of Australia does not impose any restriction on the money movement between traders and brokers across the country and abroad, this really helps the brokers to accept most payment methods, leaving the option for the trader to choose the methods they are more familiar with.
0

out of

5

based on

0

reviews.
Overall rating: