FreshForex Review
FreshForex, the trading company of Riston Capital Ltd, was started in 2004 and is located in St. Vincent and the Grenadines. It's clear that this company has a long history but not everything that has been around for a long time can be trusted and is worth your time. We're here to answer the question can FreshForex be trusted?
FreshForex Regulation
Regulation is an important criterion for any broker you're considering. Whether you're a beginner or a seasoned trader, it's essential that any broker you are seriously thinking about investing with is regulated so that if anything goes wrong, you are covered and can be compensated.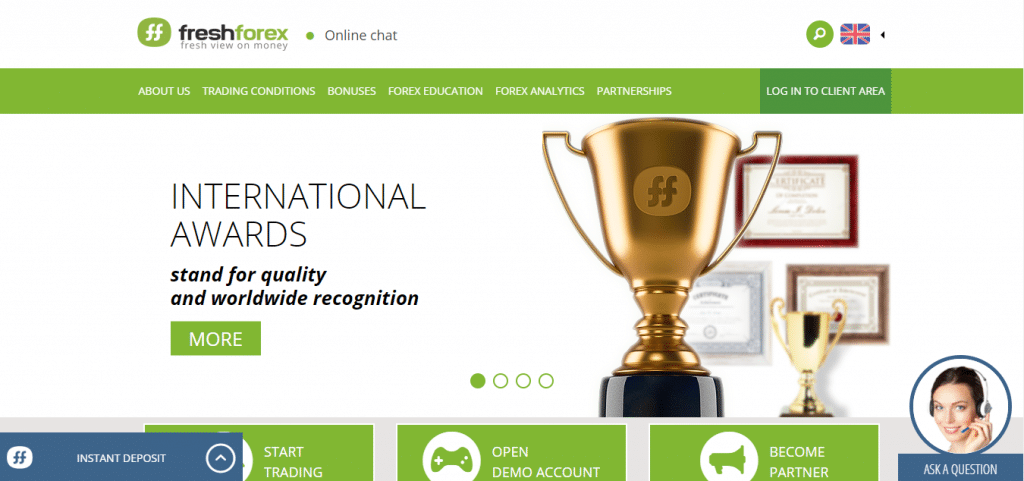 Unfortunately, FreshForex is not regulated by the financial authority in St. Vincent and the Grenadines. This alone is a serious red flag and should be the reason for you to cross FreshForex off your list of possible brokers.
FreshForex Customer Support
To get in touch with FreshForex, you can either use the live chat, call, email or use the online form.
We like to see brokers with multiple communication channels and we applaud FreshForex for doing this but the customer service itself is dismal. It appears FreshForex opinions of you and its other clients are that you all are nothing more than a way to earn money and not actual people with lives, families, hopes, and dreams.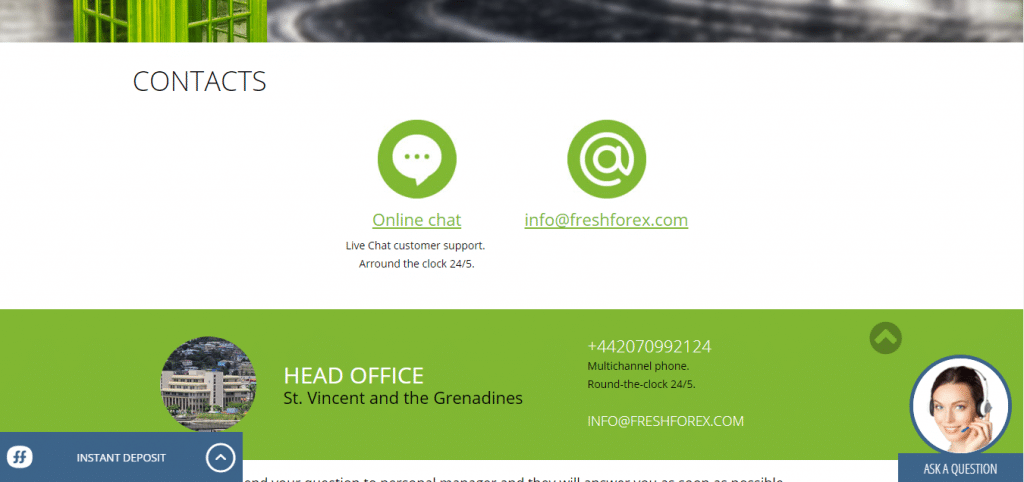 The FreshForex team has proven itself a poor excuse for a forex broker. How it has managed to remain in business for this long is quite shocking. A simple search reveals a plethora of negative FreshForex reviews from traders who have been flat out robbed of their deposits and profits by this fraud broker.
FreshForex Accounts
FreshForex offers three types of accounts: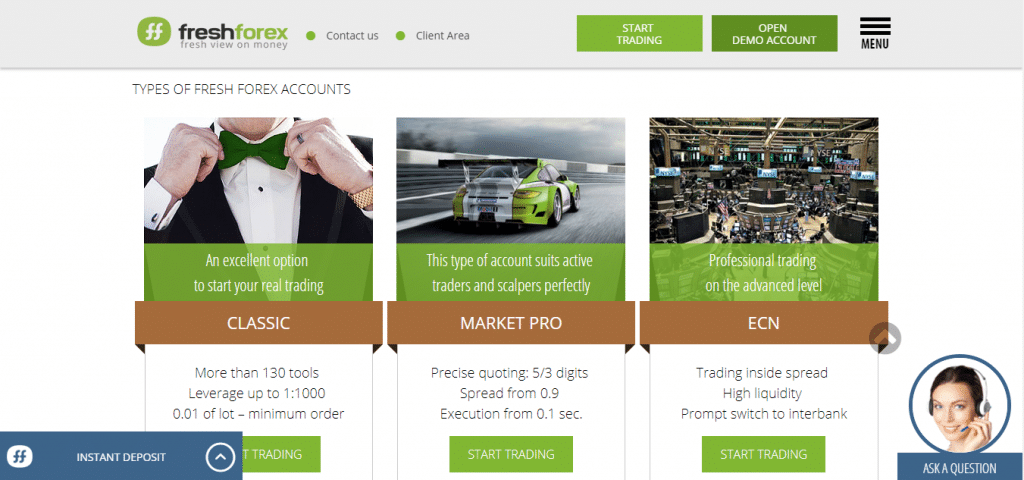 None of these three accounts have a minimum deposit, however, FreshForex does have a recommended minimum deposit, which can only be seen as a marketing ploy. Each account also uses a market execution for its order execution. There is no minimum order size nor are there any maximum total volumes. There are also market swap rollovers for each account and a 50% margin hedge and expert advisors available for each account as well.
Classic Account
This account grants you access to both the MT4 and MT5 platforms. There's a leverage o1:25 – 1:1000 which requires a margin of 0.1%. This account has fixed spreads which start from 2p with the same minimum limit and stop level. The maximum order size is 20 lots with the maximum being 100 lots. No commission is available with the exception of CFDs on the investment portfolio and corporate stocks.
Market Pro
This account only has the MT4 platform available. It's recommended minimum deposit is $400 and its leverage is 1:25-1:500. Floating spreads starting from 0.9p.. There's no minimum limit or stop level and the maximum order size is 100 lots. No commissions are available except for investment portfolios.
ECN Account
MT4 and MT5 platforms are available for this account. The recommended minimum deposit is $2000 and the leverage is the same as the Market Pro account, 1:25-:1:500. This account has the lowest spreads which start from p and there's no minimum limit or stop level. Trading inside the spread is also allowed. The maximum order size is 10,000 lots and commission starts at 0.003% per contract.
FreshForex Bonus
One of the ways many brokers attract new clients is through the use of bonuses as well as competitions and offers. The FreshForex scam is no different and has multiple offers as a way to attract new, unsuspecting clients, and retain some of their current clientele.
As of the writing of this interview, FreshForex has six different promotions going on. The most notable one being the Pushup Bonus of $200 which has the image of a women's bra filled with cash. How you feel about that is up to you.
In regards to the bonus, it is a no deposit welcome bonus that is offered on to new clients. No deposit bonuses are a great way to help you start trading, however, the case with many brokers is that it comes with some ridiculous terms. So even if you do make a profit, you have a trade an extremely high volume in order to do any form of withdrawal. This is undoubtedly the case with FreshForex as many traders have shared their experiences on forums across the web.
FreshForex Platforms
The MetaTrader platform is well known throughout the online trading world and is used by all types of brokers. While many only employ the MT4 platform, FreshForex surprisingly offered the more complex and less popular MT5 platform. On the surface, this may seem to make FreshForex legit. After all, both of these are highly respected platforms.
However, simply because FreshForex offers both of these platforms is no reason to ignore the red flags that show up whenever you look into this broker. MetaTrader platforms are popular and quite easy to access which is why untrustworthy brokers, as well as the revered and trusted ones, use them.
FreshForex Review Conclusion
There are many attractive things about freshForex, the well-designed website, generous no deposit bonus, multiple trading platforms and even the false positive online reviews.
However, when you look beyond that, you see the true FreshForex fraud. It is a broker that only out to line its owners' pockets and empty yours. For your sanity and the safety of your money, we advise you steer clear of FreshForex.