FWT Markets broker review

Today we would like to provide a detailed analysis of FWT Markets and provide you with legitimate FWT Markets reviews. Once you go to the website, it seems like a reliable broker to go with. However, in reality, it is not. There are too many contradictions that might be found right one the surface if you would just dig a bit deeper. Just by conducting small research, we found out that it is pretty much impossible to trace it the license of the broker is valid. The website home page tells you that there is a certain authorization number of the company through which you shall be able to trace the company in the register. Well, guess what? You can't. The 44133 authorization number links you to the completely different company. FWT Markets was not even bothered to provide a link for the regulation website. Accident? If you would ask us, no, we don't think so. That does not mean the broker is a scam. However, that definitely cannot give the positive response to the question whether can FWT Markets be trusted or not.
Financial Wealth Trading Markets (Pty) Ltd declares itself as a Financial Service Provider (FSP) that was authorized by the Financial Sector Conduct Authority (FSCA), previously known as the Financial Service Board (FSB).
The platform is currently offering MetaTrader 4, which was, notably, upgraded last time about 3 years ago. That, in turn, goes against the statement of the broker that it is working with innovative and upgraded platforms only.
The FWT Markets broker allows choosing from different payment methods: Visa, Visa Electron, Master Card, Maestro, Neteller, Wire Transfer. Which, well, is quite a wide range to go with.
Once you authorize your account, the broker promises to give you a 30-dollar FWT Markets bonus. You shall just create an account and provide documents needed. When those are officially approved, the bonus will be transferred to your account.
When you go to the home page and scroll down, the website tells you that with a just a 100-dollar initial deposit, you can create an account. In reality, the minimum initial deposit is $150 for the standard account and $100 for the mini one which has its certain conditions that will be discussed later on. Oops, another missed-out detail. The leverage range offered is stated to be 1:200 at first, however, it varies from an account to account as well. And trust us, that is not it, and there is so much more to come in that article, so keep on reading.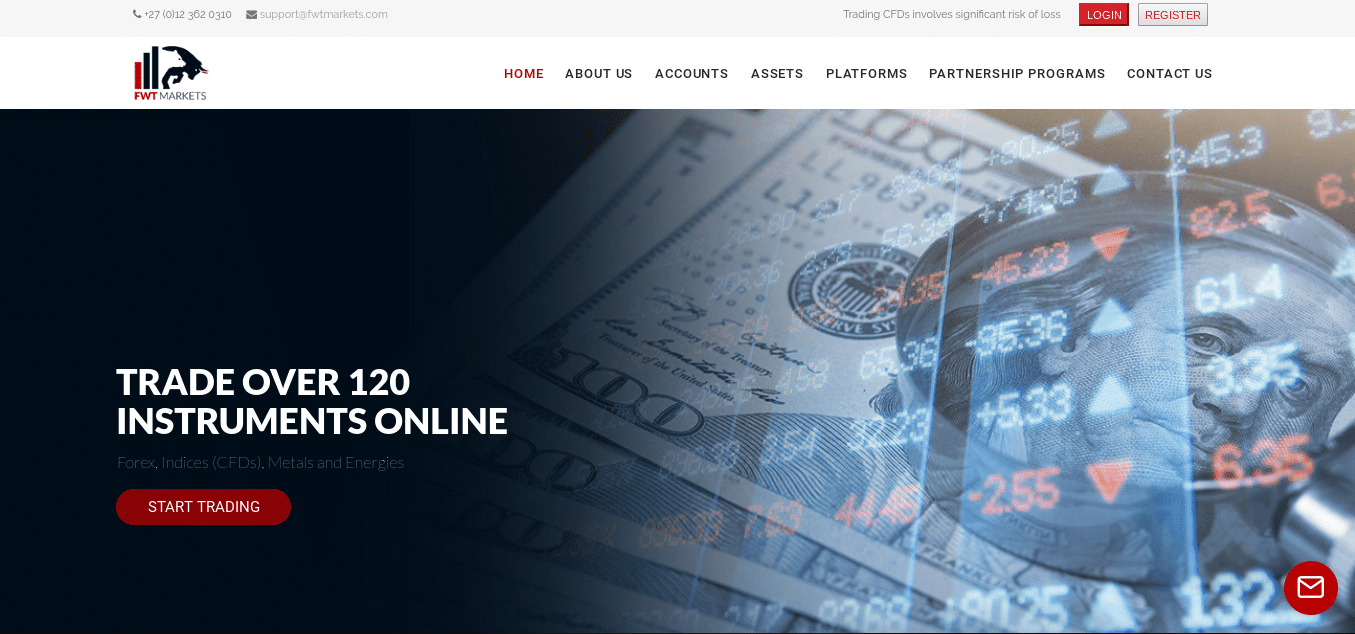 Need more details? Here you go.
Location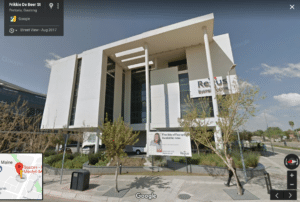 The FWT Markets broker provides an address for their office in Pretoria, South Africa on its website. If you would google it, you'll find out that the address provided goes for the building that provides spaces for offices, stores, residential and entertainments properties. Being straightforward, that is not the best office option for the brokerage firm to operate at. Simply because it seems like the FWT Markets brokerage rents a place there, meaning that they can move out of there any time. Moreover, that is even possible they are not located there at all, and it is just a 'shelf-company', the post comes to that address, all of the items are put on the shelf and then sent out to whatever address it is.
Regulations
As noted previously, even though the FWT Markest broker's website indicated that they hold a license issued by the Financial Sector Conduct Authority (FSCA). They've even provided a 'unique' authorization number. Now, as there are no links provided for the regulator's website, we had to browse it ourselves.
If you would google for an FSCA website and search for a compan

y with the '44133' authorization number, you wouldn't succeed really.
But that might be issued of the FSCA website you would say. Fair. Thus, we've decided to search for any company with such authorization number elsewhere. And look what we've found. There actually is a financial company with that number, but it is not FWT Markets. It is Lehumo Investments, the company providing insurance, financial, and asset management services. And there is no traceable connection between those companies either. We don't want to make falsified assumptions, however, the FWT Markets definitely lacks some transparency and does not allow us to give you the positive response about whether is FWT Markets legit or not as much. 

Values: expectations vs. reality
Let's take a quick look over the values of the company that were provided on their website. What will we see there? Okay, step-by-step we will explain how exactly FWT Markets is trying to fool us around. And what was the reason for us to mention that there are many contradictions between what they are offering and what the users actually get?
Firstly, when the company stated that it is being innovative and flexible, then it is at least weird for them to still use the platform, MetaTrader 4, that was not upgraded for already 3 years in a row.
Secondly, when the company is stating that they are a team of driven and efficient workers and it promotes ethics throughout their working environment, the administration of it shall understand that such things being falsified are usually really easy to unveil. Thus, after a small online research, we found the review left by the former employees of the company and we feel like it might be interesting for you to check it out.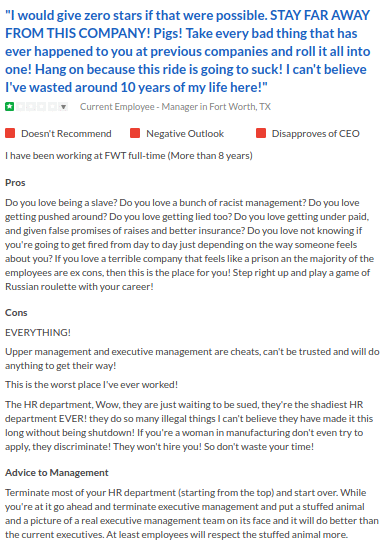 That is obvious now, the company's administration does not care about social responsibility and the healthy working ambiance. Now, let us ask you a question, how the company that treats its workers so badly, can provide a good service for its users?
Thirdly, what does the company mean when it says it is being completely transparent? There were literally no outer links, sources, or affiliated provided on the website. Everything that was mentioned there was quite vague and uncertain. For instance, it was mentioned that the company is in partnership with a number of World banks. However, will you find any of the exact names of those banks? No. So, it is doubtful that FWT Makers can be trusted.
What about the website?
The first thing we've noticed is that the website is slow and doesn't allow to switch from page to page quickly. Another thing is that it is not translated on any other language except English. However, they still state that they are providing services in 8 different languages.
That is really easy to navigate across the web-page. The design is pretty pleasant to look at as well. However, there was a typo noticed, which again shows the incompetence of the website developers. And, supposedly, low budget dedicated to that.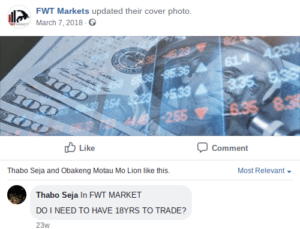 If you will visit the social media pages of the company, you will notice that they are far from being active. There is no engagement created with the customer through them. The questions coming from users online are ignored, no one rushes to answer any of them. Posts are made really rarely, once in 3-4 months.
Tweeter account page of the company is completely 'dead', no publications were ever made.
Instagram is the most active of all. There are seven publications in total which are highlighting any of the upcoming events. However, the last publication was made at the beginning of December 2018.
Seems like FWT Markets are not doing SEO whatsoever. When you are googling 'FW Markets', it is sometimes even hard to find any of the relevant articles. That, generally saying, decreases the FWT Markets' rating severely. But if you try to search it on your mobile phone, you will be surprised, that the first result under that search will be Fastmarkets website, the company that provides an overview of the mining prices, insights on metal, currencies, etc.
Another thing that grabs the instant attention, is the lack of the searching tool. So, if you need to find something quick, there is no way of doing that without going through every single page.
MetaTrader 4
The FWT Markets brokerage offers only one trading platform-MT4. The FWT Markets MT4 was adjusted for PC software types as Windows and Mac, for Android, and for iPhone. FWT Markets justified their choice of that platform by the fact that it provides latest economic news directly to you, offers real-time client account summary, has a wide range of analysis tools, and supports different timeframes for trading in different time zones. They also promise to provide the most comfortable user interface and convenience for those using the platform on their smartphones.
Even though MT4 is truly a great and powerful trading platform, it was upgraded a long time ago. And, therefore, cannot be a proper platform for the brokerage that proclaims itself innovative and flexible.
Trading with FWT Markets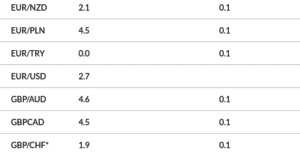 The broker's website proclaims that the FWT Markets Forex broker offers 50+ currency pairs with the best leverage and pip ranges on the market. Let's see…Once you click on the Forex trading option, you can see the table with the details for every currency pair trading they have. When you scroll down, you might be quite surprised by the minimum spread value of the most stable currency pair-EUR/USD. What was pretty interesting as well, is that you can't trade it on the Standard account, only on the True ECN account which will be discussed later. Notably, the spreads of the other currency pairs are quite okay. On the Forex trading, the spreads vary from a minimum of 0.1 up to 5 decimal pricing. The leverage is approximately 1:200.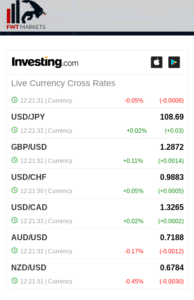 The tables with the changes in the currency rate are taken from the completely different website, Investing.com, which is an unprofessional thing to do for the brokerage company that proclaims its superiority.
They also offer the users to trade the Indices. However, there is no much of a choice presented. Among the indices offered for trade, there are NASDAQ 100, Dow Jones 30, S&P 500, FRSE 100, DAX 30, IBEX 35, Euro Stoxx 50, CAC 40, Hang Seng 33, Nikkie225, and Australia 200. Spreads on the True ECN account vary from 0.7 to 10.00. The time of trading varies with the indices as well. Thus, the trading of the NASDAQ 100 might be done only from Sunday at 22:00 GMT to Friday at 20:15 GMT.
The FWT Markets broker does also offer to trade Metals and Energies with the minimum trade size per pip of about $0.10. However, there are not many options available as well. Only USOUSD, UKOUSD, XAUUSD, and XAGUSD.  The spreads vary from 0.8 to 1.10. And the size of lots is between 100 and 5000 barrels. The trading lasts from 23:00 GMT – 00:00 GMT mainly.
One of the first things you see on the website is that the broker is offering you to trade with more than '120 instruments online'. That is a number that was not justified whatsoever. This, in fact, might lead for the thought that FWT Markets fraud is one of the factors taking over the whole platform.  Seems like FWT Markets simply tries to attract the new users. However, it does not put any efforts into keeping the existing ones.
FWT Markets does not charge any fee for inactive accounts. At least, that is not indicated on their website. But it is stated that there is such a thing as 'Negative balance protection'. In order to avoid funds' to be lost and to secure the customers from getting the negative balance on their account, the broker states that they are protecting the customers from any losses beyond their original investment at the company's own cost. Which, to be honest, seems like a generous move.
FWT Markets broker account types provided
Now that part is not pretty clear. As when you are going to the toolbar on top of the website, you see that FWT Markets offer only Standard account, when you will click it, it will lead to the Standard account details as well. However, if you will scroll below, you will find two more options of the accounts provided. That again speaks for itself. The company did not spend enough funds for the website optimization.

So, there are three account types offered by FWT Markets broker in total. It is Mini account, Standard account, and the True ECN account. Let's see what each of those is offering us.
Mini account
The account, in FWT Markets' opinion, is suitable for the beginners who did not have any previous experience in Forex trading. The maximum leverage of the account is 1:500. There is no maximum deposit, however, the minimum is $100. Minimum trade size is 0.01 lot, and the commission per trade is $0.1. There is instant order execution. The spread for that account varies from 1 to 2.5 pips. With that account chosen you can still trade on Forex, indices, metals, and energies markets. There is no personal account manager provided though.
Standard account
The account is suitable for pretty much all trader who has already obtained some experience in Forex trading. The maximum leverage of the account is 1:200. There is no maximum deposit, however, the minimum is $150. Minimum trade size is 0.01 lot, and the commission per trade is $0.1. There is instant order execution. The spread for that account varies from 1 to 2.5 pips. You can trade on Forex, indices, metals, and energies markets. The maximum trade lot on that account is 60 lots. The maximum volume per trade is 30 standard lots. And, additionally, that type of account offers a personal account management service.
True ECN account
The account is based on the ECN concept that is the milestone on the MetaTrader 4 trading platform. The system allows traders to communicate with the banks directly, without any intervention of the middlemen. The maximum leverage of the account is 1:200. There is no maximum deposit, however, the minimum is $500. Minimum trade size is 0.01 lot, and the commission per trade starts from $3. There is instant order execution. The spread for that account equals $0. You can trade on Forex, indices, metals, and energies markets. The maximum trade lot on that account is 100 lots. The maximum volume per trade is 80 standard lots. The account offers a personal account management service as well.

Things being said, the broker really thought about providing various options when it comes to account creation. The broker promises that opening an account with them will be a simple process that will not require lots of time. Sounds great, doesn't it?
However, once you click on the Open Account button, there is a page with the error appearing on your screen. We feel like that by itself can be an indicator of the complete failure of the broker to provide a high-quality service. That might also justify the FWT Markets scam idea to develop even more.
Thus, your cooperation with that broker will be stopped on the step of the account creation. However, let's still move further and see what else is wrong with FWT Markets.
Communication and customer service offered by FWT Markets brokerage
The does not provide you with the online chat option. So you cannot simply contact an assistant who will help you out. However, there is a small red icon located in the lower right corner. You need to fill in all of the gaps and send them an email with your request.

However, you are not likely to receive any response any time soon. The customer services are operating poorly and slowly if operating at all. Just be looking at the reviews left by the former traders, who wanted to get the response on their question asked, we can understand the level of commitment of the broker.
Deposit and withdrawal of funds
The FWT Markets broker offers several payment methods: Visa, Visa Electron, Master Card, Maestro, Neteller, Wire Transfer. So, once the payment method is approved, you can go on and put money into your account.

What is regarding the withdrawals, you would ask? Well, the broker does not mention anything about it, neither does he provide particular ways of the FWT Markets withdrawal available. The only thing mentioned it that they will try to come up with the secure and stable withdrawal methods. Which, by itself, tells us nothing at all.
Bottom line: is FWT Markets scam?
Making a conclusion of everything making above, we would definitely not recommend you to trade with FWT Markets. That is based one the FWT Markets reviews left by the former users, traders, and employees even. The brokerage company is irresponsible and unprofessional even. The website is generated poorly and does not even allow its users to create the account (not that we would advise you to do that).
That broker was not only accused of the misperformance, it was also detected in the inadequate and disrespectful attitude towards its employees. Which, in turn, can only prove that it does not put the social responsibility and trustworthiness as their top priority.