FXB Trading Review

FXB Trading is an online forex broker and is a brand of FAZCO CAPITAL LIMITED. It is registered in St. Vincent and the Grenadines and operates as an offshore company. With its online ads and marketing campaign, you have undoubtedly come across FXB Trading in your search for a new online broker. To help you decide whether or not it is right for you, we have researched and reviewed FXB Trading to your question, is FXB legit?
FXB Trading Regulation
Broker regulation is vital to your success and the safety of your funds. Online trading is inherently risky. If you are not careful, you could see your deposit wiped out in a matter of minutes and sometimes, it may not even be your fault. There are unfortunate cases of broker tampering and theft and these brokers are often times unregulated. That's why it is so important that you register with a regulated broker.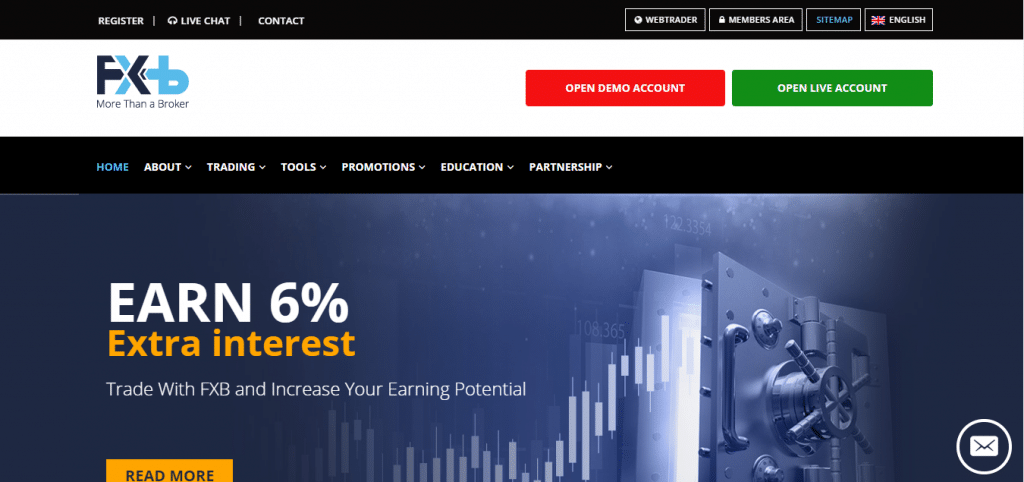 Regulation is what makes the difference between FXB Trading scam and FXB Trading being a trustworthy broker. When you research FXB Trading, you will find that they are registered with a Financial Commission and while this may seem like it is enough, it is NOT. You want a broker that is being regulated by a regulatory body of the country it is registered in. This case would require FXB Trading to be registered with St. Vincent and the Grenadines' Financial Services Authority.
FXB Trading Customer Support
When you are registering with a broker, you need to know that there is a strong support system there. You can run into any manner of trouble from issues with withdrawals, unresponsive platforms, faulty bonus payouts and more. Because of this, you want a support team that will be quick and helps with their responses. Sadly, you will not get that with FXB Trading's customer support team.
Sure, you can try to get in touch with them in multiple ways, whether it be through email, telephone, live chat or the online form found the FXB Trading website, but the chances of you actually receiving support is little to none. This is one of the many problems that people have voiced in authentic FXB Trading reviews across the web.
This can be especially frustrating if you are someone who has already deposited money with this company. What you will find when dealing with FXB Trading and brokers like FXB Trading is that before you have made a deposit, customer support is responsive, friendly, and warm. However, once you have already made a deposit, start trading, and earning a profit, customer support begins to rapidly deteriorate. It is as if the warm agents you spoke to before have been corrupted or switched but sadly, that is how scam brokers often operate.
FXB Trading Accounts
There are four different types of accounts offered by FXB Trading excluding the demo account. These accounts are:
Basic Account ($25 minimum deposit)
Standard Account ($2,500 minimum deposit)
VIP Account ( $15,000 minimum deposit)
Exclusive Account (Tailor made deposit)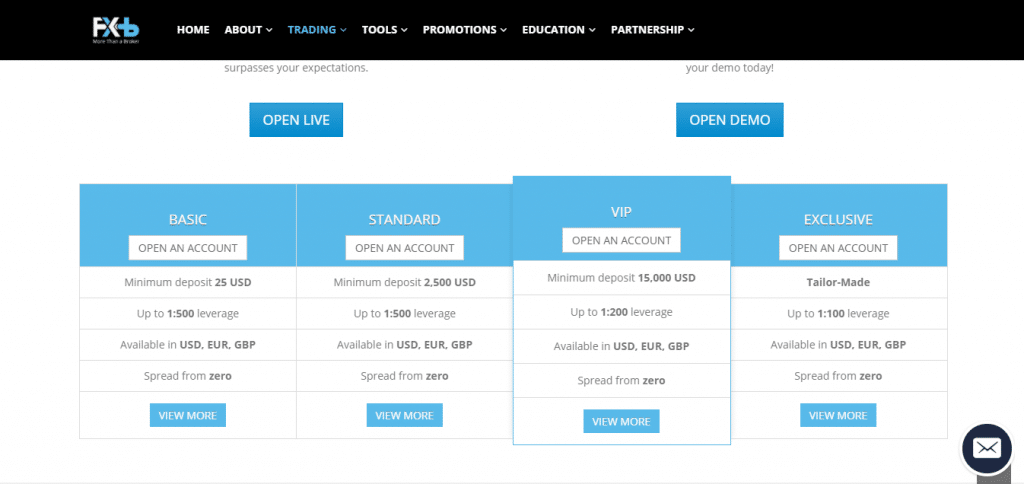 The first thing you will notice is the huge difference between the minimum deposits of each account type. The next thing is that there is no reasonable justification for this they all have similar features. Its as if FXB Trading opinions about clients, both current and future, are so low that they do not think people will notice. First off, all of them are available in EUR, GBP, and USD and the spreads start from zero.
The Basic and Standard accounts have the same max leverage which caps at 1:500 while the VIP account's leverage caps at 1:200 and the Exclusive account having the lowest max leverage at 1:100. Besides those negligible differences, the only others are the commissions for each account, which is at most, $4 per round difference higher or lower than each other and the number of training sessions each month. Quite frankly these minimum deposits are unjustified and are, even more, proof that FXB Trader is merely out to cash in and not help you earn a profit.
FXB Trading Bonus
As of the writing of this review, FXB Trading only has one promotion going on and that is a 6% Cashback promotion. The company claims that you can earn it by simply registering with them and qualifying for the promotion. However, from our experience with brokers of FXB Trading's caliber, it is never so easy and is generally much more hassle than it is worth.
FXB Trading Platforms
When it comes to trading platforms, FXB Trading has employed the use of the most popular online trading platform, Metatrader 4 as well as a PAMM platform exclusively for money managers and clients that wish to hire those managers to take care of their funds.
The MT4 platform is by far one of, if not, the most widely known forex trading platform. This is to how easy it is for brokers to get and customize and how easy it is for clients to learn. That being said, its availability is one of its disadvantages. That's because even though trusted and regulated forex brokers use this platform, it is also used by unregulated brokers such as the FXB Trading fraud.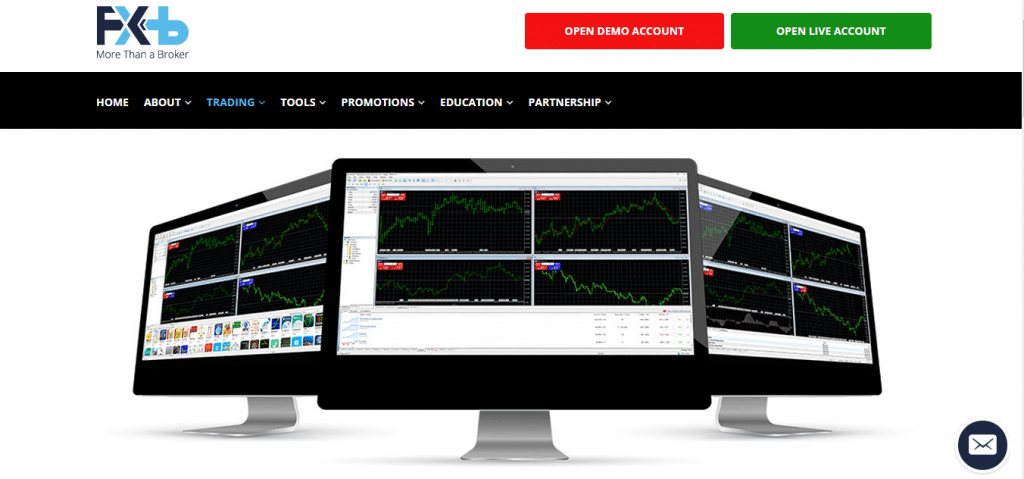 On the bright side, because MT4 is so well used, you can apply what you learn from your experiences with FXB Trading to another MT4 broker and even transfer over your information. After all, MT4 is not only popular because of how easy it is to access but also because of its top-notch tools and overall customizability.
FXB Trading Conclusion
When you came across this review, you undoubtedly had one question in mind, can FXB Trading be trusted? After extensive research and reviewing not only the information available on the FXB Trader website but also genuine trader reviews, it is clear that the answer is no. FXB Trading is merely a scam broker out to profit off of you and nothing more.