FxBay Live Review – Should you trust this broker with your money?

Lots of Forex brokers nowadays have a very appealing trading platform with their sleek website and fancy trading conditions. Yet not everyone is created equal, that is, not everyone's original intentions are to contribute to your trading process.
Some just want to drag you into their fraudulent schemes and steal your funds. Therefore, overlooking the broker selection process is one of the biggest mistakes a Forex trader can make.
But how can you find a suitable broker with a credible reputation? Well, you can read this FxBay Live review and find out, if your initial impressions of this broker are in alignment with hidden truths. So, let's not waste any more time and go straight to the review.
The Fxbaylive.com review
As usual, we'll start the review with the website. One thing to note straight away is that this website looks quite decent – unlike many others that we've tested. While it has a certain number of unnecessary imagery, it still doesn't downplay the user experience. A simplistic, yet also sophisticated design makes it easy to attain information about anything you want.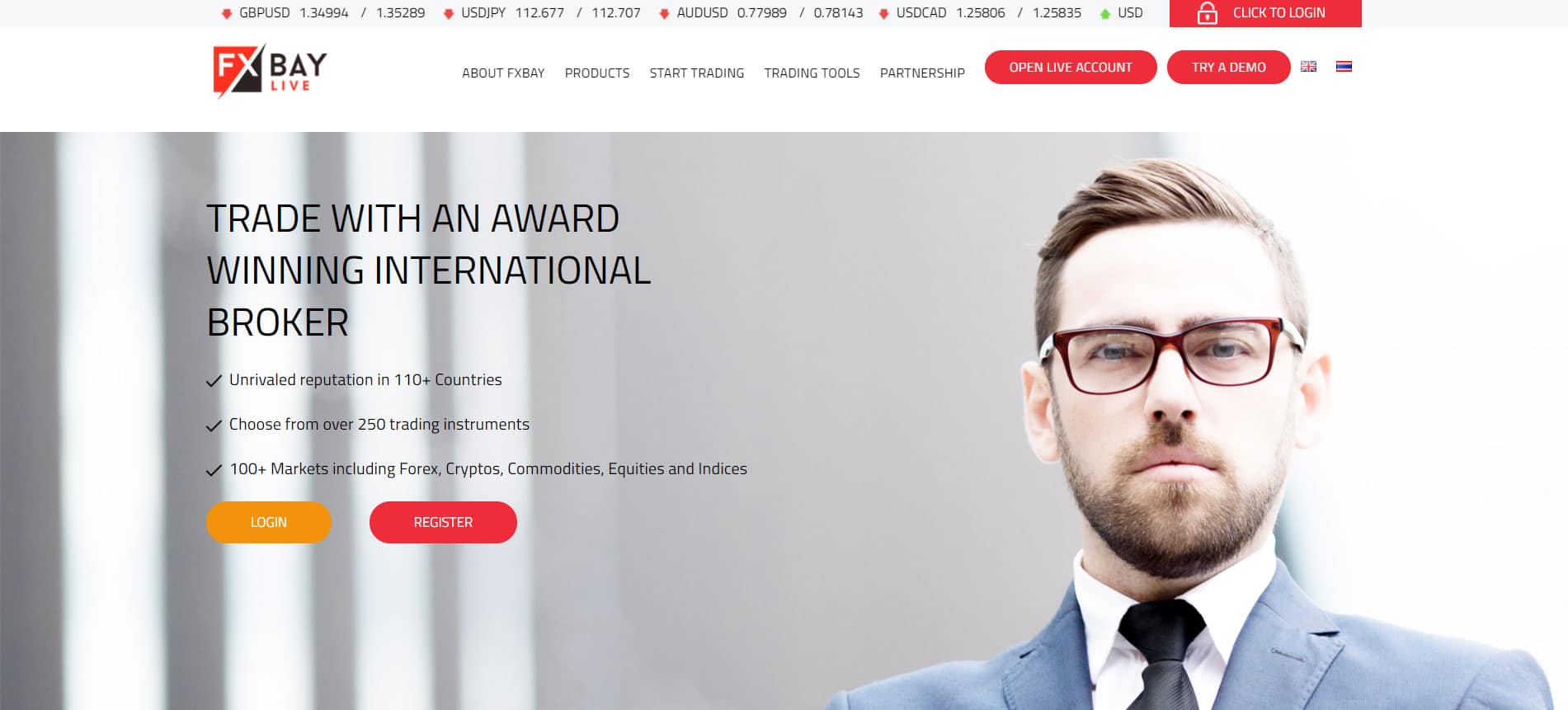 But before we go on gushing around this website, we have to point out that it doesn't take a skilled web developer to create a website such as this. There are lots of stock platforms like Wix or Squarespace that offer people pre-developed templates for their websites, and they look amazing. Therefore, while certainly advantageous, the website layout doesn't do an awful lot to take our FxBay Live opinion to unimaginable heights.
Another important aspect of the website is informativeness. In this section, we still think that the broker has done a decent job providing information about everything that's important for trading, be it the leverage, spreads, or anything else.
However, the section we can't get over with is account types. First off, the broker claims it offers six account packages, yet we were only able to find four: three live (ECN, PRO, and VIP) and one demo account.
But the problem is not only about the number of account types; naming of these packages is very off the mark: the broker gives the standard account the name of "ECN" while the market execution for it is STP, whereas the VIP account only offers the ECN execution type. We're not really sure what's going on here but messing with the names like that surely doesn't dissuade various FxBay Live scam reports we found online.
As a final segment of this chapter, let's take a look at trading platforms available on FxBay Live. As the broker claims, the MetaTrader 5 software is readily available to execute any trade on Forex, stocks, and other markets. We're sure the software is more than capable of providing a seamless trading experience, but it would've been much nicer if the broker also offered MT4, which is more simplistic and more beginner-friendly.
Is the SVGFSA license legit?
Moving on, let's take a closer look at what the license of FxBay Live looks like. As the broker points out in the disclaimer down at the very bottom of the website, FxBay Live Limited is owned and operated by FxBay Live Limited, which is an international business company registered in and licensed by the St. Vincent and the Grenadines Financial Services Authority (SVGFSA).
The SVGFSA license is actually pretty popular among Forex brokers. Yet the reasons for this popularity may not be that honest: they use this license to cover up the fact that there's actually no legit license regulating broker's actions.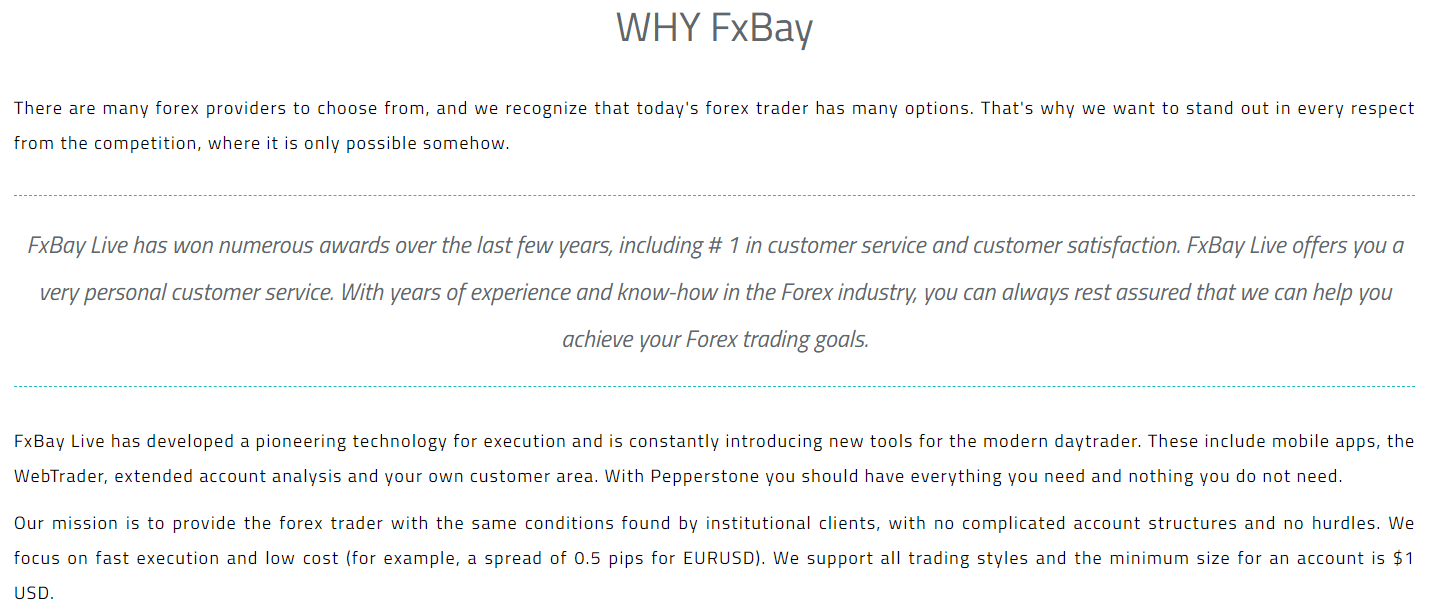 According to the SVG government, it doesn't regulate Forex brokers at any level, which means the brokers that claim they have an SVGFSA license are lying. The reason for that is pretty simple: they want to avoid strict regulatory oversight, maintain impunity for illegal financial schemes, and avoid paying taxes.
For this reason, we think that the FxBay Live fraud may actually be real.
What do the FxBay Live promotions look like?
Lastly, let's dive deeper into various trading offerings at FxBay Live, starting off by probably one of the most interesting aspects: trading execution. As we noted in the first chapter, the broker offers the ECN platform in a very weird way: the account named "ECN" doesn't actually support this execution, rather the VIP account has this option.
But that's not how the suspiciousness of the platform ends. You may or may not know that ECN is a very high-tier trading platform that is usually quite expensive for traders. Yet FxBay Live only has a $10,000 minimum deposit requirement and very low, $5 commissions on per lot trades. Besides, the minimum tradable amount for this platform is 0.1 lot, which is way lower than the regular tradable limit for the real ECN platforms. This is very suspicious and indicative of a plausible scam.
Next up, let's talk about which instruments you can trade at FxBay Live. As the broker claims, you can buy and sell Forex pairs, indices, commodities, and CFDs. And the conditions that accompany these assets are quite mind-blowing: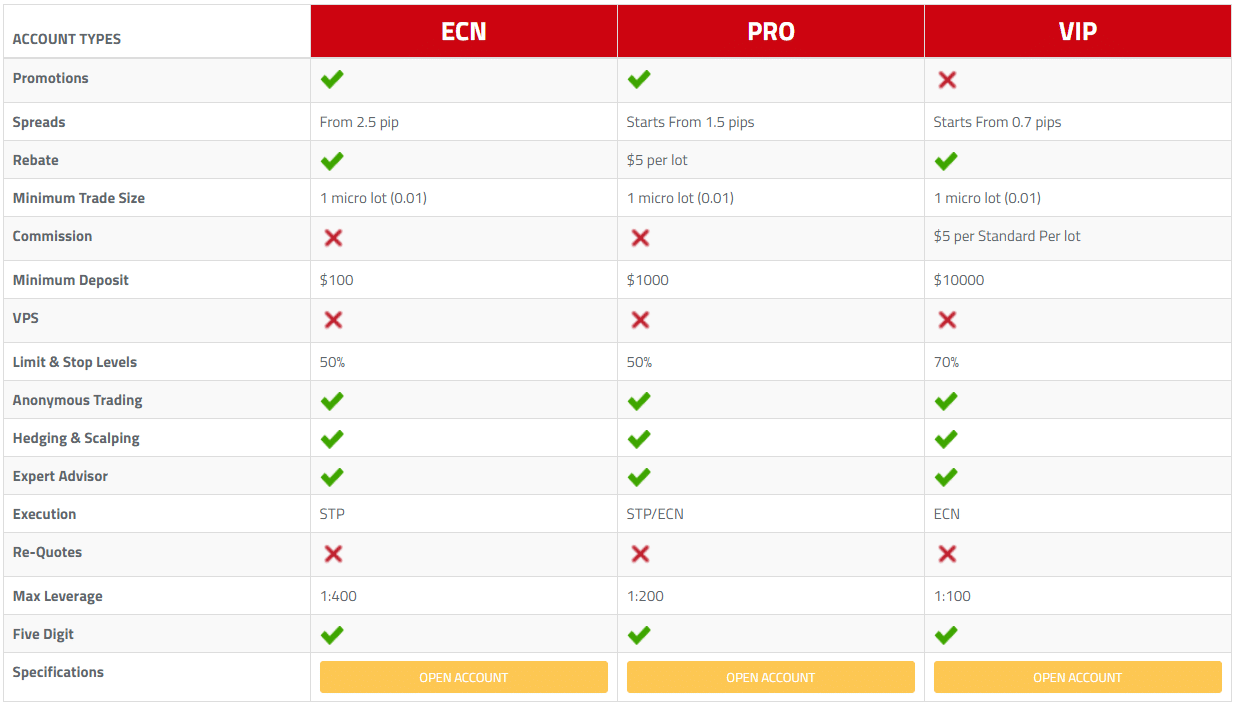 The maximum leverage you can use to increase your trading capital is 1:500. This is very high from the market average of about 1:200 and gives us the impression that the FxBay Live Forex broker doesn't really mind offering a dangerous feature at a greater intensity. This is because this much leverage can increase both profits and losses by x500.
As for spreads, the broker heavily promotes its 0-pip spread charges. Now, considering that FxBay Live either doesn't have or has very low commissions on trades, we're bound to ask: how does it fund its services? Does it possibly include fraudulent sources of income? In our opinion, that's quite possible.
Then there's the minimum deposit requirement which is at $100. To the broker's credit, this much requirement is quite accessible for even the beginner traders – not too high, yet quite competitive at the same time.
And to make deposits and withdrawals at FxBay Live, you can use Bank Wire, Credit/Debit cards, Skrill, Local Bank Deposit, Neteller, Bpay, Payeer, Union Pay, and some cryptocurrencies. This is truly a diverse financial platform with lots of options available for the FxBay Live users. However, we have to point out once again that having zero commissions on both deposits and withdrawals is very suspicious.
Final FxBay Live verdict
To sum it all up, what do we make of the broker? Can FxBay Live be trusted with your funds?
Well, here's what we know: FxBay Live has a quite sophisticated and simplistic website that includes all of the important information about trading. Yet accounts are very suspiciously structured and the trading platform is a bit limited.
The license is complete and utter rubbish; the SVGFSA institution doesn't actually regulate Forex brokers, be it local or international. Therefore, the possibility of a scam at FxBay Live is more than realistic.
Finally, trading terms and conditions are very suspicious as well with high leverage and low spread conditions.
In conclusion, despite all the positive things we've said about the broker, we still don't think you should do business with FxBay Live.