FxGrandTrade Review – Sould you trade with this broker?

On Forex Trading Bonus, we're always telling our readers to be extremely careful when choosing a broker. A decent and trustworthy counterparty can really make a positive impact on people's trades, whereas a fraudulent broker will be a pain to work with.
Unfortunately, though, it's not always easy to distinguish trustworthy brokers from scammers. Appearances can often be deceiving, that's why you need to look deeper than what is visible on the outside.
We provide periodical reviews of Forex brokers to help traders in the selection process. Today, we will do the FxGrandTrade review and find out, whether this broker is trustworthy or not.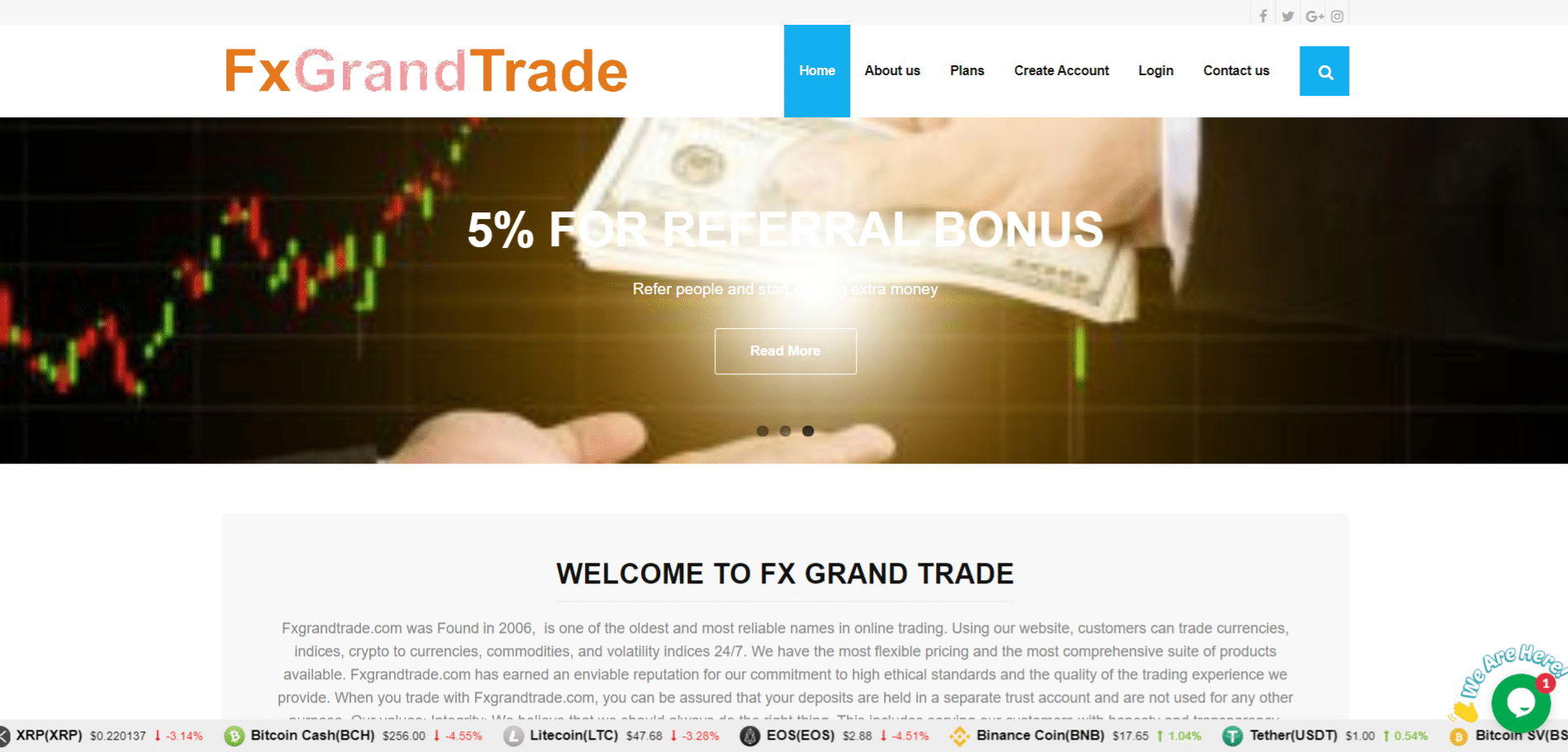 The licensing
First things first, we have to start with the licensing because the regulation is the single most important thing that distinguishes scam brokers from credible ones.
We tried to look everywhere on the broker's website to find anything that mentioned the regulatory measures. Unfortunately, though, there was nothing sort of it.
FxGrandTrade FX broker only says that it abides by high financial standards and it focuses on providing the best possible customer service. Yet there was nothing specific that could prove that claim.
What we suspect is that the broker has no regulation at all. And being an unregulated Forex broker, the FxGrandTrade scam becomes a reality.
The Fxgrandtrade.com review
Moving on, let's talk about the website. At first glance, its design looks like it was created by an amateur website developer with no skills whatsoever. Randomly placed windows and wallpapers make it look like there wasn't too much thought put in creating the platform.

Diving a little bit deeper, we can say exactly the same about the informative side of the website. Besides from showing off its six account packages – Standard, Bronze, Silver, Gold, Premium, and Ultimate, and three steps to open a live account on FxGrandTrade, there's virtually nothing that can give us an understanding of the broker's trading platform.
We don't even know what type of trading software FxGrandTrade offers. Is it WebTrader or does a broker support MT4, MT5, and/or cTrader? We don't know and that is a problem.
FxGrandTrade promotions
Finally, let's discuss the actual numbers and conditions available to you to actually trade. Even in this case, there's not much information provided by the broker.
The only thing we know for sure is that the minimum deposit requirement on FxGrandTrade is $250, which is quite a hefty demand for those who want the most basic trading service.
But what about the leverage or spreads or a bonus? Do we know anything about those? Unfortunately, no. FxGrandTrade Forex broker doesn't provide details about its highest leverage ratio – which is a common feature for lots and lots of Forex traders, no spreads – again, you meet spreads in Forex at every step, and no bonuses.

As for financial platforms and FxGrandTrade withdrawals, there's only a small information box that contains four logos of Western Union, MoneyGram, Bitcoin, and Bank Wire. And since we have some information about deposits and withdrawals, we can actually assess them more or less properly.
In our opinion, the four financial platforms available on FxGrandTrade aren't sufficient enough to cover everyone's needs and requirements. For instance: how can the broker offer its platform to the Visa and MasterCard users? This is t large consumer base to neglect in this business, yet we see FxGrandTrade do exactly that.
And finally, we have to talk about trading instruments available on the platform. While the broker claims to have various currency pairs, indices, futures, and cryptocurrencies, we were only able to find crypto pairs on FxGrandTrade. Even at this, the broker is hiding information from viewers.
Final FxGrandTrade opinion
With all that in mind, we come to the final conclusion.
Is FxGrandTrade legit with its licensing, website, and trading offerings? Should you do business with a broker that doesn't fully or even in half disclose information about its platform?
We think not! In Forex, a broker that has a very amateurish website, clearly has no licensing to ensure proper financial service, and doesn't say anything about trading terms and conditions, doesn't deserve the trust of traders.
So, here's our final FxGrandTrade rating: you should definitely stay away from it if you value your financial security and stability!