FXLinked Review

Congratulations! You have just made one of the best decisions you could. Many traders try to avoid the drag of reading through reviews and try to form opinions on the spot. We admit that there are really professional traders out there who know the market so well, they can judge brokers themselves. However, for many traders, it is still essential to get a second opinion, to review their first impressions and truly make a good decision.
In our FXLinked review, you'll not only see what this broker is about, but you'll also find out what key points are needed to be paid attention to. Now without further ado let's get into reviewing.
First Impressions
The first impressions about this broker actually made us think that there was no way there was an FXLinked scam involved anywhere. The broker looks sophisticated and transparent on the background, but the moment you start digging deep and really looking at the details, you find some important issues that truly take away from the broker's credibility.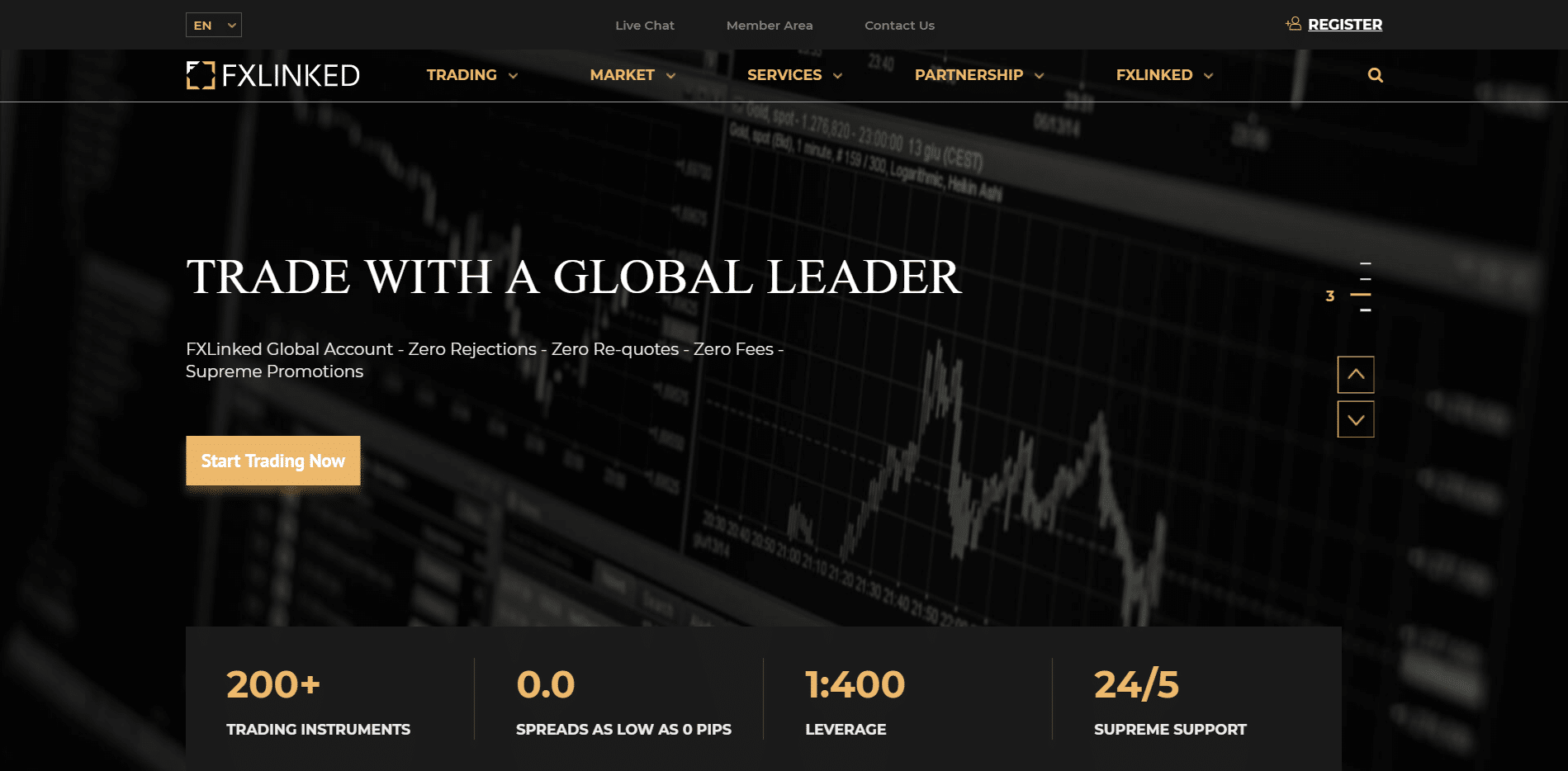 As you can see, the broker has absolutely no problems in terms of transparency, it's safe to say that it is one of the most transparent ones we've reviewed so far. The accessibility on the information was fluid and fast. There was no problem finding out about the broker's leverage, features, and regulation. First impressions were amazing, but it is our way of reviews to never base our opinions on first impressions, so we still maintained a skeptical mind when we dove right into the services.
First things first, FXLinked Forex Broker is regulated by Financial Services Authority (FSA) in Seychelles. Now, this may bring you some ease of mind, thinking that "thank god at least they're regulated", but you'll be quick to find out that a regulator doesn't mean a smooth and fun experience.
FXLinked Withdrawals

The withdrawal system of FXLinked is actually not that bad. However, we have a hard time believing that the withdrawal fees are actually covered by the broker. The moment you access their page where the information is contained, it's just blasting you that they cover every fee, which in turn makes it quite sketchy. For this FXLinked review we try to be as neutral as possible, we will definitely give credit where credit is due, but that doesn't mean we will soften our punches towards something unacceptable. For the withdrawals, you'll be getting the standard 24-hour wait for your requests on Credit Card and online payments, and 3-5 business days of waiting for Wire transfers. However, this is where we find the broker's promise of covering withdrawal fees very unrealistic. The minimum what you can withdraw is $10 or equivalent in any other currency. How are they able to maintain such a business model we don't know as beginners will try to withdraw small amounts very frequently, ultimately costing the broker more than they can afford, same goes for deposits.
FXLinked Account Types
What we really didn't want to see in this FXLinked review was the account types, that the broker offers. There is no variety, they only feature 2 flagship account types for everybody. Although it can be appreciated that they treat their customers equally, there should still be some benefits for people willing to deposit a reasonable amount and get a mid-tier account. So if you are an experienced trader, but not quite there yet, it will be quite hard for you to find accommodation with FXLinked Forex broker. It is unfortunate that you'll either have to go big or go small, there is no middle ground when we're all used to multiple account types on other platforms.
Can FXLinked be trusted?
After a long discussion, we came to the conclusion that the skepticism about the broker outweighs its good side, therefore we cannot recommend it. Although we do admit that covering the fees sounds great and the transparency is commendable, it is still hard for us to give this broker a recommendation because of the unrealistic offers.