FXTM Review – The many benefits of the broker
FXTM forex broker is one of the best and most experienced brokers that we have come across while reviewing a multiplicity of brokerage firms. It was established in 2011 and ever since has been expanding its reach to multiple jurisdictions. after a decade of experience, they are now an international company.
The maximum amount of leverage that the firm can provide one with is 1:2000. however, not all of the account types have access to the maximum leverage ratio amount. The spreads are another important trading tool that traders pay attention to, at FXTM the spreads start as low as 0.0 pips. the trading platforms that one can use for the trading process are Metatrader4 and Metatrader5, both of these software are acclaimed and popular among traders and brokers. It makes perfect sense that the FXTM FX brokerage firm provides both as not all traders are the same and have different needs.  these programs have distinctive features that any trader would find beneficial. additionally, FXTM offers a custom mobile trading app that is very multifunctional.
There are many assets available on the site for one to start trading with, this is an incredible advantage that the forex broker possesses. obviously, all kind of forex pairs is available to major, minor and even some of the most exotic ones as well, commodities, metals, indices, and CFD stocks.
There are no bonuses at the moment of writing this review on the site. however promotional offers are constantly changing with many brokers and FXTM is no distinction in this regard. We find this an advantageous feature as one can always benefit from newer and newer promotional offers. Even though there is no FXTM Bonus. As of now, there is a loyalty and a referral program available for traders, both of the promotions can be very beneficial if used in a precise manner.
The customer support on the site is impeccable, it operates 24/7 and are3 very professional. The written content on the site is very direct and there's a great FAQ section filled with valuable information. If one has any issues or questions one can get in contact with the customer support team very easily via email, phone call, or the live chat widget which is conveniently located at the bottom right corner.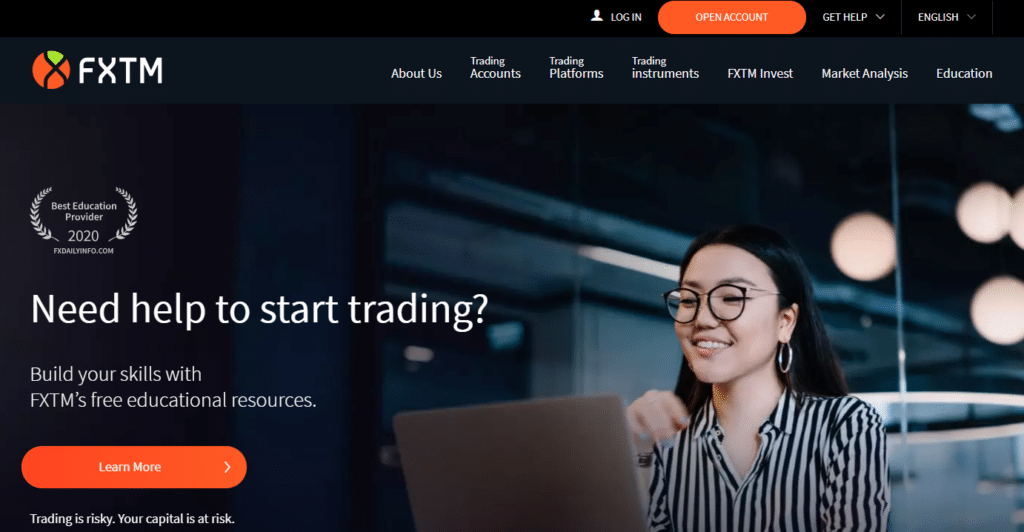 license and regulations – is FXTM Legit?
This firm is not only regulated it has five different regulatory bodies monitoring its every step. all of the services and products of the company are approved by each regulatory body. usually, most of the counterparts and competitors of FXTM forex broker have no more than two different licenses. so having 5 distinctive regulatory organizations monitoring the firm's activities is an incredible thing and very rare in the industry overall.
We will provide our readers with a list of all five regulatory bodies that monitor FXTM on a daily basis. The following are the licenses of the  FXTM broker.
The Cyprus Securities and Exchange Commission regulates FXTM.
The Financial Sector Conduct Authority of South Africa has also granted the firm a license.
In the United Kingdom, the firm is also registered with the Financial Conduct Authority.
The Financial Conduct Authority has approved and regulated FXTM.
The corporation is also governed by the Financial Services Commission of the Republic of Mauritius.
FXTM FX brokerage is legitimate. There are numerous licenses on the site. FSP, SVGFSA, and ASIC all play a role in its regulation. It's important to realize that there are other factors that might help us determine whether or not a brokerage is reputable. Multiple requirements are a good start, but the site's usage of a two-factor authentication mechanism for its accounts is much better.

Trading Features
A broker is nothing without its trading features.  It can only be as good as its products and services. The FXTM forex broker is incredible. everything about the firm starting from, their available account types to spreads and leverages are very fair and accessible to all types of traders. Like many other brokers, FXTM is not trying to make a huge distinction between the account owners. They don't have high and low-end consumers. anyone who can make a minimum deposit is welcome to the FXTM Forex broker site.
Account Types
It's noteworthy to mention that the FXTM broker has recently rebranded and restructured its account typology system. now it's more easily understandable and even more accessible than it was before. as of now, the broker offers three different accounts. These are the Micro, Advantage, and Advantage Plus accounts. USD, GBP, EUR, and NGN are the currencies that are available for trading with every FXTM account.
there is an interesting thing about these accounts is the sheer accessibility and features that they have in common. each account has access to all the important features that are defying for the trading process itself.
The Micro account has a margin call of 60% and a stop out of 40%. The minimum volume, measured in lots per trade system, is 0.01. The maximum amount of volume in lots per trade is ten. A maximum of 30 orders can be placed with the FXTM FX brokerage Micro account. For pending orders, the maximum amount is $100.
There are several commonalities between the Advantage and Advantage Plus accounts that we wish to highlight in this analysis. These account types have a margin call of 80% and a stop out of 50%. The minimum volume, measured in lots per trade system, is 0.01. The maximum amount of volume in lots per trade is 100. The amount of orders that can be placed is unlimited. For pending orders, the maximum amount is 300.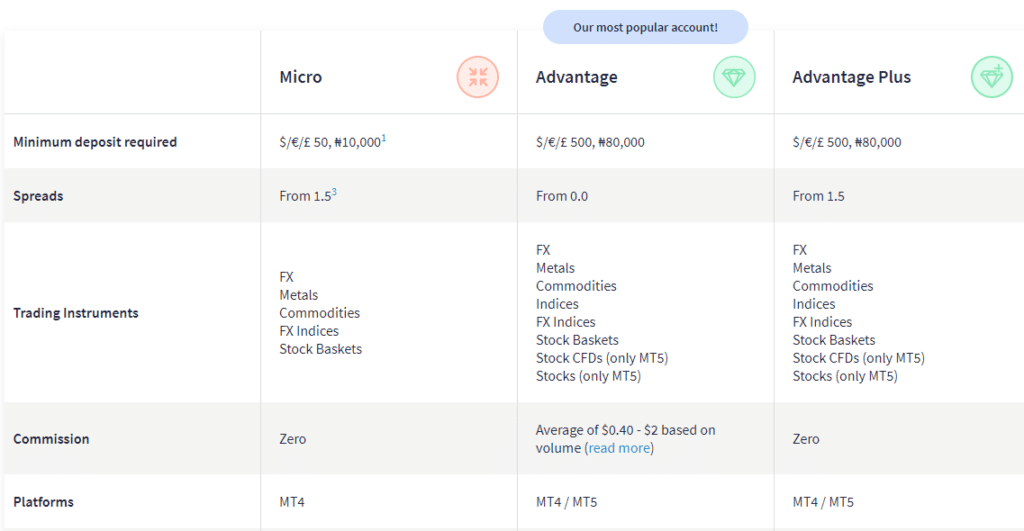 Leverage
Leverage is one of the most important trading tools available for any type of trader. Both novice and experienced traders can benefit from a healthy amount of leverage ratio. The maximum leverage ratio which some of the account holders can take advantage of is `1:2000. however, depending on the trading instrument itself this feature will vary. however, know the fact that FXTM Forex Broker has many resources and this is why it can provide such a high amount of leverage. This is definitely a big advantage that they possess.
Micro accounts have a high leverage ratio and offer a lot of flexibility. Leverage ratios for Forex pairings range from 1:3 to 1:1000. It's worth noting that the leverages on Micro accounts are fixed. In the case of metals, the maximum leverage ratio for that trading item is 1:500.
A floating spread ratio is available to Advantage and Advantage Plus account holders. They can take advantage of the greatest leverage ratio that the FXTM Forex broker can offer them, which is 1:2000.
Spreads
The standard spread for FXTM FX brokerage accounts ranges from 0 to 1.5. If you're primarily interested in Forex trading, it's worth noting that the spreads for major currency pairings like EUR/USD and AUD/USD are floating. In fact, this is true for all of the currency pairs available on the platform. This means that the spread's percentage is determined by the transactional value of the currency pairings. A political or economic element could, in the worst-case situation, expand the spread by a few percentage points.
The site's spreads are floating, which means they might rise or fall depending on market conditions at various times of the day. Spreads are a crucial trading tool for the broker's customers.
Low spreads are available to Micro and Advantage Plus account holders, with spreads starting at 1.5 pips. Users of the Advantage account get even lower spreads, with spreads starting at 0.0 pips for them.
Minimum Deposit
FXTM Fraud is not existent and the minimum deposit amounts are a piece of great evidence. The minimum depositing amount is one of the most important features a broker could have as it is the definition of the bare minimum amount of money that one needs to start trading with a certain broker and use their products and services. regarding this feature, FXTM broker outshines its counterparts by making their account's minimum depositing requirements very acceptable.
The Micro account has a $50 minimum deposit requirement.
A $500 minimum deposit is required to open an Advantage account.
The Advantage Plus account also has a $500 minimum deposit requirement.
Overall we can conclude that the minimum deposit amounts on all of the accounts are fair and are very acceptable for all kinds of traders.
Bonuses
There is no FXTM bonus available on the site however this doesn't mean that there aren't any promotional initiatives available on the site. FXTM always updates its promotional offers, therefore no initiative is permanent, it everchanging. as of now, there are two programs that one can benefit from.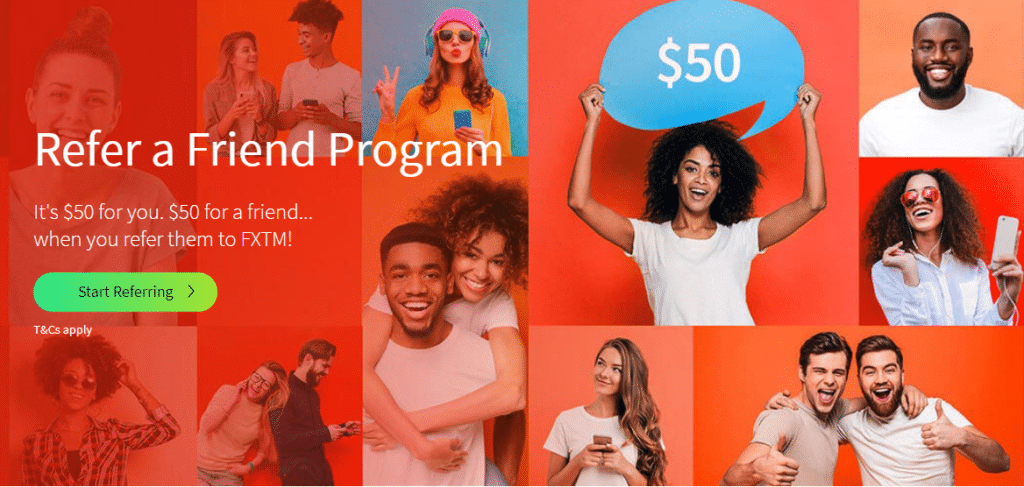 The first one is a refer a friend program that gives the trader $50 for just recommending the FXTM  broker to another person. The process itself is very simple after registering on the broker site one gets a referral link and one can do whatever they please with it. if one does decide to take advantage of the referral program, all one needs to do is just share the referral link and after all the requirements of the program are met, both trader and its referred person get $50 each.
The second promotion on the FXTM Forex Broker site is a loyalty program that has multiple levels. after going through each, traders can get various benefits financially speaking. It's noteworthy to mention that the amount of cash one gets from this program is withdrawable, which is yet another advantage of the FXTRM broker. one can earn up a huge amount of money starting from $5 to $10,000.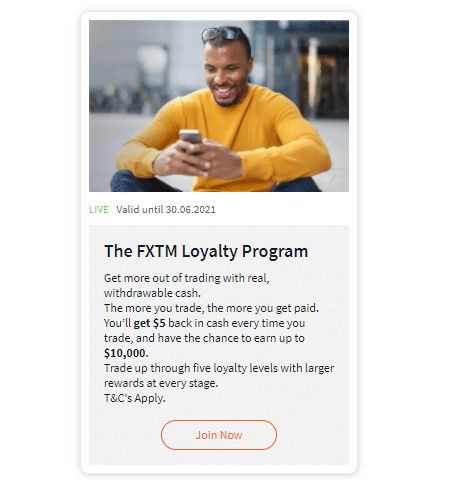 Final Verdict
all in all, we highly recommend our readers to explore the FXTM website and first hand experience the marvelous features they provide to their consumers.
This is a regulated broker that has 5 different qualifications from multiple jurisdictions. no other international broker can compare as the film also has a decade's worth of experience and knows exactly what the traders are looking for and is more than happy to be direct and transparent about the features FXTM FX brokerage possess. This is very much evident in the fact that how accessible all of the trading accounts are for the consumer.
the educational material and the firm's emphasis on it is a great outlook that the firm has towards this topic. The information on a variety of trading-related matters is another advantage of this broker.  one can benefit from multiple e-books or many videos that explain various subject matters in a very unique way. additionally, there are many blogs that explain the basics of forex trading that are geared towards more novice traders that are just getting into the industry. webinars and seminars are also a part of the educational initiatives of the FXTM broker.

The customer support team of the broker is stellar at their job. additionally with the standard ways, one can get in touch with them there are multiple other options for the users of the FXTM Forex Broker site. specifically WhatsApp, Viber, Telegram, and even Messenger. FXTM has utilized the power of social media and other chatting platforms as well. getting connected to a broker has never been easier as it is with FXTM.
The site's payment system includes a wide range of options, including credit cards such as Visa, Mastercard, and Maestro alongside bank transfers. Because FXTM is an international company, there are 10 electronic wallets that can be used to make a deposit, in addition to all of the local financial institutions.
There are no fees when depositing with this option, and there are no limits on the amount you can withdraw. We can presume there isn't one because the minimum deposit amount isn't specified. EUR, AUD, USD, and GBP are the accessible currencies.
Overall, FXTM provides a diverse range of trading products across eight asset classes. You should consider an FXTM  FX brokerage because their spread bid is relatively low in comparison to other brokers. FXTM Broker has a decade of experience and offers its traders a wide range of trading options. They provide clients with the greatest trading platforms, namely MT4 and MT5, which allow them to access a wide range of trading features that can be extremely useful in terms of multifunctionality. The site's training contents are quite comprehensive and a wonderful way to brush up on or learn new Forex trading techniques.