GrandFX Trade Review

Financial trading, be it in Forex, stocks, or any other market, is one of the most lucrative sources of income for lots of people. By properly developing a trading plan and gradually fulfilling it, traders manage to amass a serious capital from buying and selling assets.
However, this field is also full of dangers that come from all directions. Whether it's unexpected market moves or the lack of trading wisdom, an average trader is bound to lose money in Forex. Besides, a brokerage that facilitates trading can also be the main reason for people's financial demise.
Scam brokers are everywhere on the internet, which is why it is super important to do extensive research before choosing your own counterparty. At Forex Trading Bonus, we'd like to help you make an informed decision and offer you this GrandFX Trade review, where we'll talk about everything from the website and the license to trading terms and conditions.
The Grandfx-trade.com review
The first section of our review is the visuals and software experience. The moment we fired off the GrandFX Trade's website, we were greeted with this mixed interface of simplicity and overcomplication. On the one hand, there were areas where a plain white background contributed to the interface and made it easy to retrieve information. On the other hand, however, the rich saturated images distracted us from what's important.
When it comes to the informative aspect, we can say that pretty much everything was openly disclosed by the broker. However, it is important to point out that there's not much information about where or when the GrandFX Trade Forex broker was established. This certainly undermines the prestige of the broker.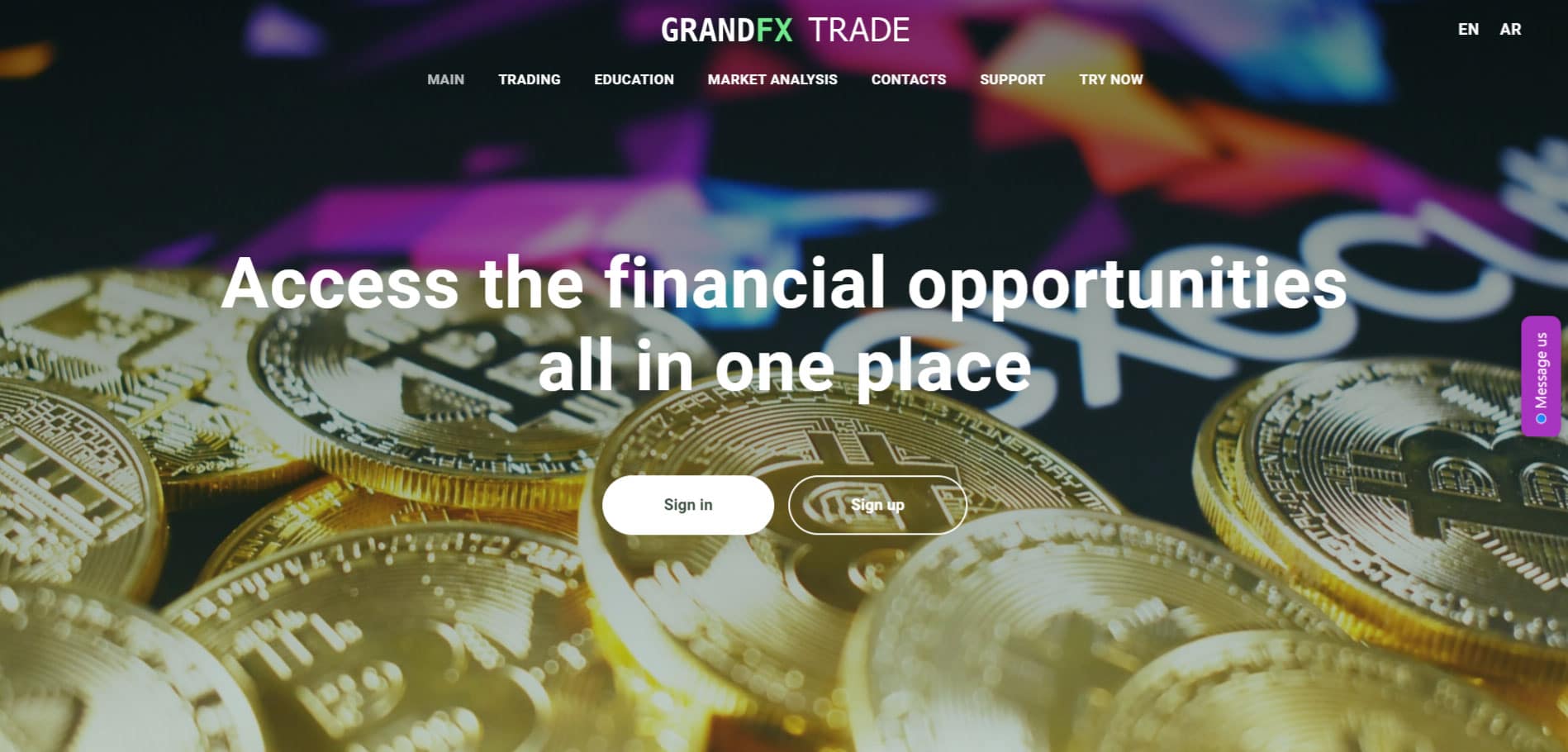 Moving on, let's talk about trading accounts. At GrandFX Trade, we were able to find five different account packages: Basic, Silver, Gold, Premium, and Diamond. These accounts come in with different minimum deposit requirements, spread conditions, and leverage offerings. On top of that, more high-tier accounts have larger bonus promotions.
As for the software that GrandFX Trade uses, we were only able to find proprietary desktop and web trading platforms. The desktop program looks interestingly like a bad mockup of MetaTrader 4, whereas the WebTrader has a more sleek and modernistic interface. Either way, both pieces of software look suspicious to us because the broker has more flexibility to incorporate suspicious schemes into its own platform than into a more universal MT4.
Is GrandFX Trade legit?
The second part of our review is licensing. As we noted in the previous chapter, we don't get an awful lot of information about where or when GrandFX Trade was established, however, the broker points out that it has headquarters in the UK and Belize.
Now, if GrandFX Trade had a license from the UK's Financial Conduct Authority (FCA), it would instantly dissipate our GrandFX Trade scam suspicions and prove the broker's credibility. However, in the next line of the address section, GrandFX Trade notes that only the Belizean financial institution is the issuer of its license.
The International Financial Services Commission (IFSC) may seem like a credible financial entity to entrust the broker's credibility, however, a more detailed examination can prove otherwise. You see, Belize is a small Central American country with a very weak economic and political system. What this means is that when it comes to monitoring and possibly even punishing a broker for its illicit activities, the IFSC won't be able to get the job done.
It is a common practice among brokerages to name an institution that may seem legit, but in reality, it's a charade to deceive traders and trick them into a financial scheme. And our GrandFX Trade opinion is increasingly leaning to that observation.
Trading numbers and conditions
In this last section, we'll talk about what it actually means to trade with GrandFX Trade. First, let's mention which instruments you can trade with this broker. Interestingly, GrandFX Trade claims to be a crypto trading broker that offers metals, stocks, and indices as well, yet we only found a Forex section on the website, listing all the details about the leverage, spreads, etc. This leads us to believe that GrandFX Trade is still putting a show here.
Next up, the leverage and spreads. At GrandFX Trade, you can have your initial deposits increased by a 1:500 multiplication rate, which is way higher than what most Forex brokers offer. This shows that the broker doesn't really take the dangerous nature of the leverage into consideration and is focused on promoting its fancy platform.

The same can be said about spreads. Since the GrandFX Trade FX brokerage only charges small commissions on per-lot trades, we assumed that it would, at least, have higher spreads to fund its services. Yet we found that the minimum spread at GrandFX Trade starts from 0 pips, further fueling our suspicions of a scam.
When it comes to the minimum deposit requirement, we're seeing an exact opposite of the flashy conditions mentioned above. As we pointed out above, GrandFX Trade charges its clients $250 to open the Basic account with the lowest trading numbers. This is very inconvenient for the beginner traders who want to improve trading knowledge and experience with as little risk as possible.
Besides, the transition from the Basic account to more elite accounts is very steep: the minimum deposit requirement increases from $250 all the way to $1,000 for the next, Silver account, whereas the benefits they offer are not as "steep."
Finally, let's talk about how you can make GrandFX Trade withdrawals and deposits. This is also a very interesting section because the broker only mentions that traders can make payments via Visa/MasterCard credit cards, bank wire, and Bitcoin. There's no section that discusses the conditions for deposits and withdrawals. Not only that, but the lack of diversity in this section is also a downside for us.
Can you trust GrandFX Trade?
So, the ultimate question: should you trust and trade with GrandFX Trade? Are our observations enough to answer that question?
We think they are enough and we have a more or less certain answer: judging from the fact that GrandFX Trade has a very suspicious license, not very professional-looking website, and even more suspicious trading offerings, we should assume that the GrandFX Trade fraud is not an overstatement.
Therefore, it's better if you stay away from this broker and find someone else with better conditions.