GreenFX Trading Review

In the ocean of countless Forex brokers, there are some that have an enigmatic character. You look at them, want to know what their proposals and conditions are, looking for the licensing materials; yet there's no way you're going to find any of these.
Green FX Forex broker is precisely the broker we're talking about. And we didn't use the word enigma for the sake of just using it. The broker really is a secretive entity who clearly doesn't want to enclose some of the details.
In this review, we're going to try to find some of the more accessible details and weigh the broker's accountability according to it.
Brief overview
GreenFX Trading is a Forex brokerage that, according to our estimations, was established in early 2019. Even in the aspect of the establishment are we "welcomed" by a myriad of hidden clues: we were only able to calculate when the broker was established by a small remark that says "28 weeks". Great job, GreenFX!
The first thing that jumps to our eyes is the website. We don't know who would like its interface or its thematic separation but for us, GreenFX has clearly done a poor job creating its website.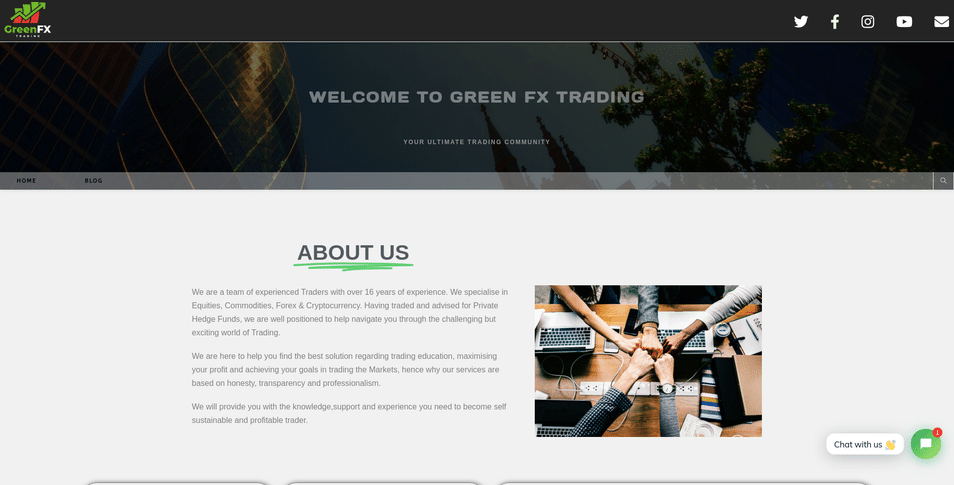 The interface looks bland and uninviting; the font and buttons are somewhat blended to the background, making it difficult to read what they're actually saying. And even a handful of photos on the website are in low resolution and bad quality.
What's even funny, yet even more suspicious, is that the Blog section that's the only tab on the website is also empty; there are no stories in this section, indicating how GreenFX handles its matters.
The broker offers three types of subscription accounts that it calls "VIP Signals". The only way you can access the trading signals and conditions is through subscribing to the website. And when it comes to price, these accounts are some of the more expensive ones on the market; the most basic, 1-month subscription costs 40 GBP.
As we've mentioned above, there are no trading conditions indicated anywhere on the website. The only way you can access those is if you subscribe to the website and make a financial commitment. We'll discuss what this means in detail in the upcoming chapters.
This high level of secrecy continues in licensing as well. While in other aspects we'd have a hard time associating this level of secrecy with the scam when the license is also hidden from the public, our GreenFX fraud suspicions are only getting more prominent.
Green-fx-trading.com review
Alright, now it's time to take a closer look at the website and see, what's really going on with it. As we've mentioned above, we're not particularly pleased with our experience with the website. It looks very messy and all over the place; the buttons and indicators have a light-grey color, making it difficult to read them; the images and visual effects are low quality and further wreck the broker's reputation.
While the About Us section claims the group that established GreenFX has been on the Forex market for 16 years, their experience clearly doesn't shine through the website – nor any other aspect. There's no thematic separation that could make it easy for the visitors to find important information about the broker.
And what makes things even worse is that the broker claims to be an educational entity. "We will provide you with the knowledge, support and experience you need to become self sustainable and profitable trader," says the broker. But what's bad in it, you'd ask? Well, if GreenFX is an educational entity, it has to put the educational material somewhere. While there's a Blog tab where you'd expect these materials to be posted, there's absolutely nothing in there – no stories, no blogs, no educational material.
As you already know, there are three "VIP Signals" on the website: 1-month, 2-month, and 6-month subscriptions. If you choose any of them and pay the money, then you'll be able to unlock the market signals and conditions. Further demonstrating our GreenFX scam concerns is the fact that you can only purchase the subscription through the PayPal payment which very anonymous, making it hard to track the transaction history.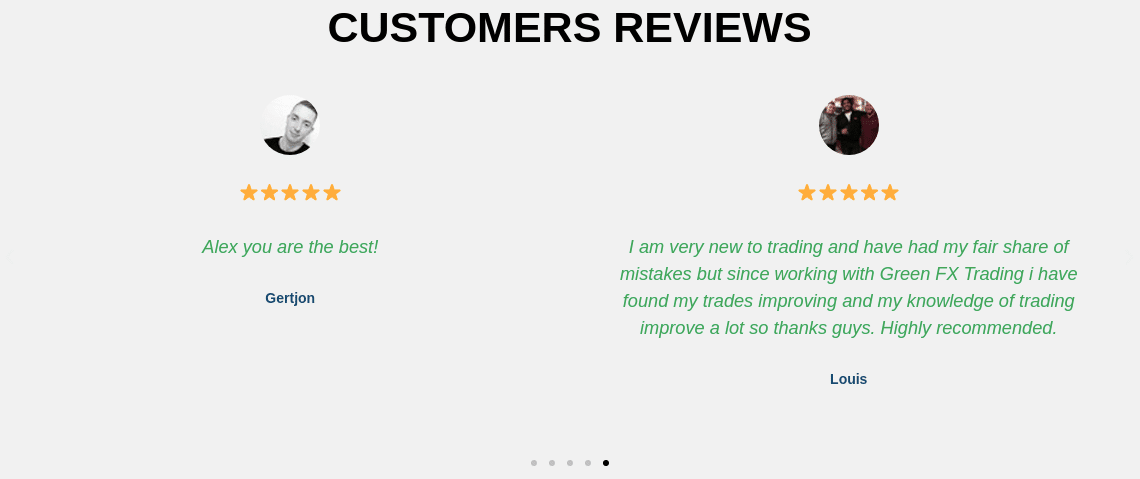 Trading terms and conditions
Now, let's move to the most opaque part of our review – the trading conditions. As we've mentioned above, the only way you can see what the leverages, spreads, and minimum deposit requirements are is if you subscribe to any of those three modules. And what's worse, the most basic one, a 1-month subscription costs 40 GBP. That's 40 GBP just to see what the GreenFX promotions are; after that, you have to make additional deposits and transactions to do Forex trading.
So, why is this such a big deal? Why shouldn't you pay the money to find out the market signals? Here's why: almost every single Forex broker on the market has a market conditions section where they include all the leverages, spreads, bonuses, etc. They don't charge their customers for revealing these features.
Therefore, it only enforces our suspicions that GreenFX wants to charge you in every possible way, sucking in your funds and giving you literally nothing in return: remember, you don't get any feasible benefits for subscribing to the website? The only things that you unlock are educational materials, market signals, and customer support.
How can GreenFX be trusted for no regulation?
Just like in any other area, there's no valuable information in licensing and regulation whatsoever. The only thing that the broker mentions is that they've been operating for 28 weeks – the only area where this kind of measurement is useful is in calculating children's age.
And while the broker vaguely mentions that its information and signals – as if there were any – shouldn't be considered as trading advice, there's no regulatory framework that would constrain them from doing financial machinations.

There are two main benefits as to why so many Forex brokers such as our GreenFX FX brokerage, are striving towards no financial regulation: evading taxes and hiding illicit financial activities. Both of these aspects are clearly important to GreenFX as it doesn't reveal either of its market conditions or the licensing materials and coverage areas. Here again, good job GreenFX!
However, in favor of the broker, we can say that they're not lying their customers as if they have some sort of a CySEC or BaFIN regulation which would also mean nothing – these licenses are pretty much non-effective in this regard.
Should you trade with GreenFX Trading?
Forex brokers can be both credible and deceptive. Some of them have legit market conditions and promise lucrative outcomes, while the others are mostly lying about their flashy promotions. However, it's difficult to find the broker that doesn't say anything about its offerings.
With GreenFX Trading, we've been able to find exactly the one. Its enigmatic character and high secrecy only fuels our suspicions and lowers the GreenFX opinions of many traders – not just ours.
There's absolutely no mention of market signals and conditions; there are no licensing materials indicated anywhere; the only thing that should contain any possible information about the broker is the Blog tab. However, even here there are no stories or blogs of any kind.
In light of such secrecy, we're led to believe that the broker is in no way credible and certainly not the one you should associate yourselves!