GT247 Forex broker review

Another South African Forex broker has hit our radar and attracted our attention. As with any other broker, we were very excited to dive right in to make this GT247 review, However there was a little bit of prejudice that we needed to take care of before we started reviewing it. Generally seeing numbers in brokers' names is a signal of concern. But this could be just petty objections. In the end we decided to disregard those concerns and look at the broker from a clean slate.
How they market themselves
The general feeling of the broker was quite welcoming when we first visited them. The look and feel resemble eToro in a sence of trying to appear friendly and "new". The way GT247 Forex broker markets itself could be called as boastfull, but they do indeed have the data to back it up.

You can easily see what their primary pros are. They don't hide the fact that CFDs are their main trading asset, but you'll also be able to find some solid deals with other assets as well. Just like any other Forex broker, we wanted to find out their regulators from the get go. Fortunately, the broker is indeed licensed by the FSB with the number of 46315.
GT247 minimum deposit
After searching vigorously through the broker's features, we found out that there is indeed no minimum deposit on the platform. Just like JPMarkets, GT247 only suggests a starting R 2,000 (about $150) deposit for beginners. This is actually quite a nice starting amount which even rivals some of the best brokers out there. You're not restricted with your deposits, so you can go for $50 if you so wish, which is a welcome feature.
In terms of fees, there's not much to talk about either as the broker is more than happy to provide a significant amount of feeless services, including SMS notifications and monthly platform fees. However, like with any other broker, there are fees concerning long and short term trades. For example Long funding incurs a +2.5% of SA overnight rates and short funding is the opposite of -2.5%. In terms of services GT247 FX brokerage has some good offers. But these aren't the only features you'll be able to find with them.
Trading Platforms
For trading platforms, unfortunately you will some restrictions. Or better say, lack of variety. Even though the platform they offer is up to date and good in terms of functionality, some additions to the choice that the traders have would've been a welcome one.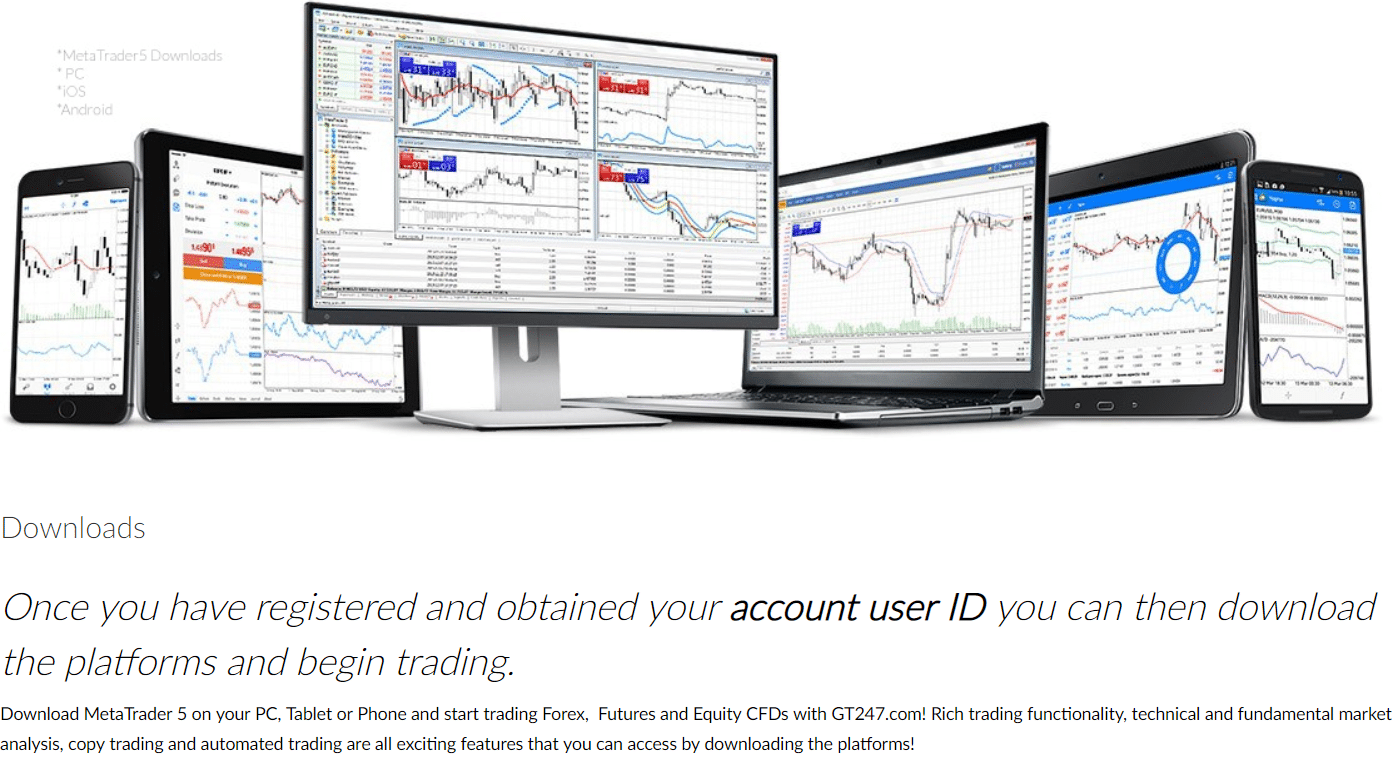 The platform is GT247 MT5, which although a state of the art software, still unfamiliar for many traders. But the fact is that when downloading the software, the broker offers tutorials on how to use it, like how to place trades and etc. Those familiar with MetaTrader will be happy to be accomodated, but for cTrader fans there could be a learning curve.
GT247 Withdrawal System
The withdrawal system with this Forex broker is not something new or revolutionary, it's your standard way of taking your profits. The only restriction is that you won't be able to immediately withdraw after you have made a deposit. According to their website and support page, 14 business days need to pass before you're alligible for a withdrawal of those funds. Which could actually be a big inhibition if you want a smooth and fast access to your profits.
Unfortunately however, there was no information indicated about the withdrawal fees and how long they may take. Sure we mentioned the 14 day wait, but the cost of GT247 withdrawals, were the main topic of our concerns. So in terms of transparency on this topic, it's a minus for this broker.
Can GT247 be trusted?
When it comes to trust, the broker is quite legit. There may have been some problems in the past as we've seen some angry reviews on various websites, but in terms of awards and recognition, the Forex broker seems to be well regarded in the country. Is GT247 a scam? No, it definitely isn't. Is it a good Forex broker to try out? For South African Forex brokers standards it's not a bad deal. We would say that it is slightly above average, on its way to compete with larger brands operating in the region.
However, if you decide to register with them, you will definitely need to find out more about the withdrawal system as there is no clear infor about it.