InvestMarkets Review – How Legitimate is the Broker?

InvestMarkets is a Foreign exchange forex broker company that was founded in 2013. The company is located in Belize and claims to have regulation by the International Financial Services Commission of Belize.
The minimum deposit of this brokerage is 250 USD and the leverage ratio varies from 1:50 to 1:500. Besides, they have no Islamic account provided in their service.
When you enter the InvestMarkets website everything looks perfectly fine. They offer their clients a lot of trading opportunities such as Forex, Commodities, Indices, Shares, Cryptocurrencies, as well as ETFs. They also provide traders with one of the best trading platforms MT4. Besides, there are several important trading functions and beneficial instruments, and the majority of the information is transparent. However, we have seen many times a lot of scams invest a lot of money on their websites, but let us not have our hopes too high just yet and do not believe that this broker is the very reliable one.
In this Investmarkets Review, we are going to further talk about the legality of this forex broker, the usability of their website, and the terms of trading, and the conditions they offer to their customers. So let us begin to learn more about this Foreign exchange Forex broker company.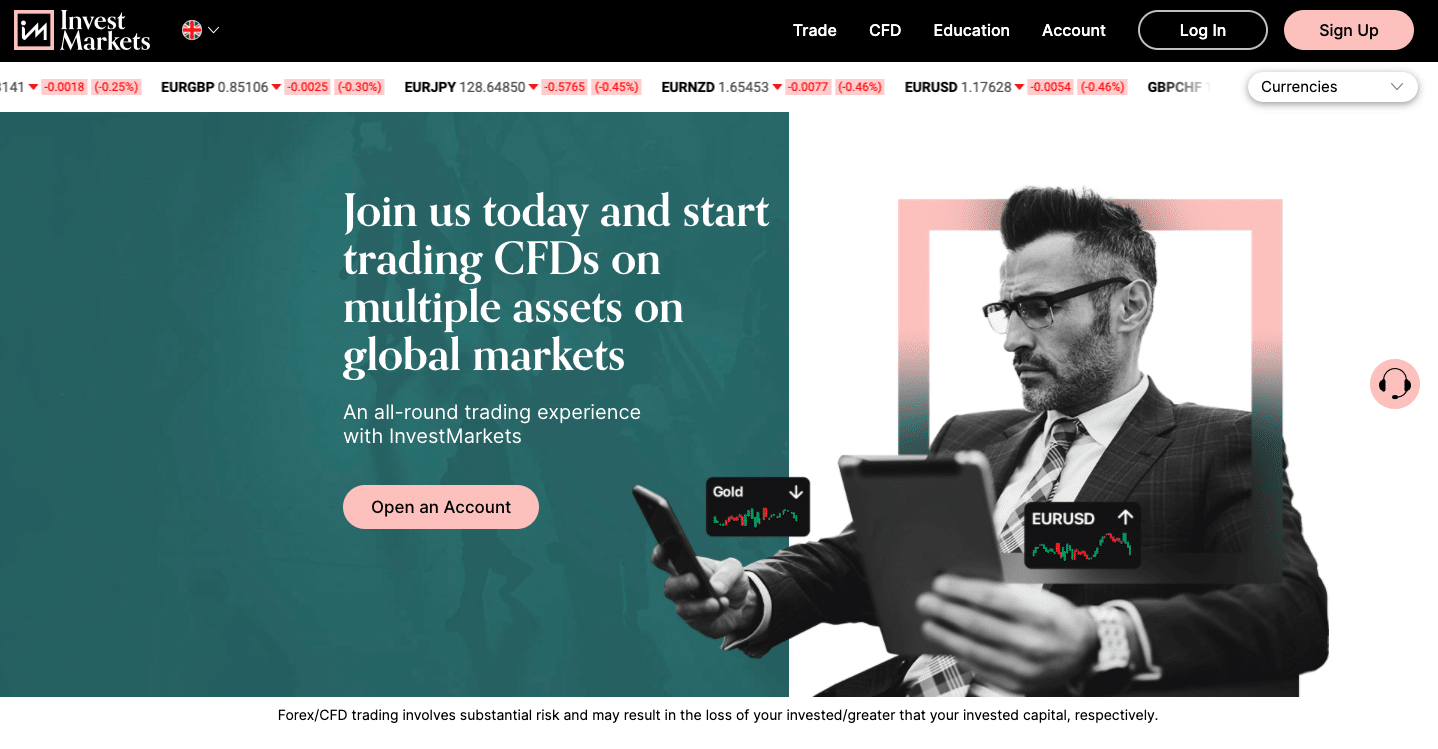 InvestMarkets Forex broker regulation & license
The InvestMarkets brokerage has written on their webpage that they are strictly regulated by the International Financial Services Commission of Belize. However, this fact alone does not give us the ability to be relaxed because this regulatory institution is not very reliable.
There have been a lot of cases when the International Financial Services Commission of Belize gave authorizations to a lot of scammers in the industry.  So Why should we not think that InvestMarkets are also among them? Blindly believing that they are trustworthy broker firms will be something very harmful to most of the traders that are going to trade with them in the future. So We recommend they take a closer look at their regulatory status because there is a huge chance that their potential investments will not be fully safe and protected with them.
On top of that, a lot of the fraud forex brokers we investigated were subject to regulations. Typically, these businesses register as a certain company, obtain a license from the regulatory body, and then begin operations. On the other hand, their fraudulent activities are eventually discovered, so they quit, rebrand, and become licensed under a whole other name, which might be difficult to associate with a new firm. A similar foundation may be used to construct the InvestMarkets fraud. Simply cause it is the most trustworthy for scammers. So I recommend every potential client to be extremely alerted about this issue.

Features of InvestMarkets Forex Broker
Despite the fact that we have a tiny chart at the top of the article that lists almost every function, we thought that the features that  InvestMarkets provides the traders with deserved a little more explanation. This section covers issues such as leverage, spreads, withdrawals, software, and a variety of other firm components. Let's begin by learning more about the InvestMarkets brokerage. So let's get started and explore more about this broker firm.
The Minimum Deposit and Withdrawals
The minimum deposit of this brokerage firm is an average amount of 250 USD. This is a good amount for most of the traders which means that the broker company set this amount because they want to attract as many clients as possible. However, beginner traders should always be especially cautious because they usually are the primary targets for these sorts of brokers. Withdrawals are not a negative aspect of the broker; However, we were unable to locate any information on how long such withdrawals took. Normally, we would anticipate a withdrawal to be processed within one business day, but not with this brokerage.
On top of that, another crucial thing that should also be taken into account by every trader is fees and commission. One of the first costs that investors may encounter is a minimum deposit charge, which must be paid after the user has finished the account registration process. InvestMarkets Forex Broker does not charge a fee for the initial deposit. However, they have a high commission on the other types of services including withdrawals. The spreads, fees, and margin requirements should also then be considered by traders.
Spreads at InvestMarkets are variable and change based on the trading account the traders select. Spreads on the Basic account begin at 3.2 pips, 2.9 pips on the Gold account, 2.3 pips on the Platinum account, and 1.8 pips on the VIP account.
Besides, Another significant factor to take into consideration when comparing brokers is the simplicity with which deposits and withdrawals may be done. InvestMarkets provides traders with a number of deposit and withdrawal options, including:
Credit cards
Debit cards
OKPAY
Neteller
Skrill
Perfect Money
Bank Wire Transfer
However, it should be noted that the Withdrawal fees that they charge traders are quite high. Another great drawback is that the withdrawal process with this broker firm is excessively lengthy. Furthermore, they have quite high limitations, making the procedure extremely unpleasant. This is the major reason why a lot of people avoid trading with this broker company. So we also recommend you to bear those things in mind before you make a final decision.

What is the Leverage They offer?
Leverage is one of the most crucial aspects of the financial world, especially in the foreign exchange market. This is the trading tool that enables the investors to generate a substantial amount of money with just a little initial capital deposited. This means that the higher the potential leverage ratio, the higher their chance to gain as much as possible from their trading.
According to what we have gathered, InvestMarkets brokerage has a maximum leverage of 1:500. This implies that the firm is not particularly competitive in comparison to other brokers in the market, who provide far higher leverage ratios, such as 1:1000 or even 1:2000. On top of that, the fact that they can not even guarantee that the funds will be safe and secure with them is another reason why trading with them will be considered a major risk. So investors, especially the beginner ones who do not quite understand how to use the leverage tool and how to trade properly in general, are not recommended to start training with InvestMarkets Scam as there is a huge chance they will lose a big amount of money eventually.
What are the live Trading Accounts offered by InvestMarkets?
Another critical point to stress in this InvestMarkets Review is the trading accounts they give to their consumers. Trading Account is an account that investors open with brokerage firms in order to trade with various financial instruments including Forex. Brokers can offer traders a choice of accounts according to their degree of ability, competency, and trading comprehension.
The following are some of the types of live trading accounts that InvestMarkets FX brokerage may provide their clients with:
Basic Account
Gold Account
Platinum Account
VIP Account
Furthermore, another disadvantage of this broker firm is that The InvestMarkets scam does not give Islamic/Swap-Free accounts for Muslim clients from all over the world, which means that many individuals will be unable to trade with this brokerage firm.
Can InvestMarkets be trusted?
We came to the realization that we do not recommend this broker to anyone after considerable deliberation and weighing of pros and drawbacks. Thankfully, the false size and dependability did not deceive us and will not trick you if you have read this article. We believe that reading this review provided you with some value and help in forming your impression of the broker; nevertheless, even though we have already discussed a lot about them, we still urge you to visit their website and conduct your own investigation.
It should also be noted that Investmarkets Forex Broker offers certain distinct characteristics that set it apart from competitors. On the other hand, it generally provides substandard and inadequate services in comparison to industry expectations. The instances of licensing are also somewhat dubious, as Belize's International Financial Services Commission is not regarded as a particularly respectable institution that grants broker company authorizations. Therefore, while there are many better options available at the time, we believe it is not worthwhile to trade with InvestMarkets Forex Broker.