Lirunex Review – Does it live up to the expectations?

The Forex market is crowded with Forex brokers in any step of the way. With just one simple Google search, you'll get hundreds and thousands of brokers that want to sell you their platform.
In this multitude of service providers, it is absolutely necessary to be able to distinguish trustworthy brokers from scammers. And while it may not be the easiest thing in the world, with a little effort and research, you can still detect some small details that reveal the fraudulent scheme.
That's what we're going to do in our Lirunex review: we'll take a look at the broker's trading platform and see whether it is a worthwhile trading counterparty.
The Lirunex.com review
The first section of our review will be the website. When we first checked Lirunex.com, it didn't leave a very good impression on us. You may already know that the first impression is all about the design and the ease of navigation. Yet this website had a very underwhelming interface with bland color schemes and poor section layouts.
Yet we have to give Lurinex some credit about the way it delivers information. We had no difficulty finding details about the leverage, spreads, licensing, or even the speed of execution. But it's worth noting that not all of those details seem to be true, which we'll discuss more closely below.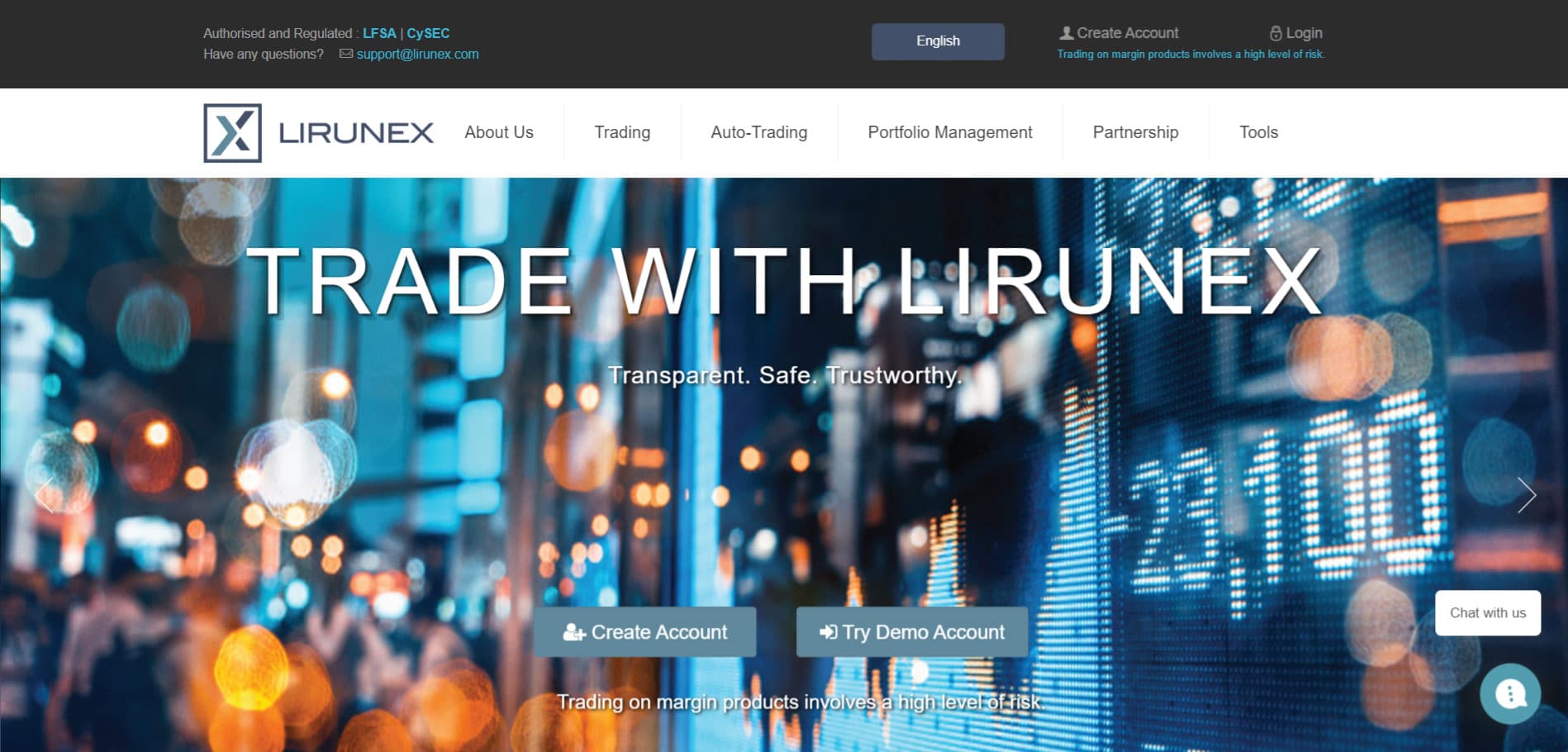 The next part of the website is the trading platform. If you do decide to sign up at Lurinex (which may not be the best financial decision), the Lurinex MT4 will be your main trading software to use. And to be fair, MetaTrader 4 has some pretty decent features, such as MQL4-based technical indicators, drawing objects, fast execution speeds, and many more. However, when it comes to trading a large number of instruments, it's not the most convenient platform. Besides, if the broker is fraudulent, no platform, regardless of its rigidness, can stand in its way to scam people.
Lastly, let's talk about which accounts you can get at Lirunex. During our review, we found three retail accounts that any Lirunex client can use:
LX-Standard – 200 USD min. deposit
LX-Advanced – 500 USD min. deposit
LX-Pro – 1,000 USD min. deposit
For all three accounts, you can use MT4 as a desktop and mobile terminal, trade all available instruments, and use the maximum leverage up to 1:500. What we've discovered is that the similarities between these accounts are more defined than differences, which is why we don't see a clear reason why any trader would want to spend the extra money and go for a higher-end account, instead of the LX-Standard.
Is the Lirunex regulation trustworthy?
Now, all our talk about whether the Lirunex scam is real or not is futile if we don't examine the broker's license. If the company has proper regulatory measures and abides by strong financial standards, then you can be sure that your money is in safe hands.
As we've seen on the website, Lirunex features two licenses from Malaysia and Cyprus:
Labuan Financial Services Authority (LFSA)
Cyprus Securities and Exchange Commission (CySEC)
Now, if the broker really features the CySEC license, we'd be more than content to deem it a trustworthy service provider. Cyprus is one of the most stringent financial regulators on the market and it makes all of its subjects abide by the EU standards.
However, there are many grey areas in this section. For example, if there really was a CySEC license, Lirunex wouldn't be able to offer such high leverage; the highest it could go for would be 1:30. For this and other reasons, we suspect that the only license regulating the broker's actions is the one from Malaysia.
Yet the LFSA license doesn't radiate nearly as much confidence as the CySEC license. Malaysia is quite a weak financial regulator, which, should the Lirunex fraud take place, wouldn't be able to hold the broker accountable.
What trading terms and conditions look like
In this next section, we'll examine all of the important offerings and conditions that make up the whole trading experience at Lirunex. First things first, let's see which instruments you can trade on this platform. Besides major and minor currency pairs, you can also exchange various CFDs (Gold & Silver, Indices, Commodities, Cryptos & Stocks).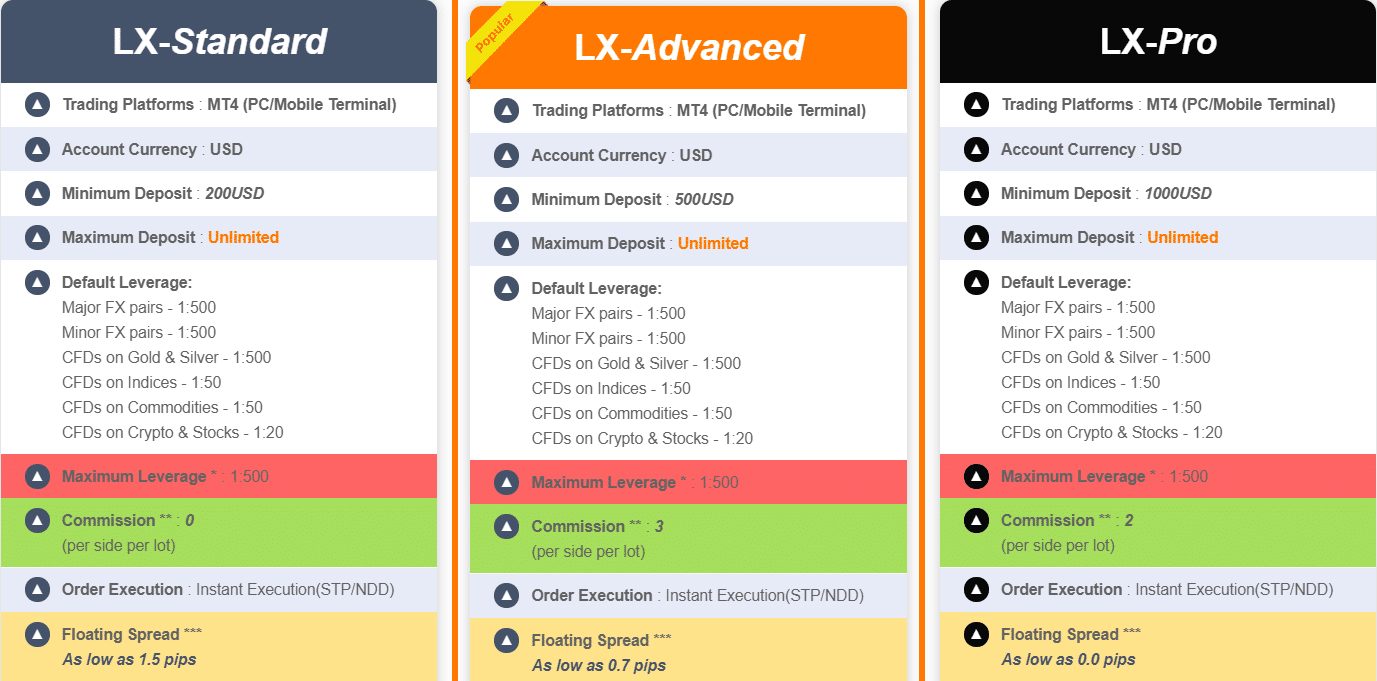 With these instruments, you can get pretty impressive trading terms and conditions, yet with impressive, we don't necessarily mean safe. For example, the maximum leverage you can get for both major and minor FX pairs is 1:500. Now, with a 1:500 leverage, your profits increase with the same amount, which is something that every trader wants.
However, what no trader wants is to have losses increase with the same amount. Yet that's exactly what 1:500 leverage does and what the Lirunex FX brokerage fails to point out. If it were a legit broker, Lirunex would not only warn you to use leverage very carefully but it would also offer a much lower ratio – in accordance with the rules of the EU.
We're also pretty suspicious about Lirunex's spreads. The minimum bid/ask spread can go as low as 0 pip, which means the broker says no to the only sturdy source of income, considering the fact that it also avoids commissions or charges very low fees. We would rather do business with a broker that says it charges a decent amount of spreads, instead of taxing you with hidden – and possibly shady – commissions.
For deposits and withdrawals, you can use bank transfers and Local Online Banking – separately for South East Asia and China. Lirunex claims that it will soon add more payment methods, including credit cards and Skrill, yet the fact that it's been operating for around 4 years and hasn't yet incorporated them into its platform is very suspicious at the very least. Usually, both deposits and withdrawals complete within one working day, and either have no commissions or variable commissions (based on the bank).
What's our ultimate Lurinex opinion?
In our Lurinex review, we examined every important aspect of this Forex broker. First, we looked at its website and determined that it looks very clunky and not quite sleek. Yet we pointed out that the trading software, MetaTrader 4, is a decent offering to the client.
Then we examined the licenses that Lirunex holds (or seemingly so). Even though it claims it has both CySEC and LFSA license, we've determined that the only legitimate license comes from Malaysia, which is not the most powerful regulator in this industry.
Finally, we had a look at trading terms and conditions. Both the leverage and spread conditions are suspicious at a fundamental level. The same can be said about payment methods – the broker limits you with only bank transfers.
Based on all that, we think that Lirunex is not a trustworthy broker that is worth your money and attention.