MGC Logic review

MGC Logic is a CFD brokerage that offers its customers exclusive trading deals on cryptocurrencies such as Bitcoin, Ethereum and IOTA. The company is one of the only brokerages that features more than four crypto CFDs and has a maximum leverage offering of 1:100. The spread is also quite competitive with the broker as traders are able to enjoy 0.2 pips on average.
The company is located and regulated in the Commonwealth of Dominica and is owned by New Olympia Inc, which is a multi-marketing agency dealing with all sorts of marketing services for various firms. MGC Logic fraud has been heard numerous times across the web by bloggers and traders alike, accusing the company of taking users' funds and not returning them in time. Our MGC Logic review is designed to study those cases and determine whether or not the fraud is real.
Let's get into the details of the company and determine if they are legit or not.
The MGC Logic withdrawal issue
The main topic for the MGC Logic fraud accusations is their questionable withdrawal policy for user funds. They are one of the few companies that require additional personal information for withdrawing not large but also small sums from the platform. Requiring documents such as Persona id (Id card or drivers license), Proof of Adress, and credit card pictures.

The whole controversy revolves around their demand of the Credit card details, which is not uncommon around the CFD industry. Many companies request their traders to provide Credit Card possession proof so that they could avoid any money laundering cases or even worse, Identity theft cases with their customers.
The MGC Logic fraud argument is completely reliant on this one feature the broker has, which is easily debunkable. However, overall, the company does indeed seem legit as it's able to offer industry standard trading options as well as competitive leverage and spreads. Let's look into the non-controversial parts of the company.
Is MGC Logic legit?
The company is registered and is operating from the Commonwealth of Dominica, which isn't the first choice for most traders, but it's better than other locations. MGC Logic is a subsidiary of New Olympia Inc, which has been operating and providing marketing services for various companies for a number of years now.
There is no official information on whether or not MGC Logic holds an FSU (Financial Securities Unit) license, but having a large company such as New Olympia as an owner, takes away the risk of being a fraud completely. Many companies have had these types of cases, where the subsidiary itself didn't have a regulatory license, but their legitimacy was reinforced by the owners. Those very same companies are operating without hitch even today.
Overall, we want to have it squared away that the MGC Logic fraud is not real, it's simply a rumour started on a vague basis.
Trading options on MGC Logic
As already mentioned, traders are offered CFDs on cryptocurrencies such as Bitcoin, Ethereum, Litecoin, IOTA and many more. This was a must as the company deals with crypto CFDs exclusively. But remember, that crypto CFDs are not real CFDs, you are not purchasing an asset that requires a wallet or any type of repository.
Furthermore, the MGC Logic platform offers traders benefits such as a large leverage of 1:100 and spreads as low as 0.1 per trade. The amount of profitability on the company's platform matches those fielded by the largest and most popular ones in the industry. Furthermore, the company anticipated large cryptocurrency exchanges to add margin trading on their platforms, therefore they upped the leverage by another level just to remain competitive.
It's quite hard to find such high leverage and such low spreads anywhere else in the industry.
Accounts and deposits
The account variations on MGC Logic is also a sight to behold. Much to our delight when making this MGC Logic review, we saw that the company cared enough to feature more than two options. In most cases, we'd see two or maybe three account options and quite similar ones at that.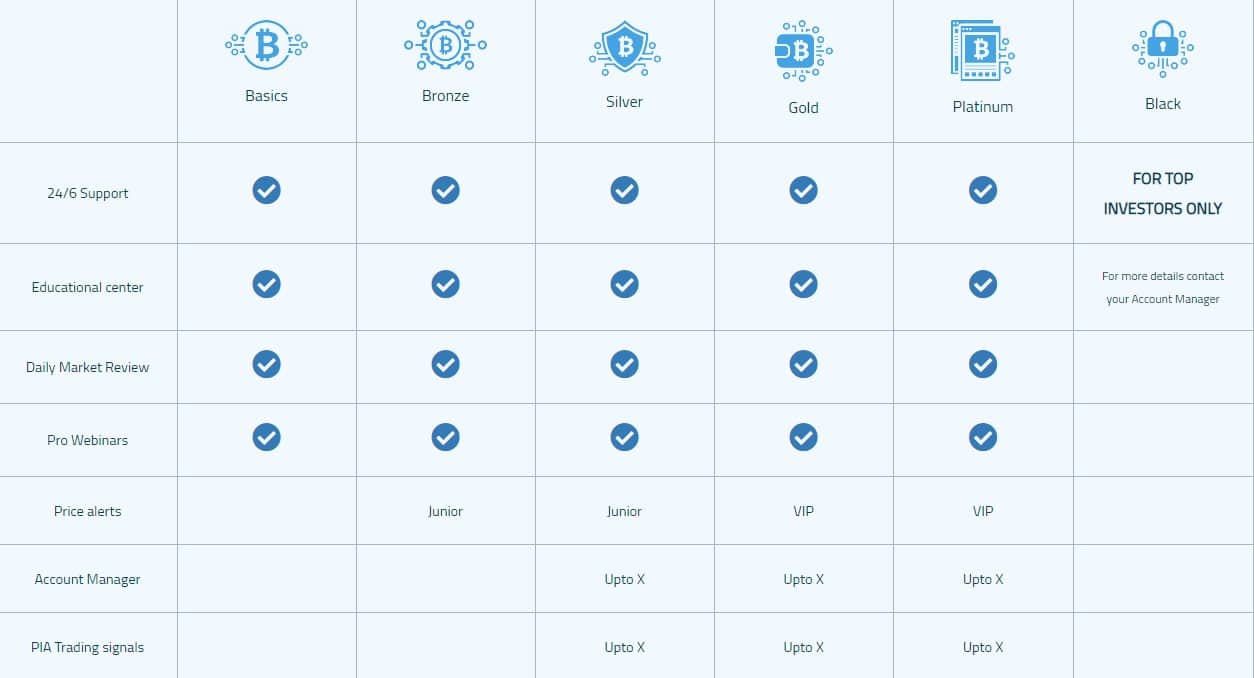 MGC Logic features accounts that start with $250 in minimum deposit, and end with numbers as large as $500,000. But, naturally, every trader is given a choice of their prefered account, and most go for the Basic version.
There are six options in total: Basic, Bronze, Silver, Gold, Platinum and Black. The deposit range mentioned above is between the Basic and Platinum accounts. There is very little information regarding the Black account as it requires a formal application through your personal Account Manager and various other prerequisite qualifications to receive.
Deposit options
The deposit options on MGC Logic are quite restricted, we were only able to find two options, Credit Card and Wire transfer. In all honesty, our opinion about this feature is mixed, as we prefer to see as many deposit options as possible. Furthermore, both credit card and Wire transfer take way too long to process, therefore it could be around 7 business days before you receive your withdrawal requests.
The deposits and withdrawals don't have any fees, which is an advantage, although the nature of the CFD market requires the company to have fees on overnight positions as well as deadline extensions.
Overall, the monetary side of the platform is average due to low flexibility, but no additional costs.
Should you trust MGC Logic?
We've already squared away the MGC Logic fraud case, but there are other features that every trader needs to consider before committing to a CFD broker's platform.
At the moment, MGC Logic strikes us as average, but a perfect place for beginners. The additional features such as the trading academy are a welcome benefit for any beginner. Pair that with the low minimum deposit for the Basic account and you've got an entry level broker any beginner should be happy about.
When it comes to larger accounts, the broker does fall short a bit compared to their competitors, but that can be understood, as it's not as large as the most popular CFD brokers in the market right now.
Overall, if you're a beginner or a migrating veteran trader, MGC Logic could be your safe haven for crypto CFD trading. The leverage and spreads trumps any crypto exchange's offers and the returns range from 70 to 90% on average.
★★★★☆

based on

1

reviews
Overall rating:
Withdrawal is fair
★★★★☆
I also had my doubts about the withdrawal from the company, but it was for my own safety. I've had my identity stolen in the past so no extra step is too much at this point
"