MGC Logic review

When deciding to enter the Forex or any other market, one of the first things any trader should ensure is that they have a credible broker. Brokers are very important aspects of online trading; they offer tools, indicators, and various features that make up the whole trading process. And if those offers are faulty right at the beginning, trading itself will be faulty as well.
Unfortunately, the internet is full of scam brokers that have become professionals in scamming people. They offer seemingly exciting leverage ratios, lower spreads, and large bonuses to trick prospective clients and make them deposit as much money as possible. Afterward, they ensure that those funds stay with them and become inaccessible to the traders themselves.
For those and other Ponzi schemes, traders need to make a thorough research about brokers and make a well-thought-out decision. To help them do that, we have prepared the MGC Logic review that will look into various aspects, be it trading terms and conditions, the website, or the licensing. In the end, we should be able to make a pretty decisive conclusion about the broker's credibility.
First impressions matter!
MGC Logic is a crypto brokerage that predominantly offers Contracts for Difference (CFDs) to its clients. However, it also offers the actual cryptocurrencies for trading such as Bitcoin, Ethereum, and IOTA. In fact, the broker seven different cryptocurrencies for financial exchange purposes.
But while the asset selection is quite diverse for a crypto broker, it certainly becomes suspicious when we check the broker's trading offerings such as a 1:100 leverage and spreads as low as 0.1 pips. We're going to review all these features further down below.
The company is located and regulated in the Commonwealth of Dominica and is owned by New Olympia Inc, which is a multi-marketing agency dealing with all sorts of marketing services for various firms. MGC Logic fraud has been heard numerous times across the web by bloggers and traders alike, accusing the company of taking users' funds and not returning them in time. Our MGC Logic review is designed to study those cases and determine whether or not the fraud is real.
The MGC Logic withdrawal issue
The main reason why traders and analysts complain about the broker is its suspicious and questionable withdrawal policy. First off, the broker demands from its clients to submit a valid photo of an ID, proof of address, and a copy of the credit card. This is certainly a very big requirement from the broker and as you we reveal down below, your personal credentials may actually be undermined by disclosing them to this entity.

However, this is not the only complaint of the users and analysts. As we have mentioned earlier, the MGC Logic FX brokerage is a crypto trading brokerage, therefore, it's even more surprising to find out that the broker doesn't support crypto payments on its platforms. Many brokers offer Bitcoin, Litecoin, and other altcoins for deposits and withdrawals because they are more secure and quick. And MGC Logic completely neglects those benefits and sticks with the credit cards, wire transfer, and e-wallets.
Is MGC Logic legit?
As it says on the broker's website, MGC Logic was established and registered in the Commonwealth of the Dominican Republic (COTDR) and is operated by a marketing company called New Olympia Inc. Now, seeing that the company has a real registration material and is licensed by the country's Financial Securities Unit (FSU), many traders would deem the broker credible and trustworthy.
However, the case is much more complicated than that and requires more complex scrutiny. You see, the Commonwealth of the Dominican Republic is a small distant island that isn't even a fully independent state. This means that the country has little to no political or economic leverage to hold companies such as MGC Logic against higher financial standards.
In our opinion, choosing the COTDR and its FSU license is a savvy move by the broker to hide any MGC Logic fraud suspicions and reach impunity from the far stronger countries. This is also apparent in the fact that the broker doesn't provide service to US citizens.
Trading options on MGC Logic
As mentioned earlier, the broker offers crypto CFDs to its clients. Unlike the real cryptocurrencies, the Contracts for Difference are merely agreements between the broker and the trader that however the price of an agreed cryptocurrency moves, the outcome will decide whether the trader will gain profit or lose money.
However, there are also real cryptocurrencies that clients can use for an exchange. Among those digital tokens are Bitcoin, Ethereum, Litecoin, and four other altcoins. And on those cryptocurrencies, the broker offers a massive leverage ratio of 1:100. Don't get us wrong, if this much leverage was offered for Forex trading, we'd be pretty content as a 1:100 leverage is quite common on the foreign exchange market.
However, when we talk about cryptocurrencies and crypto CFDs, the most common leverage ratios go as high as 1:20 – and that in the most unusual scenarios. When we see a 1:100 leverage on cryptocurrencies, we cannot help but wonder why does this broker need such an extravagance to attract the new clients? Does it have something to cover with this feature? A good question indeed.
To make this question even more pressing, let's see the spread offering from the MGC Logic Forex broker, shall we? As the broker claims, some of the crypto pairs have a spread as low as 0.1 pips per trade. But what does this actually mean?
You see, the majority of brokers fund their platforms and services via commissions or spreads. And since MGC Logic doesn't have commissions on transactions, save the bank wire transfers, it should at least have high spreads. But when we see 0.1 pips, the question of the broker's credibility emerges one more time. How does it fund its products and services? Another pretty good question.
Accounts and deposits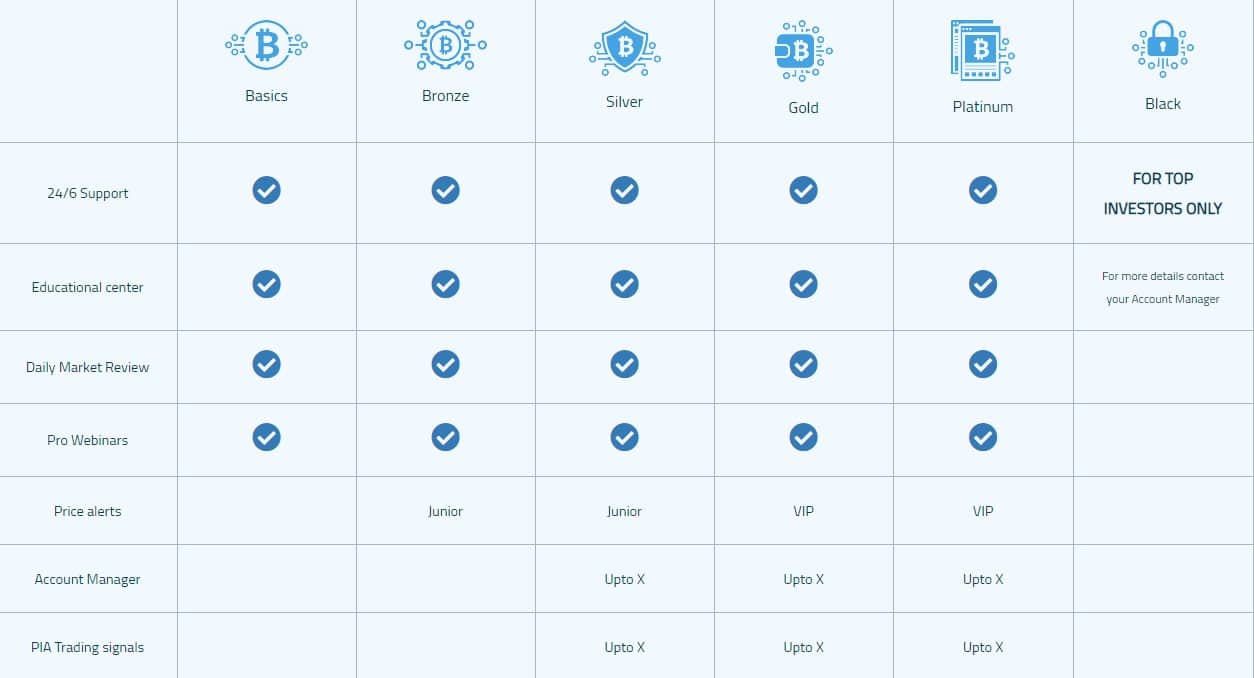 The next chapter in our MGC Logic review is the account separation. As the broker claims, it has a diverse account base that contains five different accounts: Basics, Bronze, Silver, Gold, and Platinum. There's a Black account as well but it's for the most elite investors that are loyal customers of the brokerage.
Now, checking these accounts ourselves, we found out that the claim that they're different in many considerable ways is somewhat of an overstatement. These accounts have the same trading offerings as the leverage, spreads, etc. and are only different in terms of the minimum deposit requirement and some minor details like price alerts, the account manager, etc.
As for the least deposit amount, traders need to transfer at least $250 on their trading account. While this may be a small amount for many traders, some people will still find it pretty expensive and discouraging to their initial trading experience. It'd be much more convenient for them if the minimum deposit requirement was somewhere around $50 or so.
Withdrawal and deposit options
Moving on, let's check out the MGC Logic withdrawal and deposit options and see how sophisticated they are. The very first thing to mention here is that even though MGC Logic is a crypto broker, it doesn't offer Bitcoin or another altcoin for transactions. This certainly is a strange occurrence and doesn't speak very highly of the broker.
As for the existing platforms, the broker only supports credit cards, bank wire, and some e-wallets like Skrill and Neteller. Even here, we can find some drawbacks as the withdrawals take from one to seven days to complete. Not only that, the transactions are less secure because of the obsolete payment platforms, even though the website has SSL protection.
As we have mentioned earlier, the broker doesn't have commission fees on transactions, save for the bank wire transfers. And as we have also assessed this phenomenon, the no-fee policy certainly doesn't make our MGC Logic opinion any better – in fact, it makes it worse.
Should you trust MGC Logic?
So, what is our final opinion about the broker? One thing that we can say for sure is that the broker's offerings aren't as clear-cut and exciting as they're marketed.
The website review revealed that while the broker has put quite a lot of effort to make a sophisticated design, it actually overdid it and made the interface more complicated. This takes away the visitors' attention from the more important aspects such as attaining the information from the platform.
Then we reviewed the licensing which, as a result, revealed that the broker chose a distant and not very powerful country for its business in order to avoid legal obligations and high financial standards. And while MGC Logic offers high leverage ratios and lower spreads, we think that these features also act as covers for illicit activities.
The final part of our review focused on accounts and financial platforms which, as you have witnessed, didn't show any signs of professionalism either. The accounts are more similar to one another than different, the minimum deposit requirement is still quite high, and the withdrawal/deposit platforms are very outdated.
In conclusion, we think that the traders should at least get a better look at the broker's offerings and try to take them with a pinch of salt.